The SPDR Gold Trust ETF (GLD) was testing the low end of its YTD trading range last month. The MA (200) was also climbing and swiftly approaching 124. This confluence of support was the point of focus. If ~124 was breached then it set up the very likely possibility of further losses.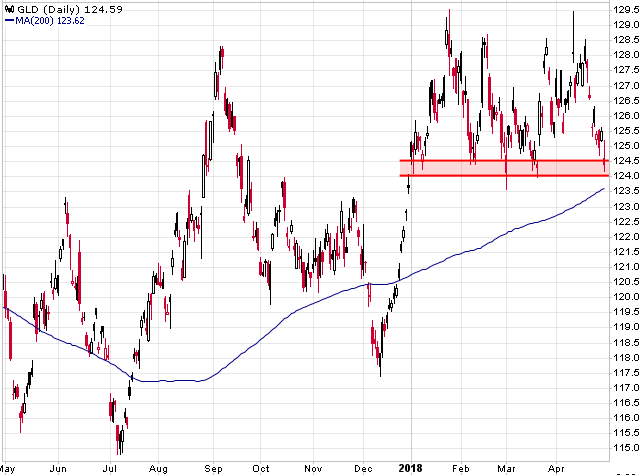 (Source: StockCharts.com)
Unfortunately for gold investors, GLD broke cleanly below that support two weeks ago and has since been trying to find its footing - having only put in an anemic bounce so far. Previous declines like this over the last year (where GLD moved below its 200-day) resulted in an immediate reversal. We haven't seen gold exhibit that kind of rebound strength yet.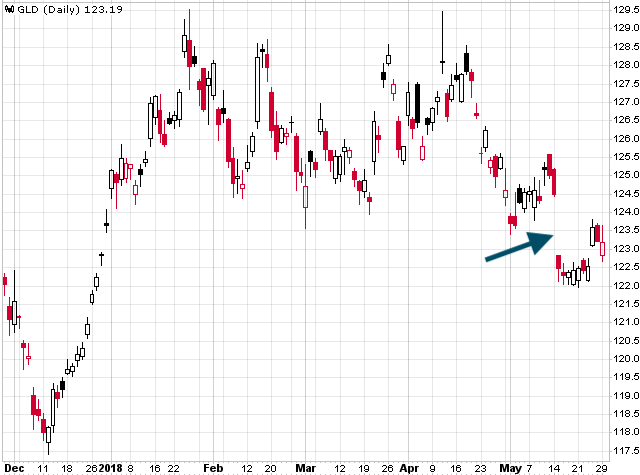 (Source: StockCharts.com)
Small trends are important, big trends are far more important.
Despite the recent weakness in gold, the uptrend since 2015 is intact. There is a lot of support around 118, but I believe GLD could bottom slightly above that level should it decline further from here. Conversely, a swift move above 124-125 puts a short-term breakout back on the table. In no way is this chart broken as there is still a bullish set-up in place. This just comes down to the timing of that breakout.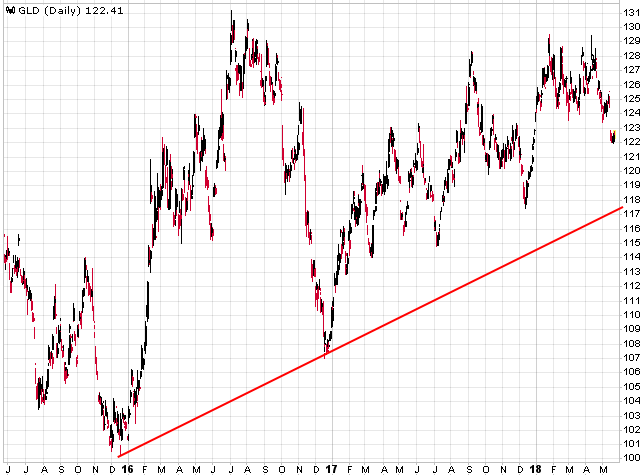 (Source: StockCharts.com)
I like to show the monthly chart of GLD on occasion so gold investors don't lose focus of the much larger picture.
The 20-month SMA has been strong support for GLD since the bear market lows were hit in December 2015. There was only a brief dip below this moving average in late 2016 (after Trump was elected and market volatility was extreme). GLD is close to this level at the moment. The MACD has also been in positive territory since the bottom of the bear market. The 1-2 year outlook for GLD would only change to negative if we saw GLD break below its 20-month and the MACD turn down. I would be a little concerned if both of those events took place - and we would need both to occur to tip the scales. Granted, the MACD appears as if its about to roll over and cross the signal line, but it was also on the verge in late 2016 and never went negative. This chart remains bullish and the runway on any breakout is very long (i.e. there is a lot of room for gold to run once it gets above the summer 2016 highs). The only thing that would change my outlook would be if this monthly chart of GLD starts to deteriorate.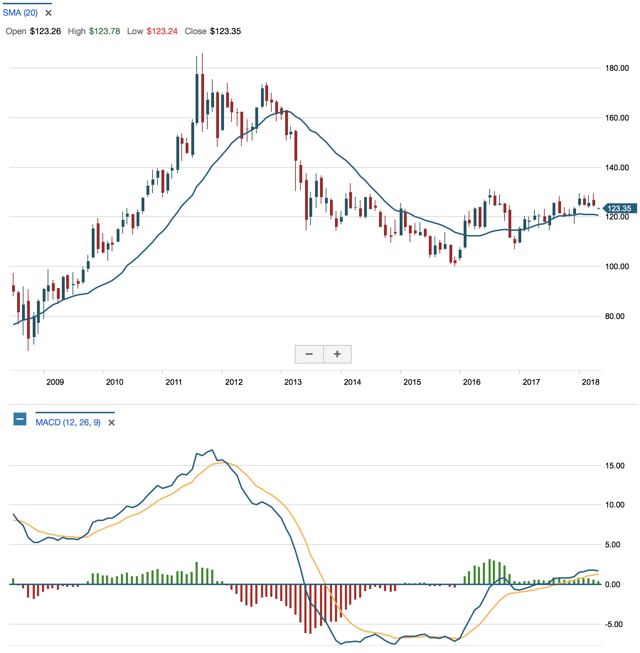 (Source: Schwab)
So while short-term support was breached in GLD - which might give the bears a bit of confidence here - there is a sturdy medium and long-term foundation that is backing gold.
Strength In The U.S. Dollar Pressuring GLD
Gold has been under pressure lately because of the strength in the USD - as the dollar has put in a significant rebound over the last month or so.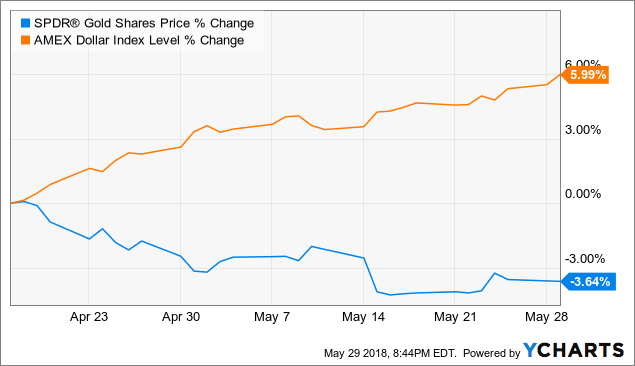 However, I believe it's more technical driven buying in the USD and not because of rising interest rates. The USD is down over 4% since the Fed started to normalize rates in December 2015 - the dollar clearly hasn't benefited. Meanwhile, gold has been basking in the sun.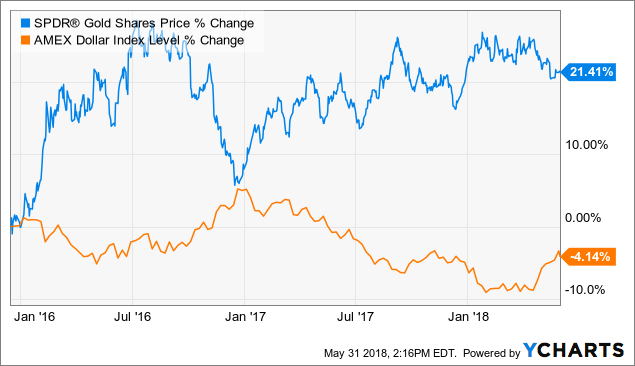 The USD was at critical support last month as it was on the verge moving below the trend line that has been in place since the peak in the early 1980's. It's not surprising that the dollar bounced when it touched this support. This could be a backtest of that trend line and eventually the USD breaks out, but it would need to continue to rally up to 100 before the dollar bulls could even begin to celebrate. And I'm not convinced that's about to happen.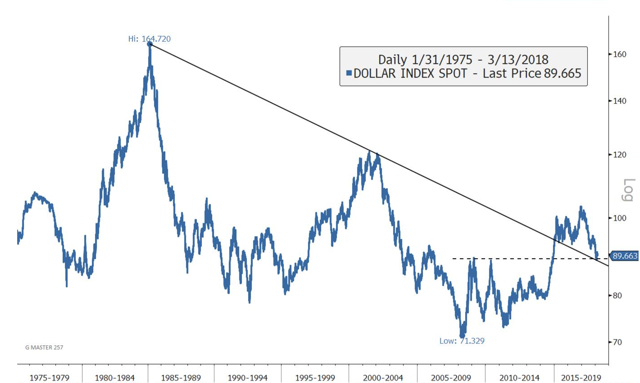 (Source: DoubleLine)
The USD goes through 5-7 year bull cycles and 7-10 year bear cycles. It certainly seems as though the peak in late 2016 was a top for the last bull cycle, which means this latest rebound is only a dead cat bounce.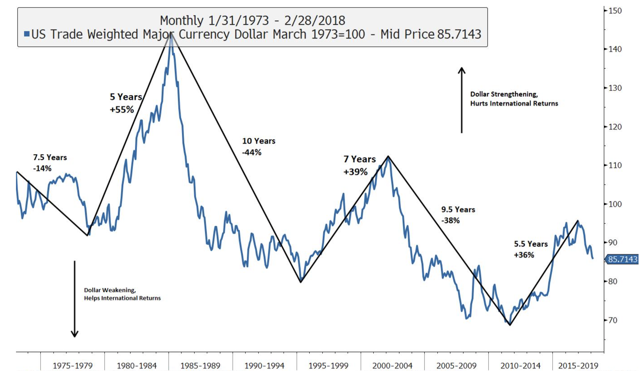 (Source: DoubleLine)
For gold to turnaround here in the next few weeks, it likely needs help from the dollar. However, as I have always stated, gold and the dollar only have a short-term inverse relationship; over the long-term there is zero correlation. I'm not worried about a long-term bull run in the greenback. Besides: 1. Trump wants a weak dollar, and 2. Considering the debt and deficits in the U.S., it's unlikely that the USD will strengthen further over the long-term and even if it does it won't prevent gold from appreciating.
I don't expect any miracles in the short-term for the gold market given the recent breakdown in the physical metal, the Fed meeting is approaching, and the fact that we are now entering a seasonally weak period. But also don't believe it's time to hunker down either.
Many stocks in this sector are still holding up well and have bullish charts. The VanEck Vectors Junior Gold Miners ETF (GDXJ) also looks poised to breakout.
I expect this sector will be making a significant advance in the not-to-distant future. It's not clear whether that will start next week or in a few months, but I'm forecasting much higher prices by year-end.
Join The Gold Edge And Get Significant Coverage Of The Gold Sector Over The Next Several Months
I'm really going to pound away during these dog days of summer that are approaching in order to make sure I'm covering all of the good stories so that when the turn comes, I'm positioned in the stocks that I think will outperform. Join The Gold Edge now to take advantage of the in-depth research that will be posted for subscribers.
The Gold Edge has received 34 reviews and a 4.9 out of 5.0 star rating. Below are some quotes from subscribers:
Soma's analysis is without peer in the space
You'll quickly see this guy's The Real Deal and the subscription is worth every penny
This service is highly recommended for anyone investing in precious metal mining stocks
I have subscribed to several (too many) of the other gold stock analysts in the past and SomaBull's comprehensive offering is the best I have encountered.
Disclosure: I/we have no positions in any stocks mentioned, and no plans to initiate any positions within the next 72 hours. I wrote this article myself, and it expresses my own opinions. I am not receiving compensation for it (other than from Seeking Alpha). I have no business relationship with any company whose stock is mentioned in this article.