Jobless Claims Back On The Decline
Includes:
BIBL, BXUB, BXUC, CHGX, CRF, DDM, DIA, DMRL, DOG, DUSA, DXD, EDOW, EEH, EPS, EQL, ESGL, FEX, FWDD, GSEW, HUSV, IVV, IWL, IWM, JHML, JKD, OMFS, OTPIX, PMOM, PPLC, PSQ, QID, QLD, QQEW, QQQ, QQQE, QQXT, RSP, RVRS, RWM, RYARX, RYRSX, SCAP, SCHX, SDOW, SDS, SFLA, SH, SMLL, SPDN, SPLX, SPSM, SPUU, SPXE, SPXL, SPXN, SPXS, SPXT, SPXU, SPXV, SPY, SQQQ, SRTY, SSO, SYE, TNA, TQQQ, TWM, TZA, UDOW, UDPIX, UPRO, URTY, USA, USMC, USSD, USWD, UWM, VFINX, VOO, VTWO, VV, ZF
by: Bespoke Investment Group
After four weeks in a row of flat or rising readings, initial jobless claims declined this week, falling from 234K down to 221K. That was also below consensus expectations for a reading of 228K. This week's reading represents the record 169th straight week that claims have been at or below 300K and the 34th straight week that claims have been at or below 250K. On the latter, that's the longest streak since 1970 when claims were at or below 250K for 89 straight weeks.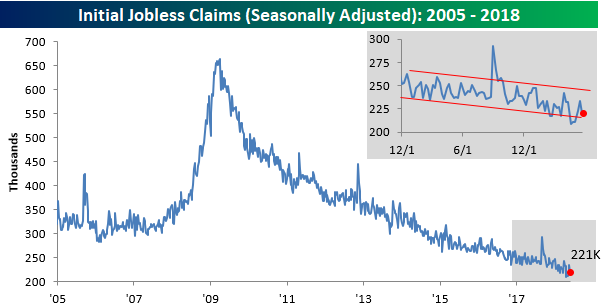 Although claims finally dropped again this week, the four-week moving average ticked up to 222.25K from last week's reading of 219.75K. That puts the current reading 8.75K above the multi-decade low of 222.25K from two weeks ago. Barring a big drop in claims next week, look for the four-week moving average to rise again, as we will be dropping a multi-decade low of 211K from the count.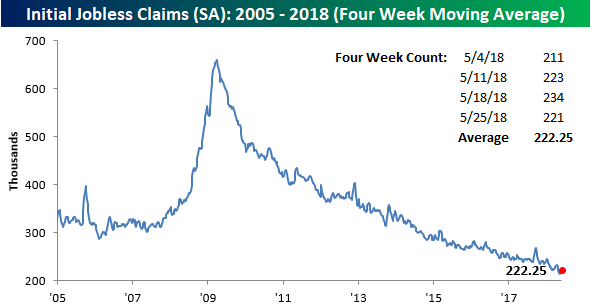 Finally, on a non-seasonally adjusted (NSA) basis, claims dropped by nearly 6K down to 201.4K. For the current week of the year, this is the lowest reading since 1973, as well as more than 115K below the average of 317K for the current week of the year dating back to 2000.