Some bearish calls have been published in the last weeks and months. The following statements are true: stocks are overpriced, this bull market is getting old, the yield spread curve is flattening, etc... Also, scientists have just published a 2018 Atlantic Hurricane Season Outlook. I don't think it is a reason to run to the hills now. Many quantitative indicators tell the next recession will not start soon. Each of them can be wrong sometimes. All of them being wrong together is very unlikely. My outlook of April is still valid. Today, I propose to add earnings surprises in the picture.
When I write this (5/31/2018), 96% of the S&P 500 earnings reports for Q1 2018 are in and 76.5% of them have beaten EPS estimates. It is the highest rate since 2012. The next chart plots "beat and missed" rates by quarter.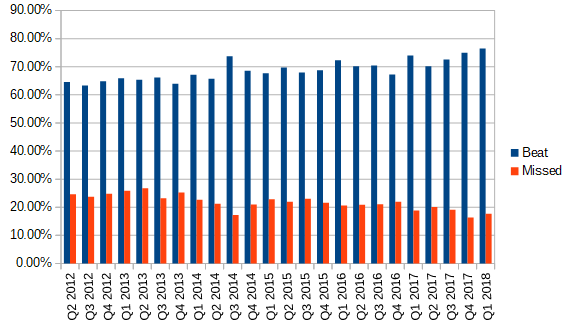 EPS estimates beat and missed in S&P 500 companies.
All sectors have a beat rate above 50%, with very different profiles: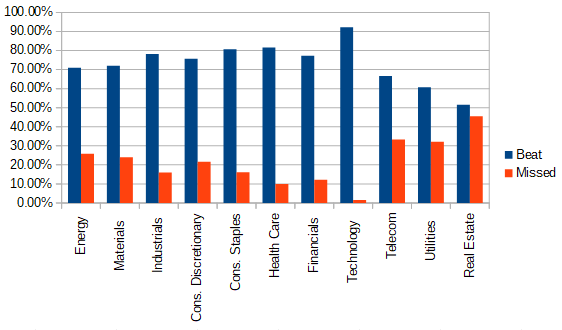 The 4% of S&P 500 companies not yet in these statistics are mostly in Consumer Staples, Consumer Discretionary and Technology. Final numbers in these sectors may be a bit different, but not a lot: at least 90% of companies of every sector are accounted. The worst 5 sectors are 100% in the statistics (Telecom, Utilities, Real Estate, Materials, Energy). In fact, it would not be surprising to see the final beat rate for Q1 2018 going a bit higher.
Some analysts claim that the EPS reporting game is biased by a buyback frenzy. Obviously, buybacks are supportive for EPS and have been high in the recent years. However, the S&P 500 buyback yield has gone down between Q1 2016 and Q4 2017: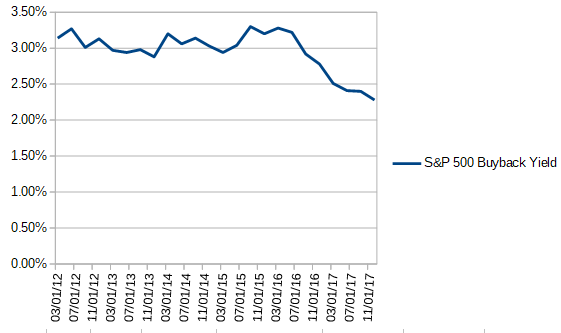 I don't have yet the yield for Q1 2018, but the beat rate went up in 2017, despite the downturn in buyback yield. Buybacks don't seem to explain everything.
It seems earnings are really telling that companies are doing better than expected. The sales per share ratio for the S&P 500 index went up 9.7% in 1 year, and the operating margin surged over 11% (a relative gain of almost 15%).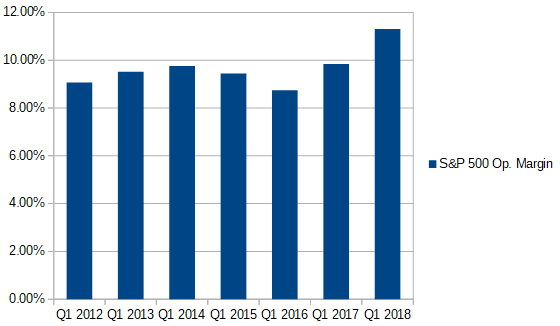 Earnings beats are not a component of the risk indicator published in Quantitative Risk & Value, but it is an interesting element in a systemic view of the equity market.
I will publish soon a monthly update on valuations in all sectors. Click "Follow" if you want to get a notification.
Charts by the author, data from here.
Disclosure: I/we have no positions in any stocks mentioned, and no plans to initiate any positions within the next 72 hours.
I wrote this article myself, and it expresses my own opinions. I am not receiving compensation for it (other than from Seeking Alpha). I have no business relationship with any company whose stock is mentioned in this article.
Additional disclosure: I am net long in US equities.