It seems like every voice has been heard from, that every story has been told. The Internet of 2018 can be a fatigue-inducing environment, and that's no different in the investing space. We're well past the time earlier in the decade where people were still wary of the markets, where a new short idea could metastasize in the markets, and where investors were discovering that there were other people looking at the same sorts of stocks they were.e-
But there are still investors who haven't ventured to share their work before coming on board. There are still fresh angles available on covered stocks. And there are even cliched sorts of ideas that just haven't been written about in a long time that may be of interest.
In reviewing our coverage over the last week, I found several good SA author debuts, several classic value or growth plays, and some revisiting of popular stories. There may be something new here for us, after all.
Welcome to Editor's Notes! I aim to sort through the ideas we publish each day and highlight a few that may be of interest to readers, along with comments that may add a helpful gloss.
I'm posting this twice a week, with a Tuesday or Wednesday edition focused on an individual stock and a Friday edition looking on the week that passed. But this is still a work in progress. If you have thoughts, comment below or send me a direct message and let me know what you think. Read last week's editions here and here. I will be off Friday and Tuesday, so only one post this week and one next week.
Short Ideas
We posted 15 short ideas in the last week, only 3 of which were on Tesla (TSLA). Five ideas stood out, with a good variety in what they covered.
Don't Pay Up For PagSeguro by Ian Bezek
Brazil risk not reaching the stock. Valid?
This is not actually a short thesis - Bezek calls PagSeguro (PAGS) an avoid. I had looked at Edgar Torres H's long thesis on the company previously, and Bezek takes the other side well. This is an argument that the rest of the region has been affected by macro concerns in Brazil (and elsewhere), but PagSeguro hasn't budged. Beyond that, the company's competitive position isn't all that obvious and its revenue/net income growth may not endure post IPO, Bezek argues. He agrees with Torres that the company is like Square (SQ), but doesn't think that's a good thing. He doesn't make the case for a pair trade but mentions of stocks like MercadoLibre (MELI) and how they have performed compared to PAGS implies there may be potential for that sort of trade.
Sentiment Check - Good pushback from several commenters about the strength of PAGS's growth story, even when Brazil was in a worse shape than it is now. Growth vs. valuation is often a touch point of investing debates, and it was good to hear the other side. Also, one commenter apparently has experience with the firm as a user of an anomaly it seems between PAGS and peers.
Community Health Systems Exchange Offer: Acute Care For Chronic Pains by Katie Chan
Shuffling the debt around won't solve the fundamental problem.
Katie Chan's first piece on SA is a great look at the debt load Community Health Systems (CYH) is carrying and how they are working around it. The company is exchanging 2019/2020 debt for 2022/2023 debt. If you buy that rates are going up more, this would seem like a last call saloon for making this move. But as Chan writes, "Annual cash interest, as a result of the exchange, will go up by $45m... Refinancing gymnastics aside, operations need to be picking up the slack any day now."
The risk in this short seems to be that CYH is a tiny equity stub, and it could double without greatly affecting the enterprise value. But if Chan is right that operations are circling the drain, the debt exchange offer is unlikely to stave off trouble.
Sentiment Check - Comments point out that there is a chance the company raffles off assets in time to make this work (as evidenced by today's news), and that the 2019 bonds may be interesting for individual investors (I have no idea what they are quoting at). Most recent articles are about the bond opportunity.
Inogen: Needs To Take A Breath by Citron Research
Not every Citron idea is a headliner, but the quieter ones are worth looking at.
Citron Research is very good at getting attention for their ideas. That's not a snide comment - it's a skill to get the word out on your theses. And nobody will care if there's not a new angle in there.
But not every thesis gets a ton of attention. I didn't know what Inogen (INGN) was before reading this article, for example. The company makes portable oxygen concentrators. Citron cites their lack of R&D spending - though the chart they use is confusing - and declining Medicare reimbursement rates as concerns. Those and the valuation seem to me the most pressing issues. I would have liked to learn more about the competitive landscape and the dynamics of billing and payments, but that's a good place to start.
I'm docking Citron a few points for this line, though: "Whether you are a Laurel or a Yanny, you cannot fail to hear that Inogen should quickly fall 50%." C'mon, man!
Sentiment Check - The comments are mostly positive to Inogen. We don't have a lot of coverage, though Stephen Simpson appears bullish about the company if not the valuation. As long as I'm docking points, this line from a comment costs the user a few: "but missed on the comparable. It is not ResMed, but Tesla or Amazon." Abiomed (ABMD), Insulet Corporation (PODD), and Cantel Medical Corporation (CMD) are companies most often followed by INGN followers.
AGT Food And Ingredients: Over-Levered Commodity Business Flirts With Financial Ruin - 75% Downside by Auger Analyst
Pretty damning case for a commodity play.
I cheated, as this article is from more than a week ago, but I like it. AGT Food (OTCPK:AGXXF) is a Canadian company focused on pulse foods - chickpeas, lentils, beans, and other assorted superfoods. This is quite a table: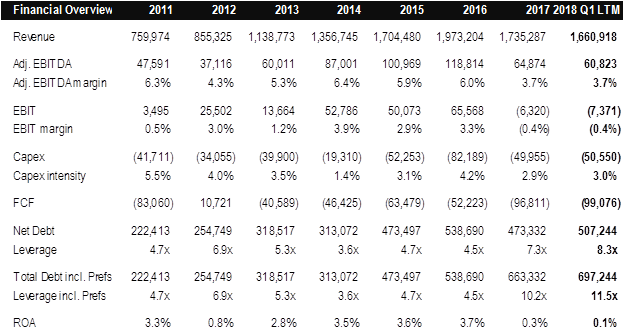 In other words, free cash flow has been mostly negative, margins have not been exciting, and net debt has mostly gone up. I'm going to stop there, as I don't know what else you can do with that. Auger Analyst does cite several concerns if you want to have a look.
Sentiment Check - Simpson has been the main voice for this stock as well and speculated on whether we are close to bottom in his last article. There are commenters on both sides, and DeweyDilligence is a frequent participant in discussions.
The Pony Is Fast Out Of The Gate, But This Race (Turnaround) Is A Long One: An Analysis Of Ralph Lauren's Q4 Earnings by Viola Capital Management, LLC
New buysider on SA, saying the pop in RL isn't legit.
I haven't reviewed this article closely yet but would flag it for later. Viola Capital Management, LLC is a new buysider on SA, and Berna Barshay (the CIO) shared the thesis in full at the Kase Learning Conference.
Source: YouTube
Consumer shorts are a perennial hot topic, so this may be worth digging into.
Sentiment Check - The comment stream is a good value-add between Viola and a couple commenters. The stock has been a huge winner recently, but this is our first short idea since late 2016 and we haven't had a lot of long ideas on the stock recently either.
Long Ideas
We published 286 long ideas over the past week. I picked six stories (including eight total articles) that caught my eye, again with a good smattering of new authors.
TURN: A 180-Degree Turnaround Story With A Margin Of Safety by Ravenwood
180 Degree Capital: Entering The Activist Phase Of Its Turnaround by Dan Stringer
Investors investing in investing companies. But the story has changed.
There is some innate appeal to investing in investing companies. Since we are investing in our stock portfolio, we believe we have direct understanding and comprehension of investing companies. But, we're also just one step further removed from the actual analysis, so there is a trade-off.
180 Degree Capital (TURN) has great ticker synergy and used to list as TINY. Which was also great ticker synergy because the investment returns were bad. Dan Stringer has been following the potential turnaround and doing good work on the stock, and his case highlights how the company was a mismatch in its former structure - a BDC is known to produce regular dividends but owning private company equity is not a steady income generating business. They've since pared their cost structure and started investing in more liquid securities, which would appear to explain their rising stock price (along with a rising net asset value, of course). Ravenwood, another new author, offers more of an initiation analysis on the stock, looking a little more at the marks TURN has on its book.
I wonder whether venture capital, being in a bubble, would be a bad business to own as a public equity investor, but it sounds like TURN is moving away from that model.
Sentiment Check - There is not much other coverage on the stock recently, but the comments on the article are knowledgable (this is a good one on the limitations of TURN's new model).
National Security Group: A Security I Will Hold For A Long Time by Grant Dittman
Everything a micro-cap value investor could ask for.
I said investors are drawn to investing in other investing companies, but value investors love to add another layer by investing in insurance companies, who have a main business and use that business's float to invest in other companies. National Security Group (NSEC), as detailed by Grant Dittman, has exactly that property.
If there is one thing value investors who look for obscurity like, it is micro-cap insurance companies. Let's run through a checklist:
Obscure? - No one has written about it on Seeking Alpha in 4 years. Check
Micro-cap? - $40M market cap. Check
Discount to Tangible Book Value? - TBV is $46.7M, 17% higher. Check
No catalyst to unlock value? - Unless you count moving their business away from the Gulf Coast to avoid hurricane risk, which is a very slow catalyst, then Check
Well-positioned for interest rates? - The company's fixed-income holdings are short duration, meaning they can reinvest at higher rates if we go in that direction. Check
This is a good article, and as Dittman argues, it may be a good 'single' for a portfolio. Worth looking into if you like this sort of thing.
Sentiment Check - There is no sentiment here, so I'll take this as an excuse to encourage Dittman to write more and fill out that profile!
Copa Dinged By Some Macro And Competitive Worries, But Still Operationally In Good Shape by Stephen Simpson, CFA
Copa: This Airline Is Flying Back To Its Previous All-Time High by Melborn Research
The perfect combination of extrinsic risk and strong intrinsic performance.
We finally come to a Simpson article in the spotlight as well as a new contributor in Melborn Research. I have been talking airlines for a few weeks related to our Behind the Idea podcast (see the latest below), and in the US they seem to be hitting a boom time even with the risk of oil prices.
The story abroad is different because there is, on the plus side, exposure to growth and secular trends that have already played out in developed countries, and on the minus side, the regulatory climate is different and you have external risks like 'Colombia might elect a hard-left President' or 'Brazil is really struggling' or 'Venezuela is going through a humanitarian crisis.'
These articles do a nice job reviewing the positives in Copa Airlines (CPA) performance. I like Melborn Research's use of 'green flags'. I would add that CPA seems to have a near 0 net debt position and is trading for 11-12x EPS or FCF, which are reasonable if you buy the regional growth story.
Sentiment Check - Sentiment has been mostly bullish over time, even as the stock has really bounced through some turbulence: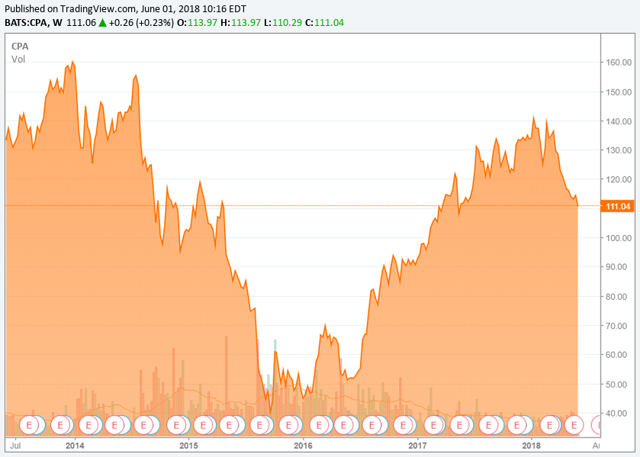 Smartsheet: There Is Even More Upside Potential by Timur Mirzaev, CFA
Two ways to look at new companies - stories or numbers. This does the latter.
Smartsheet (SMAR) took off this week. Its business I think is meant to automate a lot of the tech development process, or rather the project management nitty-gritty elements that support the development process.
Mirzaev's article focuses more on the numbers and how SMAR justifies its valuation and may have more upside. I don't know whether I agree, but I think it's an interesting area to look at. I would like to see a more realistic rendering of path to profitability, more on competition, and I'm not sure I buy the valuation given it's 5-6 years away from FCF per the model. But all the same, worth a look.
Sentiment Check - Not a ton out there. Gary Alexander covers a lot of SAAS companies and leans bullishly, which makes this article and the comments an interesting piece of context.
Duluth Holdings: Becoming Attractive As Growth Story Develops by Modest Millennial
A retail story that may actually have growth ahead?
This is a secondary Peter Lynch effort, as the author takes their father's interest as a launch point to study Duluth Holdings (DLTH). If you take the premise that the way to win in retail is to have a niche focus and direct access to your consumers, rather than relying on middlemen, then DLTH may be interesting. They just started opening stores in 2017 and most of their sales is direct to consumer. Their niche includes marketing lines like "Crouch without the ouch" which, come on, that's great. And they are free cash flow negative but growing revenue fast, suggesting a build out story. Unusual for the sector, at least.
Sentiment Check - Articles are mostly bullish, but the stock has been down over the last 18 months and flat over the last year. If anything, I'd think superficially that the oil price spike is good for the company. But nothing has taken the market's attention yet.
Texas Two-Stepping With 3 Public Frac Sand Companies by Laura Starks
Selling sand to oil men.
Speaking of oil, our last article is on frac sands companies. While this is obviously a commodity play, Laura Starks' analysis may be a good guide into the world of Silica (SLCA), Smart Sand (SND), and Hi-Crush (HCLP). I don't know what would distinguish these companies, but if the space, in general, is of interest - and it is a low PE multiple, high short interest sort of space, so there is interest on both sides - this can help orient.
***
That's it for Editor's Notes. If you enjoyed this, please follow me to get more of these - I'm shooting for one focus article on a given company and one article like this each week. Your feedback is welcome if you have ideas of what you'd like to see, so get in touch. And chime in below if you read other ideas worth a mention.
Have a great weekend!
Disclosure: I/we have no positions in any stocks mentioned, and no plans to initiate any positions within the next 72 hours. I wrote this article myself, and it expresses my own opinions. I am not receiving compensation for it. I have no business relationship with any company whose stock is mentioned in this article.