Quick BDC Market Update
As shown in the following table, the average business development company ("BDC") is currently trading at a discount to net asset value ("NAV") per share with a wide range of multiples. BDCs are priced based on potential returns to shareholders, which is driven by the credit quality of the portfolio as well as maintaining a lower cost structure. Changes in NAV per share are only an "indicator" of credit quality because investments can be restructured into non-income producing equity assets or other investments could be marked up with potentially overinflated values.
As shown below, many of the higher-quality BDCs that I have pointed out in my previous articles over the last two months have been growing their book value/NAV per share over the last two years while paying special dividends, including:
Other BDCs with have NAV per share growth but have not recently paid special dividends include Gladstone Capital (NASDAQ:GLAD), New Mountain Finance (NYSE:NMFC), FS Investment Corp. (NYSE:FSIC-OLD), PennantPark Floating Rate Capital (NASDAQ:PFLT), Ares Capital (NASDAQ:ARCC), PennantPark Investment (NASDAQ:PNNT), TCP Capital (NASDAQ:TCPC), and Solar Senior Capital (NASDAQ:SUNS).
Conversely, many of the BDCs with NAV declines have recently cut dividends, including Oaktree Specialty Lending Corp. (NASDAQ:OCSL), Medley Capital (NYSE:MCC), Alcentra Capital Corp. (NASDAQ:ABDC), Capitala Finance Corp. (NASDAQ:CPTA), KCAP Financial (NASDAQ:KCAP), Triangle Capital (NYSE:TCAP-OLD), Harvest Capital Credit Corp. (NASDAQ:HCAP), and Oaktree Strategic Income Corp. (NASDAQ:OCSI). These BDCs typically trade at a 20% to 30% discount to NAV.
Also, management members of BDCs often discuss the wide range of variables that can be used to value 'Level 3' assets (defined as unobservable inputs for which little or no market data exists, therefore requiring an entity to develop its own assumptions) even when using a "third party". Typically, BDCs with a conservative valuation history and/or higher credit quality, usually trade near or above NAV.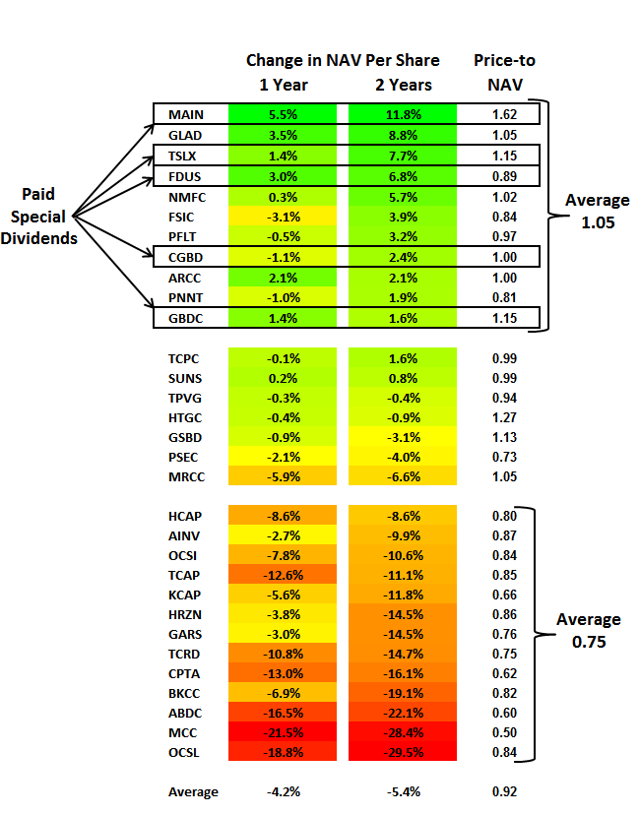 Source: SEC Filings and BDC Buzz
BDCs were pulling back since May 2017. However, they have recently started to rebound, and as mentioned in "BDC Buzz Begins Purchases Of Higher Quality BDCs," I have been buying additional shares of higher-quality BDCs, especially given the oversold conditions driving higher yields.
Some of the positive changes in the BDC sector include:
As discussed in previous articles, I was expecting a rally in BDC pricing in Q1 2018 (similar to previous years). Since March 1, 2018, the average BDC has easily outperformed the S&P 500 even before taking into account dividends paid. I am expecting BDCs to continue higher for many reasons, including the recently announced strong Q1 2018 results reported by most BDCs, with higher portfolio yields and management guidance for increased portfolio growth potential in 2018. Also, many BDCs reported higher-than-expected earnings and dividend coverage with increased net interest margins.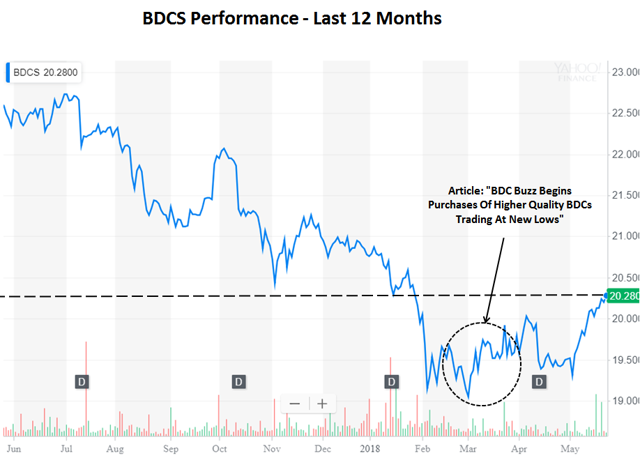 Seeking Alpha has decided to make articles such as this one available for the first 10 days only. The following articles are still available (for free) to all readers:

Subscribers of Sustainable Dividends are provided with real-time announcement of any changes to my BDC portfolio, including my recent purchase of CGBD near the lows as shown in the following chart, along with timing of my Upcoming BDC Public Articles.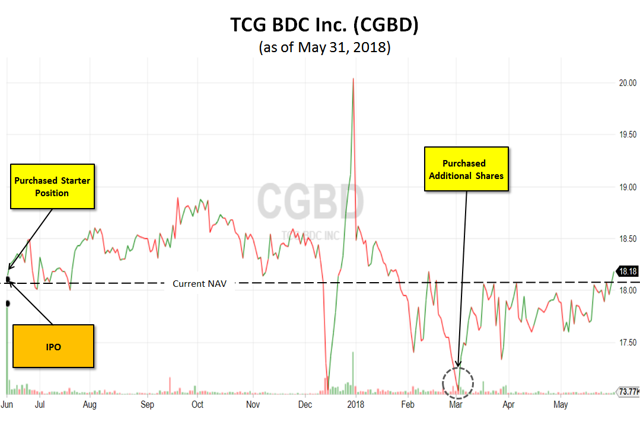 Dividend Coverage Update:
CGBD continues to ramp its joint venture Middle Market Credit Fund, LLC ("Credit Fund"), increasing its overall portfolio yield for continued excellent dividend coverage. For the quarter ended March 31, 2018, CGBD reported between my base and best case projections mostly due to higher portfolio yield and income from its Credit Fund covering its dividend by 109%. It is important to note that most of the recent increases were from recurring sources of dividend coverage implying the potential for a dividend increase or at least special dividends in the coming quarters.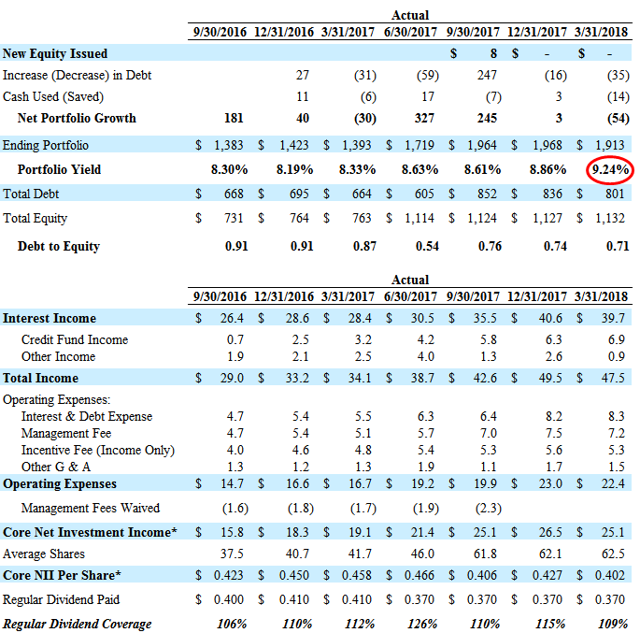 Source: SEC Filings and BDC Buzz
Middle Market Credit Fund, LLC ("Credit Fund"):
The Credit Fund investment portfolio grew to $1.1 billion at fair value as of the quarter ended March 31, 2018, as compared to $985 million for the quarter ended December 31, 2017. The Credit Fund's new investment fundings were $147 million for the quarter and sales and repayments totaled $44 million, resulting in a net portfolio increase of $103 million. The Credit Fund produced a 19.4% annualized yield (up from 13.9%).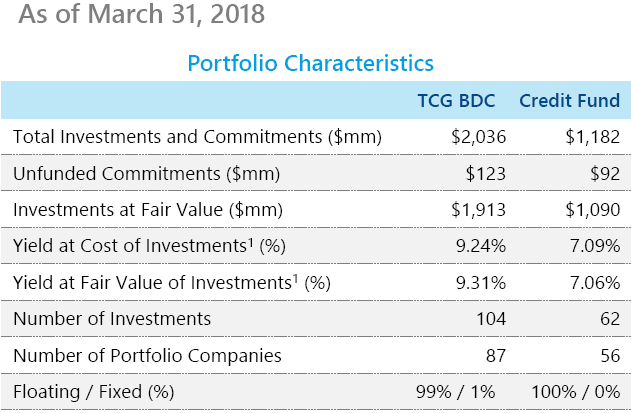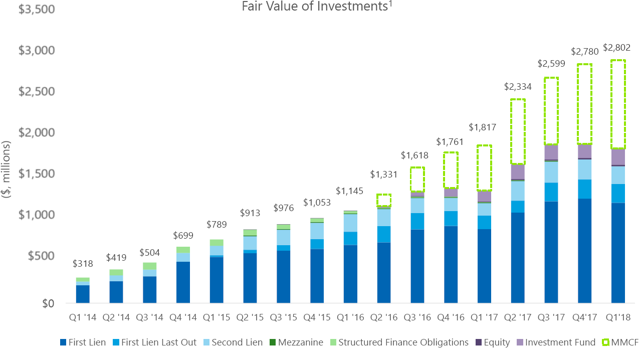 Source: CGBD Earnings Call Slides
BDCs continue to experience higher portfolio yields mostly due to the rising LIBOR that should improve (or at least maintain) net interest margins and dividend coverage for the sector in the coming quarters.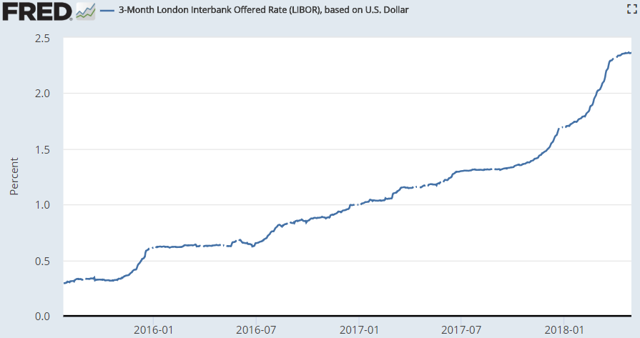 Source: FRED
Since 2016, CGBD's portfolio yield has increased from 8.19% to 9.24% and was discussed on the recent call:
"In terms of the yield environment, we continue to benefit from rising LIBOR, resulting in our average asset level yield across our portfolio, increasing over 40 basis points over the fourth quarter of 2017."
Source: CGBD Earnings Call
Interest Rate Sensitivity Analysis:
Interest rate sensitivity refers to the change in earnings that may result from changes in interest rates. As of March 31, 2018, 99% of portfolio debt investments bore interest at variable rates, most of which are subject to interest-rate floors. However, 100% of borrowings were also at variable rates.
If interest rates continue to rise, I would expect net investment income ("NII") to increase around $0.12 per share annually for each 100 basis points, using the current balance sheet.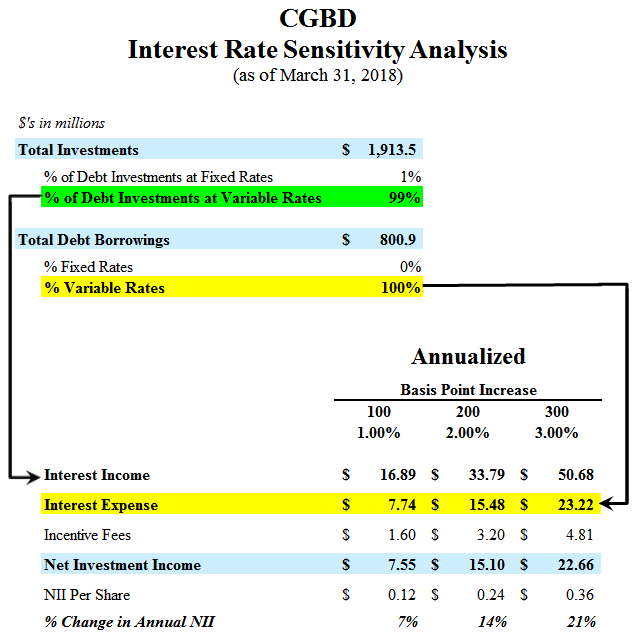 Source: SEC Filings and BDC Buzz
As shown below, CGBD has easily covered its quarterly dividend of $0.37 per share and is expected to over the coming quarters, likely driving continued special dividends. It is also important to note that analysts have been recently raising estimates:

Source: Thomson First Call
Risk Profile Update:
CGBD has 77% of the portfolio invested in first-lien assets with lower concentrations by borrower and highly diversified by sector, as well as access to an experienced credit quality platform and low non-accruals.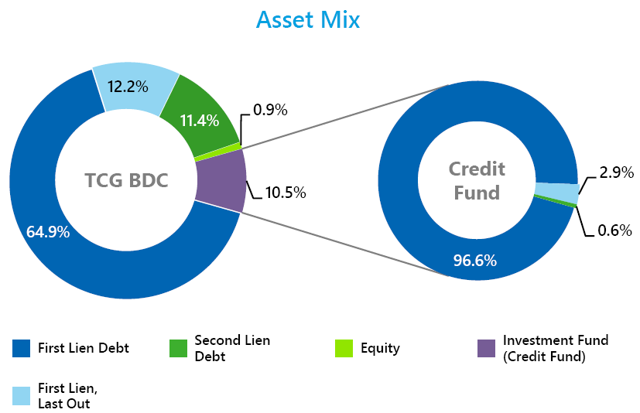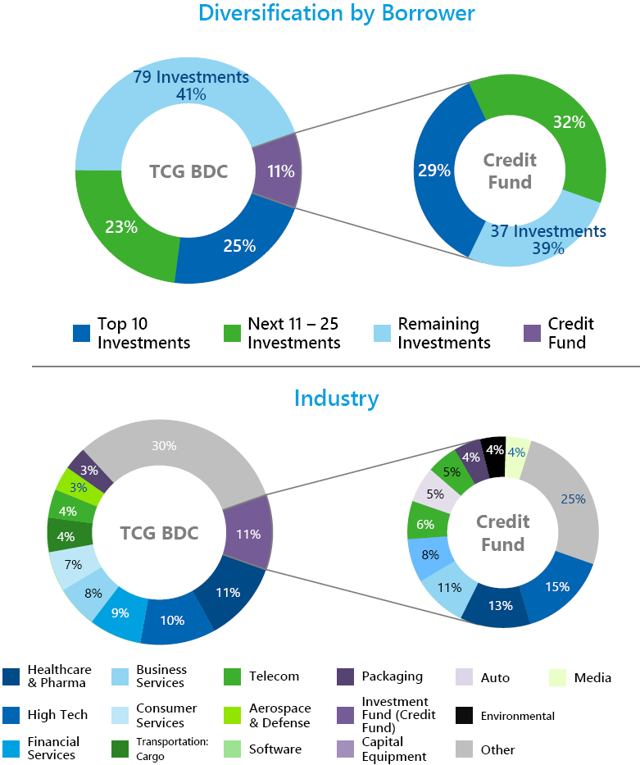 Source: CGBD Earnings Call Slides
Fundamental credit quality remains strong with one borrower, Product Quest Manufacturing, LLC, that remains on non-accrual status due to "operational and liquidity challenges". On the previous call, management mentioned that all lenders (including CGBD) have provided an additional credit facility to support the working capital needs and will provide updates on future calls. Product Quest has a fair value of almost $19 million or 1% of the portfolio.
"Product Quest remained our sole loan on non-accrual status. In terms of credit metrics, our portfolio continues to experience annualized LTM revenue and EBITDA growth of over 10% on a year-over-year basis."
Source: CGBD Earnings Call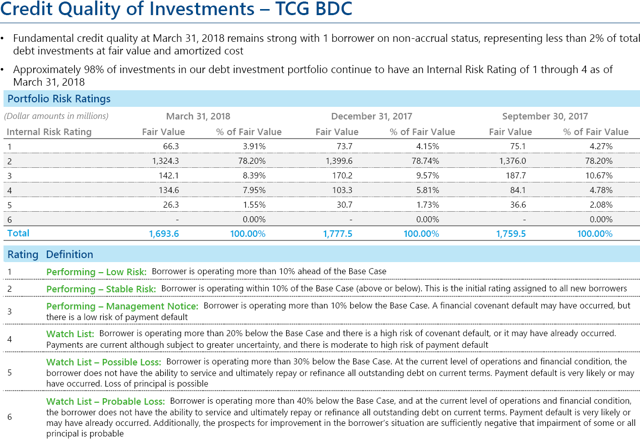 Source: CGBD Earnings Call Slides
NAV per share declined slightly due to net unrealized depreciation of $0.06 mostly due to Product Quest and partially offset by over-earning the dividend:
"In regards to valuations, total aggregate realized and unrealized net loss was $4 million for the quarter. Valuations again benefited modestly from continued tightening in market spreads. We had an additional markdown on Product Quest, while the rest of the portfolio was roughly flat in the aggregate."
Source: CGBD Earnings Call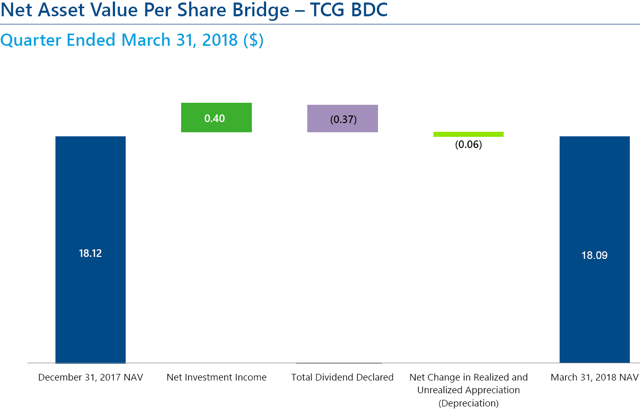 Source: CGBD Earnings Call Slides
This information discussing CGBD was previously made available to subscribers of Sustainable Dividends, along with real-time changes to my personal BDC positions, target prices and buying points, updated rankings and risk profile, any changes to dividend coverage and worst-case scenarios, and suggested BDC portfolio.
To be a successful BDC investor:
Establish appropriate price targets based on relative risk and returns (mostly from dividends).
Closely monitor your BDCs, including dividend coverage potential and portfolio credit quality.
Identify BDCs that fit your risk profile (there are over 50 publicly traded BDCs, please be selective).
Diversify your BDC portfolio with at least five companies.
Be ready to make purchases during market volatility and look for opportunistic buying points.
The information in this article was previously made available to subscribers of Sustainable Dividends, along with:
Target prices and buying points
Real-time changes to my personal BDC positions
Updated rankings and risk profile
Real-time announcement of changes to dividend coverage and worst-case scenarios
Suggested BDC portfolio
Disclosure: I am/we are long CGBD. I wrote this article myself, and it expresses my own opinions. I am not receiving compensation for it (other than from Seeking Alpha). I have no business relationship with any company whose stock is mentioned in this article.