JP Morgan (NYSE:JPM), Berkshire Hathaway (NYSE:BRK.A) (NYSE:BRK.B) and Amazon (NASDAQ:AMZN) just recently announced they will be investing in their own private healthcare company in an attempt to provide better care and affordability.
Since this joint venture has not yet been named, we will refer to it in this article as J.P. BAM. Apple (NASDAQ:AAPL) has also made a push into the space by opening Apple-owned medical clinics under the name AC Wellness at its California campuses. Given the financial resources and political power that these companies possess, lower prices and better healthcare outcomes may finally become a reality. Healthcare practitioners and companies across the spectrum - health insurance, pharmaceutical, PBMs, drug and medical device distributors - should all be on high alert.
J.P BAM has stated it is in the early planning stages and is just now looking to appoint a CEO. As it is sure to have access to the best talent and research, it is likely to be surprised by its initial findings. Clearly Jeff Bezos recognizes the labyrinth of its endeavor as he stated:
"The healthcare system is complex, and we enter into this challenge open-eyed about the degree of difficulty."
Conversely, I think Warren Buffett may be a little surprised by its initial research efforts. Warren Buffett stated:
"The ballooning costs of healthcare acts as a hungry tapeworm on the American economy. Our group does not come to this problem with answers. But we also do not accept it as inevitable. Rather, we share the belief that putting our collective resources behind the country's best talent can, in time, check the rise in health costs while concurrently enhancing patient satisfaction and outcomes."
Although entertaining and encouraging, this statement indicates a misunderstanding of the fundamental problem with healthcare.
The U.S. healthcare industry is indeed very complicated and difficult to understand, even for industry experts. Most industry articles consistently cite the rapid rise of healthcare costs and the unsustainability of these price increases over time. Surprisingly, the recent data doesn't support this position. As depicted on the graph below, these trends have been moving in the right direction, from the upper left to the lower right, for quite some time (source: Centers for Medicare & Medicaid Services).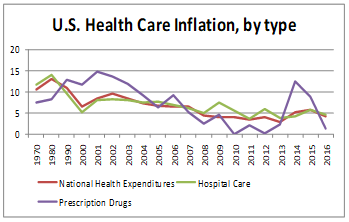 The introduction of both Medicare and Medicaid in 1965 dramatically increased heath care facility utilization in the United States. This along with the government's inability to use its influence and number of members to control pricing led to high utilization and dramatically higher costs in the 1970s and 80s. In the 1990s and early 2000s, hospital care inflation moderated but was offset by significant pharmaceutical drug price gouging. The recent decline in the rate of increase has been driven down predominately by relatively consistent declines in pharmaceutical prices. Although the overall trend in pharmaceutical pricing has been slowing, 2014 and 2015 appear to be dramatic outliers. This short period of dramatic price increases was driven by a handful of bad actors (e.g. Turing Pharmaceuticals, Mylan Labs (NASDAQ:MYL), Gilead Sciences (NASDAQ:GILD) and others) passing through massive drug price increases. Turing and Mylan took advantage of collusion, while Gilead dramatically raised prices before facing pending generic drug pricing with its hepatitis C franchise. Given the political backlash from these unscrupulous companies and a rise in generic drug releases, prices receded dramatically in 2016 and the trend remains today. CMS data is not currently available for 2017. However, according to Prime Therapeutics the fifth largest pharmacy benefit manager (PBM) in the country:
"Per member per month spending on drugs in commercial plans was down 0.2 percent, compared with a decline of 0.8 percent in Medicare and a decline of 5.4 percent in Medicaid, according to the report. Medication use increased in all three groups, but unit prices declined by a larger factor."
Furthermore, industry experts forecast this trend to continue for the foreseeable future. Nicholas Wyatt, Project Leader for MarketLine, told Drug Topics:
"…the recent rash of generic approvals, coupled with the scope for more to replace drugs coming off patent between 2017 and 2020, should continue to drive strong growth."
Regardless of the facts, the pricing pressure that pharmaceutical companies have faced over the past two years is making its way across the entire spectrum of care (depicted below, source: Centers for Medicare & Medicaid Services, Office of the Actuary, National Health Statistics Group).
The slowing of price increases is even more encouraging than it first appears because demographics (Age and Sex Factors) and per capita consumption (Residential Use and Intensity) represent over 50 percent of the rise in healthcare costs. This doesn't seem like a "hungry tapeworm on the American economy" but rather an issue with demographics and per unit consumption. As our society continues to age and becomes wealthier, greater healthcare consumption seems inevitable.
The political backlash and media attention facing the pharmaceutical industry is already driving cost containment across the sector. Despite the numbers showing encouraging signs over the past few years, the media and politicians will continue to clamor over the rampant rate of healthcare inflation. Whether the numbers support the media's position appears irrelevant at this point. As medical device and other med supply companies have witnessed the backlash on the pharma side, they are being more cautious in their pricing.
The moderation in healthcare inflation is likely to continue as the industry's fear of disruption from J.P. BAM and others intensifies. Companies across the spectrum of care are likely to proactively look to lower their costs and provide further savings for both patients and payors.
This new joint venture obviously brings huge competitive advantages from a cost of capital standpoint. Both JPMorgan and Berkshire Hathaway have unmatched access to capital and could present competitive advantages from a financing standpoint. They bring less to the table from a "know how" point of view. The only areas they currently have direct experience is from the consumer product distribution (e.g. Amazon) and insurance (e.g. Berkshire) sides of the business.
Surprisingly the healthcare distributors seem the most likely to be gobbled up as their low margin business model is predicated on the need to leverage their high fixed cost asset base. The distribution space has been dominated by a few large players (AmerisourceBergen Corp. (NYSE:ABC), Cardinal Health (NYSE:CAH), McKesson Corp. (NYSE:MCK), etc.) that have been around for most of this century and tend to have large fixed asset bases that in many cases are fully depreciated. It makes little sense for Amazon to build their own fixed asset base in this space when the assets are already in place and in many cases undervalued based on depreciation. By acquiring one of these companies they can leverage their true advantage: low cost of capital.
This is further supported by Amazon's April 16th announcement that it has shelved plans to sell drugs to hospitals. According to a CNBC article:
"Amazon has mastered logistics and shipping for everyday products such as toilet paper and cleaning supplies, worrying some the company could do the same with drugs and medical supplies.

Others, however, have said those fears are overblown because the hurdles might be too high for even mighty Amazon to overcome.

Part of Amazon's decision comes from its inability to persuade hospitals to change their current purchasing practices and its need to build a more sophisticated logistics network, the people told CNBC."
Clearly this high fixed cost oligopolistic industry is more challenging to penetrate than Amazon initially thought. "Shelving" its initial efforts maybe another way of saying that the company is looking to make a large acquisition to enter the space.
The hospital sector is less attractive from this standpoint as its erratic stream of profitability and losses has caused numerous bankruptcies, divestitures and scandals (e.g. HealthSouth, Tenet Healthcare (NYSE:THC), Community Health Systems (NYSE:CYH), etc.) where assets are reassessed and often re-leveraged to emerge out of restructuring.
By building or potentially acquiring specialty clinics and hospitals, J.P. BAM can use its low cost of capital to increase margins from the start. With higher levels of profitability it could modernize the facilities with better integrated systems and eliminate waste. There are numerous studies that have shown hospitals often discard billions of dollars a year in new, unopened medical products and new or slightly used capital equipment. With modern integrated systems the hospitals can become more streamlined. From an investing standpoint, companies like Cerner Corp. (NASDAQ:CERN), athenahealth Inc. (NASDAQ:ATHN), and HMS Holdings, Corp. (NASDAQ:HMSY) all offer system integration software and should see heightened demand and/or strategic consolidation opportunities over the next few years. Additionally, new technology platforms are emerging, allowing hospitals, for the first time, to collaborate to purchase, sell and share medical devices, pharmaceuticals and capital equipment, creating new efficiencies and cost reductions. These platforms would enable hospitals in private groups or custom groups to behave more like the retail markets (Costco (NASDAQ:COST), Walmart (NYSE:WMT), Nordstrom (NYSE:JWN)) and have visualization into real-time inventory with each other for purchase or sale. From a reselling platform standpoint, there are fewer publicly traded companies. This is where Amazon could build its own system or more likely acquire one or multiple smaller players in the space (H-Source (OTCQB:HSCHF), or privately held BidMed or ReLink Medical).
There are numerous other ways J.P. BAM could capitate the growth in healthcare spending but the most obvious would be using its buying power to lower medical device and pharmaceutical pricing. By utilizing technology and limiting sales rep influence, J.P. BAM can equip its practitioners with the necessary information to drive decisions based on cost and clinical outcomes versus kickbacks.
"CVS Health (NYSE:CVS) and the Association for Accessible Medicines (AAM) praised a recent study that found that policies limiting pharmaceutical sales activities at academic medical centers resulted in an increase in the prescribing of generic drugs. After policies against detailing were implemented, there was a 1.67% decrease in the market share of detailed drugs and a 0.84% increase in the market share of non-detailed drugs, more than 95% of which are generics."
Doctors Prescribe Generics Pharma Rep Stay Away
Limiting sales rep influence can also create savings with surgical supplies and capital equipment. In a 2016 article, an anonymous sales rep explained:
"I often felt like I'm driving up the costs of the healthcare system. We used to sell an implant that has 99% survivorship at 15 years, which is great, right? We were told to not ever market it to anybody … If a doctor asked for it by name, we would give it to him. We want to market the newer, the better technology. I'm not certain I ever thought the newer technology was better. There certainly wasn't data on it … I was uncomfortable with those sorts of things."
Close Ties Between Surgeons and Device Reps
It has been well documented that most hospitals lack fully automated systems integration and transparency. As a result, the significant amount of products purchased for the various stakeholders in multiple departments, and the motivations (preferences) that drive those choices, create a significant amount of idle and overstocked inventory which is non-returnable for credit to the manufacturers and either expires or is discarded in the billions annually. These are the types of inefficiencies that are the lowest hanging fruit for J.P. BAM and others.
In summary, medical cost inflation is surprisingly moving in the right direction. Given demographics and higher utilization, the system needs to continue to bring prices down. With J.P. BAM and other large companies (e.g. Apple's AC Wellness initiative) addressing the problem, we should continue to see better outcomes and lower prices over the next decade. Pharmaceutical and medical device companies will see an accelerated rate of price compression as hospitals move to better harness internal usage and tracking technology, remove salespeople from their daily operations and embrace collaborative exchange platforms to purchase and sell inventory with each other. J.P. BAM and others should look to use their financial acumen and leverage to acquire the fixed asset side of the industry and leverage technology to provide a next generation healthcare model.
Disclosure: I/we have no positions in any stocks mentioned, and no plans to initiate any positions within the next 72 hours.
Business relationship disclosure: William Lang has provided paid research to H-Source Holdings, LTD in the past. William is not being compensated by H-Source or any other company mentioned in this article for this industry piece.
Editor's Note: This article covers one or more microcap stocks. Please be aware of the risks associated with these stocks.