The year 2018 started well for Bank of Cyprus (OTCPK:BKCYF). As soon as the quarterly results were published the stock gained 15% in just one day. Yet it is fair to mention the stock has been going down the last couple of months due to (I suppose) the worries of the deep sea drilling disputes with Turkey. But all these developments distract from the fundamental improvements that are going on at BOCH.
Balance sheet repair
Starting this year, BOCH will report mainly on the NPEs (non-performing exposures) instead of the more traditional 90 days past due (90DPD) loans to be more in line with EBA guidelines. This is important for you to know because NPEs include both the 90DPD loans and expected (not incurred) losses. Especially the "expected" part is based on opinion and thus easy to manipulate. So if NPE reductions are announced, always check whether the reduction came from the "real" bad loans or from the "expected" bad loans (one is clearly superior!). Now, let's dive into it:
BOCH started the year reducing the pile of bad loans yet again, both in absolute and relative terms. There were €0.14bn of new NPE inflows and €0.61bn of NPE outflows, resulting in a €0.47bn net reduction:

Source: BOCH - 1Q2018 Results presentation
Rest assured, the majority of those reductions came from the 90DPD pile of bad loans. BOCH is making real progress. But not only did they reduce bad loans, the coverage of these loans also improved: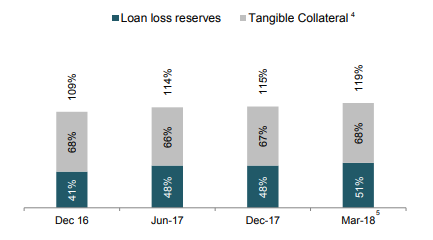 Source: BOCH - 1Q2018 Results presentation
To give some perspective, the cash reserves of 51% are well above the EU average of 44%. It should give confidence to any investor that bad loans are going down, coverage is going up and cash reserves are above average.
One of the instruments BOCH used to reduce bad loans are debt-for-equity swaps. As a result, 6.6% of the balance sheet is now comprised out of real estate and land. Via its REMU entity, the bank is trying to sell these assets and use the liquidity to originate new healthy loans. Also, ~10% re-pricing of asset values will wipe out all equity. There's little margin for error. Therefore, I also focus on the value of the "mere" 6.6% of assets.
This quarter, REMU sold 97 properties at 19% above book value (4Q2017: 14% above book value). This is a nice clue that the provision policy of the bank is conservative enough.

Source: BOCH - 1Q2018 Results presentation
Another encouraging sign is that land is sold at the highest premium of book value (126%) and land happens to be roughly a third of REMU's total assets:

Source: BOCH - 1Q2018 Results presentation
However, the question I still have is whether REMU is able to keep up to sell above book value (even with a lot of land). If it is only selling its best properties, it's easy to show these figures. But what about the lesser quality assets? Unfortunately, I have not found any insights on this.
As a final note on REMU, I like their creativity on finding ways to sell assets. They have been able to group some real estate together and create a REIT out of it. This portion of property is now reclassified to "investment property" and realized a valuation gain of €8mn.
Profitability
As the bad loans resolve and assets are being sold, BOCH will be able to put capital to work. Yet we have to realize this will be at lower rates than the legacy loans due to the low-interest rate environment: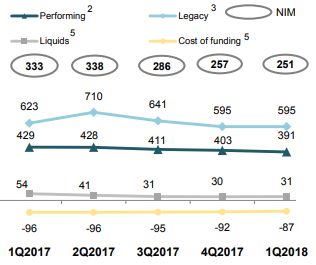 Source: BOCH - 1Q2018 Results presentation
Legacy loans have interest rates of 5.95%, while new performing loans are at 3.91%. As a result, the net interest margin will be under pressure in the future. At the same time, the cost of risk for the new loans will be way lower. Therefore, I expect the post-provision impact on margins to be moderate.
Management has previously guided an EPS of ~€0.40. This quarter, the EPS has been €0.10 and the guidance of ~€0.40 maintained. With the current stock price, the forward P/E multiple for BOCH is 5.

Call me crazy, but this bank just looks cheap to me.
Disclosure: I am/we are long BKCYF. I wrote this article myself, and it expresses my own opinions. I am not receiving compensation for it (other than from Seeking Alpha). I have no business relationship with any company whose stock is mentioned in this article.