Well, another month has passed which means that it's time for the Bureau of Labor Statistics to release another jobs report. The headline numbers were quite good as the 223,000 new jobs created completed smashed the 190,000 expected by economists and the official unemployment rate dropped to 3.8%, its lowest level since April 2000. As is often the case though, there were some definite signs for concern in this report that we need to keep abreast of.
For the past few years, I have continuously bemoaned the fact that the overwhelming majority of new jobs were in low-wage retail or hospitality positions. These part-time jobs do have the politically desirable effect of bringing the unemployment rate down and masking economic weakness but they do not pay high enough wages to support a family at a middle-class level. That has begun to change however and lately we do see signs that higher-paying positions have started to dominate job creation. Here we see the job creations by industry for both April and May 2018: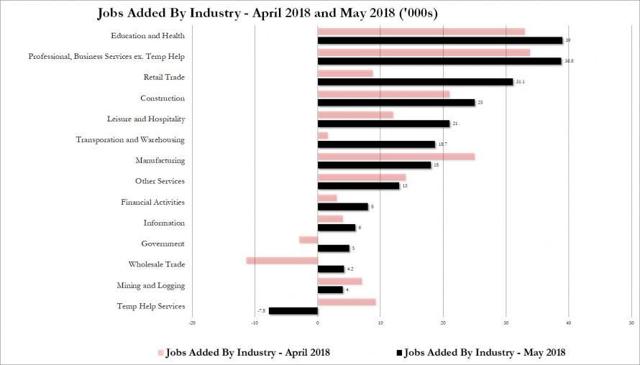 Source: Zero Hedge
The top two job-creating industries in May were Professional and Business Services and Education and Health. While the latter does have numerous low-paying jobs, it does include several positions that can easily support a middle-class lifestyle. Unfortunately, the next two largest job creating industries were Retail Trade and Construction, which are both relatively low-paying industries (especially retail). However, we do still overall see a substantial number of jobs being created in high-wage industries and, in fact, every industry except for temporary help added positions over the last month.
This is perhaps one reason why we saw solid wage growth in May. The month saw wage growth of 0.3% month-over-month, which brings the United States up to 2.7% year-over-year. These figures both beat the consensus expectations of 0.2% and 2.6% respectively.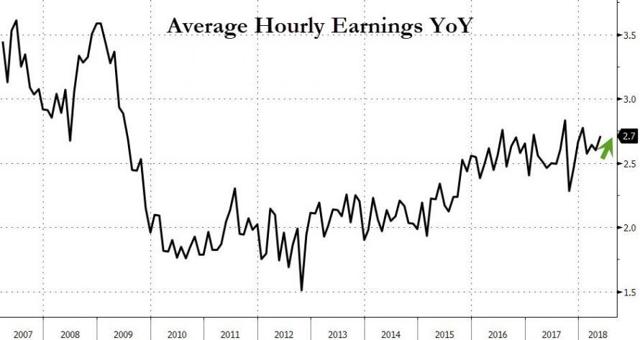 Source: Zero Hedge
In addition, the month of May also saw the number of full-time jobs expand while the number of part-time jobs declined.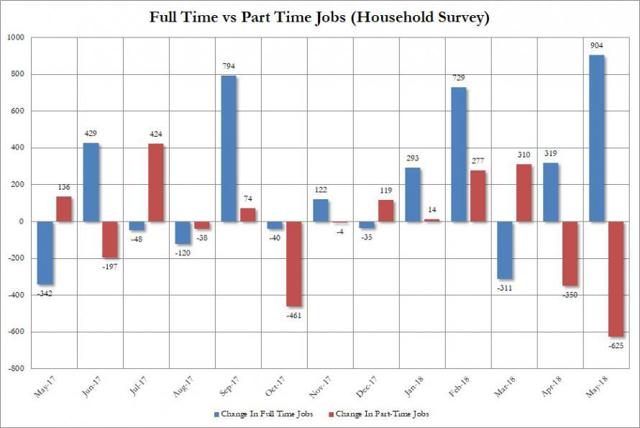 Source: Zero Hedge
This is quite good for the American worker for a few reasons. First of all, full-time jobs pay more. As part-time work usually has varied hours and relatively low pay per hour, it is very difficult for a part-time worker to participate fully in the economy (unless it's a teenager or young adult with outside support). A full-time worker in contrast has a relatively solid income that they can depend on, allowing for at least some participation in the consumer economy.
However, not all of the news in this jobs report is positive. As I have mentioned several times in the past, the unemployment rate as published provides a very poor perspective of the actual employment situation in the United States because it excludes people that have not applied for a job within the last four weeks for whatever reason. There are a large number of said people. According to the Federal Reserve, approximately 95.9 million Americans aged 16 or older were considered to be "out of the labor force" in May, which really just means that they did not seek employment during the month. This is a record high number of people.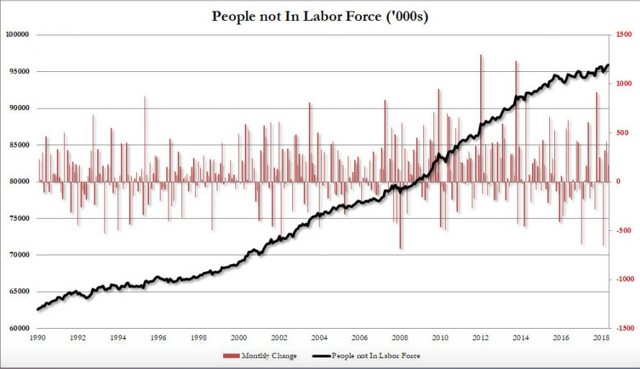 Source: Zero Hedge
This record high level of citizens outside of the labor force caused the labor force participation rate to decline to 62.7% compared to the increase in April.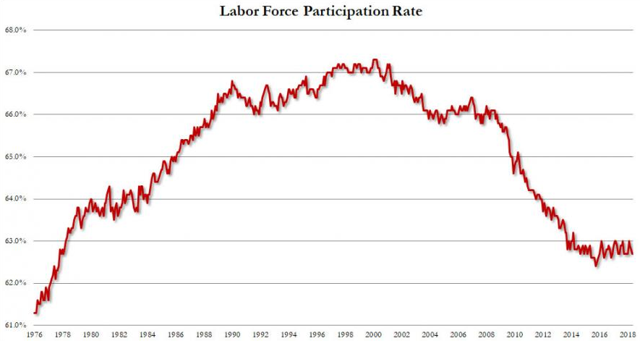 Source: Zero Hedge
As shown here, the labor force participation rate has been below 63% for roughly the past four years. Prior to that, the last time levels were this low was back in the late 1970s. While there are certainly valid reasons for a person to leave the labor force, such as retirement, this certainly cannot account for all of this phenomenon. Thus, we are forced to conclude that there is still a considerable amount of slack laborwise in the economy. Should we continue to see more months of excellent job creation, we might begin to see some of these non-working individuals re-enter the labor force, which would have the effect of increasing the unemployment rate (until they find jobs) and may also depress wages as the supply of labor increases.
Overall, this was a very good jobs report. The large number of newly created jobs in high-paying industries and the switch from part-time to full-time positions are all positive things for American workers. I continue to be concerned about the large number of people that are not actively working, however. This represents a major untapped source of potential for the United States and its future since non-working people do not generally start families, form households, or develop job skills that can help them in their future endeavors. They also do not pay taxes and the growing Federal deficit is something that should concern all investors and retirees. Overall though, the economy does appear to be on the right track.
Disclosure: I/we have no positions in any stocks mentioned, and no plans to initiate any positions within the next 72 hours.
I wrote this article myself, and it expresses my own opinions. I am not receiving compensation for it (other than from Seeking Alpha). I have no business relationship with any company whose stock is mentioned in this article.