There is little question that the average car on the USA roads is older than they were prior to the "Great Recession". But the question is why this is happening - and why is population adjusted new car sales declining over the last two years? Is this a precursor to an economic slowdown?
The St. Louis Fed posted a graphic which plots the time series of the mean age of vehicles on the road that were originally purchased new. [One must assume this means how long the original owner kept the car before trading or selling it.]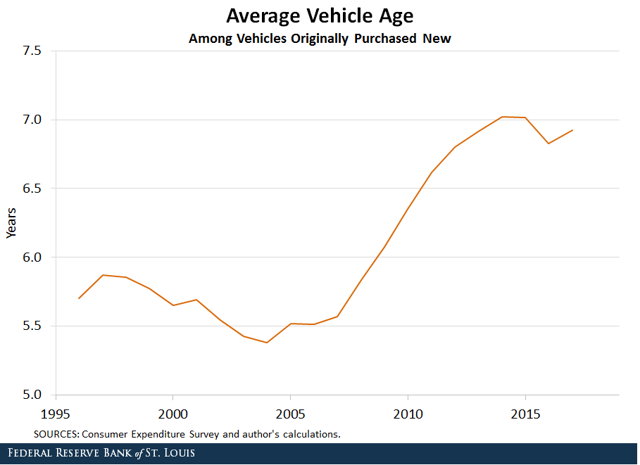 Ok, buyers are holding on to cars longer but new car sales have rebounded in sales quantities to pre-recession levels.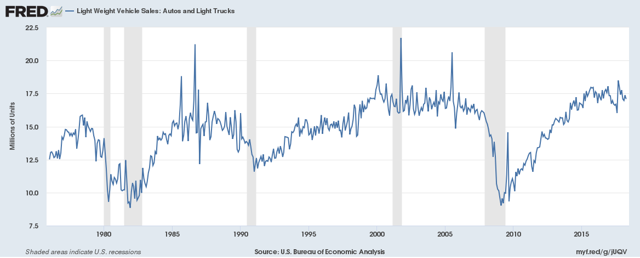 According to other sources, the USA average car is even older.
The average age of vehicles on U.S. roads has hit a plateau of about 11.4 years, according to an annual study by IHS Automotive, an auto industry research firm .... IHS forecasts that the average age of vehicles will remain about the same through 2015, then rise to 11.5 years by 2017 and 11.7 years by 2019.
Per capita new car sales has been falling since the 1970s (red line on graph below) - and per capita miles driven remains below the pre-Great Recession levels (blue line on graph below).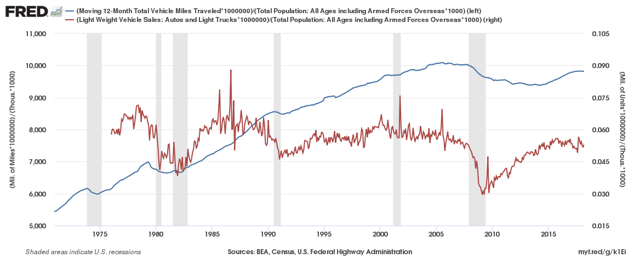 In the olden days, new car sales and miles driven were good litmus tests for the economy. In the "New Normal" - I am skeptical that anything relating to cars is a proxy for economic performance.
retired boomers (a major population block) - no longer commute to work
cars are more reliable - and are lasting longer [ok - but the cost of car repair has been increasing faster than inflation while new car prices are little changed over the last 5 years]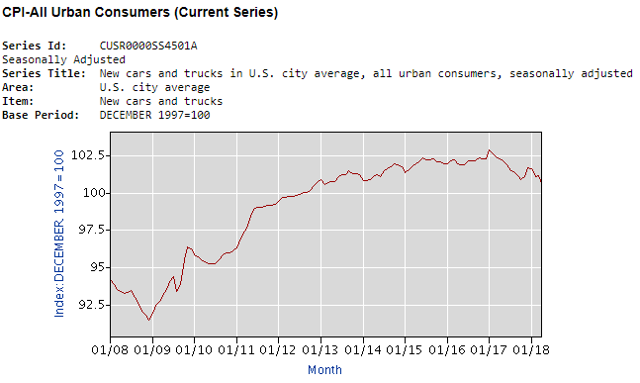 with a growing portion of the population consuming all their income each month - it squeezes car ownership dynamics. And it doesn't help that gasoline prices are going up and down like a yo-yo.
the "New Normal" may have temporarily reset when the young began driving, along with the idea one needed to trade in their cars every two years.
New car sales are an interesting data set. But there is little correlation to economic performance except to say a significant decline in new car sales is a recessionary sign.
My usual weekly wrap is in my instablog.
Disclosure: I/we have no positions in any stocks mentioned, and no plans to initiate any positions within the next 72 hours. I wrote this article myself, and it expresses my own opinions. I am not receiving compensation for it. I have no business relationship with any company whose stock is mentioned in this article.