Every month, I write at least one article about the general trend of the US economy based on the latest ISM manufacturing numbers. This article covers the results for the month of May who came in higher than expected. Furthermore, insider comments confirm the global inflation trend and labor market tightness.
What's The ISM Manufacturing Index?
Before I go any further, it is important to explain the whole reason behind covering the ISM manufacturing index. The ISM manufacturing index is a leading indicator. This means that the index tells us what we can expect in terms of economic growth over the next 1-3 months.
Moreover, every monthly report contains an overview of all important sub-segments as well as comments from industry insiders.
If you want more information about the validity of leading indicators, feel free to read my article about this topic.
The ISM Index Recaptured Lost Ground In May
In my previous article about regional manufacturing surveys, I concluded the following:
All things considered, I am sticking to my call that growth has peaked. However, I am not turning bearish yet. Especially this month has shown that there is more momentum to the upside which is likely going to support the stock market and cyclical assets in the next 3-6 months.
In the same article, I made the call that the ISM manufacturing index would almost certainly beat expert estimates in May which turned out to be true. The ISM manufacturing index came in at 58.9 versus expectations of 58.1. This is a 1.5 point increase compared to April of this year. However, I have to add that I did expect an even higher reading, one towards the 60 mark.
Anyhow, what we see is regained momentum supported by higher new orders. The index almost hit a three month high after peaking in February of this year at 60.8 points.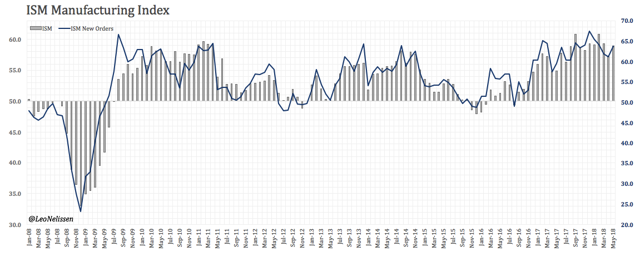 The overview below shows us the true extend of the recent rebound. Every core indicator saw growth ranging from a 2.1 points employment increase to another strong new orders number.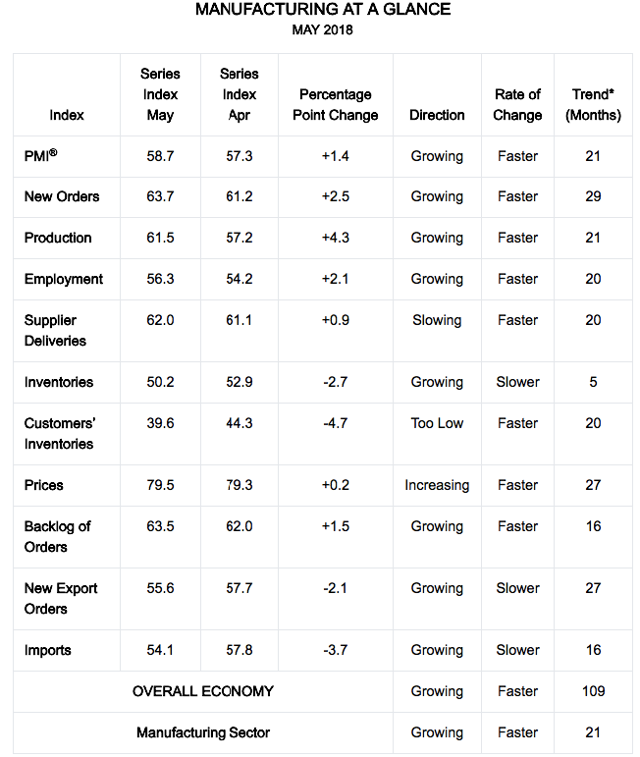 Source: Institute for Supply Management
Prices increased 'only' 0.2 points which might seem to be an underperformance. However, prices are currently at an 8-year high after starting a strong acceleration trend in 2017.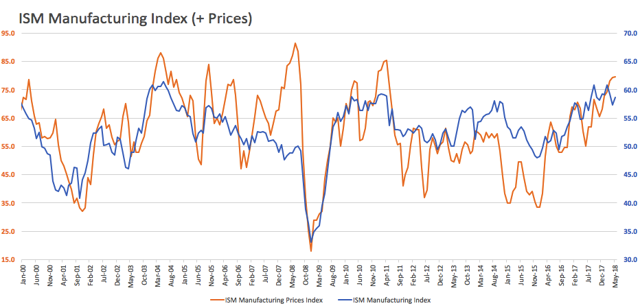 The same goes for employment. Even though the index is not at a new high we see another solid reading and a 2.1 point increase.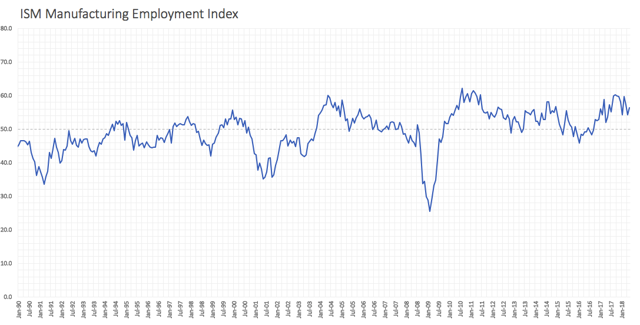 The reason why this index is so important is the current pressure due to a very tight labor market as many comments below reveal. This is noting new given that we are in an inflation acceleration trend since 2017. However, it keeps getting worse as the current comments reveal.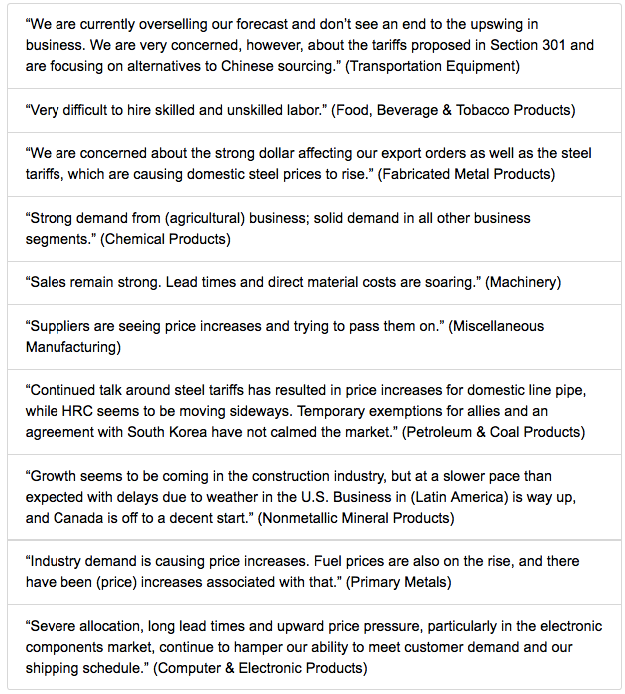 Source: Institute for Supply Management
Other than a tight labor market we see many comments regarding rising input inflation and the uncertainties regarding a pending trade war. The last thing companies need on top of commodity inflation is a higher tariff on (for example) import steel.
What's Next?
I am sticking to my thesis that growth has peaked. The business cycle has accelerated between Q1 of 2016 and Q1 of 2018 after slowing down in 2014 and 2015 and is currently in a mature stage.
Future capital expenditures have continued their decline. This is meaningful given the ability of future capex to ignore short term 'noise' like the most recent growth increase. Note that I retrieved the chart below from my article which I mentioned at the start of this article.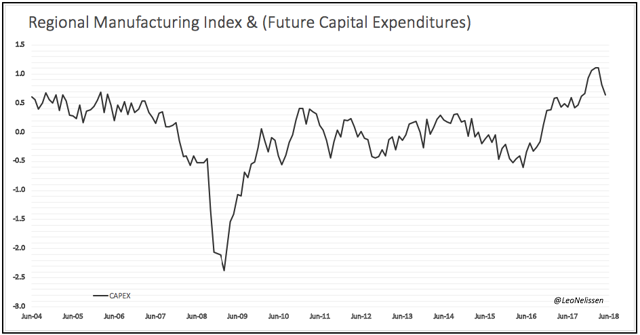 However, I am not turning bearish. I cannot emphasize that enough. Growth is still at above-average levels which is tremendously supporting company earnings and warrants further net long positions in the stock market.
The only thing that is important is that growth needs to hold current levels. A further decline would mean that future expectations need to be adjusted which would pressure cyclical assets.
I will further monitor and update the economic trend.
Stay tuned!
Thank you for reading my article. Please let me know what you think of my thesis. Your input is highly appreciated!
Disclosure: I/we have no positions in any stocks mentioned, and no plans to initiate any positions within the next 72 hours. I wrote this article myself, and it expresses my own opinions. I am not receiving compensation for it (other than from Seeking Alpha). I have no business relationship with any company whose stock is mentioned in this article.
Additional disclosure: This article serves the sole purpose of adding value to the research process. Always take care of your own risk management and asset allocation.