Introduction
Neulasta, a long-acting version of Amgen's Neupogen (filgrastim), is a blockbuster biologic medicine used by cancer patients on chemotherapy to fight off infections. Neulasta brought in ~ $4.7B in revenue for Amgen (AMGN) in 2017. Around 87% of the revenue comes from US market and 13% from the rest of the world. Sales have run out of legs for the last few years and Neulasta usage is expected to be flat in the coming years.
Neulasta Biosimilar Competitors
So far, there are no biosimilar versions of Neulasta in the market and a number of companies are working to enter this billion dollar space. We believe the two companies listed below have the best odds in dominating the Neulasta market.
Mylan
Mylan (MYL), with its partner, Biocon, is developing a Neulasta biosimilar. Last October, Mylan received a complete response letter (CRL). The CRL was related to certain chemical manufacturing control data from facility qualification activates post recent plant modification in response to regulatory audit by EMA & FDA. The CRL didn't raise any questions on biosimilarity, PK/PD data, clinical data, or immunogenicity. The FDA reinspected the Biocon facilities and issued only procedural observations. Mylan resubmitted the BLA along with required data and the PUFDA data is June 4th. Provided Mylan secures approval and becomes first to market with strong commercial arm, it has an ability to grab a significant chunk of the market.
Coherus
Coherus Biosciences (CHRS), received a CRL last June for its biosimilar of Neulasta, with FDA requesting "a reanalysis of a subset of subject samples with a revised immunogenicity assay", with additional requests for certain manufacturing related process information. Coherus resubmitted the BLA and it was accepted by FDA and response is expected by October/November of 2018.
Recently, Coherus issued a public offering of 5,172,143 common stock at 14.50 per share. Considering Mylan PDUFA is on June 4th, Coherus has taken a cautious approach of issuing the common back before Mylan PDUFA date, as Coherus share price is expected to fluctuate based on the news.
Other Competitors
Sandoz and Apotex are also working on Neulasta Biosimilar and they're expected to file a BLA during 2019. A few other companies are working on biosimilar approval for EU such as USV Biologics and STADA Arzneimittel.
Legality
In preparation of incoming threats, Amgen has filled an infringement patent against competitors developing Neulasta. In regards to its legal qualms with Coherus, Amgen hasn't had much success:
Judge Stark of the United States District Court for the District of Delaware adopted Magistrate Judge Burke's Report and Recommendation to grant the motion of Coherus BioSciences, Inc. to dismiss with prejudice the patent infringement complaint alleging infringement of U.S. Patent No. 8,273,707 filed by Amgen Inc.
Amgen is able to repeal the court's findings, but this is unlikely given the court believes they have little to stand on.
Commercialization and Sales
Neulasta sales were around ~ $4.7B and considering a 15 to 20% discount for the biosimilar version and a competitor capturing 50% of the Neulasta market share, the Neulasta biosimilar market might be worth ~ $1.7 to 2B.
The company first to Neulasta biosimilar market definitely has competitive edge. Mylan would have the competitive edge provided it secures the approval by June 4th and it might be followed by Coherus. Considering $2B peak sales for Neulasta biosimilar market, the first to market company might capture 60 to 70% (i.e. $1.2 to 1.4B) and the second company might secure the remaining major portion of the biosimilar market.
Companies other than Mylan or Coherus, mentioned briefly above, are not close to commercialization and the competition threat is minimum at the moment.
Fundamentals
Mylan
Mylan is a large ($20B market cap), commercial pharmaceutical company that, like many recent big pharmas, has fallen victim to slowed growth and shaky future prospects: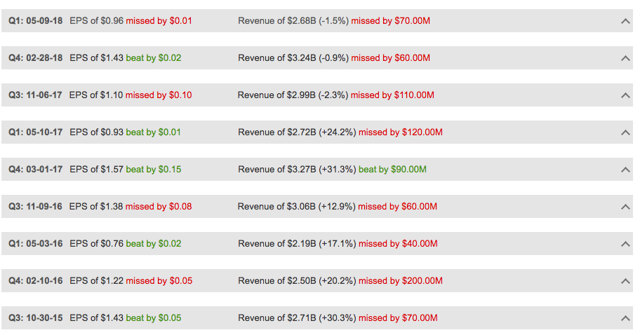 Source: Seeking Alpha
A thumbs up from the FDA for its biosimilar candidate would almost certainly provide a much needed boost to the bottom line in Mylan.
Coherus
Coherus is a biotechnology company that is developing a few biosimilar products. Neulasta is their most advanced. Coherus is currently valued ~ $1B.

Source: Coherus 10-Q
If Coherus can secure just a small fraction of the Neulasta market, it would justify its market capitalization, notwithstanding its younger biosimilar candidates in the pipeline.
The company's cash burn is massive. They burned nearly $45M last quarter. If a CRL is issued to Coherus, this will likely cause a sharp drop in valuation with increasing concerns in the company's ability to get their products to the market and their need to raise additional funds to run their cash-burning machine
Risks
Amgen might block commercialization of Neulasta by winning the lawsuit
FDA might issue second CRL for Mylan and Coherus for any unforeseen reason
A Neulasta biosimilar might not capture the market as expected
Conclusion
Mylan seems to be well-placed to be first to market Neulasta biosimilar as the CRL was only related to CMC and these have been addressed and reaudited by FDA. Observations during second audit were all procedural and, per Mylan, its been all addressed. Taking into account of Coherus common stock offering 10 days before Mylan action date makes us think that Mylan has a competitive edge. Having Neulasta biosimilar approved is like adding another firework to its arsenal and given the strong commercial team, Mylan should be able to capture a majority of market share. Coherus might be the second Neulasta biosimilar and it would have its own share of market around ~ $500M in peak sales. If the FDA issues CRL for Mylan, it would be prudent to bet on CHRS as it is second in line. Given Biocon completing the FDA audit with only procedural observation, no known clinical data issues, and Coherus issuing stock offering before Mylan action date, it seems likely Mylan will be first to market and only to be followed by Coherus.
A Call To Action
Based on June 4th response, Mylan and Coherus share prices are expected to fluctuate. If CHRS drops considerably, it can be added to portfolio considering the Fall action date. If Mylan is issued another CRL, bet on Coherus.
Author's note: This article was written in collaboration with Gobinath Varadappan, a biomedical engineer with big pharma experience. For further insight into biotechnology stocks, please follow Clover Biotech Research.

Disclaimer: The intention of this article is to provide insight, not investment advice. One must consider one's own financial standings, risk tolerance, research, etc. before making a decision to buy shares in a company. Many of my articles detail biotechnology companies with little or no revenue. These stocks are, therefore, speculative and volatile. Even when prospects seem promising, there is no predicting the future. Losses incurred may be significant.
Disclosure: I/we have no positions in any stocks mentioned, and no plans to initiate any positions within the next 72 hours. I wrote this article myself, and it expresses my own opinions. I am not receiving compensation for it (other than from Seeking Alpha). I have no business relationship with any company whose stock is mentioned in this article.