Thesis
Amazon (NASDAQ:AMZN) may be one of the most popular and known companies in the investment community. From FY15, it has gone from an approximate market price of $296 per share to a current market price of approximately $1,644 per share - representing roughly 455% upside in under four years.
For investors that got into Amazon a handful of years ago, and even recently, I believe there is inevitable trouble looming for Amazon stock and its shareholders. My thesis for this article revolves around deep value: the fact that the company's free cash has been consistently declining, the fact that its most profitable business segment - Amazon Web Services - only consists of approximately 9% of its revenue stream, and that its retail margins are razor-thin and not capable of producing shareholder value.
The image below is taken straight from the company's most recent investor relations presentation and shows a 28% free cash flow decline from 1Q17 to 1Q18. Amazon is producing razor-thin margins, and now its free cash flow is on the decline. It's also imperative to remember that investors are paid from a company's free cash flow. A company of Amazon's size and market price should be paying a handsome dividend, yet it does not pay one, nor does it appear to be remotely in a position to implement one anytime soon.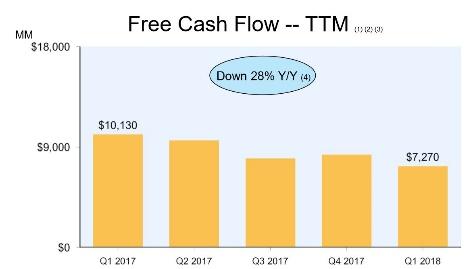 (Image Source: Amazon IR, Presentations, Q1 2018, pg. 3)
Amazon makes razor-thin margins on its retail product sales, international sales, and its retail third-party seller services segments, which combined consist of approximately 89% of the revenue stream. According to an article from Forbes, the company's holistic North American EBITDA margins stand around 9-10%, while geographically roughly 58% of its revenue stems from North American sales. Geographically, 31% of Amazon's revenue stems from its international business, while its EBITDA margins from international sales stand at 3-4%. My point is that 89% of the company's revenue has EBITDA margins of 3-10%.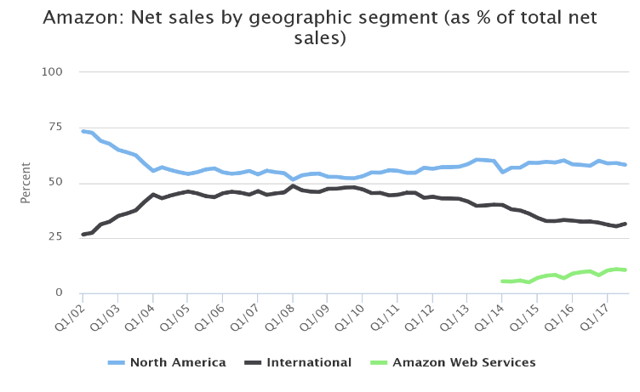 Amazon is not operating in the best interest of its investors. While the stock has surged over the past several years, it has done so with brand and creating an extraordinarily attractive business experience for its users. However, inevitably its market price is going to peak, and investors are going to realize they're paying for a stock that has no interest in doing what's best for them. Amazon is earning far too little for a company of its size, it isn't paying a dividend to its investors, and its declining free cash flow could not only negatively impact earnings, but show that a dividend is still out of the picture.
Overvalued
While it's easy to say companies in different industries must be valued differently, Amazon is innately overvalued regardless of circumstance. To begin with, it is trading at a P/E ratio of approximately 207. For a value investor following the likes - and principles - of Warren Buffett, Ben Graham, and David Dodd, investment-worthy companies are ones that trade at prices within reasonable multiples of their earnings; and in no way is a P/E ratio of 207 a reasonable multiple to pay for any company. Buffett himself did say he'd made a mistake by not investing in Amazon; however, I believe he didn't make the initial dive for the same principles I'm addressing in this article - a lack to effectively produce shareholder equity.
Amazon, as stated previously, has also shown a decline in its free cash flow. From FY16 to FY17, its cash flow decreased from $9,468 (in millions) to $6,479 (in millions). With earnings that are already very weak for a company with revenue of $193,194 (in millions), those earnings could be in more danger with the declining free cash flow. On top of all of this, Amazon's razor-thin margins are extraordinarily unattractive. The company's current net margin is 3.19%; however, its FY16 and FY17 annual net margins came out to 1.74% and 1.71% respectively. Even if it can manage to produce a FY18 annual net margin of roughly 3%, that's still a poor net margin.
A great business model isn't one that works on bringing in $100 to keep $3 of it. Keep in mind I wouldn't find Amazon's margin to be as big of a downside if it weren't trading at such high market prices. Earning roughly $8 per share on a 3% net margin isn't terrible if the company's common is purchasable at levels around $100 per share. However, at $1600+ per share with no dividend, I start to have problems understanding the value in such an investment. Amazon also has a weighted average cost of capital (WACC) of 12.75%, which is a bit too high, in my opinion. Overall, from these financial metrics and valuations, I find Amazon to be excessively overvalued.
Potential Regulations
Another concern I have with Amazon is the talks of potential regulations. I find these talks to be quite reasonable considering the company sells nearly every product under the sun, video streaming services, groceries, web services, and more. It seems to be looking more and more like a monopoly every day. While some will argue the competitive nature of business, I would agree if Amazon were not able to outdo competitors by simply being focused on taking over industries via excessive cost-cutting. The company implements price wars to eliminate competitors; meanwhile, the only individuals that benefit are early investors in Amazon and the company's executives.
Business Insider wrote an article discussing Jeff Bezos's willingness to abide by regulations, and Trump has made it evident that he is not a fan of Amazon and believes the company needs to abide by stricter regulations. The Verge wrote an article showing all of Trump's tweets and remarks regarding Amazon. Trump believes that the company is taking advantage of the United States Postal Service (OTCPK:USPS), not paying enough taxes, and putting thousands of other retailers out of business. He has made it clear that he believes Amazon should be paying more for the USPS services, paying more taxes, and potentially broken up into multiple entities. Trump has even reportedly questioned advisers on how he can go after Amazon, from state-level investigations to canceling government cloud computing contracts. In general, I believe Amazon's monopolistic business practices, along with Trump's dislike of the company, could lead to regulatory issues that would likely negatively impact the stock.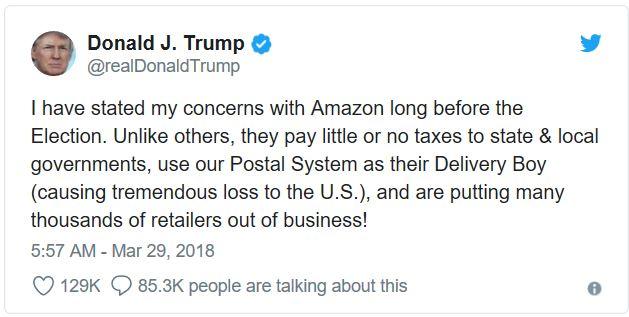 (Image Source: The Verge)
Conclusion
Overall, I believe Amazon has trouble looming in the distance. The company's cash flow has declined quite consistently over several quarters, its margins are razor-thin, with only one segment of their business being truly profitable - which only consists of 9-10% of the company's revenue stream - it is excessively overvalued based on sound investment metrics, and potential regulations could be on the horizon. While I believe in the brand and quality of services that Amazon has created, I believe the stock has risen on the premise euphoria and speculation. I can't find the shareholder value in the company and believe it is excessively overvalued.
At significantly lower prices, I would consider Amazon as an investment. However, I believe a large price correction could be on its front door in the near future. The point of investing is to give a dollar in hopes to get two back, and I believe the only way Amazon is capable of doing that is by growth followed by more growth. With how big the company is, and with potential regulations on the horizon, I don't see how it can continue to grow and keep up with the massive returns it has provided over the past few years.
To conclude, I believe Amazon is excessively overvalued, has far more downside potential than upside, and is an investment to avoid.
Disclosure: I/we have no positions in any stocks mentioned, and no plans to initiate any positions within the next 72 hours.
I wrote this article myself, and it expresses my own opinions. I am not receiving compensation for it (other than from Seeking Alpha). I have no business relationship with any company whose stock is mentioned in this article.