A fearess high-yield inventory
I've avoided taking an honest look at my history with high yield investments. Factoids' June 1, 2018 article, "Don't Fall For This BDC Lie," prompted me to write this article in the spirit of Step 4 of the 12 Steps movement: "Made a searching and fearless moral inventory of ourselves."
My first Seeking Alpha article was "A Retirement Income Portfolio," published on December 31, 2012. The portfolio consisted of 14 stocks and one closed-end fund. Four of the stocks are still in the portfolio: Johnson & Johnson (JNJ), W.P. Carey (WPC), National Retail Properties (NNN), and PPL Corporation (PPL).
Among the ten that are no longer in the portfolio:
NuStar Energy L.P. (NS);
Natural Resource Partners LP (NRP);
Starwood Property Trust (STWD);
LinnCo LLC (LNCO);
Annaly Capital Management (NLY).
Of those, NRP and LNCO bring back the most painful memories. I wouldn't let go. I kept "averaging down." Words cannot do it justice. The charts below speak for themselves. Here's NRP's 10-year price history:

The 5-year chart of LNCO (now LNCOQ) is even worse:

Having mastered the art of investing in limited partnerships, I turned my attention to closed-end funds. (I'll save that for another article.) Undaunted by uncertainty and complexity, I plunged headfirst into the world of business development companies, writing a February 12, 2013, article about PennantPark (PNNT), followed by a February 25, 2013, article about Prospect Capital (PSEC).
I felt the allure of high yields offered by BDCs
BDCs have a natural allure for a dividend investor. It's called yield. I began to focus on dividends around 2008, a couple of years before I retired after 40 years in my first career in 2010. I began reading Seeking Alpha articles in 2012, and I found some kindred spirits on a common journey. I dabbled in high yield sectors. I came to greatly appreciate the work of BDC Buzz, Factoids, Scott Kennedy, Zack Galler and Nicholas Marshi.
My March 16, 2014, article, "The BDC Portion Of My Portfolio," describes an important evolution in my thinking about BDCs. At that point, I held only Main Street Capital (MAIN) and Triangle Capital (TCAP).
I felt the allure. However, I underestimated the complexity of the sector.
I kept repeating the same mistakes
I keep an index card for each investment. Whenever I'm tempted to wallow in the illusion of my infallibility, I thumb through these cards and receive a dose of humility. Here's a summary:
PennantPark was bought in early 2013 at $11.05 and sold in late 2013 for $11.43. PNNT's current price is $7.33.
Prospect Capital was bought in early 2013 at $11.23 and sold in late 2013 for $10.64. PSEC's current price is $6.80.
MAIN was in the portfolio twice, from March 2014 to December 2014, and from July 2015 to March 2016. My cost was $31.03 per share and I sold at $30.51. This is where I should have called timeout and examined my strategy. I was convinced, and remain convinced, that MAIN is the "best of breed" BDC. In retrospect, I should have realized that if that's the best I could do with the best BDC, I needed to look to other sectors. What made me so restless, so impatient? MAIN's current price is $38.44.
TCAP was in the portfolio from March 2014 to January 2015. My cost was $25.44 and I sold at $21.11. I lost $4.33 a share, excluding dividends. TCAP's current price is $11.30.
Hercules Capital (HTGC) was in the portfolio from August 2014 to August 2015. My cost was $15.07 per share and I sold at $11.06. I lost $4.01 per share, excluding dividends. HTGC's current price is $12.40.
I held Medley Capital (MCC) for less than two months in the fall of 2014. My cost was $12.64 per share and I sold at $11.04. I lost $1.60 per share, excluding dividends. MCC's current price is $3.56.
I held PennantPark Floating Rate (PFLT) on two occasions, in 2014 and in 2015. My cost was $13.69 per share and I sold at $12.55. I lost $1.14 per share, excluding dividends. PFLT's current price is $13.58.
Finally, I held Monroe Capital (MRCC) from November 2016 to February 2018. My cost was $14.95 per share and I sold at $13.39. I lost $1.56 per share, excluding dividends. MRCC's current price is $14.21.
| | | | | |
| --- | --- | --- | --- | --- |
| BDC | Cost | Sold | Gain | Current Price |
| MAIN | $31.03 | $30.51 | ($.52) | $38.44 |
| PFLT | $13.69 | $12.55 | ($1.14) | $13.58 |
| MRCC | $14.95 | $13.39 | ($1.56) | $14.21 |
| HTGC | $15.07 | $11.06 | ($4.01) | $12.40 |
| PNNT | $11.05 | $11.43 | ($.38) | $7.33 |
| PSEC | $11.23 | $10.64 | ($.59) | $6.80 |
| TCAP | $25.44 | $21.11 | ($4.33) | $11.30 |
| MCC | $12.64 | $11.04 | ($1.60) | $3.56 |
MAIN was the only clear winner. If I had continued to hold MAIN, my profit would be 23.88% plus dividends. I knew at least by March 2014 that MAIN was "best of breed," but I failed to be patient and continue to hold it. My lack of patience was partly responsible for the other losses. However, none of the other stocks would have shown a profit if I had held them to the present. MCC would have shown a loss of 71.84%, excluding dividends.
I decided to put up the rake
I decided to be honest with myself and admit that I do not have the natural analytical skill or the time it would take to understand business development companies. If you choose to invest in this industry, it's critical to do lots of homework or to follow the buy and sell advice of a successful expert. I would go one step more and consider only Main Street Capital.
I consider a June 2017 Seeking Alpha interview with Nicholas Marshi to be a "must read" for anyone investing, or considering an investment, in BDCs. Here's a sample:
"... there is a lot to take in if you want to properly assess your risks and rewards. ... Some investors with a little experience under their belts may be lulled into thinking that they fully understand what BDCs are all about and walk into a trap of their own creation. My own experience after 10 years of doing essentially nothing but BDC analysis 50 or more hours a week is that the sector keeps one humble. There's always more to learn. So, my best advice to new and not-so-new investors is to take nothing for granted and keep asking questions. What you think you know today will not be the same in a year or in 10."
Here's a brief excerpt from Marshi in my March 16, 2014, article cited above:
"I've learned to have a high level of skepticism about every BDC. ...

"We doubt that the BDCs or the borrowers themselves have any certainty about who will prosper and who will fail in the next recession.

"I know this view frustrates many investors, but it's better to know what you don't know than have the illusion that you do, and act accordingly. ... I assume that any of my BDC investments could break my heart in the next recession."
Even though BDCs are outside my "sphere of competence," I could have been successful if I had followed the general consensus that MAIN is the best company in the BDC industry. I initiated a position in MAIN but I failed to maintain it. At this point, MAIN is the only BDC that I would consider buying. It is one of eight Dividend Challengers on my watchlist (companies that have raised their dividend at least 5 consecutive years). My target buy price for MAIN is $30.40. The current price of $38.44 is 26.41% above this target.
With the exception of MAIN, my experience with BDCs has been like Jon Arbuckle, Garfield's human who kept stepping on the rake: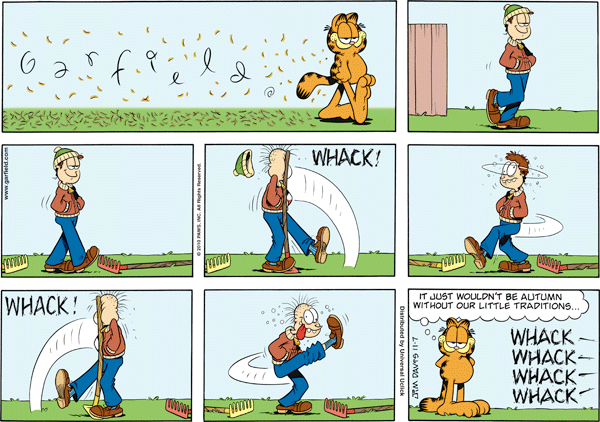 (Graphic from StackExchange)
Summary
So, I decided to put up the rake. I've tried to improve the portfolio quality by giving emphasis to companies with higher credit ratings and with long histories of dividend growth. This was a conscious decision to avoid "chasing yield." If you embrace the BDC industry, do lots of homework and listen to the best BDC minds here on Seeking Alpha, including:
My intoxication with yield in 2014-2015 hurt the portfolio's performance. Fortunately, most of my other investments have performed well. The portfolio saw a 20.73% gain in 2016 and a 15.61% gain in 2017, for a 2-year gain of 36.34%. So far, in 2018, the portfolio is down 2.30%.
I welcome your opinion. Your comments enrich our discussion. I always learn from our Seeking Alpha conversations.
It's not my intent to advocate the purchase or sale of any security. My purpose is to offer ideas for stocks to study and to share a journal of my effort to design and build a retirement portfolio that puts a priority on relative safety, a history of dividend growth and solid future prospects. Your goals and risk tolerance may differ, so please do your own due diligence.
If you are not yet a follower, I invite you to click the "Follow" button at the top of the page. After you click "Follow," you can check "Get Email Alerts," and you will receive an email when an article is published.
Disclosure: I am/we are long JNJ, MSFT, XOM, AAPL, WMT, ADP, PFE, MRK, PG, MMM, CSCO, RY, NWN, PEP, TXN, KMB, QCOM, SPG, CLX, PPL, WEC, T, NNN, O, SKT, EPD, BEP, VTR, BCE, WPC, VTI, VEA, VWO, VYM, VYMI, VOE, VBR.
I wrote this article myself, and it expresses my own opinions. I am not receiving compensation for it (other than from Seeking Alpha). I have no business relationship with any company whose stock is mentioned in this article.