The Eleven
The Eleven is a biotechnology portfolio of eleven stocks we believe have significant upside within a six month to one-year timeframe based upon company fundamentals and upcoming catalysts with good risk/reward ratios. They are listed in a way to reflect top picks and risk tolerance. The first five picks are the top picks (in no particular order). Risks are increased the further away a stock sits from the middle (Picks #6, in the middle of the list, is the least risky).
*Gains/Losses reflect 6/1 EOD prices
1. Synlogic (SYBX)
Buy 6/4 @ OPEN price
Brief thesis: Synlogic develops medicines using probiotic engineering to treat inborn errors of metabolism, immunomodulation, and metabolic diseases. The next 12-18 months will serve as a transformation period as they will attempt to prove proof of concept in two orphan diseases (hyperammonemia and phenylketonuria). In addition, preclinical data supporting its use in bigger fields such as liver disease and immuno-oncology should boost prospects.
Read more: Precision-Programmed Probiotics To Treat Human Disease
2. Viking Therapeutics (VKTX)
Bought 5/16 @ $4.58/Gain 112%
Update: Madrigal (MDGL) reported positive NASH data on May 31, causing spikes in shares of Madrigal (130%+) and Viking (65%+). We proposed just a couple of weeks ago that as long as Madrigal's drug maintains a safe profile, it is likely to meet its endpoints given its preclinical and clinical efficacy:
This data will be an extension of its already successful phase 2 trial assessing its candidate in NASH. In preclinical data, thyroid agonists are known to decrease fat deposition, lipotoxicity, and inflammation associated with NASH. While this is more difficult to predict than the drug's ability to lower cholesterol levels, as long as it maintains a safe profile, it should be positive.
H.C. Wainwright increased its price target for Viking following Madrigal data: "Analyst Joseph Pantginis raised his price target for Viking Therapeutics (VKTX) to $15 saying the data yesterday from Madrigal Pharmaceuticals (MDGL) validate the thyroid receptor beta approach and derisks the VK2809 Phase 2 outcome. The analyst keeps a Buy rating on shares of Viking Therapeutics."
Brief thesis: Viking appears to have a couple of hidden treasures in VK521 for post-operation hip fracture patients and VK2809 for hypercholesterolemia/liver fibrosis. Institutional investors continue to pile on as Viking's candidates demonstrate their ability to not only be efficient, but safe too.
Viking is our first 100%+ gain! It would be wise, at this point, to take some off the table and continue with, perhaps, a half position going forward. It is likely the 100% gain will be met with a 30-50% dip. However, we believe upside remains and patiently await clinical and company updates. We maintain a price target of $15 for shares of Viking and believe it is likely to hit this target before the year is up.
Read more: On The Move: Viking Therapeutics | Viking's VK2809: A Question Of Safety, Not Efficacy
3. Global Blood Therapeutics (GBT)
Bought 5/3 @ $44.75 / Gain 11.2%
Update: On May 30, the FDA announced an IND hold on CRISPR's (CRSP) sickle cell disease candidate. While this is, likely, going to resolve, it does turn back some attention to shares of Global Blood in the short term. However, the data will speak for itself in June.
Brief thesis: GBT440 for sickle cell disease has shown incredible efficacy and safety alone and in combination with hydroxyurea. In the likely event this Breakthrough Therapy Designation candidate hits the market, it is sure to be a blockbuster drug.
We maintain a price target of $70 for shares of Global Blood and believe it is likely to hit this target before the month of June is over. The price target is based upon GBT440 achieving peak sales upwards of $1.5-2B. Global Blood is currently valued at $2.4B at $47/share and we believe the chances of phase 3 success/eventual FDA approval to be ~ 75%.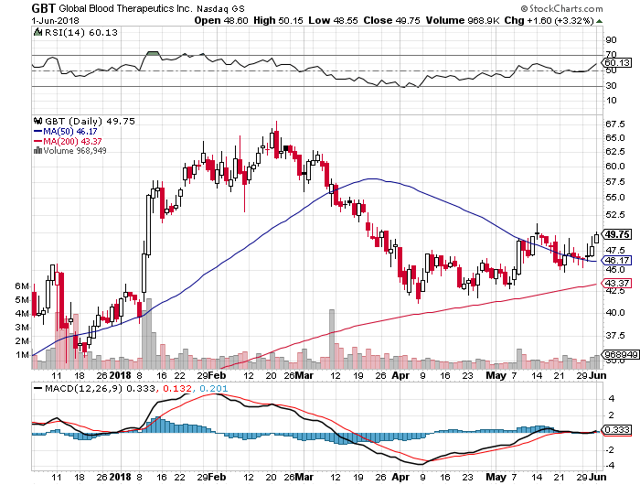 Chart courtesy of StockCharts.com
Read more: Global Blood Therapeutics: Grade 'A' Opportunity
4. NovoCure (NVCR)
Bought 5/3 @ $27.75 / Gain 15.1%
Brief thesis: NovoCure is revolutionizing cancer treatment with a new cancer modality. Continued efficacy in extending lives of tens of millions of cancer patients will bring upside to investors for years to come.
We patiently await Mesothelioma data later this year.
Read more: NovoCure Hints To Additional Stellar Data
5. Array BioPharma (ARRY)
Bought 5/3 @ $13.75 / Gain 23.6%
Brief thesis: Array is primed to become the next Exelixis (NASDAQ:EXEL) as it begins the process of becoming a commercial biotechnology company. Array seems to have everything you could want in a biotechnology company: a diverse pipeline, prudent management, solid data, high cash reserve/low debt, partnerships with well-known companies, institutional confidence, and price action that has rewarded investors for two years now.
We were fortunate to pick this up cheap.
Read more: Is Recent Weakness In Array BioPharma Warranted?
6. Exelixis (EXEL)
Bought 5/3 @ 21.77 / Loss 5.5%
Brief thesis: Cabometyx is taking the oncology market by storm and will prove to be a blockbuster drug. Furthermore, Exelixis is screaming "BUY" at these levels given the incredible support near $20/share, booming revenues, and a management team that executes.
Read more: This May Be The Best Time To Pick Up Exelixis In 2018
7. Amicus Therapeutics (FOLD)
Buy 6/4 @ OPEN price
Brief thesis: Migalastat, treatment for Fabry disease, is in a period of significant revenue and regulatory growth. Updates concerning the Pompe front should bring additional value.
Read more: Is Amicus On The Verge Of A Breakout?
8. Aimmune Therapeutics (AIMT)
Bought 5/22 @ $31.64/Gain 3.1%
Brief thesis: Aimmune is the clear-cut leader in the prospects of delivering a therapeutic for peanut allergy. Continued phase 3 efficacy and safety data will support this.
We maintain a price target of $42 likely to be reached before the year is up. This is based on AR101 achieving peak sales of $1B. This is a conservative estimate. Aimmune is currently valued at $1.9B, equaling $32.80/share.
Read more: Aimmune Nearing Critical Point in Valuation
9. Immune Design (IMDZ)
Bought 5/14 @ $3.80/Gain 18.4%
Immune Design's immuno-oncology platform has provided solid data so far. They are well-positioned for the future after raising sufficient cash. The raise was met with significant insider buying as well.
Read more: Same Story, Different Price
10. HTG Molecular Diagnostics (HTGM)
Buy 6/4 @ OPEN price
Brief thesis: HTG Molecular Diagnostics provides sequencing instruments for molecular profiling/genomic testing. It appears to be a great time to invest in HTG. The technicals look sharp, revenues are rapidly growing, institutions are eating up shares, and short interest is dipping.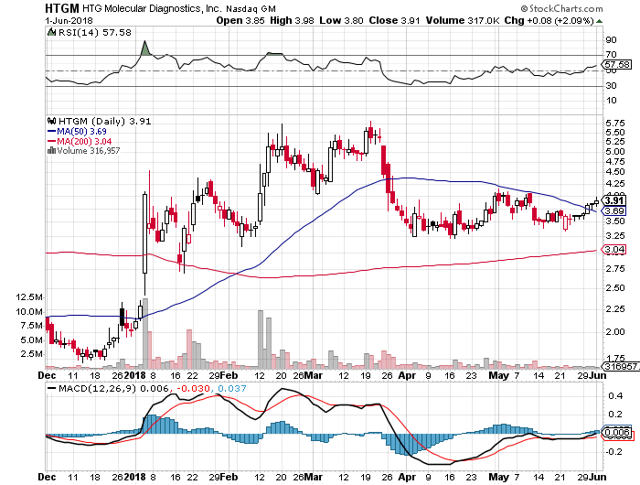 Chart courtesy of StockCharts.com
Expect a detailed article this week.
11. OncoSec (ONCS)
Buy 6/4 @ OPEN price
OncoSec appears primed for a period of acceleration. Its immuno-oncology platform based on IL-12 and electroporation is likely to continue to produce good data. Patient investors will probably be awarded in due time. I suspect the valuation of OncoSec will climb closer to that of their peers in the coming months.
Read more: Will CEO O'Connor Oversee Another Advaxis-Like Run?
Note: With the exception of ChemoCentryx (CCXI), all coverage was continued from the Lucky Seven to The Eleven. Consider CCXI sold for a small profit. The portfolio name change represents two things: (1) shifting our focus from swing trades to intermediate/long-term investments, (2) increasing the number of stocks in our portfolio by four.
Author's Note: For further insight into biotechnology stocks, please "Follow" Clover Biotech Research.

Disclaimer: The intention of this article is to provide insight, not investment advice. One must consider one's own financial standings, risk tolerance, research, etc. before making a decision to buy shares in a company. Many of my articles detail biotechnology companies with little or no revenue. These stocks are, therefore, speculative and volatile. Even when prospects seem promising, there is no predicting the future. Losses incurred may be significant.
Disclosure: I am/we are long ONCS, AIMT, GBT, IMDZ, SYBX.
I wrote this article myself, and it expresses my own opinions. I am not receiving compensation for it (other than from Seeking Alpha). I have no business relationship with any company whose stock is mentioned in this article.
Editor's Note: This article covers one or more stocks trading at less than $1 per share and/or with less than a $100 million market cap. Please be aware of the risks associated with these stocks.