VMware (VMW) investors have been through a wild ride this year. Almost all of the attention this year was focused on what Michael Dell would decide to do with Dell's (DVMT) 82% stake in VMware - at first, the prediction that Dell would outright acquire the remainder of VMware at a premium sent shares soaring above $160; then, an equally likely prediction that VMware would be forced into a "reverse merger" with Dell at an unfavorable price sent shares plunging to the low $110s.
To date, Dell still hasn't figured out what to do with VMware, or how best to cull down its massive debt load. VMware still remains one of the crown jewels in the Dell portfolio. Now, however, VMware investors seem somewhat less concerned about the reverse merger and have turned their attention back to VMware's fundamentals.
On this front, VMware shines. It may not be able to control its fate with Dell, but it certainly has plenty going for it in terms of quarterly results. Shares of VMware jumped 6% after reporting Q1 results, with beats to Wall Street's revenue and bottom line expectations: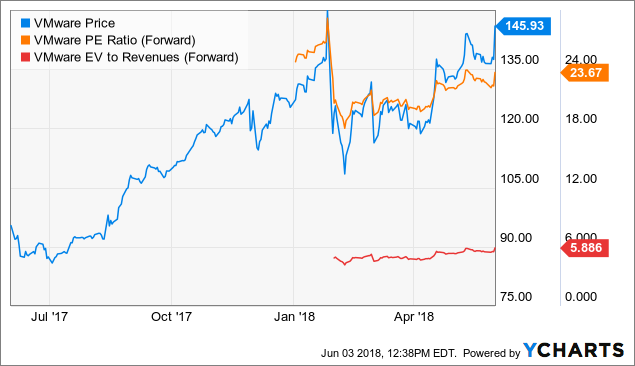 In my view, although some Dell-related headline risk still remains on the horizon, VMware's earnings and free cash flow growth put its forward valuation multiples at extremely appealing levels. VMware is a "legacy" technology company that is in the process of (successfully) transitioning itself into a more cloud-friendly service, forming alliances with the major public cloud providers as well as with smaller SaaS companies like Okta (OKTA). Remain long on this name.
Attractive free cash flow valuation
VMware, in my opinion, is best valued on a free cash flow basis. As VMware's growth has cranked down into a stable, low-teens growth rate, it has turned its focus to rapidly expanding its cash flows. FCF grew 42% y/y this quarter to $1.0 billion, and last quarter, FCF growth had been 78% y/y. This quarter, VMware's free cash flow margin was an industry-leading 52% - in effect making VMware one of the highest-margin, most profitable companies in the software sector.
Figure 1. VMware Q1 FCF


Source: VMware investor relations
There are definitely seasonality impacts in both VMware's revenues and cash flow results (Q4 tends to be its best quarter, similarly to any other IT company), so we can't simply extrapolate VMware's Q1 run rate forward. If we estimate a conservative ~30% growth rate to VMware's FY18 free cash flow of $2.95 billion, however, we arrive at an estimated FY19 free cash flow of $3.83 billion. Note that this is a conservative estimate, given VMware's Q1 and Q4 FCF growth rates. Also note that VMware had grown FCF by 33% y/y for the full year FY18, so a baseline growth rate of 30% is reasonable.
At VMware's current share price of $146, the company has a market cap of $58.8 billion. If we take out VMware's huge $12.6 billion cash balance (which investors are afraid that Dell will raid) and add back $4.2 billion of debt, this puts VMware's current enterprise value at $50.4 billion. This implies that VMware is currently trading at a EV/FY19 FCF multiple of 13.15x, a substantial discount to the market and even cheaper if we consider that VMware could very well produce FCF growth in excess of 30% this year.
I'm long with a price target of $165, representing 15x EV/FY19 FCF and 13% upside from current levels.
Q1 download
Here's a look at the rest of VMware's results in the first quarter:
Figure 2. VMware Q1 results

Source: VMware investor relations
Revenues grew 14% y/y to $2.01 billion, keeping pace with last quarter's 14% y/y growth rate and beating analyst expectations of $1.96 billion (+11% y/y) by a respectable three-point margin. Note also that in Q1 last year, VMware had only been growing at a sub-10% growth rate, and its subsequent Q2 and Q3 growth rate was at 12% each.
If VMware is able to sustain the accelerating growth pattern that it kicked off this quarter with, it stands to reason that its free cash flow growth can greatly exceed the 33% y/y that it posted last year, especially as the company is achieving huge cost improvements as well.
Note also that VMware's license revenues, which are the revenues it recognizes from software sales and the most meaty, margin-rich portion of its business, grew 21% y/y - accelerating 1 point over 20% growth in Q4. VMware's CFO, Zane Rowe, also noted that VMware's cloud subscription and SaaS revenues represented greater than 10% of VMware's revenue mix for the first time in Q1, a huge indicator that VMware is moving in the right direction. New partnerships with Microsoft Azure and Google Cloud platform (though they are small in size relative to the Amazon AWS (AMZN) partnership which VMware was already live on as of last year) can help to accelerate VMware's growth in cloud revenues.
VMware also made huge strides on the bottom-line side. GAAP operating income grew 46% y/y to $383 million, representing a 19.0% operating margin, 420bps better than 14.8% in the year-ago quarter. Though VMware greatly boosted its R&D expenses in the quarter, it was offset by reduced cost of revenues and lower sales and marketing expenses as a percentage of revenues.
We know already that VMware showed tremendous growth on the free cash flow side, but it also managed terrific EPS growth as well. GAAP EPS was colored by a one-time gain from Pivotal Software's (PVTL) IPO, but pro forma EPS of $1.26 grew 19% y/y and beat analyst expectations of $1.14 with 13% upside.
Final thoughts
VMware's Dell-related drama has largely moved to the rearview mirror. Though the discussions are still ongoing, the market is much less concerned about the outcome and the focus has returned to VMware's fundamental results. On top of robust revenue growth that is already a few points stronger than the growth VMware posted last year, the company is also producing massive free cash flow growth and free cash flow margins that make its current valuation look modest.
VMware has long been one of the dominant names in infrastructure software, and its recent moves in the cloud as well as its introduction of its virtual cloud network (a cloud-friendly approach to enterprise networking) show VMware's commitment to staying on top of trends in information technology. This is a company to bet on for the long term.
Disclosure: I am/we are long VMW. I wrote this article myself, and it expresses my own opinions. I am not receiving compensation for it (other than from Seeking Alpha). I have no business relationship with any company whose stock is mentioned in this article.