Netflix (NFLX) stock is delivering spectacular returns, the stock has gained over 120% in the past 12 months, and it's trading at historical highs in the area of $370 per share.
The company has consolidated its position as the market leader in video streaming on a global scale, and the business is expanding at full speed in international markets. Besides, profitability metrics are moving in the right direction, so Netflix is proving to investors that it can grow like crazy while at the same time taking care of profit margins.
On the other hand, valuation is reaching stratospheric levels, and investors are expecting a lot from the company in the years ahead. If there is any disappointment down the road, Netflix stock would clearly be vulnerable to the downside from current price levels.
Fortunately for investors, the options market provides plenty of alternatives to play the stock in accordance to different degrees of risk tolerance and return targets.
Risk And Reward In Netflix Stock
Netflix is growing at an impressive speed. A decade ago the company was making $1.2 billion in annual revenue for 2007. Fast forward ten years, and Wall Street analysts are on average expecting $16.1 billion in sales during 2018.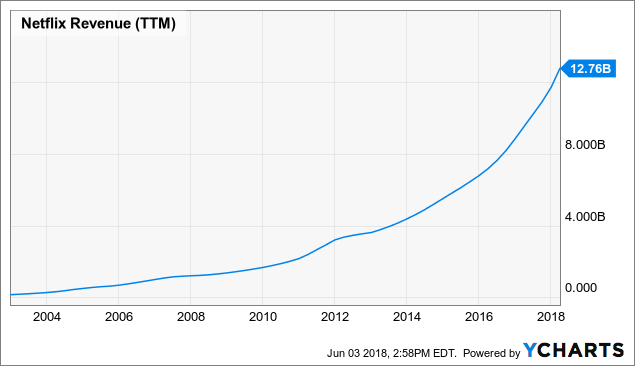 The most recent earnings report from Netflix confirms that the business keeps firing on all cylinders as of the first quarter of 2018. Total revenue came in at $3.7 billion during the quarter, a year-over-year increase of 40.4% and surpassing Wall Street expectations by $10 million.
Even more important, the company is gaining new subscribers at an impressive speed. Netflix reported 1.96 million domestic streaming additions last quarter, and it gained 5.46 million new members in international markets.
The company is also making solid progress on the profitability front. Contribution margin in the U.S. increased from 34.4% in the quarter ended in December to 38.3% in the first quarter of 2018. Offering a similar perspective, company-level operating profit margin increased from 7.5% of revenue in the fourth quarter of 2017 to 12.1% in the first quarter of 2018.
On the other hand, valuation is an important concern when evaluating a long position in Netflix stock. Since Netflix is aggressively investing for growth, current earnings and cash flows are arguably underestimating the company's true earnings potential over the long term. Nevertheless, the stock also looks expensive in terms of revenue.
Netflix stock is trading at a price to sales ratio of 12.6 times revenue, while the average company in the S&P 500 index carries a much lower price to sales ratio of 2.07. As a reference, Disney (DIS) trades at a price to sales ratio of 2.6, while Comcast (CMCSA) carries a price to sales ratio of 1.65.
Netflix clearly deserves an above-average valuation due to it's superior growth prospects, but the company will need to deliver outstanding performance in order to justify the current price tag. One thing is quite clear, the current entry price in Netflix stock doesn't provide any kind of buffer in case of bad news. If financial performance disappoints in the future, the stock could take a huge hit.
For investors who are looking to make a bet on Netflix stock while also keeping the downside risk under control, the option markets is providing some interesting alternatives.
Options Trade 1: Short Term Call
Momentum in Netflix stock is clearly bullish, investors who want to bet that momentum will remain in place and the stock will continue making new highs in the coming days may want to consider buying a short term call on the stock. This strategy provides plenty of upside potential in case things work out well, and it limits the maximum potential loss to the price of the contract.
For example, a call option on Netflix with a strike price of $340 and expiry date on July 20, 2018 is currently selling for around $30.9 per contract. The maximum potential loss is $3,090, and the trade offers a lot of leverage to the upside. As a reference, if Netflix stock rises by 10% before the time of expiry, investors in the call contract stand to gain more than 80%.
The main disadvantage is that you need the stock to move in the right direction and rapidly, since the contract only has 47 days till expiry. The breakeven stock price for this trade stands at $370.9 per share.
Options Trade 2: Long Term Calls
A longer term contract gives you more time for the trade to work, but in exchange it has a considerably higher entry price. For example, the call contract with a strike price of $360 per share and an expiry date on January 18, 2019 has a current price of around $43.4 as of the time of this writing.
The maximum possible loss is once again the price of the contract, and you get abundant upside potential if the stock rises strongly over the coming months. In this case, investors need Netflix stock to be at $403.4 or more by the time of expiry to make money on the call position.
Options Trade 3: Selling Puts
What if you like the company but you don't like the stock price? Or perhaps you think that the price is due for an adjustment in the middle term, and you don't want to chase Netflix when it's trading at historical highs. In this case, selling puts could be a smart idea.
For example, you can sell a put contract on Netflix with an expiry date on July 6, 2018 and a strike price of $340 for nearly $3.9. If the stock never pulls back to below $340 before the time of expiry, then the put contract will expire worthless, and investors in this trade would be making an annualized return of nearly 12%.
Conversely, if Netflix stock falls below $340 by the expiry date, the put will be executed, and the investor will need to buy $100 shares of Netflix at $340 per share. Since the main idea was buying the stock on a price correction to begin with, this doesn't sound like such a bad scenario at all.
Capitalize on the power of data and technology to take the guesswork out of your investment decisions. Statistical research has proven that stocks and ETFs showing certain quantitative attributes tend to outperform the market over the long term. A subscription to The Data Driven Investor provides you access to profitable screeners and live portfolios based on these effective and time-proven return drivers. Forget about opinions and speculation, investing decisions based on cold-hard quantitative data can provide you superior returns with lower risk. Click here to get your free trial now.
Disclosure: I am/we are long NFLX. I wrote this article myself, and it expresses my own opinions. I am not receiving compensation for it (other than from Seeking Alpha). I have no business relationship with any company whose stock is mentioned in this article.