Every year I publish a list of my 10 favorite stocks for the coming 12 months. I've been doing this for the last 10 years and my track record is good. Last year I published my picks on December 29th (see the article here) and the list has done well - up by 10% year-to-date vs. a 2.3% gain for the S&P 500.
I realize that I'm tempting fate by talking about my success at halftime, but I'm not a superstitious guy, so I don't worry to much about that.
Deviating from my usual process
One of my self-imposed rules for this annual ritual is that I do not touch the portfolio for the entire 12 months. For those of you who have been following my annual top 10 list from the beginning, I want to make it clear that the substitutions I'm about to make are purely optional, and I will hold myself accountable for the performance of the original list when we get to the end of 2018.
For newer readers, I'm making these two changes as a response to the many requests I've received from Seeking Alpha members that I update the list at halftime. For the record, I will continue to use the unadulterated list as the performance that gets posted to my long-term track record. I will keep a separate account of the performance of the revised list.
Here is the original lineup that I published on December 29, 2017.
The two names I'm replacing
The stocks I'm going to replace are Sinclair Broadcasting (NASDAQ:SBGI) and Volkswagen (VLKAY). I'm replacing Volkswagen with Fiat Chrysler (NYSE:FCAU) swapping one foreign auto manufacturer to another.
I'm replacing Sinclair Broadcasting with Viacom B (NASDAQ:VIAB) which is also in the broadcasting space.
Here is the revised lineup with the two new names.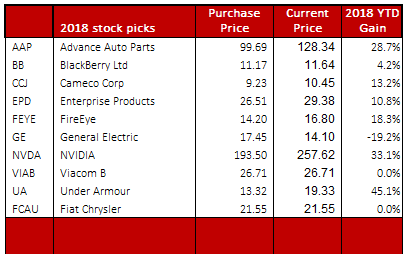 I will use the opening prices on Monday morning for all four of these trades (two sells and two buys). Again, this is completely optional and it will not change the way I calculate my track record.
Here is the full track record of all my Top 10 lists since I began in 2008.

Here are the stats for the Top 10 lists from inception.

And finally, here is a graph showing the growth of $10,000 invested at inception in 2008.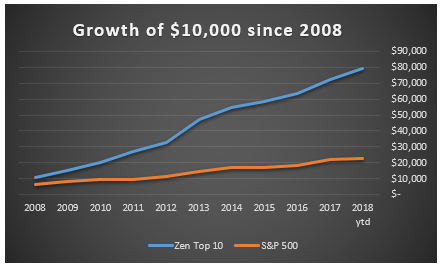 If you have any questions or want more information, message me through SA or email me through my website.
Disclosure: I am/we are long AAP BB CCJ EPD FEYE GE NVDA SBGI UA VLKAY.
I wrote this article myself, and it expresses my own opinions. I am not receiving compensation for it (other than from Seeking Alpha). I have no business relationship with any company whose stock is mentioned in this article.
Additional disclosure: Nothing in this article should be considered personal investment advice.
Editor's Note: This article discusses one or more securities that do not trade on a major U.S. exchange. Please be aware of the risks associated with these stocks.