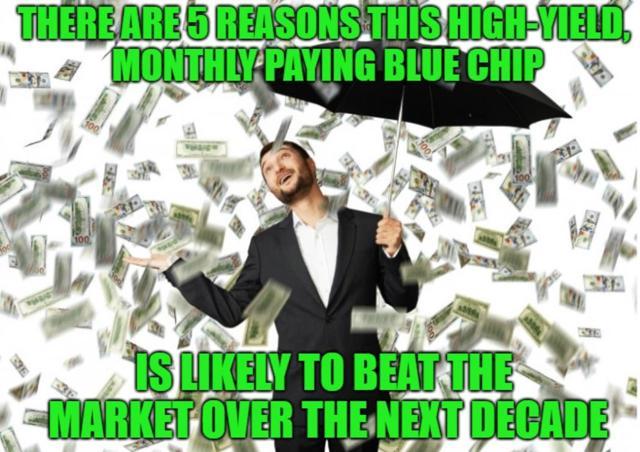 (Source: Imgflip)
The goal of my dividend growth retirement portfolio is to buy top-quality income stocks at attractive valuations. The ultimate goal is for every company I invest in to have long-term, market-beating total return potential. This often means overweighting in the short-term into beaten-down sectors that Wall Street is extremely bearish on.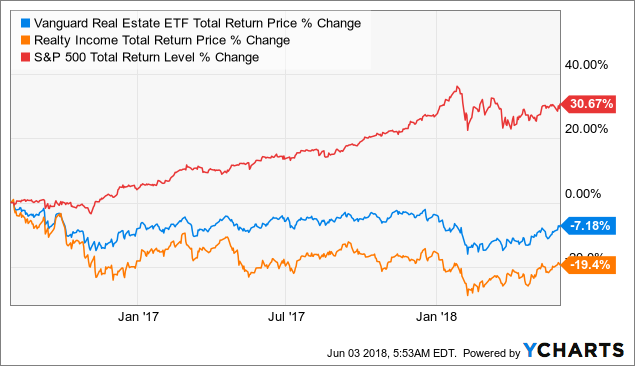 VNQ Total Return Price data by YCharts
Over the past two years, interest rates rising off their all-time lows have caused even the bluest of blue chip REITs to underperform the market by a wide margin.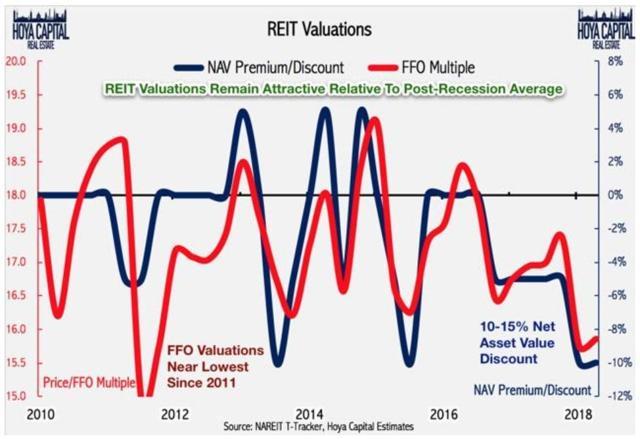 (Source: Hoya Capital Real Estate)
However, the good news is that now REITs are trading at their lowest valuations since 2012, which potentially means the sector is set to outperform going forward.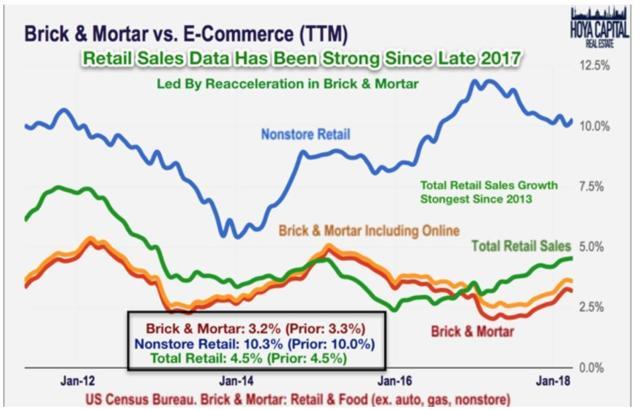 (Source: Hoya Capital Real Estate)
This is especially true of triple net-lease or NNN retail REITs like Realty Income (NYSE:O). That's because the stronger economy means that retail sales are rising at a quick pace which will benefit the REIT's fundamentals.
In fact according to BlackRock (BLK), the world's largest asset manager, since 1995, the top three sectors to own in our current economic/interest rate environment (rising rates, flat/falling yield curve) have been: technology, energy, and REITs. Since 1995 during bear flattening yield curve regimes, REITs have typically generated 13% annual total returns.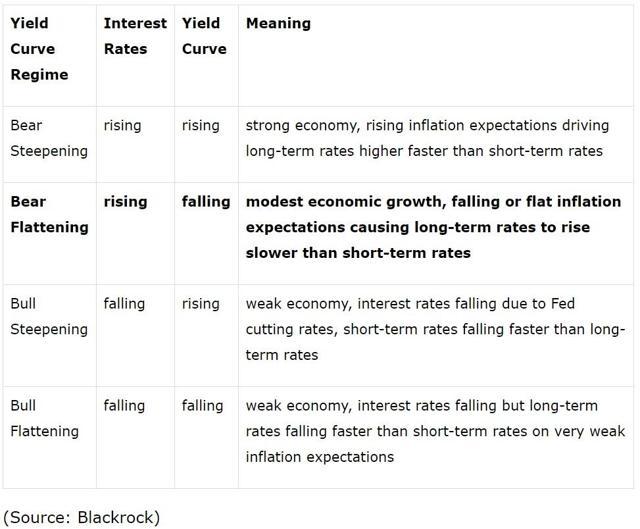 So let's take a look at the five reasons I consider Realty Income to be one of the best low-risk, high-yield blue chips you can buy today. More importantly learn why the stock has the potential to beat the market over the next decade by as much as 25%.
A Business Model That's Perfect For Safe, Generous And Steadily Growing Dividends
Founded in 1969 and IPOing in 1994, Realty Income is America's largest triple net lease REIT.
| | |
| --- | --- |
| Properties | 5,326 |
| States | 49 + PR |
| Tenants | 254 |
| Industries | 47 |
| Occupancy | 98.6% |
| Weighted Remaining Lease | 9.4 year |
(Source: Earnings Release)
The business model is ideally suited for low-risk dividend investors. That's because the REIT uses a sale leaseback strategy in which it acquires a property and then leases it back to the tenant under a long-term (13 to 15 year) contract with annual rental escalators built in (to offset inflation). The tenant is responsible for paying maintenance, taxes, and insurance.
Realty just acts as landlord collecting its highly recurring and predictable rent. That rent is also very high margin. In fact, in Q1 2018, Realty Income's AFFO margin was 70%. Adjusted funds from operation, or AFFO, are the REIT equivalent of free cash flow and what funds the dividend.
That high margin cash flow is derived from a highly diversified base of strong tenants across dozens of industries, with no industry representing more than 11% of annual rent.
(Source: Realty Income Investor Presentation)
One of the biggest concerns many investors have about retail REITs is the fears that e-commerce and the so called "retail apocalypse" will decimate Realty's tenants and thus put the dividend and investment thesis at risk.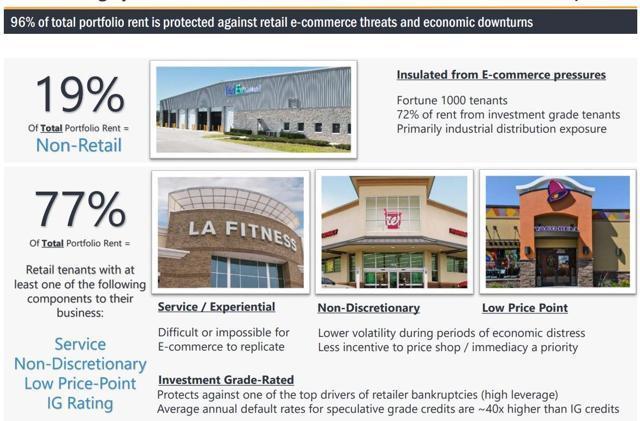 (Source: Realty Income Investor Presentation)
However, management has focused on retail properties leased to e-commerce-resistant retailers and just 4% of its actual rent is at risk to disruption from the likes of Amazon (AMZN).
If you are still worried, consider this further evidence that Realty's tenants are not dying but thriving. In Q1 2018, Realty's average EBITDAR/rent coverage ratio was 2.8. Anything above 2 is considered safe and a sign of a healthy tenant.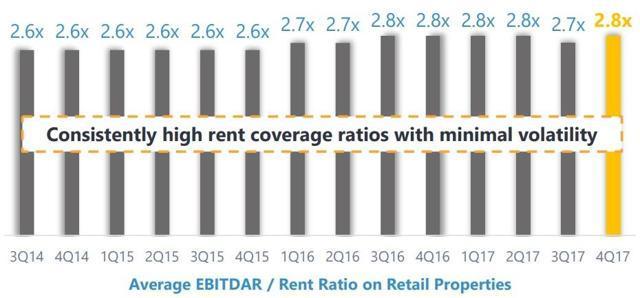 (Source: Realty Income Investor Presentation)
What's more that tenant coverage ratio has been consistently high for the last four years, indicating that Realty's business model is indeed as "Amazon proof" as management claims.

(Source: Realty Income earnings supplement)
Meanwhile, the occupancy rate is now at the highest end of quarter level in a decade and has been trending slightly up for years. That's not surprising given the strengthening economy and rising brick-and-mortar retail sales we've been seeing.
And if you're worried about how Realty's occupancy rate holds up during a recession, don't be. Occupancy has never been below 96% and bottomed at 96.6% during the darkest days of the Great Recession.

(Source: Realty Income Investor Presentation)
Realty's super steady, recession-resistant, and high-margin business model means that it's been capable of growing its AFFO/share with incredible consistency.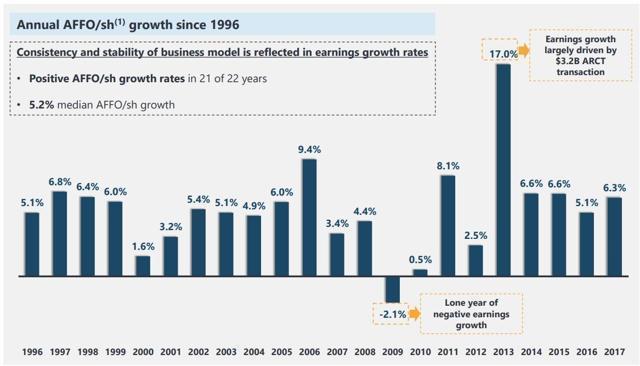 (Source: Realty Income Investor Presentation)
In fact, since 1996, it's had just one year of negative bottom-line growth. The result has been one of the most impressive dividend growth records in all of REITdom, 24 straight years of rising annual payouts.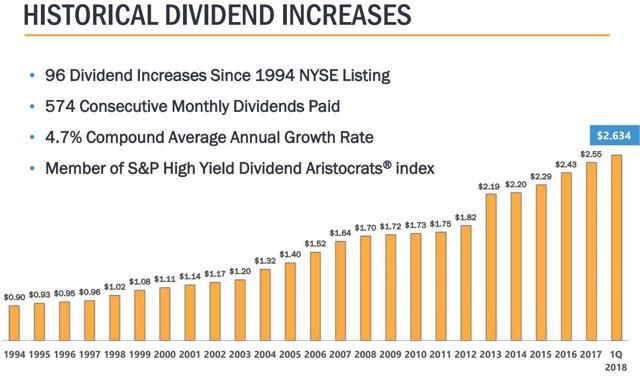 (Source: Realty Income Investor Presentation)
That means that Realty Income is one of just five REITs in the S&P High-Yield Dividend Aristocrat index and will be joining the better aristocrat index (which includes all S&P 500 companies) next year.
And lest you think that slow but steady dividend growth is only for boring retirees, Realty Income epitomizes the truth that boring but beautiful companies can make world-class investments.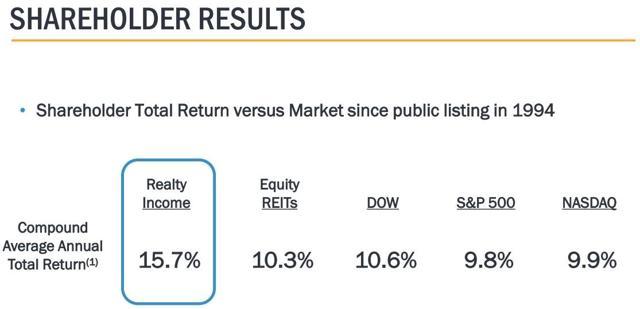 (Source: Realty Income Investor Presentation)
In the last quarter century, Realty Income has soundly beaten not just most other REITs but all the leading benchmarks, including the tech heavy Nasdaq.
Now don't get me wrong I'm not saying that Realty Income is going to generate anywhere close to those returns over the next 25 years. However, there are plenty of reasons to believe it can still beat the market over the long-term.
World-Class Management Team With Long-Term Growth Focus
The most important part of any successful investment is a quality management team. One that's rich in experience and knows how to allocate shareholder capital well.
Realty Income is led by John Case who joined Realty in 2010 and become CEO in 2013. Before that, Case spent 20 years as a New York-based real estate investment banker with UBS and RBC. During that time, Case oversaw about $100 billion in real estate deals. In addition to 28 years of industry experience, Case sits on the board of Duke Realty (DRE) a diversified industrial and office REIT.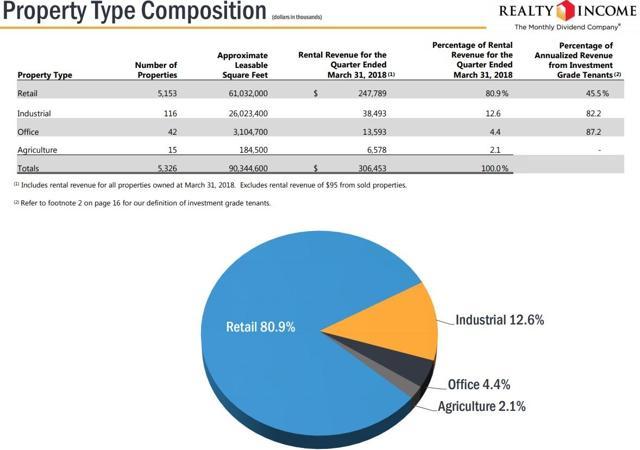 (Source: Realty Income Investor Presentation)
Thanks to Case, Realty has been diversifying into non-retail properties which make up 19% of rent today compared to just 2% in 1999.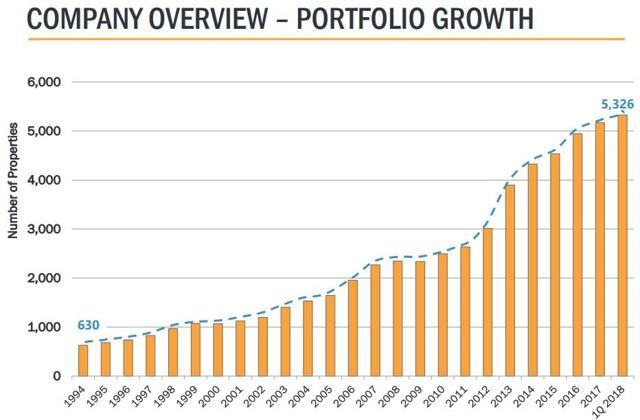 (Source: Realty Income Investor Presentation)
The key to long-term success in REIT investing is accretive acquisitions. This means acquiring more rent-producing assets over time to grow AFFO/share and thus the dividend. Over the past 24 years, Realty Income has grown its property portfolio by about 9.3% annually.
In Q1, Realty Income sourced (considered) $9.5 billion in potential investments. Of that, it acquired 5% or $510 million in 174 new properties in 27 states. The properties were 100% leased with average leases of 14 years and a 6.2% cash yield (cap rate). Nearly all the properties were quick service restaurants and convenience stores which are e-commerce resistant. On the disposition (property sale) side of the ledger, the REIT sold 14 properties for $14 million and achieved an annualized internal rate of return of 7.3% on those sales. This 160 net property addition represents a 3.1% increase in the property portfolio in a single quarter, which is well ahead of the REIT's historical growth rate.
In fact, Realty Income had net acquisition volume of $496 million in Q1 2018, which puts it well ahead of its 2018 guidance for $1 billion to $1.5 billion in investments ($800 million to $1.3 billion in net acquisitions). That being said, the REIT's acquisition volume is somewhat lumpy from quarter to quarter, which is why management continues to guide for $1 billion to $1.5 billion for the full year.
| | | |
| --- | --- | --- |
| Metric | 2017 Growth | Q1 2018 Growth |
| Revenue | 10.2% | 6.8% |
| Adjusted Funds From Operation | 13.9% | 11.5% |
| AFFO/Share | 6.3% | 3.9% |
| Dividend | 5.9% | 4.3% |
(Source: Earnings release)
This large amount of acquisitions helped to drive decent though slightly slower top- and bottom-line growth compared to 2017. However, note that adjusted funds from operations, or AFFO, continue to grow much faster than revenue. This is due to Realty Income's strong economies of scale, meaning that it spreads out its fixed general & administration costs over an ever expanding base of income-producing assets.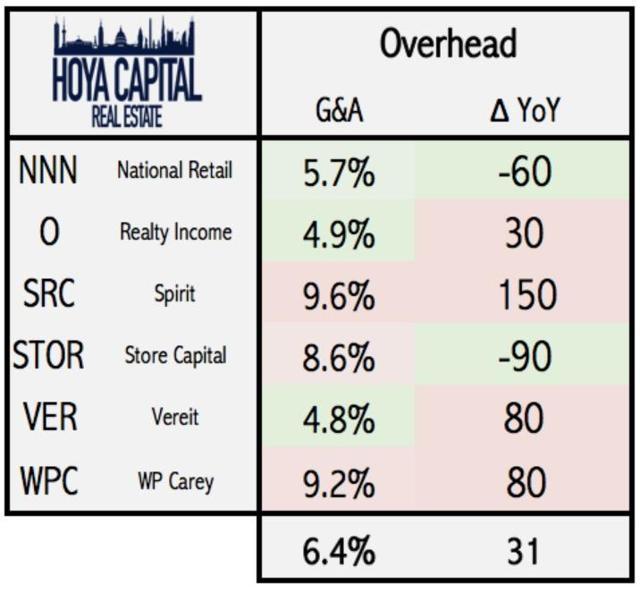 (Source: Hoya Capital Real Estate)
Today, Realty Income has the second lowest overhead ratio (G&A expenses/revenue) of any major NNN REIT.
Of course, given that the nature of this business (a kind of shadow financing), good management also means good risk management and strong adaptability to changing industry conditions.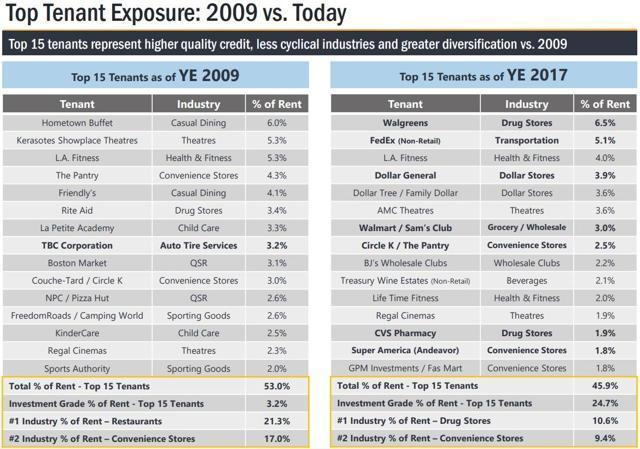 (Source: Realty Income Investor Presentation)
Realty has proven to be highly adaptable in two key ways over the years. First, when consumer tastes change and some retail industries suffer, the REIT is able to quickly adapt and replace struggling tenants with stronger ones.

(Source: Earnings supplement)
The reason this is so important is because tenants are the ones paying for upkeep costs. So a vacant property doesn't just generate no rent but actually is a source of negative cash flow.
When a property goes vacant or a lease expires, management then makes highly disciplined investments to upgrade its properties to attract new tenants at higher rates. In Q1 2018, the cash yield on such property improvement investment was 11%, nearly double the cash yield on new properties.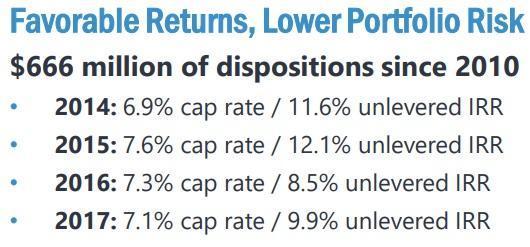 (Source: Realty Income Investor Presentation)
If a property can't quickly be released to a new tenant, then it gets recycled or sold, usually for a good profit. Those proceeds are then reinvested into new properties with stronger tenants in thriving industries (e-commerce-resistant ones).
The bottom line is that while the NNN business model is simple in concept, proper long-term execution requires a skilled management team. One that knows how to manage risks well, adapt to changing industry conditions, and most of all fund profitable growth in all manner of economic, industry, and interest rate environments.
Realty's Grade A management certainly fits that bill, especially when it comes to the most important aspect of the REIT's competitive advantage.
Massive Access To Low-Cost Capital Is A Major Competitive Advantage
The triple net lease REIT industry is all about being able to make accretive investments, meaning that the cap rate on new properties is above the cost of capital (mix of retained AFFO, debt, and equity). This is what allows AFFO/share to increase over time and drive dividend growth. This means that one of the biggest competitive advantages any REIT can have is strong access to low-cost capital, especially the bond market.
That's because by law REITs must pay out 90% of taxable income (not the same as GAAP EPS or AFFO) as dividends which means they usually retain very little cash flow to fund their growth. Thus they must frequently tap debt and equity markets to raise growth capital.
As we've seen in the past two years the stock market can be very bearish on REITs for protracted periods of time. This can lead to cash costs of equity (AFFO yield) rising too high to allow a REIT to continue acquiring new properties.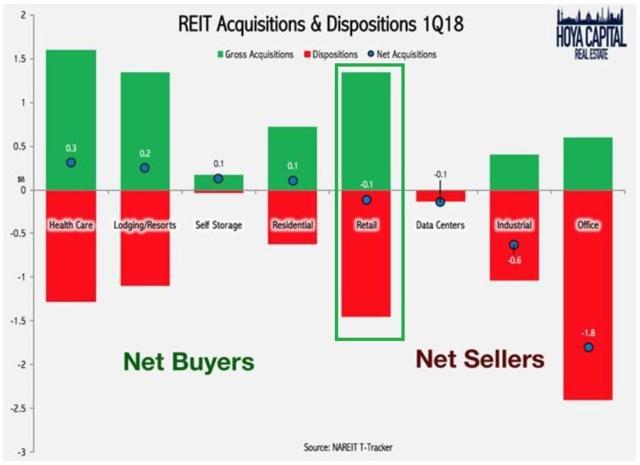 (Source: Hoya Capital Real Estate)
This is why the pace of net property acquisitions for the sector has drastically fallen recently, including for retail REITs which had slightly negative net acquisition volumes.
However, Realty Income has a major advantage over its rivals that allows it to continue to make accretive acquisitions even in challenging sector and industry times such as these.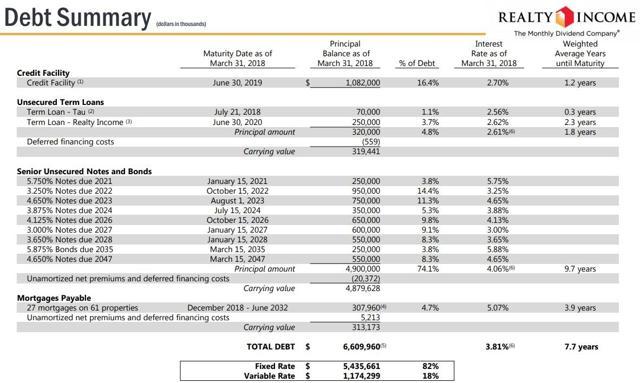 (Source: Earnings supplement)
Specifically management has been able to continue growing the property base aggressively without major equity issuances. For example, in Q1 2018, the company didn't sell any shares and the only equity issuances were $2.3 million worth of new shares from its dividend reinvestment plan, or DRIP.
Rather than sell new shares at a cost of equity of about 6%, Realty Income is tapping its large access to very low cost debt. For example, in Q1 2018, it issued a $500 million 7-year bond at 3.96%, which it used to pay down its revolving credit facility. This variable debt facility allows Realty to borrow at just 2.7%. These low borrowing costs are courtesy of Realty Income's BBB+ credit rating which is the highest of any triple net lease REIT (and one of the highest in all of REITdom).
Over the past year, management has been increasing the duration of its long-term, fixed-rate debt to minimize its exposure to rising interest rates. For example, at the start of 2017, Realty's average duration on its bonds was 6.5 years, but that's now risen to 9.7 years. By locking in its borrowing costs at low rates, the REIT is ensuring the profitability of its current and future property acquisitions.
Thanks to paying down $500 million on the revolver, the REIT now has $1.3 billion in remaining borrowing capacity. And the facility itself has a $1 billion accordion, meaning that the REIT's actual liquidity stands at $2.32 billion. That in turn means that Realty could potentially beat its acquisition guidance for the year, as well as its 3% to 5% AFFO/share growth projection.
Another factor in Realty's long-term success is management's skill at maintaining a steady gross investment spread (cap rate minus cost of capital). This is literally the most important aspect to a REIT's growth thesis, because if the investment spread on new properties isn't high enough, then acquisitions won't drive much AFFO/share growth. In which case only annual rental escalators and a REIT's lease spread (higher rental rates as leases expire and are renegotiated) can drive growth in AFFO/share.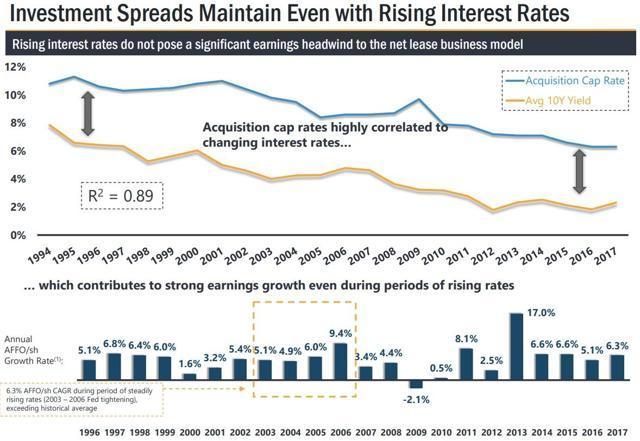 (Source: Realty Income Investor Presentation)
Historically, Realty Income's gross investment spread has been 1.5%. In recent quarters, it's been slightly higher at 1.75% to 2.25%. In Q1, the investment spread was 1.3% due to the fact that 85% of the properties Realty acquired were leased to investment-grade tenants. According to Sumit Roy, Realty's COO, the cap rates on investment-grade properties are in the 5% to high 6% range, while non-investment-grade properties sell for the high 5% to low 8% range.
| | |
| --- | --- |
| Cost Of Capital | 4.9% |
| Cash Yield On Investment | 6.2% |
| Gross Investment Spread | 1.3% |
(Source: Earnings transcript)
What's the key to maintaining a good investment spread? That would be careful capital allocation including when and how much debt vs. equity funding to use.
For example, during times when REITs are popular, such as 2015 and the first half of 2016, Realty Income was funding most of its growth with super cheap shares (cost of equity as low as 4%). This still allowed it to maintain a good investment spread while growing its asset base and cash flow.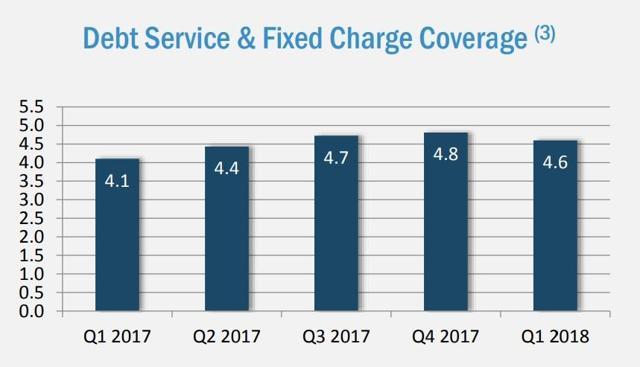 (Source: Earnings supplement)
That in turn deleveraged the REIT (as seen by its rising interest coverage ratio) and expanded its borrowing power for a time when the share price would fall significantly. The last two years have been this time, and as Realty's share price fell to its recent low of around $48, management was able to completely rely on low-cost debt rather than dilutive share issuances to grow.
Or to put another way, Realty Income's biggest strength lies in the combination of its highly experienced and long-term focused management team being able to think several moves ahead. Which is why when many of its peers are struggling to grow at all (stuck in liquidity traps), Realty continues to grow its property base, cash flow, and dividend with clockwork-like predictability.
This consistency is why I'm confident that Realty Income is likely to continue to be a market beater over the next decade and potentially far beyond.
Dividend Profile: A Low-Risk, High-Yield, Low-Volatility Path To Market-Beating Returns
| | | | | |
| --- | --- | --- | --- | --- |
| REIT | Yield | 2018 AFFO Payout Ratio | 10 Year Projected Dividend Growth | 10 Year Total Return |
| Realty Income | 5.0% | 83% | 4.5% to 5% | 9.5% to 10.0% |
| S&P 500 | 1.8% | 40% | 6.2% | 8.0% |
(Sources: Management guidance, GuruFocus, FastGraphs, Yardeni Research, Multpl)
By far, the most important aspect to any income investing is the dividend profile, which consists of three parts: yield, dividend safety, and long-term growth prospects.
Realty's yield is nearly triple that of the S&P 500 and equal to its industry peers. However, due to Realty's premium quality, an industry average yield should still be considered a good deal.
That's especially true when considering the low-risk nature of the dividend, courtesy of the low AFFO payout ratio. While true that the industry average payout ratio is 80%, we have to take into account that many of Realty's smaller peers have far less diversified cash flow streams.
The other half of the dividend safety equation is the balance sheet, which is especially critical for capital-intensive sectors like REITs. A strong balance sheet not just creates a safer dividend but ensures a REIT good financial flexibility to grow when its share price is temporarily depressed.
| | | | | | |
| --- | --- | --- | --- | --- | --- |
| REIT | Debt/Adjusted EBITDA | Interest Coverage Ratio | Fixed Charge Coverage | S&P Credit Rating | Average Interest Rate |
| Realty Income | 5.8 | 4.6 | 4.6 | BBB+ | 3.80% |
| Industry Average | 6.0 | 3.9 | 3.7 | NA | NA |
(Sources: Earnings supplement, GuruFocus, NAREIT, FastGraphs)
Realty's balance sheet is the strongest in the industry, which is why it has the only BBB+ credit rating of any NNN REIT. Now it's true that the REIT's leverage ratio has been rising in recent quarters as management has been tapping into its built-up borrowing power to avoid issuing equity at unattractive rates. However, its interest coverage ratios and fixed charge coverage ratio (EBITDA minus unfunded capital expenditures and distributions divided by total debt service) remain much higher than those of its peers.
More importantly, Realty remains nowhere close to breaching its debt covenants. Covenants are relative debt metric requirements imposed by creditors that a REIT must maintain at all times. If a company violates a covenant then borrowers can immediately call in a loan triggering a liquidity crisis that can result in a dividend cut even if the dividend is well covered by AFFO.

(Source: Earnings supplement)
Realty's conservative management team has always ensured that its strong balance sheet meant the REIT was never even approaching such a danger zone.
As for long-term dividend growth, this is incredibly important. That's because over time studies show that a dividend stock's total return usually follows the formula yield + dividend growth (Gordon Dividend Growth Model). Think of it like this. There are three parts of a stock's total return: yield, earnings/cash flow growth, and valuation multiple changes.
Over time, a stock's multiple tends to mean revert or cycle around a relatively fixed point. This means that if the dividend payout ratio is stable (as Realty's has been for most of its life), dividends will grow in line with AFFO/share, which is ultimately what a REIT's intrinsic value is based on.
Thus yield + dividend growth is a proxy for current income and bottom-line growth and creates a reasonable estimate for how well a stock can perform given its current growth prospects and valuation.
Realty Income's 5% yield combined with 4.5% to 5% long-term AFFO/share growth potential (analyst consensus 4.9%) means that it should be able to achieve 9.5% to 10% total returns over the next decade. That's far below its historical returns of 15.7% since its IPO. However, it's also potentially 25% better than what the S&P 500 (still overvalued by historical norms) is likely to generate.
And keep in mind that Realty Income's long-term volatility is among the lowest of any blue-chip stock (5-year beta 0.2). This means that Realty Income provides market-beating total return potential wrapped up in a low-risk, low-volatility, high-yield monthly dividend package.
Valuation: Still A Good Time To Buy The Premium Name In The Industry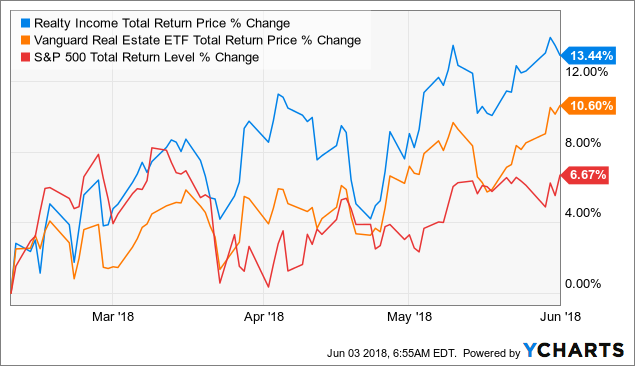 O Total Return Price data by YCharts
Back during the lows of the correction, Realty Income was a coiled spring. One that has nicely outperformed the market as rate sensitivity has fallen and the market has once more focused on positive and growing fundamentals. However, just because Realty is up 13% in the past few months doesn't mean it's still not an attractive buy today.
There are many ways to value a dividend stock and none are 100% objectively correct. This is why I like to use a combination of metrics to create a robust overall valuation model.
The first part is the total return potential taken from the dividend profile. My goal is to only recommend stocks to readers that can at least beat the market over the long-term (otherwise why not just invest in an ETF?). Realty Income's 9.5% to 10% total return potential not just surpasses the 8.0% total return I expect from the S&P 500 but also the market's 9.2% total return since 1871.
| | | | | |
| --- | --- | --- | --- | --- |
| P/AFFO | Implied 10 Year AFFO/Share Growth | Historical P/AFFO | Yield | 13 Year Median Yield |
| 16.7 | 4.1% | 18.6 | 5.0% | 5.0% |
(Sources: Management guidance, FastGraphs, GuruFocus)
Another method I like to use is by comparing the P/AFFO (REIT equivalent of a PE ratio) to its historical norm and seeing what implied growth rate the market is pricing in for a stock.
Right now, Realty Income is trading at 16.7 times its 2018 mid-range guidance AFFO/share, which is below its historical norm of 18.6. That AFFO multiple implies a 4.1% long-term growth rate which can be thought of as the bar a stock has to clear to likely beat the market over time.
While it's certainly possible Realty might deliver such low growth (see the risk section below) given the REIT's continues strong execution on its growth plan I consider it an overly pessimistic growth assumption.
Finally, being an income-focused investor, I like to compare a stock's yield to its historical yield. Remember that for stable businesses this yield tends to be cyclical and mean reverting. Thus the long-term average or median yield is a good approximation for fair value.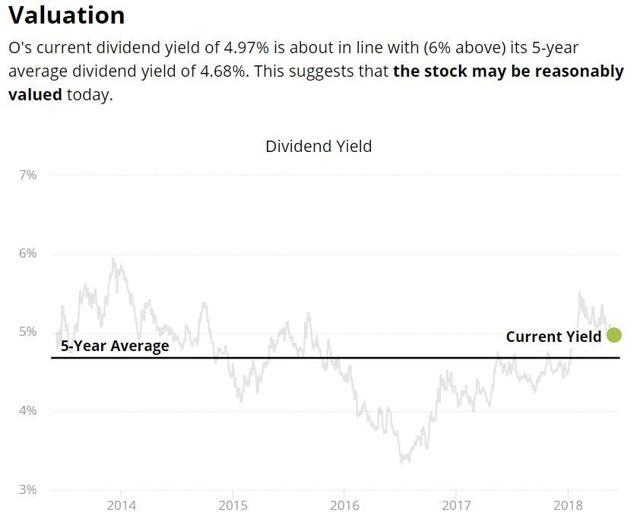 (Source: Simply Safe Dividends)
Based on the 13-year median yield, Realty Income appears to be fairly priced. Comparing it to its five-year average yield implies it's 6% undervalued. Splitting the difference I'd estimate (based on this method) that the stock is about 3% undervalued. However, combined with the other valuation methods, I'm more than happy to still recommend Realty Income at today's price under the Buffett principle of "it's better to buy a wonderful company at a fair price than a fair company at a wonderful price".
Or to put another way, at the very worst, Realty Income is at its fair value. And given the premium nature of the REIT and its management team that makes it a good option for most high-yield investors. At least those comfortable with its risk profile.
Risks To Consider
While Realty Income is a great low-risk, high-yield stock, there are still several risks to keep in mind.
First, while the REIT has an impressive track record of achieving above-industry average growth over time, its growth rates can be cyclical. In the next few years analysts expect that Realty's AFFO/share growth rate is going to go through one of its occasional lulls. Specifically that means growth will slow to 4% in 2018, 3% in 2019, and 2% in 2020.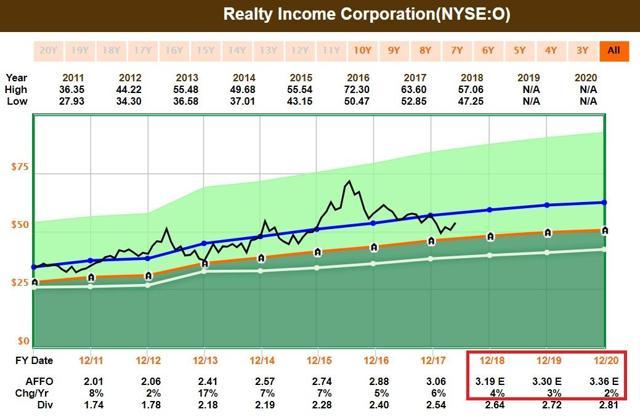 (Source: FastGraphs)
The good news is that beyond 2020, growth is expected to accelerate sharply and thus allow the REIT to achieve close to 5% AFFO/share growth over the next decade. That's in line with its historical average since 1994.
However, in order to achieve that acceleration in growth, management is going to have to prove it can keep scaling the REIT. Specifically that means increasing the volume of net acquisition to keep growing the portfolio base. So far, there are no signs that Realty is starting to suffer from the "law of large numbers," meaning it won't be able to maintain its historic property growth rate of roughly 10%.
For example, if management hits its guidance of $1.05 billion in net property acquisitions this year that would put the property growth count at roughly 7.2%. If Realty maintains its current growth (beats guidance), then it might hit 12.4%. Given that management is usually conservative with its guidance, that means that Realty's actual property growth should come in somewhere in the middle, around 9.8%.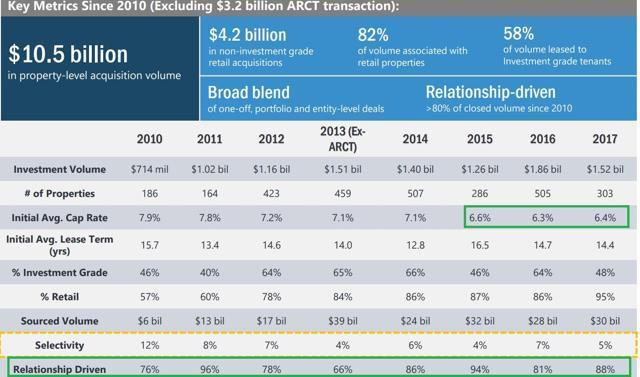 (Source: Realty Income Investor Presentation)
That being said, Realty has been facing falling investment spreads on new properties which have been the result of falling cap rates on new properties. It's also been due to a stronger focus on higher-quality properties, mostly in large urban areas with population over 350,000.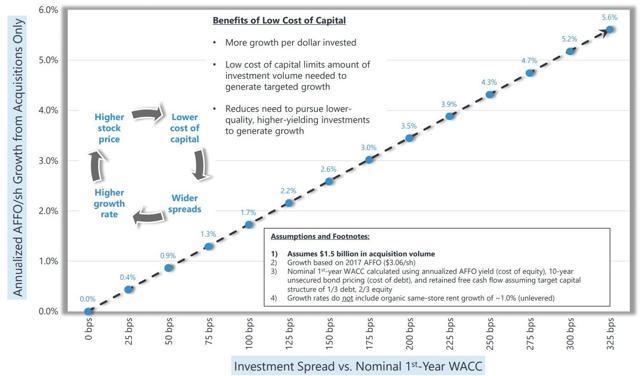 (Source: Realty Income Investor Presentation)
This means that I'll be watching the future investment spreads closely to make sure that Realty is able to maintain its historical gross investment spread on new properties (what drives AFFO/share accretion). For example, if the REIT's investment spread were to remain at current levels, then Realty would be generating just 2.3% annual AFFO/share growth from acquisitions. Combined with 1% annual rental escalators, that means 3.3% total AFFO/share growth, which is far below its historical 5% norm since IPO.
The good news is that in a rising rate environment, cap rates generally rise (with a 3 to 9 months lag). That being said, Realty Income will be facing the potential of rising borrowing costs in the future if analysts such as Morningstar are correct that long-term interest rates are going as high as 4.5% by 2022. That would mean higher borrowing costs on new debt, which might offset the increased cap rates it can obtain on new properties.
If Realty's ability to generate AFFO/share growth from accretive investments becomes impaired, then it will have to rely on its annual escalator. However, this brings us to one of Realty's biggest weaknesses.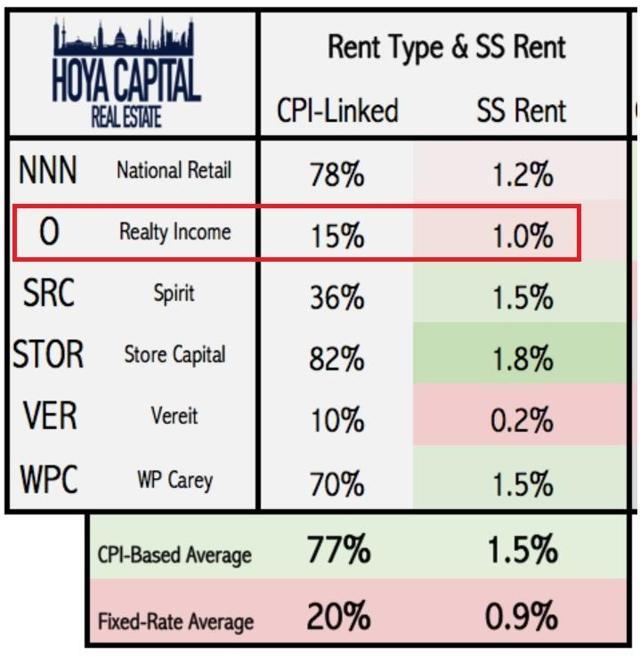 (Source: Hoya Capital Real Estate)
Realty Income has above-average inflation risk compared to most of its NNN REIT peers. That's because just 15% of its annual rental escalators are indexed to inflation. With inflation currently running about 2%, this means that Realty Income's highly recurring rent is gradually losing pricing power each year.
The good news is that the current low state of the escalators is due to inflation being at very low levels for most of the past decade. Going forward, Realty should be able to negotiate higher escalators and link more of them to inflation. However, due to the long duration of its contracts, this might serve as a long-term headwind until those contracts roll off.
In the meantime, the long-term nature of its contracts means that Realty, like all NNN REITs, occasionally has very high interest rate sensitivity (in regards to its share price).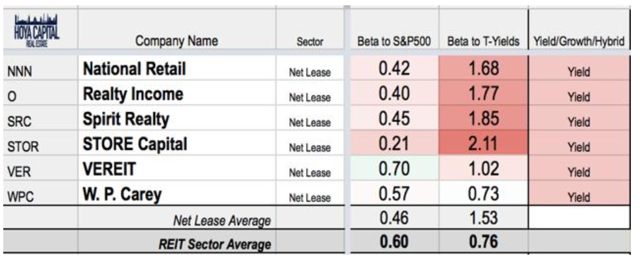 (Source: Hoya Capital Real Estate)
For example, in the past year, Realty Income's dividend yield has risen 77% more than that of the US 10-year Treasury yield. That's the reason for the stock price being so weak.
The good news is that REIT rate sensitivity is cyclical and mean reverting (cancels out over time). And in the last few weeks, it has been decreasing.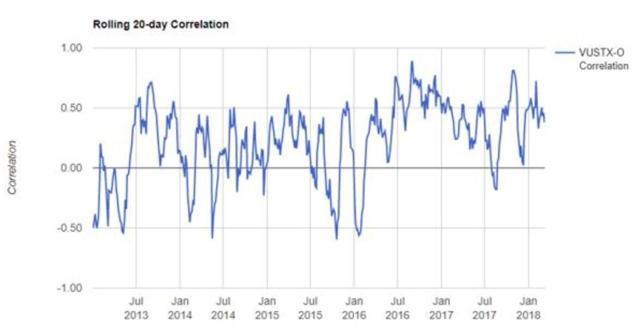 (Source: PendragonY)
That being said, if rate sensitivity were to increase yet again, this might create a temporary growth headwind. That's because Realty's conservative management team is not likely to continue expanding its portfolio base aggressively purely on debt.
For the REIT to return to its historical growth rates (what analysts and I are predicting), Realty Income will need its cost of equity to average about 5.5% to 6.5% over the long-term. That corresponds to a current share price of about $49 to $58. Note that this figure will rise as the REIT's AFFO/share grows over time.
Bottom Line: A High-Yield, Monthly Dividend Blue Chip With Long-Term, Market-Beating Return Potential
It's been a painful two years for Realty Investors thanks to the bursting of the interest rate fueled REIT bubble. But while years of losses might hurt, it's important to remember that the reason for owning any REIT, but especially Realty Income, is for the safe, generous, and steadily growing income.
Realty Income's fundamentals have never faltered during the downturn, nor are they likely to. The REIT's skilled, disciplined, and experienced management team has proven itself master capital allocators and risk managers. Combined with the industry's strongest balance sheet, great access to both low cost capital and abundant deal flow, Realty Income's growth runway remains long and strong.
And with a share price trading at a slight discount to fair value, this means that Realty Income is likely to generate about 9.5% to 10% or so total returns over the coming decade. That's pretty impressive for a low-risk, super low volatility blue chip such as this. It's also potentially 25% more than the broader market is likely to return. That makes Realty Income a good buy for anyone looking for market-beating return potential in a low-risk, high-yield, monthly dividend package.