Our "Elevation Code" marketplace portfolio started out as primarily being an income-based portfolio. Using strategies such as covered calls and naked puts in dividend growth stocks was the core intention of the service. The service was set-up at the back-end of 2016. Maybe there was a subconscious belief that the election was going to put a stop (or at least a suspension) to the multi-year rally especially if Trump got elected. How wrong the bears and we were.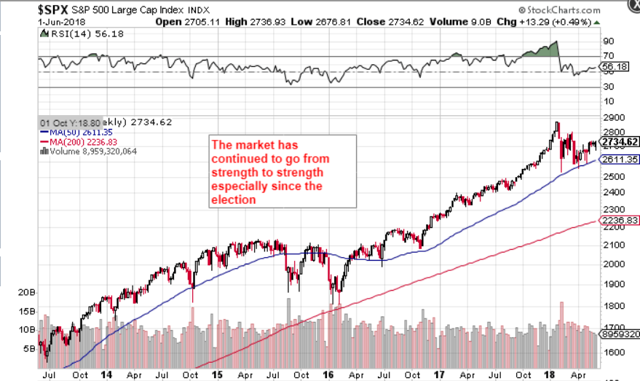 Income derived portfolios outperform capital gain-based portfolios in periods of stagflation or little growth. However, I feel income derived by investors in markets which we have at present usually under-perform especially if they don't adopt a core buy and hold strategy. For the best part of the year now, we have been concentrating (many times with leverage) on core buy and hold plays.
This is what the S&P 500 (SPY) is giving us and I still feel the best course of action is to remain long. Selling covered calls for example in a market where the Nasdaq is about to take out its all-time highs once more limits potential gain. Here are our core reasons why we will not be digressing from our update core strategy any time soon.
Rising GDP Numbers - Although we saw a downward revision of GDP in the first quarter to 2.2%, this was mainly caused by the downward number in the inventory number. Now one can look at this in two ways. Firstly, one could take a negative viewpoint and state that the downward GDP revision and the light number in consumer spending doesn't bode well for the future. However, the first quarter has always been the weakest print of the year traditionally in the US. In the first quarter last year, the economy managed only 1.2% and in 2016 - only 0.6%. Personally I feel that we could see 3.5% in the second quarter as companies now have more leeway to ramp up their inventories. Remember, the economy has only managed about 2% GDP growth on average since the great recession. Therefore calls for a slowdown don't look convincing at present. We will watch this metric closely but GDP growth definitely coincides with our staying long strategy.
The current situation in the US property market leads me to believe that house prices will continue to rise for a number of reasons. First, is the inventory situation. The property market seems to have done a complete 180 from where it was before the great recession. The collapse in '08 was due to cheap credit and a roaring supply of inventory. Now banks are much more stringent with regards to forking out loans and builders are nowhere near back to the level of building they did prior to 2007 for example. The lean supply situation is driving up rents and prices alike and I don't see this stopping any time soon. Here is where one needs to follow sentiment or human nature. Millennials seeing interest rates rise won't want to miss the boat which see demand fueling house price growth. What would be healthy for this market would be some consolidation this year due to rising interest rates. Also fresh inventory can also outpace demand over the near term, it would put some downward pressure on house price growth. These though I only see as temporary measures. This fundamental sector will only aid to stock market gains.
Share Buybacks & M&A Activity : I find it amusing that bears have continually stated that company share repurchase programs have been one of the chief reasons for the multi-year rally out of 2009. Why then would the markets be near a cyclical stop with buyback dollar amount numbers continuing to be at historic record highs ? It just doesn't make sense. Also look at the growth in both global and US-related mergers and acquisitions. They are off the charts especially in the healthcare sector. Moreover the biotech ETF (IBB) hasn't even surpassed its 2015 highs yet. All this capital (but more importantly - activity) hitting the US has to have an effect on the markets over time. No need to be selling covered calls on existing positions here.
To sum up our viewpoint, take a look at the long-term chart of Walmart (WMT) below. WMT stock from the turn of the century to around 2012 did basically nothing as shares were caught in a tight trading range. That was the time to "invest" for income by investing for dividends, covered calls and naked puts, etc. Now though, we seem to be on the opposite end of the scale. Every dip should be bought as these markets want to go higher. Until our viewpoint changes, we very much will remain in "capital gain" mode.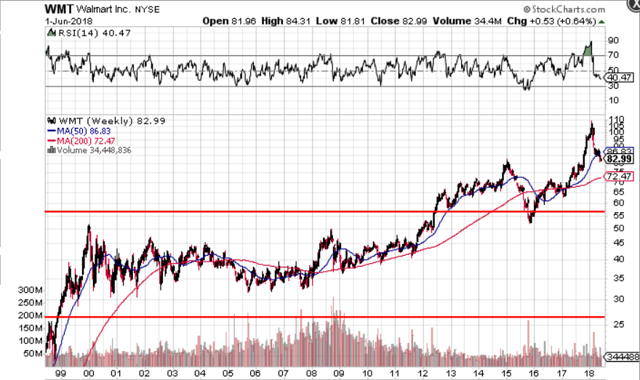 Disclosure: I am/we are long WMT. I wrote this article myself, and it expresses my own opinions. I am not receiving compensation for it (other than from Seeking Alpha). I have no business relationship with any company whose stock is mentioned in this article.