Market Intro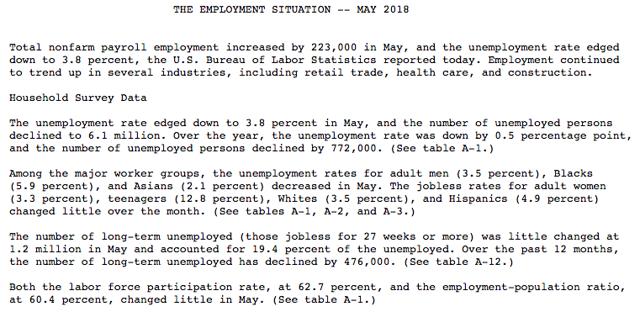 Bureau of Labor Statistics: May NFP release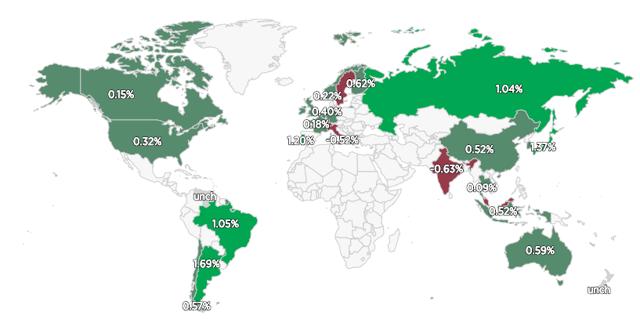 CNBC: 10:42 AM EST
While not at peak levels for the session, US stocks (SPY, DIA, QQQ) have decided to continue last week's rally into Monday morning trade. The Russell 2000 index (IWM), which tends to be more insulated from international developments, trades just a stone's throw from all-time highs. The strong jobs report from last Friday has put global stocks (ACWX) reason to celebrate: most markets across the globe are having a strong Monday.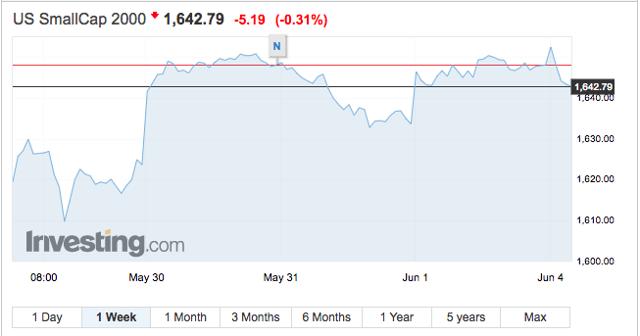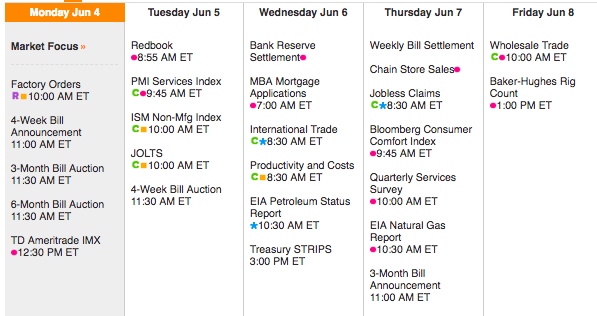 Bloomberg Economic Calendar (Thursday truncated)
The economic calendar does not promise much in the way of movers and shakers this week. Given the strong start and the global support, it would appear that short vol positioning (SVXY, ZIV) has the upper hand, especially when combined with the fact that spot VIX (which at the time of writing) lies below the term structure.
Thoughts On Volatility

Urban Carmel supplies a picture of the US economy that suggests that a recession is nowhere in sight. I happen to agree with this assessment, though I think that one of the major lessons of early February is that we actually do not require a choppy economy to get some major sell-offs in stocks, as bond, commodities and FX vol can do that for us. Recall that it was a steady increase in yields (IEF, TLT, AGG) following a strong January NFP report that really got the stock market sliding…a good report.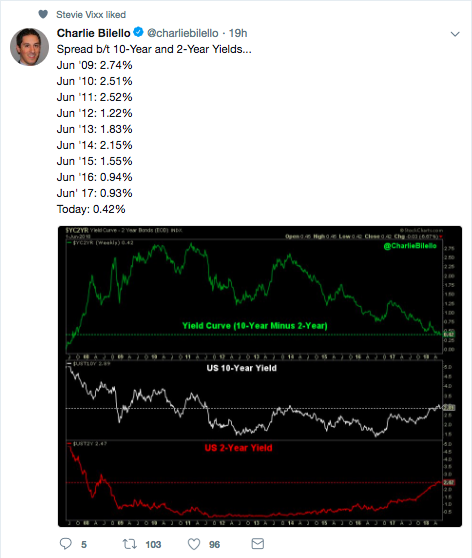 Charlie Bilello demonstrates that the ten minus two-year Treasury yield spread is just a fraction of what it has been over most of the period going back to 2009. This does not necessarily portend a recession. The Fed kept very tight control over the Fed Funds rate, keeping it essentially at zero all the way to December 2015. Now, with a robust and healthy economy, the target Fed Funds is still in the 1.5-1.75 range: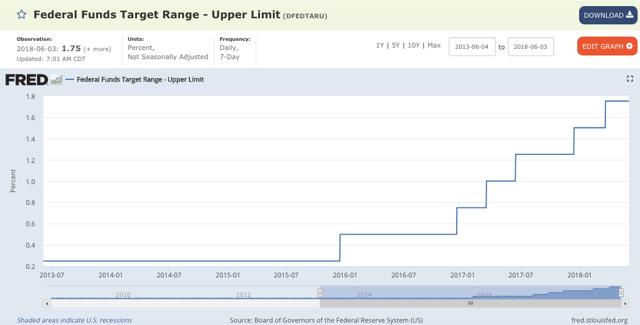 A couple of weeks ago (May 16), CME group released a video speaking to the bifurcation between the 2-10 and the 10-30 spreads. Jack Bouroudijian calls the action "unorthodox", and something for traders to keep an eye on.
Bottom line, the flattening, and perhaps sometime soon enough even the inversion, of the yield curve can cause volatility, and perhaps even trigger a bear market for stocks. At the same time, such a shift in the shape of the curve does not need to signal the approach of the next recession.
Term Structure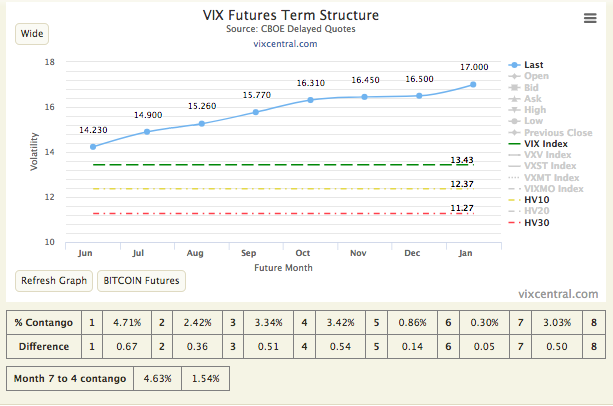 At the very least, spot VIX and the 10-day HV are getting a lot closer to one another. If you're long vol, this is more or less the best thing you've got going for you at present (and that ain't much). The M1 resides .8 vols above spot, with a June 19 expiration. Last Tuesday we saw that the front couple contracts did have what it took to respond to an increase in volatility. But it took a 1.5% sucker punch on SPX to make that happen, and I suspect that VX futures would be even stingier about large increases in the current environment: VXX, UVXY, TVIX beware!

Market Chameleon: UUP
Dollar volatility took a meaningful spill over the last few sessions. I view this as one of my core instigators for sustainable increases to volatility (when it does happen). Dollar vol got extremely low at the end of 2017, and we are rapidly approaching that end of the extreme.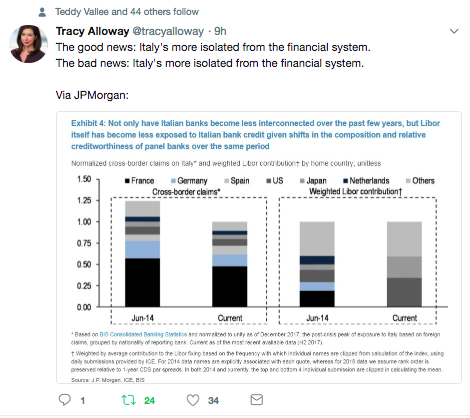 Still, keep in mind that just because risk assets have temporarily chosen to discard issues that were so important only a week ago (EWI), does not mean that said issues are fully resolved. Markets can pardon themselves, but only temporarily.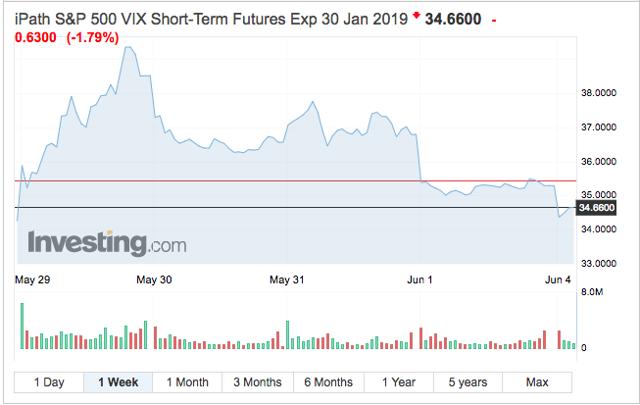 In the meantime, we appear to be back in a pattern where vol spikes can and do occur, but are for the time being events to be trading against rather than with. Reversal rather than momentum appears to be key. This can be dangerous for instruments that embed daily rebalancing (i.e. most of the popular vol products).
Conclusion
If this is your first time reading Market Volatility Bulletin, thanks for giving it a try. If you're a regular, we thank you for your ongoing contributions in the comments section.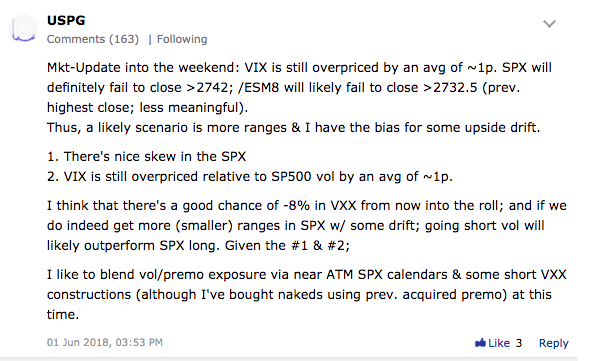 In the prior MVB, Georgy Uspenskiy opines that the VX futures (and their attendant ETPs are overpriced relative to the volatility in the underlying SPX index. SPX calendar debits are by construction long vega, long theta; the short VXX would neuter the vega and approximate a pure theta play, though of course with two products. This structure demonstrates a way to tie related markets together when one believes that a mispricing exists between the pair.
Thank you for reading.
Please consider following us.
Disclosure: I/we have no positions in any stocks mentioned, and no plans to initiate any positions within the next 72 hours. I wrote this article myself, and it expresses my own opinions. I am not receiving compensation for it (other than from Seeking Alpha). I have no business relationship with any company whose stock is mentioned in this article.
Additional disclosure: I actively trade the futures and options markets, potentially taking multiple positions on any given day, both long and short. I also hold a more traditional portfolio of stocks and bonds that I do not "trade". I do believe the S&P 500 is priced for poor forward-looking returns over a long timeframe, and so my trading activity centers around a negative delta for hedging purposes.