If the SPDR Gold Trust ETF (GLD) breaks above the red line shown in this chart, then gold will likely be well on its way to the 2011 highs. Once this overhead resistance is surpassed, you will see a flood of buyers come into the market as this will be a major breakout that won't be ignored. GLD has made several attempts this year to punch through this ~130 level, but it hasn't been able to get over the hump. Despite the recent decline, GLD remains within striking distance of this target.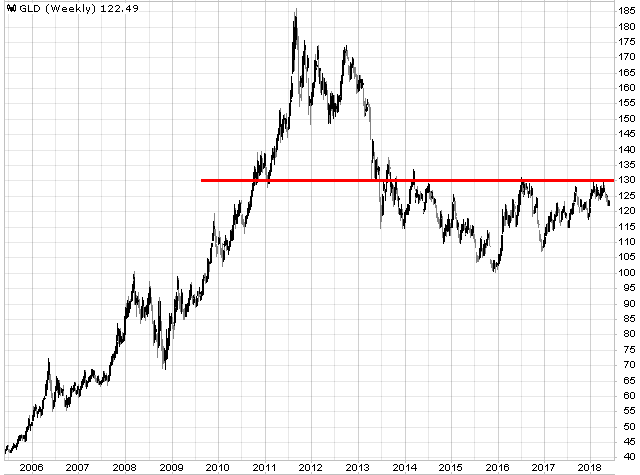 (Source: StockCharts.com)
The question is can this level be overcome during the next few months?
We are approaching the dog days of summer for the gold market, as July is typically the toughest month for the sector. That's especially true for the gold stocks given past seasonality patterns over the last 20 years. But the weakest month is followed up by the strongest as August produces (on average) stellar returns on a consistent basis. It's best to be positioned in advance.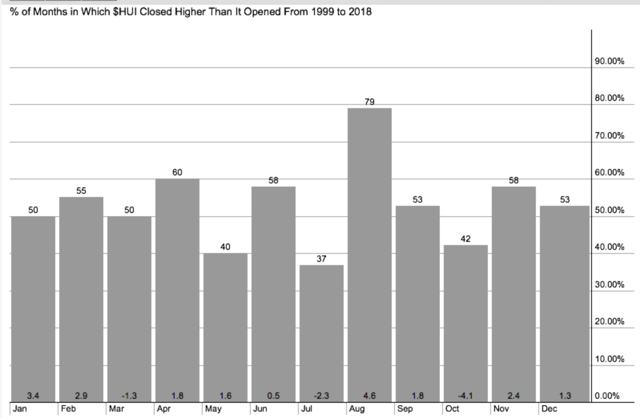 (Source: StockCharts.com)
Given this seasonality, investors might assume that gold has no chance here and it will, at best, lay dormant for June and July. But if you look at the last two years, the sector hasn't stayed true to seasonal patterns for those months. June 2016 and July 2016/2017 had very impressive gains and only last June was a down month for GLD and the gold miners.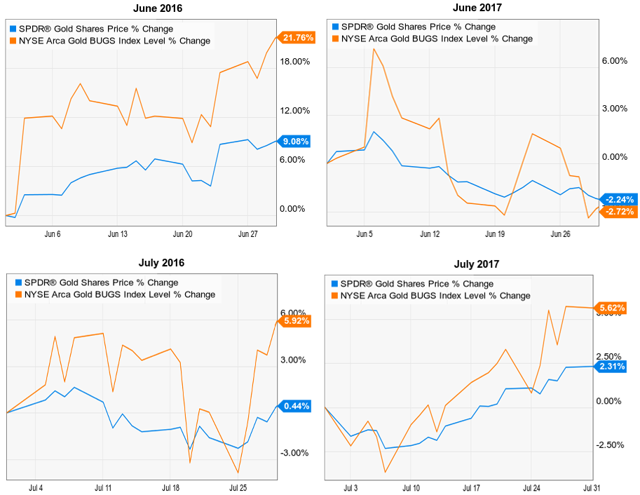 (Source: Ycharts)
Being in a bull market has helped the sector overcome the typical weak early to mid-summer time period. However, it doesn't mean that seasonality is not a factor when the tide turns from bearish to bullish.
Complicating matters - in terms of determining whether gold can breakout during the next few months - is the next Fed meeting is June 12-13 (where a rate hike will likely be announced). The pattern for gold since this rate normalization process began is to decline in the 2-3 weeks leading up to Fed meetings - where there was a hike in rates - and then move aggressively higher after the announcement.
In the chart below I circled where all rate hikes have occurred to show how gold reacted both before and after. 5 out of the last 6 rate hikes marked a short-term bottom in gold. Only in June 2017 (as just discussed) did gold not respond favorably to an increase in the Fed funds rate. You can also see how gold took a dive during the few weeks leading up to all of these announcements.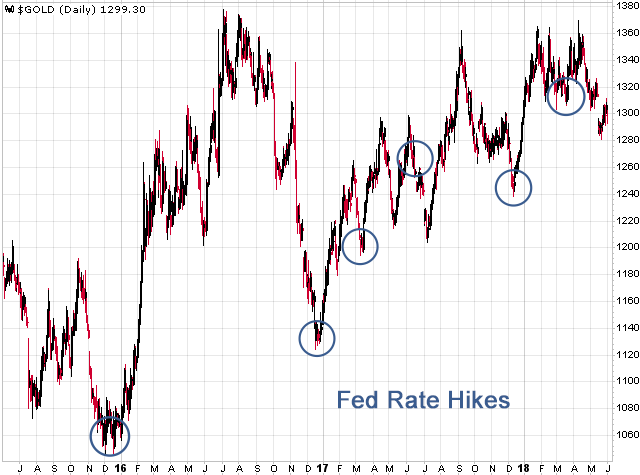 (Source: StockCharts.com)
Given that we are now less than 2 weeks away from the next Fed meeting, it's certainly possible we will see more weakness in GLD and the miners. But the odds are good that there will be a strong rebound in the second half of June.
I'm still not convinced, though, that a breakout will take place in July (despite the sector going against the trend in 2016 and 2017). I lean towards August/September being the time-frame for this event and July a bit of a "heavy" month.
Let me be clear, that doesn't mean GLD will be lower by the end of June. It's at 122, the breakout is ~130. It could easily be up 3-5% by the end of the month, consolidate somewhat in July, and then rip higher in the late summer/early fall time period.
Many investors are assuming that because there is typically a lull in the market around this time of year, they can just focus their attention elsewhere and return to the gold market at a later date (figuring they will not miss anything and weighing opportunity costs). However, when assumptions like this are made, investors can be left out at the start of a move. Then the mindset becomes "well, I will just wait for a pullback." Before they know it, the market has ripped higher and they are sitting stunned and not knowing what to do. I saw this happen in early 2016 as gold stocks suddenly blasted higher (by 100-200%); those on the sidelines were like deer in headlights. I was warning in 2015 about this, and I'm warning about it now. This sector is ripe for another powerful surge to the upside and I strongly believe the precious metal stocks will far outperform over the next few years. Investors don't want to miss this stage of the bull market.
Do I think this sector is going to breakout in the next two months? No, but it could still trend higher and give the market a solid launching pad for a late summer/early fall surge.
In the very short term (i.e., the next week or two), gold could come under more pressure. The action over the last few trading days was a little disappointing as GLD couldn't break this trend line. Don't be surprised if it falls another 2-3% before the Fed meeting. If that's how it plays out, then I expect it to make an aggressive move to the upside after the meeting has concluded and another rate hike is put up on the board.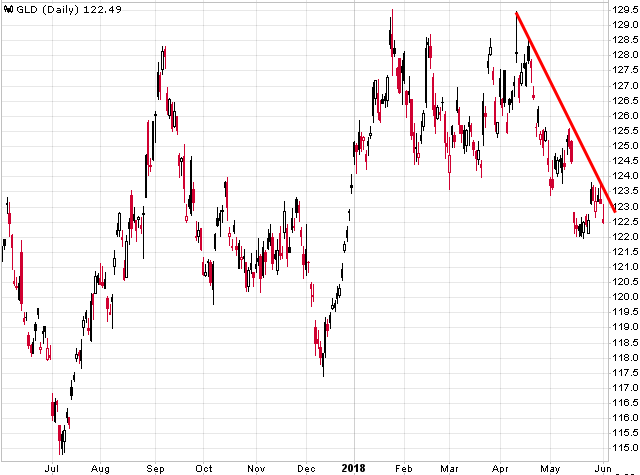 (Source: StockCharts.com)
I figure another week or two of pain in the physical market, followed by a fairly strong rally into July, then some consolidation (maybe not as painful as people expect), and then a breakout a month or so later. That's my call.
The Gold Edge
I offer a premium service here on Seeking Alpha called The Gold Edge. I believe we are on the cusp of another strong surge in the gold market that will generate absolutely stellar returns just like in 2016. While we are in this surge, there will be lots of volatility, which means lots of opportunities.
If you would like to read more of my thoughts, ideas, and research on the gold sector, including which companies I believe are best positioned for outsized returns in this bull market, you can subscribe here.
Disclosure: I/we have no positions in any stocks mentioned, and no plans to initiate any positions within the next 72 hours. I wrote this article myself, and it expresses my own opinions. I am not receiving compensation for it (other than from Seeking Alpha). I have no business relationship with any company whose stock is mentioned in this article.