Welcome to how bad is the bottleneck edition of Oil Markets Daily!
Permian energy names are getting killed the last two weeks. Names that were darlings of Wall Street like Diamondback (FANG), Cimarex (XEC) and Concho (CXO) are down for the year now, while Pioneer Natural Resources (PXD) is the only one out of the big 4 to be up for the year.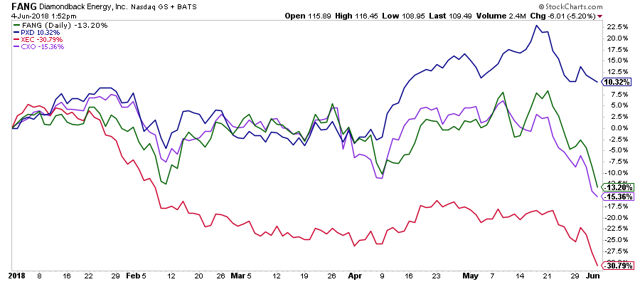 Source: Stockcharts.com
And for those of you wondering why the Permian names are performing so poorly, all you have to do is look at the pricing in Midland-WTI differential: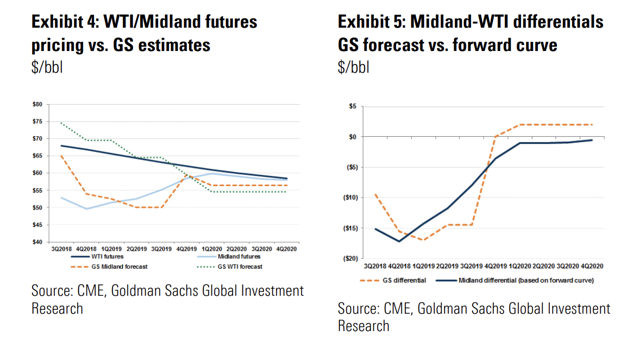 The differential blowout is in part thanks to robust productivity from the Permian which continues to trend higher and lack of available takeaway capacity.
Productivity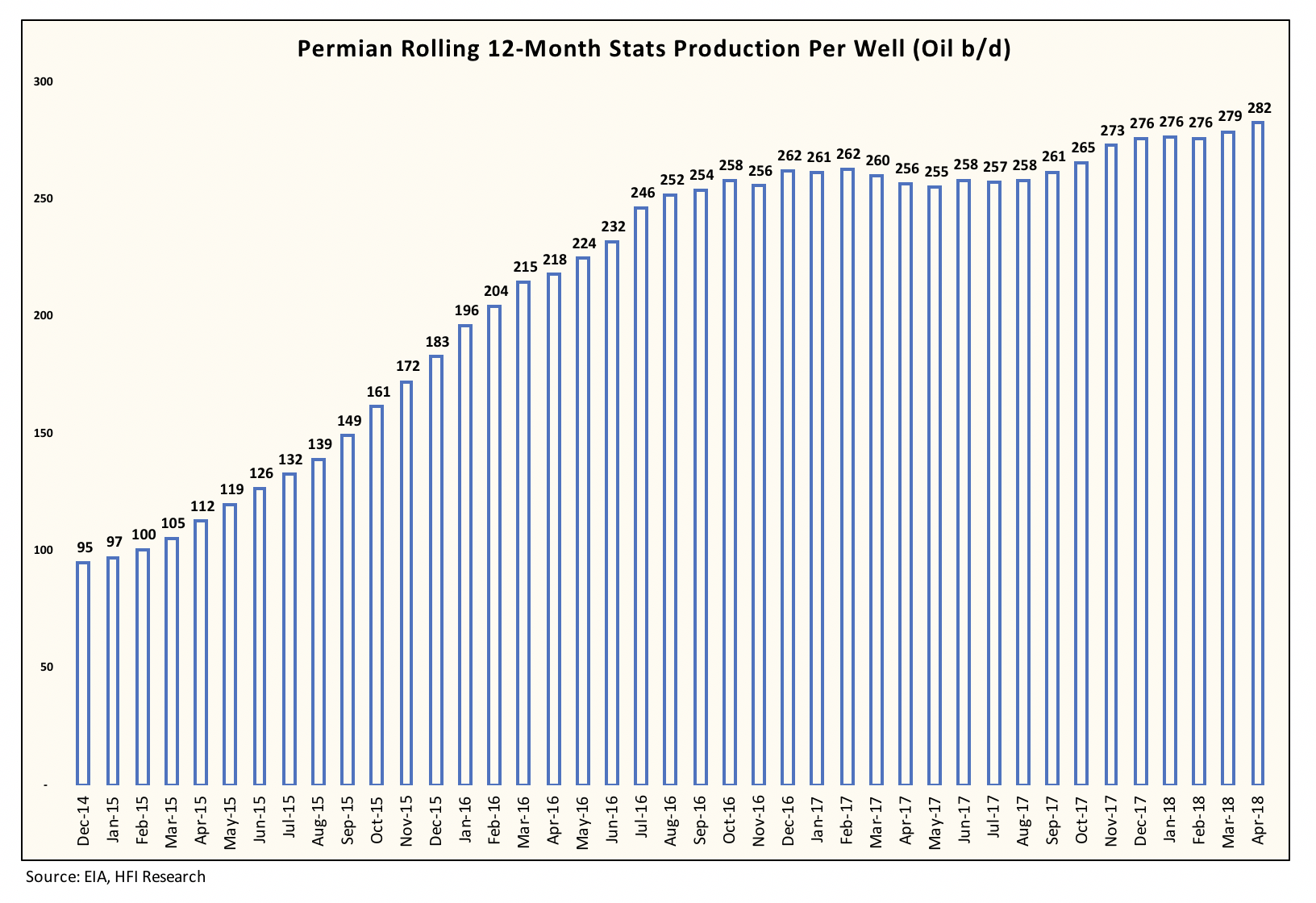 Takeaway Capacity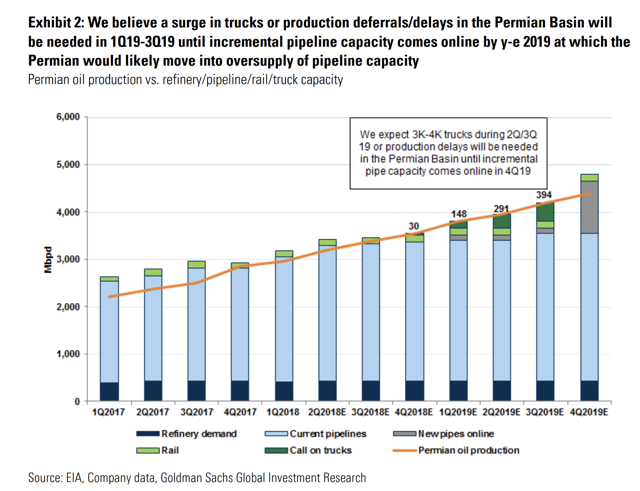 Source: Goldman Sachs
For the time being, Goldman calculates that the production above the available takeaway capacity is being met by rail. But as production continues to trend higher, it will be difficult to meet the increase, especially from Q1 to Q3 2019.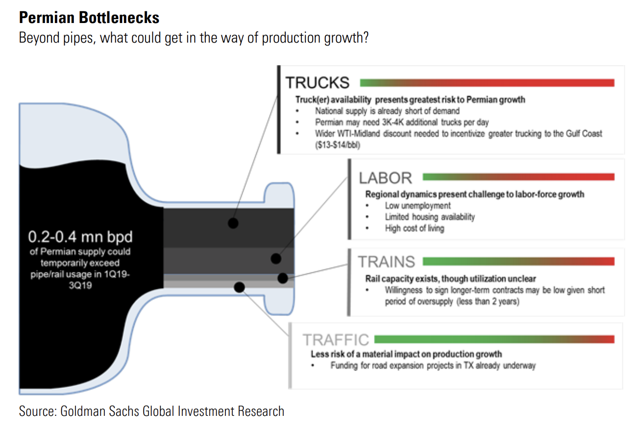 Source: Goldman Sachs
In order to satisfy the increase in production, Goldman estimates that there will need to be an addition 3k to 4k trucks in the region by 2019. The issue with that is there is already a shortage of truck drivers in the U.S.. And Goldman estimates that Permian needs 39k trucks overall for ongoing support in drilling/completion, disposal of produced water, and transportation of oil which cannot be shipped through pipelines.
What happens if rail and truck cannot meet the needed increase in takeaway capacity?
Permian well completions will need to slow down. From what we've gauged so far, producers with no available takeaway capacity in the coming months will even have to shut-in production. This will go towards the smaller Permian E&Ps as opposed to the bigger players like Pioneer and Diamondback. But the issue will remain at least until the end of 2019 because the additional increase in pipeline takeaway capacity won't be online until the fourth quarter of 2019.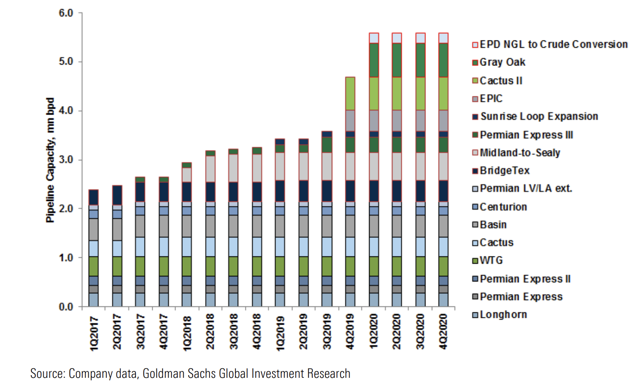 This means that Midland to WTI will remain wider than normal for the time being. Permian producers during the Q2 conference call will face a barrage of questions from reporters as to how the lack of takeaway capacity will be addressed. In our opinion, we believe Permian producers will have to lower growth plans for the second half of 2018 in the face of these constraints. This will likely also persist into 2019.
What does this mean for
U.S. oil production growth?
In our latest forecast to subscribers, we revised higher U.S. oil production growth from 11.3 million to 11.4 million b/d by year-end. But our estimate takes into the assumption that "what if" U.S. oil production surprises to the upside as it was the case at the end of 2017, what would that do to our global oil supply/demand model?
As you can see in the latest updates out of the Permian, it appears the growth trajectory we saw over the last 9 months out of the Permian won't persist. The lower production guidance would imply that U.S. oil production growth is likely to disappoint to the downside this year. This would then make our 11.4 million b/d very conservative, and yet, we still show a steepening deficit by the end of 2018.
But looking at the Permian situation more realistically, we think a more appropriate U.S. oil production exit will be around 11 million to 11.1 million b/d. This in our view takes into account the potential increase in rail capacity in the Permian along with higher production growth outside of the Permian.
What does this mean for energy investors?
At HFI Research, we have avoided Permian names for two reasons: 1) valuation and 2) our belief that tier 1 acreages are not as infinite as sell-side thinks. The valuation concern was our biggest worry given that Permian was the only bright spot to survive the "lower for longer" theme and all of sell-side was bullish the Permian, Permian E&Ps traded at a premium to the rest of the energy sector.
Our second concern is related to the productivity gains being touted by some of the Permian producers. We have seen results reported by smaller Permian E&Ps that differ so significantly on the productivity rates that you would think they are in completely different shale basins. But taking a closer look at the breakdown of the acreages, we see that the difference between tier 1 and tier 2 acreages show night and day differences. So our concern is that once tier 1 acreages are exhausted, Permian producers' capital efficiencies would jump significantly resulting in lower productivity.
Another issue that wasn't on the top of our mind when we made the decision to avoid the Permian was the crude quality discussion. While we do not have a very confident answer to the crude quality issues that have been discussed by many, we are cognizant that it's far better to just avoid the issue completely by buying producers that produce the desired barrels rather than solve a problem we deem too hard to answer. (California Resources (CRC), which we are long, for example, receives Brent pricing so as to avoid this whole issue.)
Overall, we think the Permian bottleneck issues will persist at least until Q3 2019. In addition, when Permian producers announce lower CapEx spending and lower production growth, investors may not find the news very welcoming. We believe energy investors should try and avoid the Permian region for the time being and opt for lower valuation names outside of this shale region. The wider than normal Brent-WTI spread may also sway investors into buying names with LLS and Brent exposure rather than WTI realization.
Thank you for reading. If you liked this article, please leave a like at the bottom.
If you have found our oil market articles to be insightful, we know you will find our premium service to offer more value to you. We have been one of the few research firms to have nailed the oil market fundamentals, and if you have questions, we have answers. See here for more info.
Disclosure: I am/we are long CRC.
I wrote this article myself, and it expresses my own opinions. I am not receiving compensation for it (other than from Seeking Alpha). I have no business relationship with any company whose stock is mentioned in this article.