Given the low activity this week, I wanted to focus on an international IPO market for this weeks intro, Hong Kong. Hong Kong has been a fading market for the last 4-5 years, and this continued into 2018. Q1'18 was the worst quarter for IPOs in Hong Kong in 5 years. 25 companies went public on the exchange, only raising $2.8 billion. There are debates on whether this trend will continue through the year or not.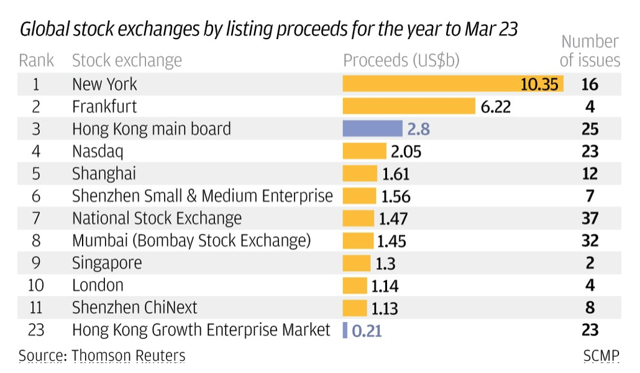 Earlier in the year, the Hong Kong Stock Exchange changed legislation regarding the IPO process, making it easier to sell shares on the exchange. As a result, a lot more companies are looking to take their companies public. An example of this is Chinese smartphone maker, Xiaomi (XI). Xiaomi plans to go public in Hong Kong in early June, aiming to raise $10 billion. This marks the largest offering since Alibaba (BABA). Many companies have held off on going public until the rule change went into effect, this may explain the dry Q1.
Others think there is a greater problem at play. Valuations may be too high across the board, and this is creating an environment that is hard for an IPO to survive in. IPOs are also traded differently than 'mature' listings. Traders normally look to buy in and sell out of an IPO within the same day in hopes of a quick profit. This puts unnecessary pressures on the stock and is different from long-term investing. Below, the majority of US-listed Chinese IPOs have seen positive returns, while Hong Kong securities have seen the opposite reality.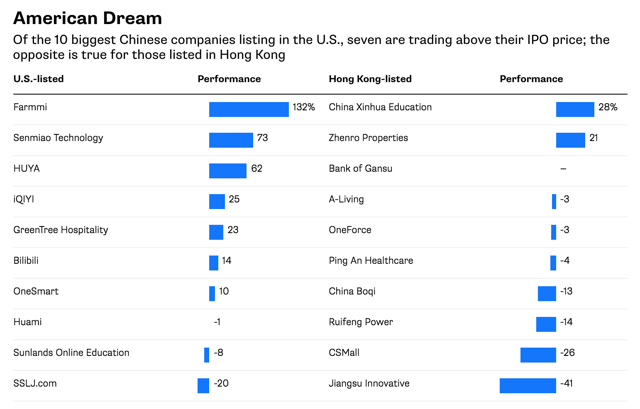 Source: Bloomberg
It will be interesting to see what the rest of the year and 2019 will hold for Hong Kong IPOs thanks to the rule changes. There are worries that this will decrease the interest in US exchanges but based on historical performance shown above, US listing is the better route. Investors eyes should be on the upcoming Xiaomi listing to see how the potentially new 'norm' will be.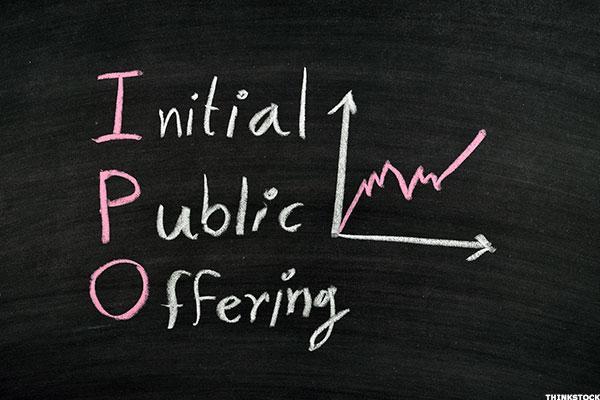 Source: The Street
Scheduled IPOs
M17 Entertainment is the "...largest live streaming platform by revenue in Developed Asia with a market share of 19.2% in the first quarter of 2018...". The company operates within 'Developed Asia', which includes Taiwan, Japan, Hong Kong, Singapore, and S. Korea. Their platform, 17 Media, has over 33 million subscribers with 1 million MAUs.
MeiraGTx Holdings is a "...clinical stage gene therapy company with four ongoing clinical programs and a broad pipeline of preclinical and research programs." The company focuses on three categories: Inherited retinal diseases, severe forms of Xerostomia (dry-mouth) and neurodegenerative diseases. Below is the company's current pipeline.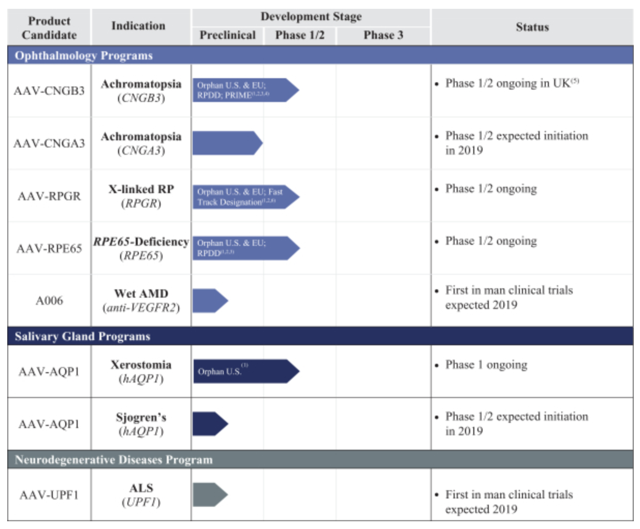 Source: S-1
Potential
M17 Entertainment
M17 Entertainment is selling ~7,500,000 ADSs, expected to be listed in the range of $10 - $12 per ADS. This equates to between $75 million - $90 million in funding. The breakdown of the use of the funds is as follows:
$60 million for market expansion into Japan and other markets
$10 million for content development
The remaining for strategic merger/acquisition targets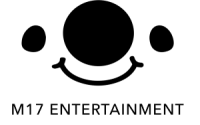 Source: Google
The company structure is made of "...Machipopo, Inc., the entity that operates our live streaming business, and us, the successor of Paktor Pte. Ltd., the entity that operates our dating business." Machipopo was acquired in 2017 and purely operates in the live streaming space. Revenue is generated by selling 'virtual points' which can be used to buy 'virtual gifts', which users can give to artists for support. M17 generates dating service revenue by selling advanced services. This includes the ability to see more pictures, see who has shown interest, and buy/send virtual gifts. This is important when it comes to the layout of the financial statements, as shown below.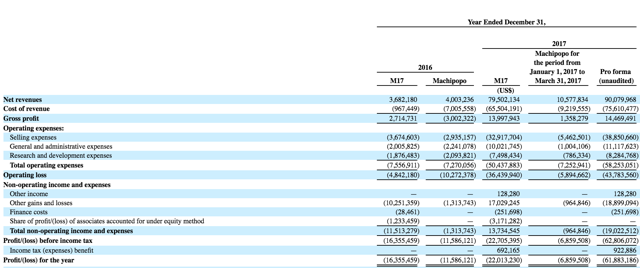 Source: F-1
The company has seen strong growth from 2016 - 2017. Revenue has gone from $7.6 million to $90.1 million, growing a whopping 11.9x. There was still a net loss for the period, however it was lower proportional to the total revenue. As an example, Machipopo revenue more increased 2.5x but net loss for the segment decreased by ~50%. M17 revenue increased 21.7x and net loss for the segment only increased by 50%.
Key Operating Data has also seen strong growth. MAUs grew 200k in 2017, from 1.4 million to 1.6 million users. Average monthly live streaming paying users at the end of 2016 was 10,748. By the end of 2017, it had grown to 25,000 users. On top of pure user growth, users are also spending more. The paying user ratio grew from 1.2% ($102.3/user) in 2016, to 2.5% ($381.1/user) in 2017.
The company had a total market share for 'developed Asia' of 19.2% as of Q1'18. Market share for the company in its operating markets are as follows:
Taiwan = 38.6% (Taiwan represents 36% of developed Asia live streaming)
Hong Kong = 15.3%
Japan = 18.6% (from 9.6% in Q4'17)
Conclusion
This week is a slow week for IPOs. There are only 2 scheduled, but they are in the two most popular sectors so far this year: biopharma and technology. The tech company is also an international (Asian) tech company. We will see in a couple months if the new Hong Kong rules draws more companies away from US exchanges or if it has little to no effect.
M17 Entertainment may be worth a further look. The massive growth seen in its dating service, which is mainly due to its expansion into the S. Korean market, is promising and will be seen again if expansion into developed markets continues. Couple this with a newly acquired live streaming service and there is growth potential without the risk of cannibalization.
Disclosure: I/we have no positions in any stocks mentioned, and no plans to initiate any positions within the next 72 hours.
I wrote this article myself, and it expresses my own opinions. I am not receiving compensation for it (other than from Seeking Alpha). I have no business relationship with any company whose stock is mentioned in this article.