Situation Today
The market has had a nice run since the crisis of 2008. The S&P 500 has risen, almost without a pause, by roughly 300% since bottoming in 2009 (going from 676.53 to approximately 2,745). The market is certainly expensive, yielding 4% with a P/E ratio of approximately 25. With interest rates rising, the economic cycle probably starting to move into its later stages (although the still, low inflation is not yet providing signs of an overheating economy), and considering the relative performance of certain sectors, it may be time to start underweighting the highly cyclical sector stocks and overweight more defensive ones.
The Data
Looking at the past one year of stock market sector performance, we see that there are four sectors that have significantly underperformed the S&P 500. Consumer Staples, Telecommunication Services (Telecom), Utilities and Real Estate have all delivered sub-zero returns over the last year. Healthcare, Industrials and Materials have also underperformed the S&P 500, but only slightly.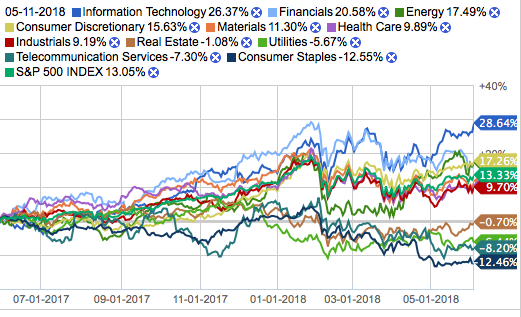 (Source: Fidelity)
Generally, the more defensive sectors - specifically, Consumer Staples, Healthcare, Telecom, Utilities - tend to perform better in later stages of the growth cycle (late cycle and contraction periods) than the other more cyclical ones. These sectors are more inflation-resistant and stable, and relatively less prone to interest-rate risk and less economically sensitive (such as e.g. consumer discretionary). It's not that they perform so phenomenally during those periods, but rather that they perform better relative to the overall market.
Before a contractionary period starts and the economic cycle matures with inflationary pressures building, the Energy and Materials sectors tend to perform well since they are closely tied to prices of raw materials. We are seeing some signs of this currently, with raw material prices rising (e.g. oil, lumber, and perhaps tariff-related commodities) and energy stocks recovering quite nicely year to date.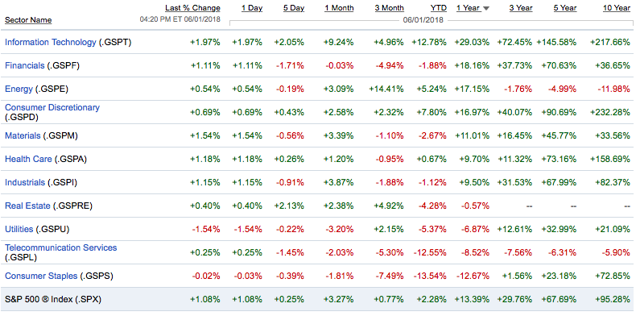 (Source: Fidelity)
Seeing how the defensive sectors have underperformed as of late one might say, "But just because those sectors have underperformed doesn't mean that they will necessarily outperform now." This is certainly true, but as mentioned earlier, the market is expensive, having experienced a prolonged expansionary period, and economic growth is likely to slow in the near future (or at least be lower) as interest rates rise with inflationary pressures building. It is difficult to see growth not slowing in the coming terms - it will eventually slow, although uncertain the timing and how significant a future slowdown may be. Betting on much further growth in the cyclical sectors (information technology, financials, consumer discretionary, etc.) may therefore be a risky move enclosed by uncertainty ("how high can they go?").
Considering the relative underperformance of the aforementioned defensive sectors, it may be time to start overweighting those now, specifically Consumer Staples, Telecom and Utilities. Although Real Estate has also not fared particularly well, it is unlikely to benefit from higher interest rates and slowdown in growth. While Healthcare may be a defensive sector it has also not really underperformed by any significance to necessarily warrant much overweighting.
Also, based on valuations (P/E ratios and dividend yields) Consumer Staples, Telecom and Utilities are relatively attractive. Consumer Staples have a P/E ratio of 15.61 (based on last year's GAAP earnings) and dividend yield of 3.23%, Telecom has P/E of 10.87 and 5.55% dividend yield, and Utilities have P/E of 17.63 with 4.48% dividend yield. Compare this to a P/E of 37 for Information Technology (with 1.66% dividend yield) and Consumer Discretionary which has P/E of 20.61 and dividend yield of 2.16%. (Source: Fidelity)
These defensive stocks tend to be less economically and interest-rate sensitive. As interest rates rise, stocks as a whole of course become less attractive relative to bonds. But, given that rising rates will likely impact the defensive stocks less than the other cyclical sectors, it makes sense to allocate relatively more to those sectors now in a market-based portfolio. Rising rates will therefore make all stocks less attractive, but the defensive stocks relatively more attractive among stocks as a whole (at least to the point where bond yields will come close to equalling the dividend yields on those stocks). If bond yields move further beyond dividend yields on the defensive stocks then the relative attractiveness of those stocks will of course also diminish (and make all stock sectors unattractive, compared to bonds).
In addition, although Energy and Healthcare have performed relatively well recently, it may be worthwhile to keep an eye on those two for potential signs or indications of where we stand in the current economic cycle. Inflationary pressures and rising raw material prices give rise to better performance by Energy stocks while good performance of Healthcare stocks is generally seen as an indication of defensive orientation, but perhaps to less extent than Consumer Staples, Telecom and Utilities.



(Source: Fidelity)
Conclusion
Overall, the relative underperformance of defensive sectors (specifically, Consumer Staples, Telecom and Utilities), expensive overall market, and potential signs of the economy entering later stages of its current cycle with possible inflationary pressures building, growth likely slowing and interest rates rising, can all justify allocation of capital to more defensive sectors and trimming of cyclical holdings.
Add to that the already long-running high performance of cyclical stocks (Information Technology, Consumer Discretionary), relatively lower valuations of defensive stocks and higher dividend yields, and it makes good sense to overweight - or at least gradually start to overweight - the defensive sectors.
Overall, stocks (yielding 4%) are currently marginally more attractive than bonds (yielding 3%). And with rising rates and the economy likely entering a late-cycle phase defensive stocks may then be relatively most attractive among stocks.
Disclosure: I/we have no positions in any stocks mentioned, and no plans to initiate any positions within the next 72 hours.
I wrote this article myself, and it expresses my own opinions. I am not receiving compensation for it (other than from Seeking Alpha). I have no business relationship with any company whose stock is mentioned in this article.