In mid-April, we published an article highlighting some issues with the consumer staples sector. While our suggestion that tobacco companies were worthwhile investments doesn't look good in the short term due to disappointing results from Philip Morris' IQOS (we've seen it spelled iQOS as well but Philip Morris' official spelling seems to be with all capital letters) product, our larger call that the consumer staples sector should be avoided is looking correct. In this article, we want to go more in depth about the valuation and growth issues we see in the consumer staples sector. In particular, we want to emphasize why investors should stay away from broad consumer staples indexes such as the Consumer Staples Select SPDR Fund (XLP) or the Vanguard Consumer Staples Index ETF (VDC) and instead focus on individual names if exposure to the consumer staples sector is desired.
The Problem with the Consumer Staples Sector
Right now, the S&P 500 trades at a forward P/E of 17.15. By contrast, the consumer staples sector trades at a P/E of 20.6 and an implied forward P/E of 17.26 (using XLP as a proxy). Current consensus analyst estimates are for 22.1% earnings growth in 2018 for the market while the staples sector is projected to grow earnings at just 16.63%. Despite the consumer staples sector's massive market underperformance this year, it is still looks expensive. You are getting below average growth at market multiple prices.
The table below shows the top 30 holdings of the VDC (XLP is broadly similar) along with each stock's forward P/E (we are using forward P/E in this article because tax law changes have caused many companies to record one-time charges related to deferred tax assets which distorts current P/E multiples), previous five years earnings growth, and projected future five year earnings growth.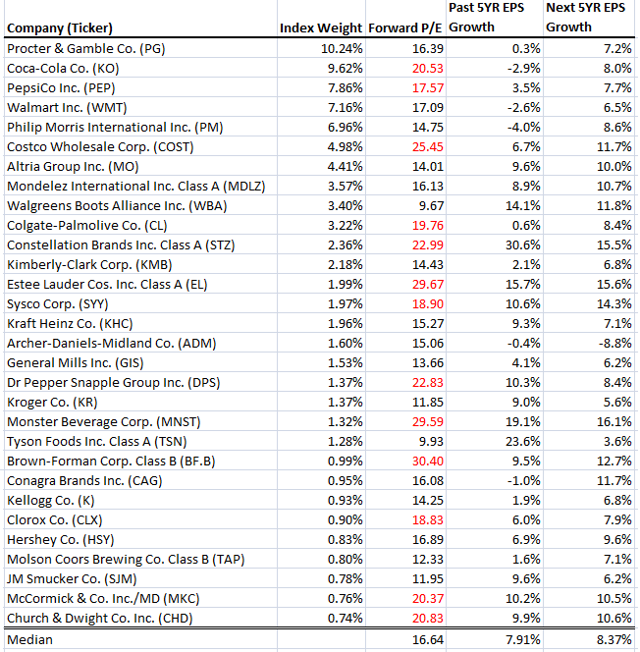 (Data source: Morningstar, Yahoo)
We've highlighted in red all the stocks trading at above market forward multiples. We think two things stick out. First, there are many expensive stocks in the consumer staples sector. Second, projected future growth rates seem very optimistic in light of past growth rates. While tax reform and stock buybacks can help boost EPS growth without any additional sales growth, some of the consensus estimates seem high. Is Kellogg (NYSE:K) really going to be able to start posting mid single digit growth for the next five years unless consumers fall in love with breakfast cereal again? Ditto for General Mills (NYSE:GIS).
Also, the median projected future growth for the top 30 holdings is 8.37%. (Adjusting for index weights and for our 30 sample companies only bumps up the growth estimate 30 basis points.) This compares to a projected 9.6% growth in 2019 for the S&P 500. We don't see why the consumer staples sector as a whole would be a good investment going forward. We think the multiple in the sector needs to come down much further before investors are being compensated for buying a basket of companies that are growing at a slower overall pace than the market. Of course, that doesn't mean there aren't some individual stocks that could do well.
Possible Investments
While we, wrongly so far, highlighted tobacco stocks as a possible good investment in the last article, there are other stocks that investors might be interested.
For investors looking for fast growing companies, there are pockets of growth. High end cosmetic products have been doing well and it's fueled sales at Estee Lauder (NYSE:EL). Monster Beverage (NASDAQ:MNST) has carved out a highly profitable and fast growing niche in energy drinks, and in the alcoholic beverages space, Constellations Brands (NYSE:STZ) is still going strong. As you might expect these high growth stocks also come with a high P/E.
For more value oriented investors Walgreens Boots Alliance (NASDAQ:WBA) is trading at a very low P/E multiple and operates in a completely different sector than mainly of the packaged consumer goods companies that make up the bulk of the highly valued but slow growing consumer products sector. Walmart (NYSE:WMT) while not particularly cheap (trading about in line with the market) offers some intriguing upside if its e-commerce operations can start to rival Amazon's.
As for many other stocks in the sector and consumer staples specific ETFs, they still look overpriced.
Disclosure: I am/we are long WMT, WBA, MO, PM, COST.
I wrote this article myself, and it expresses my own opinions. I am not receiving compensation for it (other than from Seeking Alpha). I have no business relationship with any company whose stock is mentioned in this article.