What's New?
Being an investor primarily focused on generating a growing stream of income, I don't get caught up with the day to day movements of the market as a whole. I don't particularly care what number the S&P is trading at any particular time. I prefer to take the ground up approach by keeping tabs on real companies selling real products and how those companies are able to succeed. It's with this owner mentality that helps segment "the market" from day to day operations.
As part of my 2017 review, I was really on the fence on whether I would become more passively invested. It was a humbling experience, my individual picks were lagging behind my benchmark proxy (SCHD) and there was no reason to see that tide turning.
You can relax though, this month has helped swing the pendulum back towards individual holdings.
This year, SCHD has cooled off dramatically and with these passive vehicles it can be hard to understand why under the covers.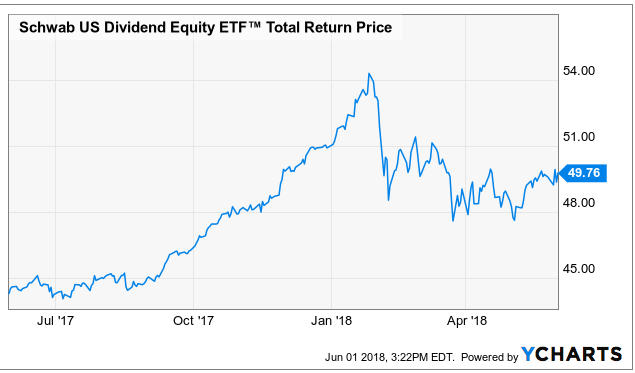 After the yearly rebalance, I noticed some stocks that were in last year were no longer in. Johnson & Johnson (NYSE:JNJ) being noticeably missing. The reason I believe, is due to the tax plan and the fact that JNJ took a large tax hit in Q4 of 2017. That in turn lowered their net income for the year which hurt their scoring for one of the metrics used by the underlying index. There were some other missing companies this year like Microsoft (NASDAQ:MSFT), McDonald's (NYSE:MCD) and Boeing (NYSE:BA).
If I know one thing, it was that JNJ was NOT a sell candidate in March but you have to take the good with the bad.
That aside, conceptually it highlights something I know about myself. I don't have a control problem as long as I'm in control. That's partly tongue in cheek but I'm sure many of you may feel the same. One downside for someone who prefers to be in control is the lack of real ownership with a passive investment. The underlying investments may change on an annual basis or even more frequently.
There is a disconnect between a ticker for an ETF and the 100+ companies that comprise it. For me I feel more in control when I know what I own or don't own by extension. We'll see how it all plays out but part of me wonders if the passive trend has swung too far where ample price discovery is not happening.
So why does that matter? We'll I'll cover it more deeply in my buy and sell section but a few of these forces coalesced this month. A combination of quality companies experiencing financial gravity in conjunction with not being as comfortable with the "black box" of some ETFs led me to making the particular moves highlighted below.
Another realization this month was that I don't particularly care how many holdings I have. I don't need to try and fit into any particular number, I think virtually all companies have a particular point where they can offer investors a nice return and I am content swinging when the pitches come. It's a new way of thinking for me and another topic I broached in my year-end review.
I can see the wisdom in having 20 holdings or so and focusing all my attention on those. In truth I find investable aspects about many more companies and am content with taking a small stake when it looks appropriate.
For anyone interested in seeing changes in real time, I have my portfolio and dividends tracked on Dividend Derek. I also have a trimmed version that you can freely take for yourself if you wish, found here.
I've received some questions in the past so you can save off a copy by selecting "File" -> "Make A Copy."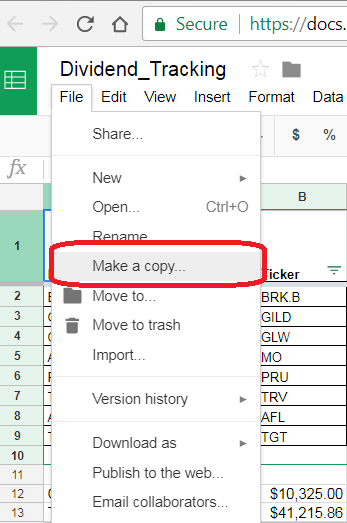 2018 Goals
I want my holdings to have a weighted 1-year dividend growth rate of at least 7%.
By the end of 2018, I want to have a projected dividend income of at least $7,950.
I want to suffer no dividend cuts.
Notes About My Goals
This year I'm a little more aggressive with my desire for good increases. I'm targeting an overall average of 7% (up from 5%). After analyzing my performance, I believe I need to demand more from my holdings. My portfolio should be able to deliver consistently strong performance with how long I have until retirement. I think the tax plan will drive more money back to shareholders and isn't being fully priced in yet.
I don't believe any increases were announced this month so the average is still 8.3%.
For my income goal, here's how I roughly calculated it:
| | |
| --- | --- |
| Starting Income | $6,800 |
| 7% Organic Dividend Growth | $475 |
| Maxing 401k @ 3% | $555 |
| Employer Match | $120 |
| End of 2017 Income | $7,950 |
I started by rounding my starting income to $6,800. From there I added 7% average organic dividend growth.
Next is the money coming from maxing my 401(k) contributions. The cap was raised for 2018, so I can contribute a maximum of $18,500. I am also assuming that the money buys an average of a current 3% yield.
From there I add in dividends purchased with employer match money. Sum all that up and it brings me to my goal of $7,950. Currently I'm running about $400 short so I'm not sure I'll be able to accomplish this within the confines of my ruleset.
Lastly, I really don't want to see a dividend cut. The goal sounds rather obvious but there is a lot of legwork that goes into making that come true. As I've found out the past two years, it's not as simple as it may look.
Portfolio Strategy
Buying Criteria
These are the general guidelines I will review to see if something is worthy of adding to my portfolio or whether I will add to an existing position.
Being a member of David Fish's Dividend Champion, Challenger and Contender list - obviously a longer streak is preferred.
I prefer companies with a Chowder rule over 8%, obviously higher is better. Telecoms, REITs and utilities can get a pass due to their higher initial starting yield.
No one individual holding should be weighted >7% of the portfolio's total cost or weighted >7% of the portfolio's total dividend income. ETFs are excluded from this. As an example, AT&T (T) is about 6% of my income, so I'm hesitant to add here, even though shares again look attractive.
Investment grade holdings >BBB+ should generate 95% of the portfolio's dividend income.
I want to see steady earnings growth over time; this will generally remove commodity-based companies.
I like cash cows. Good profit margins (> 10%) are appreciated, though not required, if the company has a wide moat due to its business. Moats are funny, tech companies have been breaking into many of the spaces typically run by the "old guard".
I like to see shareholder-friendly management, a healthy and rising dividend and willingness to buy back shares, though in practice, the buybacks aren't always done at opportune times. A good metric to look into is the "total shareholder yield." This aggregates net dividends, buybacks and debt reduction.
I own some non-dividend-paying stocks like Facebook (FB), Google (GOOG) (GOOGL) and Amazon (AMZN). These are the long tail ideas that may continue to generate significant alpha over time. I want to focus on some of these ideas

more so than I am right now, these may become the great dividend ideas of the future.

Perhaps most importantly, the valuation needs to be right per F.A.S.T. Graphs. The stock should be trading at fair value or better for an appropriate timeline (12+ years if possible). With a longer time frame I can see how shares fared during the Great Recession, and this also removes some of the recency bias that can come from only analyzing valuation during this extended bull market.
I will also use Simply Safe Dividends and the information provided by Brian on his site. Among a plethora of information available, he has a dividend scorecard where companies are ranked in terms of dividend safety, growth and yield. I aim to pick companies that are in the 80+ safety range, though not always.

Selling Criteria
There are only a few reasons I'll sell a stock, though any of these events is not a guarantee I'll do so.
Dividend cut.
Company degradation - This could be things like deteriorating balance sheets, loss of competitive advantage, loss of credit ratings. These factors may come to light before a dividend cut manifests. This may also appear in a streak of less-than-expected dividend increases. The dividend increase is the more visible outward sign of a company's success. A paltry increase or two may underscore problems below the surface.
Wild overvaluation - This becomes a bigger factor if there is something at a fair valuation that I wish to purchase with the proceeds. I will admit that several things I have sold have continued to defy financial gravity so I am more becoming of the mind of just ignoring overvaluation if the underlying business continues to operate well.
I just don't want to own it. When I pull this card I will more fully explain my reasoning. Part of the beauty of owning individual companies is choosing where I put my money. I can opt to not support companies, products, management, etc. that I do not agree with. An example of this could be Wells Fargo (NYSE:WFC) that has had management issues or criminal/unethical business practices.
Based on known information, capital is better passively invested or focused into better ideas.
Timing
One tactic I've been using lately when adding to an existing holding is buying additional shares prior to the ex-dividend date after the company has announced its yearly increase. The increase in amount gives a quick "at a glance" look into how management thinks the company is operating. This can be confirmation that the investment thesis is indeed working well. Sometimes the reverse can be true too, being snubbed with a "bad raise" can be a red flag that things are not as they seem and it's time to research what's up. I've done this several times already with Altria Group, Inc. (NYSE:MO), Starbucks (NASDAQ:SBUX), Corning (NYSE:GLW), Prudential Financial (NYSE:PRU), Home Depot (NYSE:HD), JNJ and now PepsiCo (NYSE:PEP).
Most importantly, this was not done to chase dividends but to strategically add to a position that was worthy of being added to. Trees don't grow to the sky and neither do dividend yields. A quality company that has a nice dividend increase should see their stock price rise by a similar amount over the course of the year, readjusting to the new and higher dividend amount. By jumping the gun, you can speed up the compounding process.
If this sounds interesting to you, you should check out my weekly article as I give the full list of these companies. I also have upcoming ex-dividend functionality on my site Custom Stock Alerts to help me keep tabs on these increases.
Dividend Increases
Dividend Cuts
None!
The Portfolio
| | | | | | |
| --- | --- | --- | --- | --- | --- |
| Name | Ticker | Percent of Portfolio | CCC Status | S&P Credit Rating | Owned Since |
| Apple | AAPL | 3.94% | Challenger | AA+ | 4/13/2015 |
| Abbott Laboratories | ABT | 2.57% | Challenger | A+ | 12/6/2016 |
| Aflac | AFL | 2.12% | Champion | A- | 10/30/2014 |
| Ameriprise Financial | AMP | 2.03% | Challenger | A | 9/29/2016 |
| Amazon | AMZN | 2.50% | | AA- | 4/28/2016 |
| Anthem | ANTM | 2.59% | Challenger | A | 7/22/2016 |
| Berkshire Hathaway | BRK.B | 0.80% | | AA | 9/22/2015 |
| Cummins | CMI | 1.89% | Contender | A+ | 10/30/2015 |
| Cisco Systems | CSCO | 2.12% | Challenger | AA- | 4/6/2016 |
| CVS Health | CVS | 1.90% | Contender | BBB | 10/7/2016 |
| Diageo PLC | DEO | 1.14% | Challenger | A- | 6/14/2016 |
| Walt Disney | DIS | 2.88% | Challenger | A | 12/28/2015 |
| Duke Energy Corp. | DUK | 1.11% | Contender | A- | 11/6/2015 |
| Facebook | FB | 0.88% | | | 4/8/2016 |
| Corning | GLW | 2.98% | Contender | BBB+ | 10/14/2015 |
| Google (Alphabet) | GOOG | 2.55% | | AA+ | 4/25/2016 |
| Home Depot | HD | 2.55% | Challenger | A | 5/3/2016 |
| Johnson & Johnson | JNJ | 2.72% | Champion | AAA | 12/9/2015 |
| JPMorgan Chase | JPM | 1.29% | Challenger | A- | 7/15/2016 |
| Kimberly-Clark | KMB | 1.50% | Champion | A | 5/24/2018 |
| Medtronic | MDT | 2.23% | Champion | A | 11/22/2016 |
| 3M | MMM | 1.52% | Champion | AA- | 5/24/2018 |
| Altria | MO | 2.98% | Champion | BBB+ | 10/31/2013 |
| Nike | NKE | 1.98% | Contender | AA- | 5/3/2016 |
| Realty Income | O | 2.35% | Contender | BBB+ | 5/3/2016 |
| Omega Healthcare Investors | OHI | 1.36% | Contender | BBB- | 6/22/2016 |
| PepsiCo | PEP | 1.53% | Champion | A+ | 5/24/2018 |
| Prudential Financial | PRU | 2.12% | Challenger | A | 4/7/2016 |
| Public Storage | PSA | 2.24% | Challenger | A | 4/28/2017 |
| Starbucks | SBUX | 2.99% | Challenger | A- | 12/3/2015 |
| Schwab US Dividend Equity | SCHD | 12.26% | | | 9/24/2015 |
| Tanger Factory Outlet | SKT | 1.68% | Contender | BBB+ | 7/26/2017 |
| STAG Industrial | STAG | 1.52% | Challenger | N/R | 5/20/2016 |
| Stanley Black & Decker | SWK | 1.75% | Champion | A | 1/28/2016 |
| AT&T | T | 2.73% | Champion | BBB+ | 11/3/2015 |
| T. Rowe Price | TROW | 1.93% | Champion | A+ | 9/29/2016 |
| Travelers Companies | TRV | 1.83% | Contender | A | 4/28/2014 |
| Under Armour | UA | 0.37% | | BB+ | 6/1/2016 |
| United Technologies Corporation | UTX | 2.17% | Contender | A- | 1/28/2016 |
| V.F. Corp. | VFC | 2.67% | Champion | A | 12/22/2016 |
| Ventas Inc. | VTR | 1.47% | Challenger | BBB+ | 12/8/2015 |
| Verizon | VZ | 2.11% | Contender | BBB+ | 2/28/2017 |
| W.P. Carey | WPC | 1.77% | Contender | BBB | 5/15/2017 |
| Williams-Sonoma | WSM | 2.37% | Contender | NR | 10/27/2016 |
Here are the values behind the "CCC Status" category:
King: 50+ years
Champion/Aristocrat: 25+ years
Contender: 10-24 years
Challenger: 5+ years
My Buys
To preface my buying section, it is fair to say that there has been a lot of quality content written here on SA this past month about certain dividend companies finally obeying financial gravity. As one example, Chuck Carnevale has been referring to this as a "stealth bear market."
What is incredible about my four purchases is that they are all "Dividend Champions," companies that each have more than 25 consecutive years of dividend increases. Wow!
Here's me quoting myself from last month:
Many consumer product companies have also been on the skids lately. Pepsi, Kimberly Clark, Clorox, Coca-Cola just to name a few. I haven't decided if and how I'll play this just yet, I could take a basket approach either with cherry picking a few or even an index.
Kimberly-Clark
The aforementioned Chuck wrote a piece recently on the company. Nicholas Ward also wrote his thoughts when the company hit a 4% yield.
From the analysis and based on best estimates, the company isn't going to consistently knock the cover off the ball with earnings growth. Earnings are expected to jump up double digits this year which is a nice kicker for another steady company. After all, regardless of what happens, people need diapers, paper towels and napkins.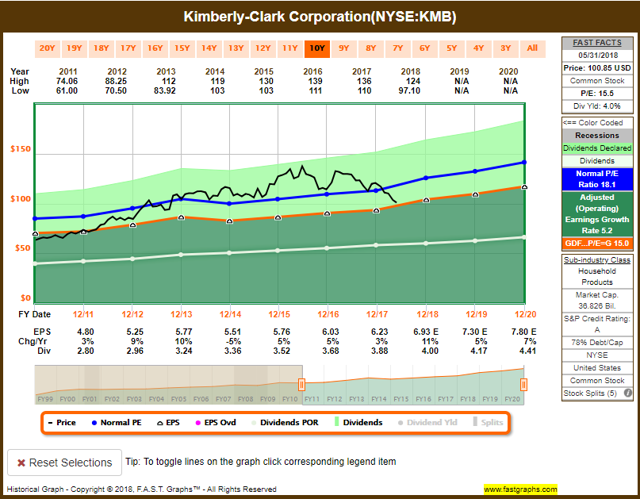 Kimberly-Clark is one of the venerable dividend champions with a 46 year streak that will continue.
The stock looks interesting today on a few fronts. First, it is in the 4% yield ballpark which has been rare for quality companies the past few years. Secondly, the valuation is right, trading in the ballpark of 15x earnings. The potential 10% earnings growth (this year) alongside the 4% yield gives the potential for about 14% returns before considering multiple expansion or contraction.
It was clear looking at the valuation the past several years that the stock got ahead of itself. To be fair, most dividend paying companies have a similar story. A flood of money searching for yield pushed these slow growing companies to absurd valuations. Paying 20,22,24x earnings for maybe a 3% yield and 4-5% earnings growth is not prudent in my mind. Now that it has corrected, I think it's worth a look here!
Pepsi aka "Is Pepsi ok?"
Pepsi was another one of these high flying consumer stocks the past six years. As late as 2011, the stock traded for 14-15x earnings before seeing the common multiple expansion we've seen. It topped out at about 23x earnings which in my mind again was rather steep to pay for mid single-digit growth.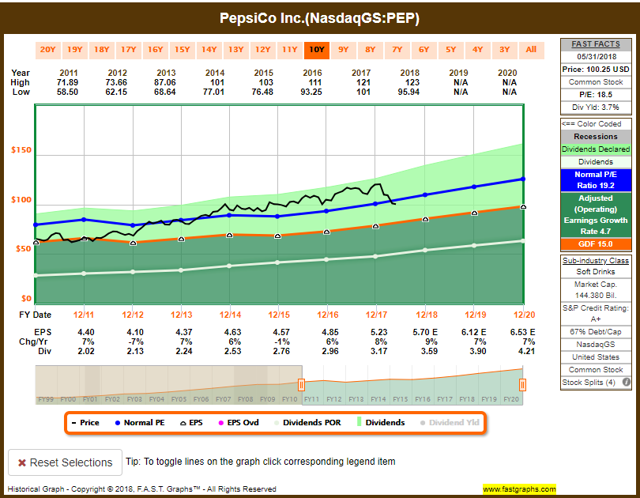 Falling 16% from its highs from $120 to about $100 put this one back on my radar. Earnings are expected to grow 9% plus the additional 3.7% yield. If you missed my weekly series on upcoming dividend increases I highly recommend it. (Here was the Pepsi issue the other week). Alternatively I highly recommend checking out a dividend calendar I built.
Pepsi implemented another 15% dividend hike that is now in effect. Pepsi has raised their dividend 46 years in a row with no signs of stopping.
Now that the air has been let out of the bag, some investors may wait for a better entry point. I'm content with jumping in here and I can always add should it fall into the $80s. I've learned my lesson with some other missed opportunities to at least start a position when the opportunity presents itself.
3M
My dearest 3M, how I have waited for thee.
Since I started writing on SA in 2015, I have waited for 3M to present a reasonable valuation to start a position.
At the time, this is approximately what the Fast Graph would have looked like. The stock had been correcting and briefly, very briefly, touched about $140. This was in September 2015.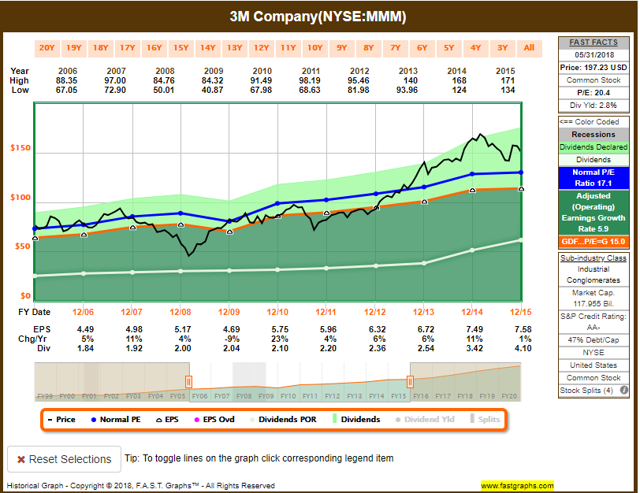 Since that point, shares began their roller coaster ride, slowly ratcheting up the multiple expansion hill until they finally peaked at $260 in the beginning of this year.
Thankfully reason finally prevailed (high prices only benefit net sellers, not the DGI crowd so much). After their much needed correction I had the extreme privilege of buying them just under $200 a share and at 20x earnings versus 19.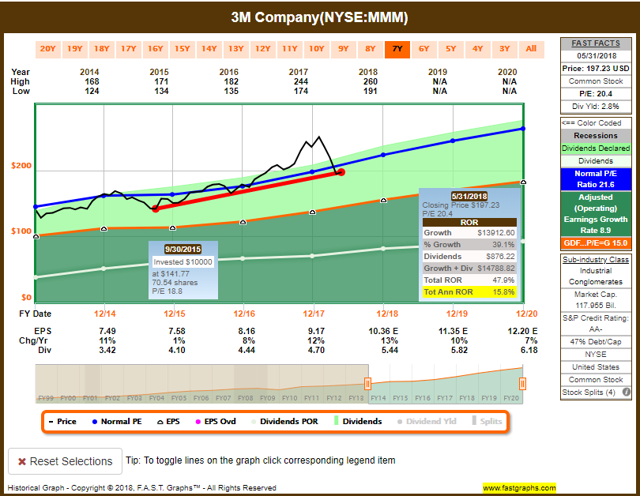 I can't beat myself up too much, this was in no way predictable and I can only follow the rules that I have laid out along with my best judgment. In any event, I am quite happy to finally be a shareholder of a company that creates science-y products with plenty of growth opportunities.
Of the three companies I've written about so far 3M has the best expected earnings growth. I think given that, it is fair to buy into a higher initial valuation. Growing earnings can fix a lot of sins that may be committed when buying into a company. Unfortunately I think a lot of people may have gotten trapped with the rapid share ascent. Looking at the chart once more it seems shares topped out at about 27x earnings, yikes!
I would be remiss if I did not mention 3M has now raised their dividend for 60 years.
I wrote my thoughts on a separate 3M post here.
Stanley Black & Decker
Stanley has been another company that I have held for a few years but have always wished to add more. I first got into the company in the beginning of 2016, I love their products which made it easy to buy into a great company.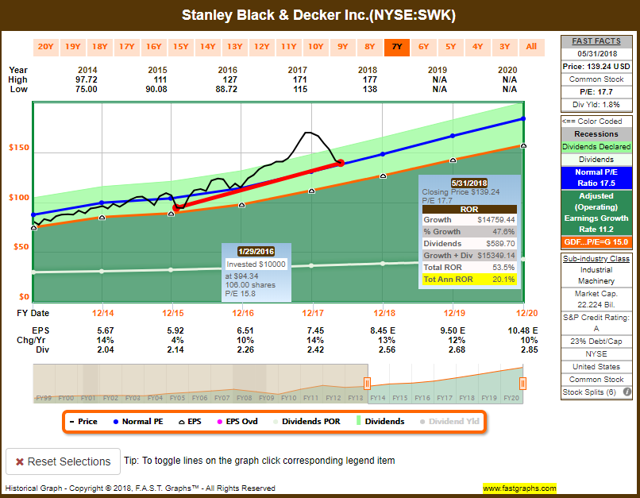 Similar to 3M, shares completely outran the underlying fundamentals before recently returning to earth. Even with the recent fall, my initial stake is up over 50% and shares once again represent a fair deal for investors.
After peaking at 23x earnings, which was not entirely unreasonable for double-digit earnings growth they have been hovering in the 17-18x range. In fact, given the estimated growth over the next several years, SWK shares may fare the best out of all four I have covered.
I think the low current yield may turn off some prospective investors but that financial flexibility leaves management with a lot of options for growing shareholder wealth. The company is now a dividend king with 50 years of consecutive dividend increases.
Sales
Now how the heck did I pay for all of this? As an investor with a long ways to go, I tend to remain fully invested. Frankly especially lately, I've found it hard to keep any cash on the sidelines. With a robust portfolio there is always something on sale worthy of adding to. While I had cash available I did also have to make one sale to make this process possible.
S&P 500 High Dividend Low Volatility (SPHD)
I'll be honest, I don't really have anything bad to say about SPHD. I like the concept, if I had to nitpick it would be the 0.30% expense ratio but that's about it. It's an interesting concept for taking a chunk of the market that can deliver dividends while not seeing wild share price swings.
What made it easier to justify was the fact that I like being in control of what I own. As part of my 2017 review, I was really on the fence on whether I would become more passively invested. It was only recently that I think the pendulum has swung back to being in control of my portfolio.
One other side effect for better or for worse, is viewing an ETF as a piggybank that can be dipped into when something else interesting comes up. In my opinion it is the abstraction away from any particular company that makes it easier to trade in and out of an ETF.
Charts and Graphs
Dividends
I'm trying something new this month. Rather than having a chart of all the individual amounts paid by each company, I'm taking a broader approach and looking at the total income for the month.
In May I received $635 which was $61 or 10% better than I did in the first quarter. The biggest driver of this was doubling down on Tanger which made up $35 of that $61. The rest was the compounding of shares and some dividend increases.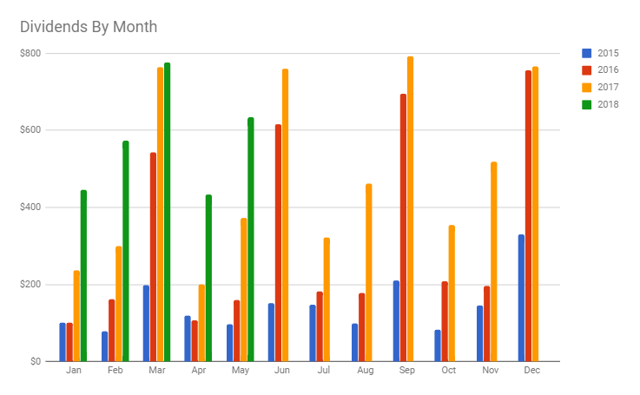 Growth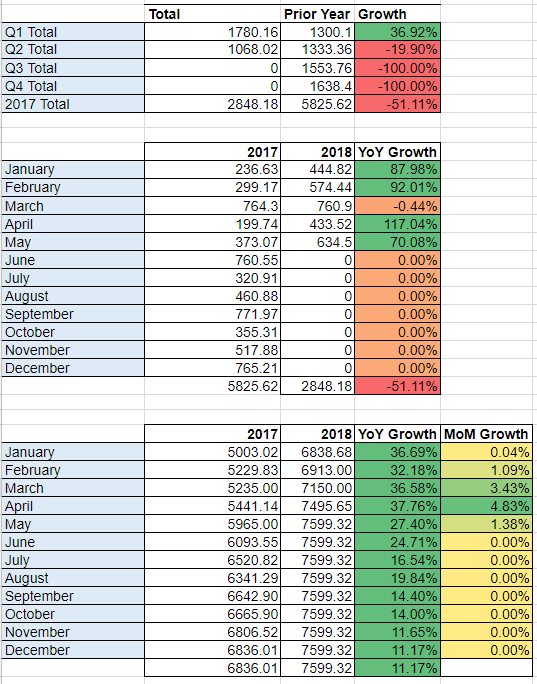 The amount received this year was 70% higher than May of 2017 and my quarterly total has nearly matched what I did last year. June is the last month of a quarter which are my biggest months so I will be well over last year's amount.
After entering my new holdings and updated some dividend rates my best guess at my forward income is $7600. It's still a little short of my yearly target but I've seen that number jump $762 or 11% since the start of the year.
At this point I am back to being fully invested with virtually no money available. I am waiting for 401(k) contributions to continue investing.
Visualizations
Income By Sector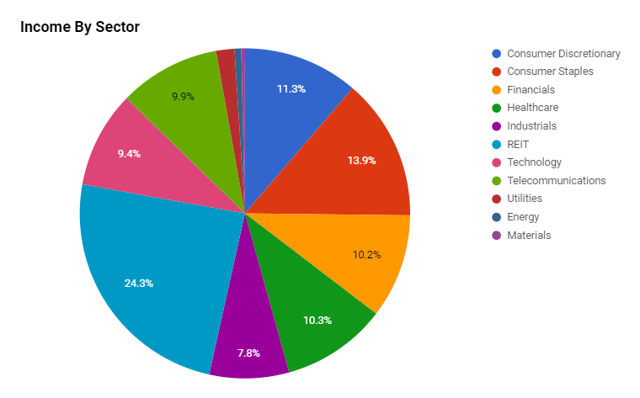 The biggest change this month was boosting my industrial exposure by my addition of 3M and adding to SWK. This helped push my REIT exposure down some.
In March, I had a target of adding to industrials which I was able to start accomplishing in April by adding to UTX. Now in May, I was able to continue that momentum with 3M and SWK.
From my own article last month:
I'd still like to add to my SWK and start a position in 3M. SWK appears to be the better value on the surface right now but I need to dive into both stories a bit more.
Champion, Contender, Challenger View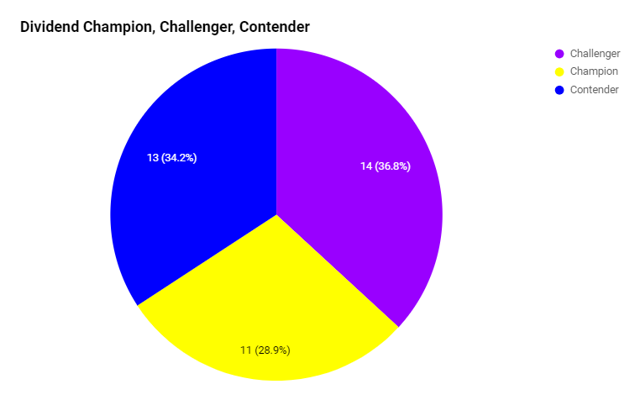 All my dividend-paying companies have at least a 5-year history of raising their dividends.
The biggest change this month was adding 3 new dividend champions into the mix.
Things Coming Up
United Technologies may be announcing their dividend increase during June (they did last year). It wouldn't pay until August sometime but they also have a recent history of doing 5 dividend payments of the same amount so it may not come yet.
At the very moment, there isn't a lot on my radar. I'm looking at Southwest (LUV); they are going ex-dividend with their yearly increase (28%) as I write this. By the time this article hits, I will probably have decided.
There are still a lot of consumer names trading at levels not seen in the past few years.
Conclusion
I'm pleased with the moves I made this month. I've been waiting to buy some of these high-flying DGI companies for some time. Though it has taken a few years, financial gravity will always take effect.
Disclosure: I am/we are long AAPL,ABT,AFL,AMP,AMZN,ANTM,BRK.B,CMI,CSCO,CVS,DEO,DIS,DUK,FB,GLW,GOOG,HD,JNJ,JPM,KMB,MDT,MMM,MO,NKE,O,OHI,PEP,PRU,PSA,SBUX,SCHD,SKT,STAG,SWK,T,TROW,TRV,UA,UTX,VFC,VTR,VZ,WPC,WSM. I wrote this article myself, and it expresses my own opinions. I am not receiving compensation for it (other than from Seeking Alpha). I have no business relationship with any company whose stock is mentioned in this article.