By the end of May 2018 the catastrophe bond and related insurance-linked securities (ILS) market had seen the issuance of $8.2 billion so far this year, according to Artemis' latest data on the market, which sees the market just outpacing the first five months of the prior year.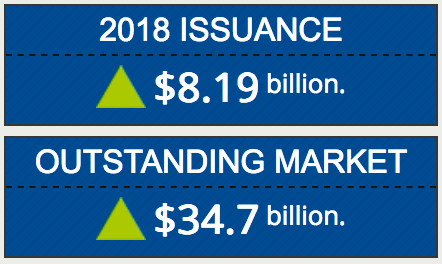 The $8.2 billion of new catastrophe bond and related ILS issued across the first five months of 2018 is just $100 million ahead of where the market sat a year ago, when $8.1 billion was issued between January and May 2017.
Of course, 2017 went on to become the biggest issuance year ever for the cat bond and ILS market and as June added around $1.6 billion last year, there are no guarantees we'll see a new half-year record in 2018.
Although the promised first catastrophe bond issuance to cover some of the National Flood Insurance Program's risk, which is slated to come to market before July, could help tip the scales in favour of the pace of 2018 issuance.
But whether the cat bond and related ILS market can maintain a pace ahead of last year's record issuance, the fact the market has bounced back from its largest-ever losses due to the hurricanes of 2017 and traded forwards at record speed is particularly impressive.
So after five months of the year, this remains the fastest level of issuance seen by the end of May in the ILS market's history, according to data from the Artemis Deal Directory which tracks the cat bond market back to 1996.
The pace has slowed somewhat compared to 2017, which saw a huge $3.5 billion issued in May alone, but 2018 issuance remains sufficient to end the five-month period around $100 million ahead.
This rapid issuance of new cat bond and related ILS transactions has taken the outstanding market to a new record high of $34.7 billion, yet another point when the amount of risk capital outstanding from catastrophe bonds and related ILS has never been so high.
The first-quarter of 2018 began strongly, with roughly $4.24 billion of new risk capital brought to market from 23 tranches of notes via 17 deals, as detailed in Artemis' latest quarterly cat bond and ILS market report.
The second quarter of 2018 saw issuance keeping pace with that brisk start to the year, with roughly $4 billion of new cat bonds and ILS issued across 16 transactions.
So with $8.2 billion already issued, the cat bond and ILS market only needs to see another $1.5 billion in June for the first-half to equal 2017.
With the $350 million Frontline Re Ltd. (Series 2018-1) cat bond set to complete later this month and the chances of a FEMA flood cat bond coming to market, it would not take many more new deals to launch for this target to be reached.
Note: Artemis' data on catastrophe bond issuance includes every transaction we can source information on, including private deals, new diversifying insurance perils, and the usual 144A broadly marketed property catastrophe issues. Hence our figures are typically higher than those quoted by reinsurance broker reports, but we feel this offers a holistic look at market activity.
Editor's Note: This article discusses one or more securities that do not trade on a major U.S. exchange. Please be aware of the risks associated with these stocks.