For a background on the vanadium sector and the vanadium miners investors can view my article:
Vanadium uses, vanadium price, and vanadium demand versus supply
Vanadium is mostly used as a steel hardener, but more recently has become popular in utility large scale energy storage in the form of Vanadium Redox Flow Batteries [VRFBs], also called VRBs for short. China has an enormous amount of solar and wind capacity that blend perfectly with this type of energy storage. This has led to big name miners such as Robert Friedland getting on board the vanadium boom which has only just begun. As a result vanadium prices have started to rise as can be seen in the graph below.
China Vanadium Pentoxide [V2O5] Flake 98% Price - USD 15.40/lb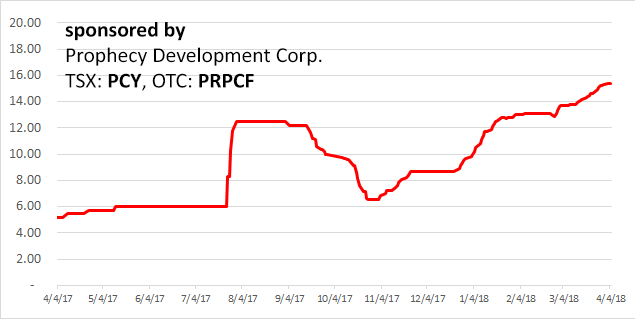 The chart below shows the vanadium inventory is forecast to steadily decrease resulting in V2O5 prices heading to USD 20-21/lb by 2019 and 2020.
Vanadium demand versus supply forecast - with price forecasts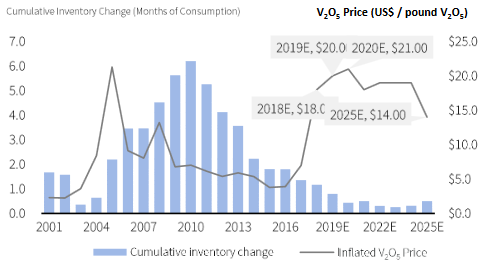 Source: Largo Resources presentation
Vanadium miners comparison
Vanadium miners by reserves and resources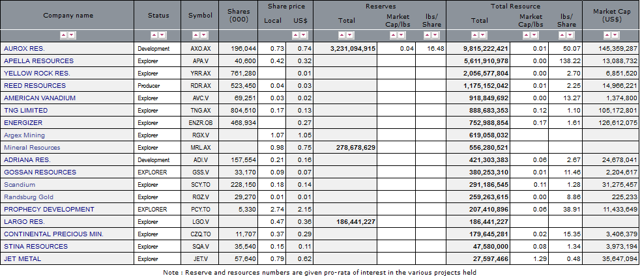 NB: In 2010 Atlas Iron [ASX:AGO] (OTCPK:AGODY) bought Aurox Resources.
Vanadium miners compared by grade, resource size and market cap - Technology Metals in red, black line shows grade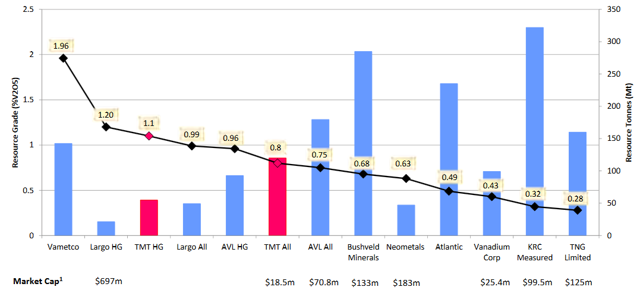 Source: Technology Metals presentation - As of March 12, 2018.
Vanadium miners compared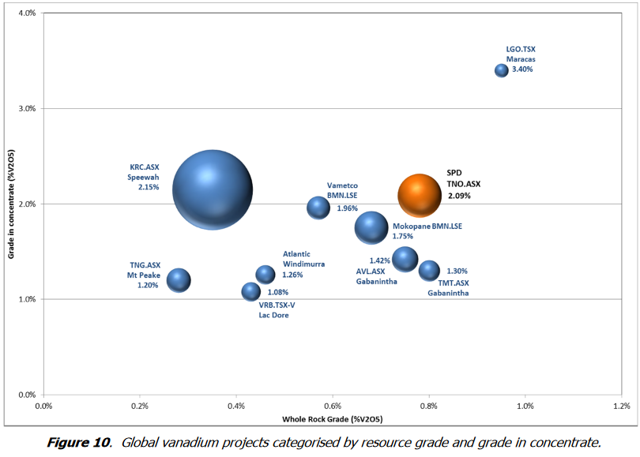 Source: Tando Resources presentation
Note: KRC is King River Copper [ASX:KRC] [GR:34N]
Top 5 vanadium miners to consider
Largo Resources [TSX:LGO] [GR:LR81] (OTCQB:LGORF) - Price = CAD 1.50

Largo Resources is a pure play vanadium pentoxide "producer" from their 99.84% owned Maracás Menchen mine in Brazil. The company state, "the Maracás Menchen mine possesses the world's highest grade vanadium deposit - P&P reserve grade of 1.17% V2O5 is over double the industry average. On track to be one of the lowest cost producers of vanadium, and a 6 year take or pay off-take agreement with Glencore for 100% of production."
Their Proven and Probable reserves are 18.4mt @ 1.17% V205, with a production nameplate capacity of ~800 tonnes of V2O5 per month, or ~10,000tpa. Forecast mine life is 10 years (based on reserves), with an additional 12 years (based on resources). 2017 production was 9,297 tonnes of V2O5. 2018 production is forecast to reach 8,950 to 9,950 tpa, 2019 11,500tpa, and 2020 ~13,000tpa.
Note that they have been selling their V2O5 to Glencore at a Q4 2017 average price of US$8.13, which is well below the current market price.
Largo's Q4 2017 cost of production was USD 3.57/lb, making them a low cost producer.
Largo Resources are one of the lowest cost vanadium producers globally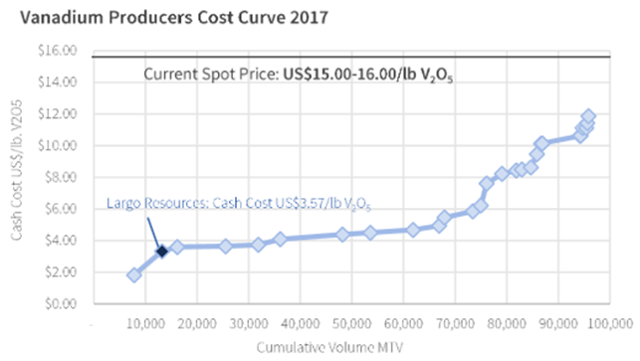 Largo's revenue doubled in 2017 while operating costs remained low

Source: Largo Resources company presentation
Largo's other projects include:
100% owned Currais Novos tungsten tailings project and the Campo Alegre de Lourdes iron-vanadium project in Brazil.
100% owned Northern Dancer tungsten-molybdenum project in the Yukon.
The company has a market cap of CAD 777m. Analyst target price is CAD 1.50. My target price is similar.
I have included Largo Resources in the top 5 as they are one of very few pure play vanadium producers; they have very high grade and a very low cost of production. I would rate them an accumulate on dips.
Bushveld Minerals Limited [LN- AIM:BMN] (OTC:BSHVF) - Price = GBp 13.85

Bushveld is a diversified AIM-listed resources company with a portfolio of vanadium, tin and coal assets in Southern Africa and Madagascar. They are also a vanadium "producer".
Bushveld Minerals 100% own Bushveld Vametco Limited which has a controlling interest of 59.1% in an existing low cost production platform, Vametco Alloys, with ~3.5% of global market share. Quality brownfield processing infrastructure in close proximity to Bushveld deposits.
Bushveld has 439.5 Mt open-cast primary resource base (incl. 55Mt reserves). 2017 production costs were USD16.60/kg (~USD 7.50/lb) producing 2,649 tonnes vanadium. The company plans to raise capacity at Vametco to over 5,000 tonnes per annum by 2019. The company is moving to be a vertically integrated company with their subsidiary Bushveld Energy selling VRB energy storage solutions.
Current market cap is GBP 152m. Analyst's consensus target price is GBp 14. The stock has rallied over 50% this month, and 28% since I wrote about them only 3 weeks ago. I rate them an accumulate on dips.
TNG Ltd [ASX:TNG] [GR:HJI] (TNGZF) - Price = AUD 0.17
TNG is an Australian resources company focused on the evaluation and development of its Mount Peake Vanadium-Titanium-Iron project. The Mount Peake Project is located 235km north-northwest of Alice Springs in the Northern Territory of Australia.
Resource estimate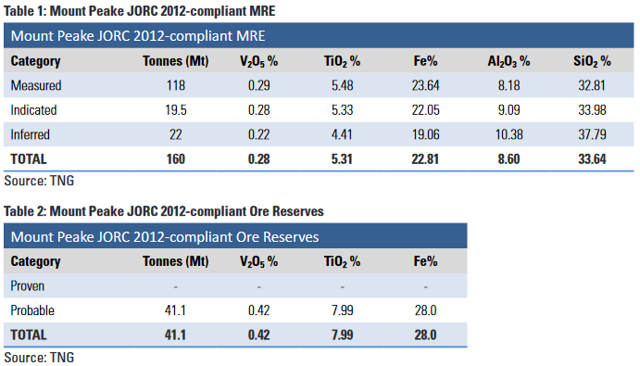 The company states that the Mount Peake project is a world class asset. The company has developed a proprietary TIVAN™ hydrometallurgical process and supplementary processing to extract maximum value from the titanomagnetite concentrate feed - planned products include premium grade V2O5, TiO2 pigment and pig iron. The project has a low strip ratio and good infrastructure access.
Their November 2017 Definitive Feasibility Study [DFS] for Mount Peake resulted in a pre-tax IRR of 44% and an NPV8% of AUD 4.7 billion, with up-front capital estimated at AUD 853 million.
The company is working on their Mining Lease which is expected to be finalized by mid 2018, assuming they can also achieve the signing of a mining agreement with the traditional owners. EIA has already been approved.
60% of Vanadium (to WOOJIN Metals of South Korea) and 60% of iron (to global trader Gunvo) off-takes are in place, and agreements are yet to be signed for titanium dioxide products.
With regards to financing, given the partnership with the German SMS Group, TNG has the potential for funding through German export credit banks.
TNG also holds 10% of Todd River Resources.
You can read the latest company project update here or a presentation here.
Current market cap is AUD 137m. You can view a very recent analyst's report here, with a price target of AUD 0.51.
Investors would need to also be positive on titanium (~60% of forecast revenue) and iron ore.
I rate them a solid speculative buy with plenty of upside potential.
Australian Vanadium [ASX:AVL] [GR:JT71] (OTC:ATVVF) - Price = AUD 0.052
Australian Vanadium is an emerging vanadium producer focused on the Gabanintha deposit in Western Australia.
Gabanintha hosts a declared Mineral Resource at Gabanintha comprising 179.6Mt at 0.75% Vanadium Pentoxide (V2O5).
The company states that their "initial objective is to explore and further evaluate their existing mining tenements focusing on the Gabanintha Vanadium deposit in Western Australia." You can read an update here.
They are currently working on their Preliminary Feasibility Study [PFS] due to be completed by June or July 2018.
My preliminary price target for end 2021 is AUD 0.13 or 2.4x higher, based on 5ktpa V2O5 production. Assumes a cost of production of USD 4/lb and a selling price of USD 12/lb. If I assume a selling price of USD 16/lb the PT is AUD 0.20 or 3.9x higher.
Note: The current spot price is USD 15.40/lb and rising.
Current market cap is AUD 79m. A solid pure play vanadium developer. I rate them a good speculative buy.
You can also read - Australian Vanadium Managing Director Vincent Algar Talks With Matt Bohlsen Of Trend Investing
Technology Metals Australia [ASX:TMT] - Price = AUD 0.39
The company's primary exploration focus is on the 100% owned Gabanintha Vanadium Project located 40km south east of Meekatharra in the mid-west region of Western Australia.
Their Updated Global Resource - Consistent high grade core of 55.0Mt at 1.1% V2O5 within a global resource of 119.9Mt at 0.8% V2O5, containing maiden Indicated Resource of 21.6Mt at 0.9% V2O5 (Northern Block only).
The company is currently progressing towards a PFS.
My preliminary price target for end 2021 is AUD 1.30 or 3x higher, based on 5ktpa V2O5 production. Assumes a cost of production of USD 4/lb and a selling price of USD 12/lb. If I assume a selling price of USD 16/lb the PT is AUD 2.02 or 4.7x higher.
(Note: This target has been recently updated significantly higher in my more recent Trend Investing article here.)
Current market cap is AUD 17m. An excellent value vanadium developer with strong upside potential.
You can also read - Technology Metals Australia Executive Director Ian Prentice Talks With Matt Bohlsen Of Trend Investing
Risks
Vanadium oversupply and spot prices may fall. The steel industry is still the main driver of vanadium prices.
The energy storage boom may not materialize.
Technology change - New energy storage technologies may replace the Vanadium redox flow batteries.
Investors should understand that investing early in any new disruptive technology carries much higher risks as well as rewards.
The usual mining risks - share dilution, funding, and production risks.
Liquidity risk for smaller caps. Best to buy on local exchanges.
Conclusion
The vanadium price and the vanadium producers have risen strongly the past month defying the general market downturn.
My top five picks include two vanadium producers (Largo Resources and Bushveld Metals) to accumulate on price dips, as both have run up rapidly in price recently.
My top three vanadium developers (TNG Ltd, Australian Vanadium, and Technology Metals Australia) represent better value, higher reward and higher risk. TNG Ltd is well advanced with a massive $4.7b NPV8% but relies on titanium and iron with a lower grade vanadium by-product. Australian Vanadium and Technology Metals Australia are great pure play vanadium juniors.
Finally for those interested in some cheap vanadium speculative plays Tando Resources, Aura Energy [ASX:AEE] [GR:VU1] (OTC:AUEEF), Prophecy Development Corp. [TSX:PCY] (OTCQX:PRPCF), Nextsource Materials [TSX:NEXT], Battery Minerals [ASX:BAT], and Cornerstone Metals Inc. [TSXV: CCC] (OTCQB:CCCCF) have appeal.
As usual all comments are welcome.
This article was first published on Trend Investing on April 5; therefore all data is as of that date.
Trend Investing
Thanks for reading the article. If you want to go to the next level, sign up for Trend Investing, my Marketplace service. I share my best investing ideas and latest articles on the latest trends. You will also get access to exclusive CEO interviews and chat room access to me, and to other sophisticated investors. You can benefit from the hundreds of hours of work I've done to analyze the best opportunities in emerging industries, especially the electric vehicle and EV metals sector. You can learn more by reading "The Trend Investing Difference", "Recent Subscriber Feedback On Trend Investing", or sign up here.
My latest related Trend Investing articles are:
Disclosure: I am/we are long LARGO RESOURCES [TSX:LGO], TECHNOLOGY METALS AUSTRALIA [ASX:TMT], AUSTRALIAN VANADIUM [ASX:AVL]. I wrote this article myself, and it expresses my own opinions. I am not receiving compensation for it (other than from Seeking Alpha). I have no business relationship with any company whose stock is mentioned in this article.
Additional disclosure: The information in this article is general in nature and should not be relied upon as personal financial advice.
Editor's Note: This article covers one or more microcap stocks. Please be aware of the risks associated with these stocks.