Italy has been in the news lately with elections and ruling party changes. The Italian population is not content with the mainstream economic parties and is turning to alternative solutions. A trend common in Europe at the moment.
The purpose of this article is to look at the macro sectoral flows and assess whether Italy is a good place for investment. Change of any sort can present opportunities.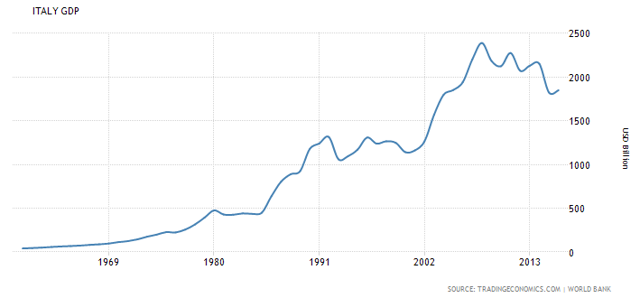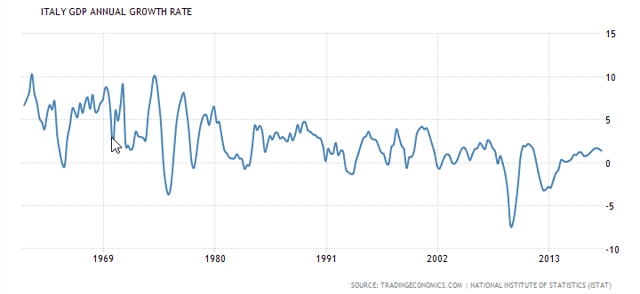 The charts above show that Italy's GDP peaked in 2008 and has fallen ever since. The growth rate of GDP has been falling steadily since the 1950s and has been mostly negative since 2008.
Italy adopted the euro in 1999. One can see on the GDP chart above that after the adoption of the euro that GDP shot up impressively, peaked in 2008 and has fallen ever since.
One way of looking at this is that Italy profited from cheap credit made possible by the euro, reached peak debt and has declined since that time.
The decline since the GFC peak in 2008 has been a catalyst for political change. High levels of unemployment and low levels of wage growth cannot be tolerated indefinitely. The charts below show the trends for both.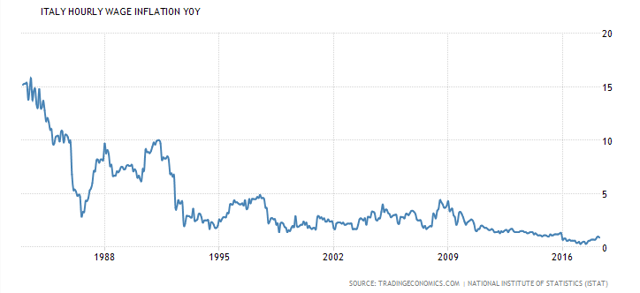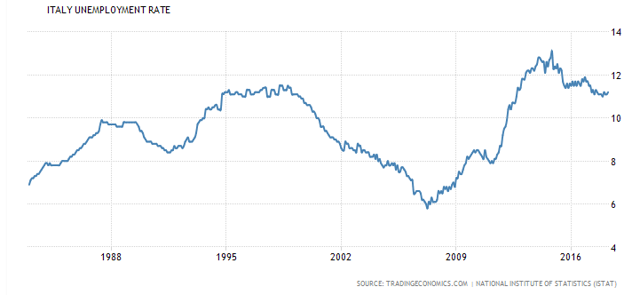 The Italians are a proud and creative people, and Rome was once the center of the known universe for centuries.
A balance of sectoral flows model was used after the work of British economist Professor Wynne Godley to assess Italy.
In 1970, Professor Wynne Godley moved to Cambridge, where, with Francis Cripps, he founded the Cambridge Economic Policy Group (CEPG). In early 1974, Godley first apprehended the strategic importance of the accounting identity - which says that measured at current prices, the government's budget balance, less the current account balance, is by definition equal to the private sector balance.
GDP = Federal Spending + Non-Federal Spending + Net Exports
As a percentage of GDP, all three sectors sum to zero.
GDP = GDI
By definition, the stronger the private sector balance is, the stronger the private domestic economy and markets within it. If credit growth is also strong, this adds further strength to markets.
The following formula can express a nation's balance of accounts:
Private Sector [P] = Government Sector [G] + External Sector [X]
Aggregate Demand = GDP + Credit [C]
The community, business, and the stock market are located in P. For P to expand, it needs the balance of inputs from G and X to be positive. A negative balance causes P to contract.
When one adds all three sectors together, it equals the GDP for that year. One sector's loss is the other's gain, and if they all go down, so does GDP.
When one does a sectoral analysis, one finds the following...
Sectoral Balance Analysis
The charts below show the key information required to calculate the sectoral balances: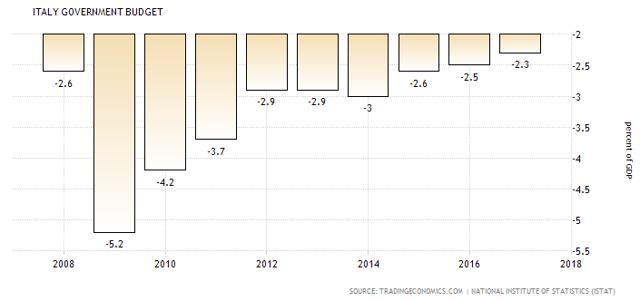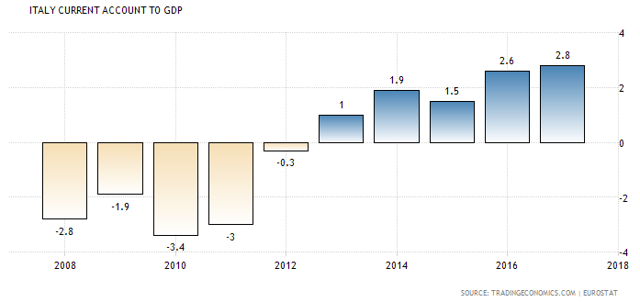 One can calculate the private sector balance by adding the current account balance and the government budget and expressing it as a percentage of GDP. As an accounting identity, this must sum to zero overall as a percentage of GDP.
Recent, current and projected annual sector balances are shown in the table below:
Private Sector

[P]

External Sector

[X]

Government Sector

[G]

2016

5.1%

2.6 %

2.5%

2017

5.1%

2.8%

2.3%

2018 #

5.2%

2.9%

2.3%
(Source: Trading Economics, FRED and author calculations based on the same)
# Forecast based on existing flow rates and plans.
The private sector balance is quite strong at 5.2% of GDP and should be growing and cause private financial assets of all types to increase in value. One has to ask why is this then not happening? Why is growth going backward and why is unemployment and wage growth so weak?
The answer is credit growth and private debt.
The private sector balance is also reinforced by private credit creation from private banks. One can say that aggregate demand in any period is GDP + Credit. The chart below shows the private credit trend: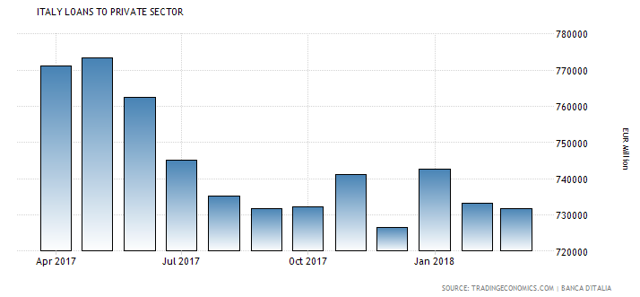 At the macro level, Italy has been deleveraging. Italians have been reducing their private debt, and this has reduced GDP and aggregate demand by -$US46.8 between May 2017 and March 2018.
The flow of credit adds or subtracts from the stock of private debt shown in the chart below: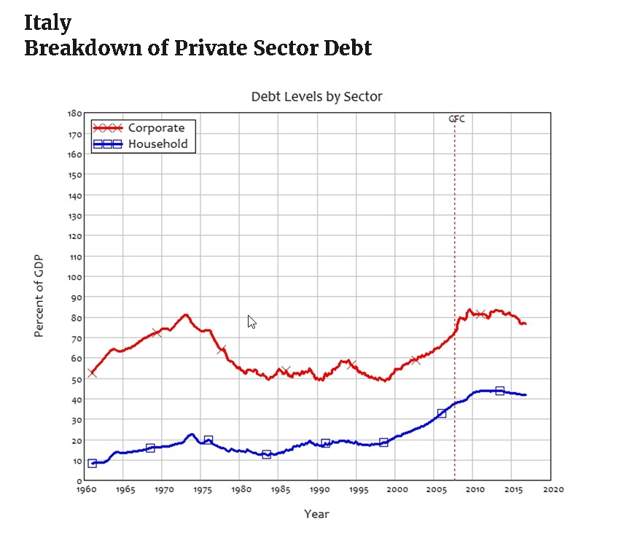 (Source: Professor Steve Keen)
Private debt is about 118% of GDP, which is moderate by developed world standards.
Professor Steve Keen, an expert on private debt, says that 150% of private debt-to-GDP is the point at which most economies tend not to take on any more debt. It is a natural barrier. Despite this, the numbers show that the Italians are still deleveraging which is removing money from the money supply this lowers aggregate demand and lowers GDP.
It could be that each land has a different private debt tolerance, given its characteristics and culture and that for Italy about 120% of GDP is the limit.
When one adjusts for the impact of creation in the macro picture the following numbers come out as shown in the table below:
Private Sector

[P]

External Sector

[X]

Government Sector

[G]

Credit Creation [C]

2016

5.1%

2.6 %

2.5%

-0.33%

2017

5.1%

2.8%

2.3%

-3.96%

2018 #

5.2%

2.9%

2.3%

-2.53%
(Source: Trading Economics, FRED and author calculations based on the same)
# Forecast based on existing flow rates and plans.
The table shows the private sector balance is reduced by the amount of the private credit reduction. The strength of the 5.2% private sector balance is halved by the deleveraging impact to about 2.67%.
Conclusion, Summary, and Recommendation
The private sector has a moderately strong private sector balance of over 5% of GDP.
The reason that Italian markets and the nation generally is going backward is that aggregate demand is reduced so much by the repayment of private debt.
The chart below shows the money supply M3 fell from 2010 to 2016 and only started growing again in 2016.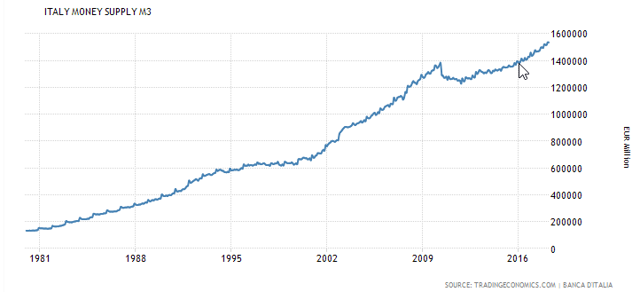 More money grows the economy, and less money shrinks it. Seeing this trend, a wise national government would have stepped in and filled this missing spending gap and this would have maintained aggregate demand and full employment which brings is own efficiencies and benefits. Due to the neoliberal austerity bias in the developed world at present, this possible future was unlikely to happen. With a change of management though it could now.
Italy is a member of the European Union and so is restrained by the fiscal compact agreement rules on national governments specifying that deficit spending may only be 3% of GDP, and that government debt to GDP may only be 60%. In seeking to comply with this arbitrary goal the Italian government underspends and so unemployment and inefficiency results.
One knows when one has hit the right level of fiscal spending as there is no unemployment or inflation. If the government were to spend another 2.5% of GDP most likely, this would be the sweet spot and neutralize the loss from negative credit creation and allow for full employment and stable prices.
Better would be more flexible rules or even better would be to leave the Euro, but not the EU, and have a sovereign currency again. A sovereign currency gives a nation a much wider scope of policy options with which to manage its economy. The privilege of sovereign monetary currency creation is one of the most powerful economic tools that a national government can have.
The EU need not be a currency union, it need only be a trading union and would work much better on that basis.
As a user of the Euro Italy has given away its monetary sovereignty privilege and with it many other sovereignty rights. In an extreme case like Greece, one can lose all sovereign powers to external creditors and become a debt slave colony to private banks.
The EU members that have the euro have put themselves on a de facto commodity money standard and severely reduced their fiscal options, something that the USA broke away from many years ago and is best captured by the cartoon below.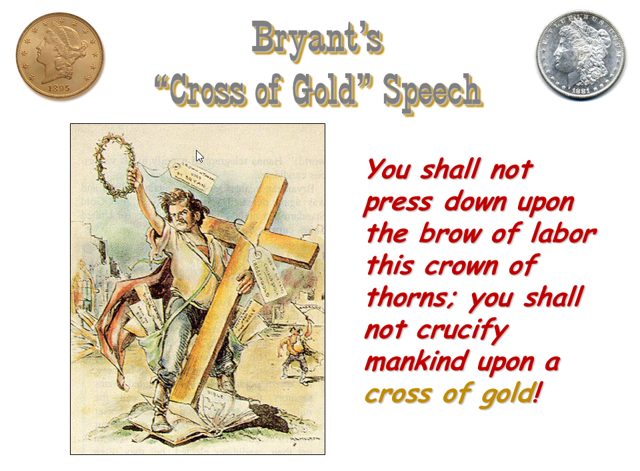 It is not so much labor that suffers but the whole of the population.
Compared to other countries and their private sectoral balances Italy is relatively good and if there is a reversal in negative credit growth things could improve. The chart below shows Italy's relative position.

(Source: Trading Economics dot com plus author calculations)
Potentially Italy has good reason be able to expand all financial assets in the private sector such as stocks, bonds, and real estate and would be a speculative buy where one would not expect much downside and where there is bias to an upside result.
Stock Market
The money appears not to be going into the stock market as the chart below shows.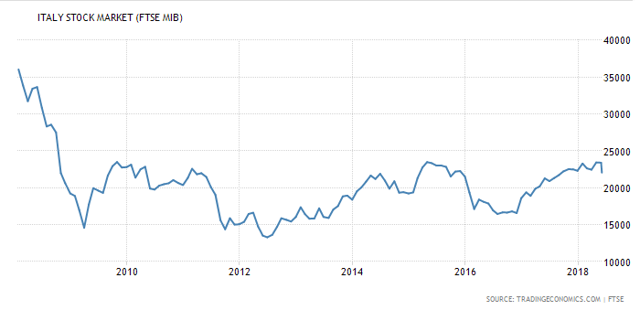 Sideways from the GFC bottom in 2009. Now the money supply has been growing since 2016 things could turn around.
Real Estate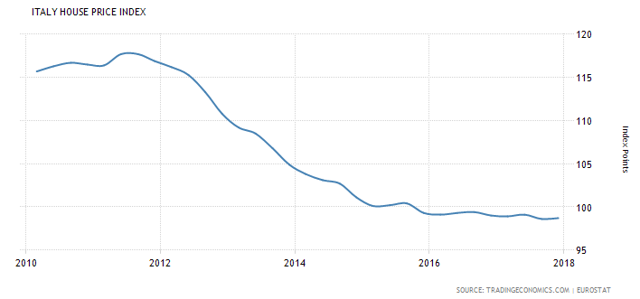 The money has not been going into real estate either. The trend is flattening but does not appear to be reversing and going upwards.
Bonds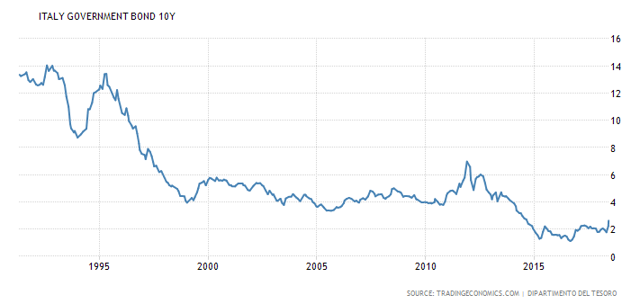 Money has flowed into safe government bonds. The yield for bonds has fallen steadily since the 1990s which means the face value and capital gain has gone up.
On balance I believe Italy's potential is held back by the euro and the EU constraints that come with it. But for that, the numbers show that Italy could be doing much better than it is.
The most likely scenario is that when the outflow of funds from private debt deleveraging stops and things start to improve, the national government will come under pressure from the EU to lower its government debt. To do this, it will start spending less and even try some surplus budgets that will again drain aggregate demand and cause unemployment and economic stagnation.
Italy is one to watch, but I will not be investing there at present. An exit from the euro would bring some exciting investment possibilities and opportunities though,
Disclosure: I/we have no positions in any stocks mentioned, and no plans to initiate any positions within the next 72 hours.
I wrote this article myself, and it expresses my own opinions. I am not receiving compensation for it (other than from Seeking Alpha). I have no business relationship with any company whose stock is mentioned in this article.