Welcome to my second portfolio update of 2018. The goal of my portfolio is financial freedom. My plan is a combination of dividend growth investing and buying stocks that will beat the market. I call the DGI portion of my portfolio my "dividend machine", I do not DRIP, rather build up cash and actively make purchases when I see fit. The other part of my portfolio is looking for stocks with a strong risk/reward balance to generate alpha and beat the market.
The 10-year Treasury currently sits at 2.89%. It started the year at 2.46%, hit 3% on April 24, 2018. One year ago, we were at 2.15%. This has had a big impact on income-producing stocks. We've had historically low interest rates for a long time. One of the side effects is that investors moved up the risk spectrum to buy "safe" dividend stocks for increased yield. A rise from 2% to 3% might not seem like a lot, but it's a 50% increase. It also makes a 3% dividend yielding stock less attractive. The result has put pressure on income-producing stocks.
Pondering the rate rise and reading many Seeking Alpha articles, I've been thinking that maybe I'm doing it wrong. One of the benefits of these safe/stable dividend stocks is that they will perform well in a recession. Basically, they are a better version of bonds. At the same time, many of these popular dividend stocks have no growth or very low growth (and they aren't cheap). While many of these consumer packaged goods companies trade at historically elevated valuations, consumer trends are going more organic/healthy/private label, and bonds yield are rising. Would you rather own a tech stock, a market leader in a growing market displaying true growth or an "iconic brand" in a slowing market and maybe not even that much better of a valuation?
The good news is that with a basket of 30 stocks, you can do both. It's not an either or. Part of the point of the dividend growth machine is to accrue income to either compound itself OR try and hit on some home run ideas. So, the dividend machine is part stock and part bond substitute.
I've been sort of against the "rates have to rise sometime" camp. I've been hearing that for 10 years and the Japanese have been hearing it much longer. That's a whole separate article.
Similar thoughts were echoed in my August '17 update, and a lot of those stock purchases have done well. Paying extra for much better growth has been the play.
Updated Pie Chart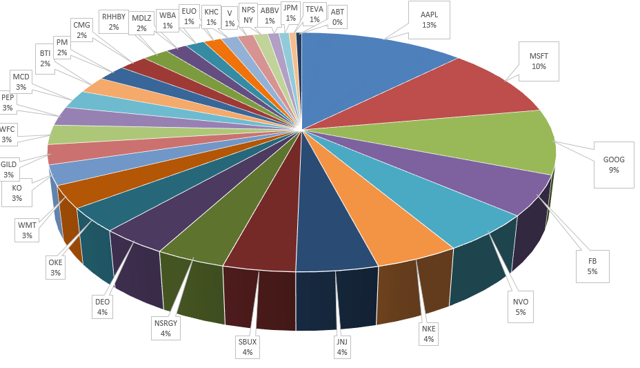 Changes since my last portfolio update on March 3, 2018. I added to 3 of my positions last Friday, June 1st.
This goes along with my theme of making more additions (and in smaller increments). My goal would be to balance or close to balance adding undervalued market beaters plus dividend stocks. For example, adding Apple and adding JNJ at the same time.
Current Holdings
26% Cash: Actually, 18% cash/short-term investments and 8% fixed income (VBTIX). The Vanguard Total Bond Market Index Fund is 3-star rated by Morningstar, has an average credit quality of AA, 8.4-year to maturity, 6.09-year duration, 0.04% expense ratio. As of 5/31/18, it has earned a 3.68% total return over 10 years.
I like my cash position, it gives me flexibility once the market presents buys. Patience is a virtue.
*Stock percentages reflect percent of equity
13.46% Apple: Don't listen to me, DoctoRx is probably the best author on Seeking Alpha, and he recently made a compelling case for Apple being worth $300 per share.
Apple has been a massive winner for me. I've already reduced my position 2-3 times and wish I didn't. I almost bought back in 2 years ago around the time of my last Apple Article. Apple was around $94 per share, fear, uncertainty, and doubt were running rampant, but I was trying to hold out for maybe $90 per share. By the time I came to my senses, the stock ran. I recently added to my position and had to buy at nearly double the price of two years ago.
This company is one of the greatest free cash flow generators the world has ever seen. 84% of Generation Z intends to make their next phone purchase an iPhone per the latest taking stock with teens survey (highest % ever). In 2013, this stock earned $5.68 per share, and now 5 years later, it is expected to earn $11.49 per share. Imagine doing that with $163 billion in net cash. The stock is undervalued and the company will buy back shares. My thoughts are that this company has more value up its sleeve in the future in terms of augmented reality and other projects they are working on. Keep it simple stupid, I wish I pressed this winner even harder.
The good thing about adding with such a low basis is that if the stock were to sell off, I'd just buy even more.
9.92% Microsoft (MSFT): Microsoft is expected to earn $3.84 per share this year. 3 short years ago, in 2015, they earned $2.46. That's right, earnings have gone up over 50% since Satya Nadella took over from Ballmer in 2014. The stock has rallied more (a double) due to multiple expansion for the cloud juggernaut. Compared to my other top tech holdings, Microsoft is the one I'd be most likely to trim.
On Friday, I made a few trades. I was actually going to add to Google as well, but it had a couple 3% days in a row and I backed off. I absolutely believe it's a buy right now but will wait for a better entry price. Google and FB are winning the internet.
These two stocks are very unique. Most companies' largest threats are competition, changing consumer preferences, running efficient operations etc. The biggest threats to Google and FB are bigger than that. It's the United States Government regulations, it's EU Nannycrats, it's internal employees and mass boycotts. That's a unique problem.
We saw some of that with Cambridge Analytica and James Damore's internal memo at Google that said the company was hostile to employees with conservative views, including adding names to lists. This is the kind of stuff that can lead to mass boycotts, lawsuits, and regulation. The EU is broke, they will turn to the people with the money.
5.62% Facebook:
Facebook shareholders are quickly learning about risks to their investment. The Cambridge Analytica case was just noise, and this company is on a warpath to a $1 trillion valuation. It's a fantastic buy at this point. I don't usually like adding to my positions within a 6-month time frame. My last add to Facebook was 1/12/18 @ $180.11. This stock reminds me of my big winner Apple a decade ago.
4.68% Nike (NKE): I recently wrote about the apparel stocks in preparation for the World Cup. Nike has been a winner. It has run quite a bit, and I will hold my shares.
4.68% Johnson & Johnson (JNJ): There are two fantastic articles arguing the long case. What Can I Expect To Make If I Invest In Johnson & Johnson Today? by Chuck Carnevale and 5 Reasons This Legendary Dividend Blue Chip Could Crush The Market Over The Next Decade by Dividend Sensei. This stock is in a virtual tie with Nike for 5th largest holding.
4.62% Novo Nordisk (NVO): Another outstanding article by DoctoRx, this time talking about Novo Nordisk. In April, I spent 10 days in Copenhagen and gained an additional appreciation for the Danish people.
This is a play on diabetes and obesity. If the stock grows operating earnings 1% to 5% and buys back $14 billion Danish krone of stock - fine. The part to get excited about is Oral Semaglutide which shined bright in phase 3 clinical studies. That is a blockbuster that could end up making this market-priced stock very cheap.
3.73% Diageo (DEO): This was an add to my dividend machine during the Brexit that has run up quite a bit. Here's the dilemma, do you bank some of the 40% profits and invest elsewhere or is Diageo a never sell stock?
3.66% Starbucks (SBUX): Starbucks will be a Dividend Aristocrat in 2035. Right now, the company is the butt of many jokes as former CEO Howard Schultz threw his manager under the bus and invited non-customers into the stores. We will get to see how "tolerant" city dwellers are of the unshowered homeless when they work on their Apple laptops and drink $4 coffees. If you live in Vancouver or Seattle, why shoot up heroin in a dirty alley when you can in a comfortable Starbucks bathroom? Now that this story has national attention, it won't be wrong before we read stories about the negative effects of their policy.
Things will eventually blow over for the world's largest homeless shelter selling coffee chain. Owning a dividend aristocrat is great, identifying and owning one year before reaching that status can be even more profitable.
3.66% Oneok (OKE): My only energy holding currently yielding 4.5%. In 2015, I said that we won't have $100 per barrel crude for at least a decade. 3 years later and the prediction holds true.
3.55% PepsiCo: Last month, I added PepsiCo @ 52-week lows. You can read about why by clicking the hyperlink to my article.
3.42% Nestle (OTCPK:NSRGY): In February, I added to my Nestle position and wrote about it being a buy for U.S.-based DGI investors. April 16th, I collected the $2.529 dividend per share.
2.82% Chipotle (CMG): This was a $250 stock back in February. We just started June and we are @ $438. Needless to say, the market approves of CEO Brian Niccol. This stock is undervalued, but there is big tail risk to a food event (real or fake). If somebody gets sick eating at McDonald's (NYSE:MCD) or Taco Bell, it might not even make the news. "It's a big chain, sometimes these things happen". If the same thing happened at Chipotle, the sensationalist media will punish this stock hard. I like the food, like the stock, but there's so much out of your hands that you can't responsibly have an over-sized position at this time.
2.67% Walmart (WMT): A Dividend Aristocrat with 45 years in a row of dividend increases. This was the first stock I purchased in 2016. It was off to a hot start and now it's trailing the market since purchase with the recent selloff. I sold Walmart once in my life and regretted it. Part of this is an anti-Amazon play.
2.56% McDonald's: A Dividend Aristocrat with 42 years on a row of increases. In 1999, investors who avoided tech stocks and owned McDonald's were getting 19.5 cents dividend per share. In 2017, they received $3.83 per share. McDonald's will survive and thrive in the 21st century.
2.5% Coca-Cola (KO): 56-year Dividend Aristocrat. Current dividend yield of 3.62%. I feel like it's been in a $40 to $45 range for half a decade. This stock has been a habitual underperformer, probably due to a Buffett halo effect. Maybe the CEO will go the PepsiCo route and diversify into food (or alcohol).
2.43% Walgreens: 42-year Dividend Aristocrat. You can read about why I added to my position last month here.
2.39% Wells Fargo (WFC): 2.85% dividend yield, low valuation, could benefit from rising net interest margins. This company needs to regain customers trust long term.
2.2% Gilead Sciences (GILD): If this stock is an undervalued stock that requires patience, I can deal with that. If Gilead is a value trap, I can't. I sold this company once, a decade+ ago much to my regret. I'm currently impatient, but I will continue to hold.
2.01% Philip Morris International: I've owned this stock since February 4, 2014, with a $77.26 basis. As recently as my last portfolio update, this was a $106.81 stock. I'm happy to collect 4 years of solid dividends and then add to my position years later for under $79 per share. Current yield 5.47%. Healthy Wealth Coach wrote an excellent argument for the long case last month. PM is the best performing stock in the history of the S&P 500. Buy it at a discount, there are significant barriers to entry. Long term, this stock can do even better than people think if they can successfully enter a legalized marijuana market.
1.89% British American Tobacco (BTI): 5.36% dividend yield. Recent selloff. I prefer PM to BTI at this time.
1.76% Roche Holdings (OTCQX:RHHBY): Started my position in March. Adding this world-class company supports my health care theme for the future. This is a play on the aging 1st world.
1.4% Mondelez International (MDLZ): Per Finviz, a 2.2% dividend yield, 38% payout ratio, 16.2% EPS growth rate the last 5 years, and projected to growth 10.68% per year over the next 5 years. 14.83 forward PE. This is not a bad stock; if it gets a little cheaper, I might add.
1.26% Visa (V): I purchased this stock at the end of January. Some have called this the best stock in the world. I'd love to add more, but I generally like having a 6-month gap before adding to my positions.
1.04% Kraft Heinz (KHC): This is kind of the poster child of the CPG space. Iconic brand in an unpopular consumer packaged goods space. Consumers today don't want to eat hot dogs and plastic cheese from a mega corporation for dinner, they want healthier organic food from a specialty company. This could be a perfect example of what to NOT be in. I mean I don't even really like their products save for their ketchup and I don't consume ketchup very often. I've owned this stock for nearly a decade, it's "up" but it's underperformed and I recently added to my stake in January @ $78.79. Ouch!
Maybe this is a value trap. The negatives on this stock are very obvious, but most people ignore the positives. This company has the best margins in the industry. When I say the best, I'm talking about 26% vs. 14-18%. This company has made bold moves and is currently attracting value investors. They deserve a shot.
.98% Naspers (OTCPK:NPSNY): This is a valuable way of investing in Tencent (OTCPK:TCEHY), the fast-growing Chinese social media, messaging, gaming, and payments company.
.7% JPMorgan Chase & Co. (JPM): Should earn $9 per share this year, earned $4.35 back in 2013. The dividend is 2.07%, and Finviz has a nearly 11% EPS growth rate the next 5 years. This is a stock I could add to in the near future to build a larger position.
.69% AbbVie (ABBV): 3.92% dividend, 11 forward PE ratio. Selling the world's #1 drug of 2017, Humira, but it's 60% of company revenues. They could use other revenue streams for long-term success.
.56% Teva Pharmaceuticals (TEVA): This stock was a play on broke governments and rising health care costs. It's been a dud thus far. Now Buffett joined the party.
.44% Abbott Laboratories (ABT): This is a small position, and I follow this stock less. It makes me wonder if it's time to consolidate.
Watch List
McCormick & Co. (MKC), Colgate-Palmolive Co. (CL), Nvidia (NVDA), Square (SQ), Samsung (OTC:SSNLF). If McCormick & Co. sold off $5 to $10 more dollars, I'd be very interested.
What's Next?
When I had 27 stocks, I called them my 27 Yankees. These 30 companies are winners, and I will be adding to them over time. Sure, maybe I'll throw in a MKC or SQ when the time is right, but the heavy lifters are already there. After having some initial success, it actually gets easier over time. For example, I added to my Apple, Johnson & Johnson, and Philip Morris positions on Friday. My cost basis on 2/3 is so low that if the stock were to sell off 25%, I'd still be way up and I can just add more (at a better price). JNJ, I purchased in two lots, the price has doubled, Apple is up hundreds of percent.
One reality I could see is, if rates do start to slowly rise, many of the Coca-Colas, Kraft Heinzs, Procter and Gambles of the world continue to sell off as bonds start paying more normalized rates. This would reset the risk premium rate, we'd probably see stocks return to more historical valuations. According to the Shiller PE, stocks are trading at very elevated rates right now. Dividend growth investing has taken off, there are more do it yourselfers out, most workers don't rely on pensions anymore, so that could mute that a bit. The point, however, is that many of these "defensive blue chip" stocks might not be as defensive as advertised. Given many of these companies took on debt to take advantage of low rates (and increase leverage), they might also not be as good in a slow expansion.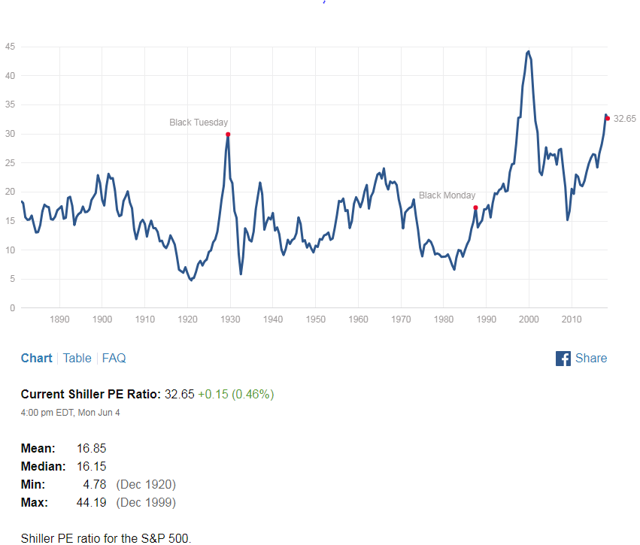 If there was a recession, would the tech stocks really sell off more than staples and defensive stocks? Nvidia or Square, sure, but look at Apple's and Facebook's valuation. That's where I'd be looking to add new money, but I'm not convinced they'd get much cheaper than the traditional defensive stocks. Obviously, earnings growth would slow down as consumers would spend less but would you rather buy Facebook at 18x earnings, Apple at 12x earnings, or a DGI stock that sold off to 15x earnings? It's a no-brainer. Then you could trade out of some of those into the fast growers and make a lot of money on the way up. That's part of the reason why I think Apple is a good buy here. It should do well under any market conditions. Great American company, great stock.
Comments and feedback are much appreciated.
Disclosure: I am/we are long VBTIX, AAPL, MSFT, GOOG, GOOGL, FB, NKE, JNJ, NVO, DEO, SBUX, OKE, PEP, NSRGY, CMG, WMT, MCD, KO, WBA, GILD, PM, BTI, RHHBY, MDLZ, V, KHC, NPSNY, JPM, ABBV, TEVA, ABT. I wrote this article myself, and it expresses my own opinions. I am not receiving compensation for it (other than from Seeking Alpha). I have no business relationship with any company whose stock is mentioned in this article.
Editor's Note: This article discusses one or more securities that do not trade on a major U.S. exchange. Please be aware of the risks associated with these stocks.