The (Old) Young Portfolio - Update 1 - Things Can Only Get Better?
Summary
First update of my portfolio since my overview in Oct 2017.
Dividends are slowly creeping up and 2018's average monthly value is double 2017's.
A lot of activity since my original post.
Introduction
Being a newer member of seeking alpha, one of my favorite collection of articles remains contributors' overviews and review of their own portfolios. The difference in styles and ideologies makes for great reading and I believe makes for more rounded investing knowledge. As such I set about starting my own series of articles describing my own experiences, with the hope of learning from others and evolving my investment style (Original article). A quick recap is I am 25 years old, work in energy development, aim to make regular capital additions of £500-£1000/per month and have a focus on dividend growth investing.
The goal of regular updates has fallen by the wayside due to number of factors (moving city, moving job, weekly traveling and getting a dog - all of which I am enjoying immensely) but 9 months on I have both enough time and enough content to write about for an update.
I am still very new to writing articles of this nature and would greatly appreciate feedback (positive or negative) from any readers.
Recap
In my first update I had 12 stock holdings with a fairly scatter-gun approach to investing and I admit a fair bit of inexperience in what I was looking for. The 12 stocks were:
| Stock | Share | Dividend Yield |
| --- | --- | --- |
| AT&T (T) | 13.03% | 5.03% |
| Microsoft (MSFT) | 12.91% | 2.30% |
| BrookField Renewables (BEP) | 12.15% | 5.61% |
| Starbucks (SBUX) | 11.27% | 1.82% |
| Greene King (OTC:GRKGF) | 10.12% | 5.96% |
| Lloyds (LYG) | 9.81% | 4.10% |
| Shell B (RDS.B) | 9.74% | 5% |
| BT PLC (BT) | 7.07% | 5.37% |
| Cisco (CSCO) | 4.67% | 3.43% |
| HSBC (HSBC) | 3.27% | 5.25% |
| Cineworld (OTC:CNWGY) | 3.25% | 3.07% |
| Prudential (PRU) | 2.71% | 2.54% |
All of which were held in an individual savings account (ISA) which is a tax-sheltered account. The intention was to gradually add capital monthly and on occasions where I believed there to be an opportunity.
This has been the case to somewhat of an extent but I have decided to put all of non-emergency fund capital into some form of investment (Shares/ETFs/Investment trusts). The result has been a lot of buying activity and a doubling of the number of holdings. In the following months I have been able to invest into a wider range of sectors and reduced my largest holding to under 9% of total portfolio value.
Another point of note was at the beginning of this tax year (18/19) my broker waived all transaction fees and I used that chance to attempt to rebalance my smaller positions while there was no additional cost of doing so.
Buys
New additions
I have been very active in the past 9 months and do not expect this level of activity to continue going forward. I still intend to save on a monthly basis and let my cash accumulate until I can make larger purchases so that transaction fees (£5/8) do not eat into my investments. Below is the purchases I have made with a brief description attached.
Consumer staples
Reckitt Benckiser (OTCPK:RBGPF) - 28 shares at £54 (20/04/2018) - This consumer staples giant is one that has had a rough year with scandals in Korea, lagging growth and cyber scandals contributing to an almost 30% fall in price. I covered this in my most popular article to date (Here), stating that I would consider an entry between mid £50's to low £60's. After a period of flirting at and below those levels, in

mid-April I took the plunge. I did miss the dividend however but believe the risks and slowing of growth are now priced in.

Unilever - (UN) - 37 shares at £39.15 (28/03/2018) - In a similar vein to Reckitt, Unilever is potentially facing challenging times ahead with a change in consumer preferences away from the "bigger brands" to lower priced equivalents. But I feel these threats are overblown and that Unilever has a wider product offering than

its competitors and emerging markets will maintain growth going forward. Coupled with an attractive yield, I am looking to add on any drops.
Technology
Texas Instruments - (TXN) - 12 shares at $96.5 (14/11/2017)
Visa - (V) - 29 shares at $110 (3/11/2017) & 11 shares at $121 (16/04/2018) - My reasoning for purchasing Visa, is that the move towards a cashless society is one that has already begun but has plenty more room to grow. Visa which operates in a near oligopoly in Western markets is perfectly placed to benefit through the transactions fees and levies it places on retailers to use its transactions services. I believe

MasterCard is a superb stock also but I have a slight personal preference for Visa.

Corning (GLW) - 51 shares at $32.1 (29/12/2017)
Consumer Discretionary
Nike - (NKE) - 49 shares at $51.74 (3/10/2017) - Covered below
Industrial
DS Smith - (OTC:DITHF) - 450 shares at £5 (06/03/2018) - This company first came to my attention on the news that it had entered the FSTE 100 in early 2018. I did some research and the mix of strong fundamentals, dividend growth (Chart below) and future growth prospects (mainly through the rise of e-commerce meaning more packaging and incorporating recycling of materials to reduce primary commodity exposure). Paper isn't the most exciting sector in the world but DS Smith appears to very good at what it does and is well placed to benefit from the rise of online shopping.
DS Smith dividend per share 2009/10 to 2017/18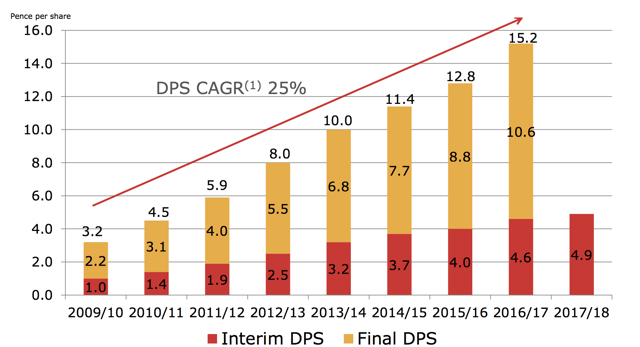 Source: here
Utilities
Pennon Group - (OTCPK:PEGRF) - 300 shares at £7.53 (31/05/2018) - This is a company that I am planning to cover in an upcoming article but essentially it is a company which primarily focuses on water and waste. They deliver essential services within the UK through South West Water and Viridor. Of note for me is the growth of energy from waste (efw) and the number of efw's that Pennon is deploying through the UK. The gate receipts they receive for waste give them a substantial negative marginal cost of generation. They currently have 178MW of operational capacity and 270MW including that under construction. Under 20% of usable waste is recycled in the UK and Viridor has a great base in place to

capitalize on the increase drive towards recycling. I perhaps was late to enter a position and lost some margin of safety but believe this company has a strong long term future.
Stake additions
In January Cineworld announced that it was going to take part in a rights issue to fund the takeover of Regal group. It was a 4 rights per share deal at a price of £1.57 (roughly £1 below where it was trading). I took up the issue and effectively doubled my holding in Cineworld. While Netflix and the like are a massive disruptor to the traditional cinema business, the number of cinema successes in the past few years such as Avengers, Black Panther and Star Wars (Solo aside) show that there is still value in cinema and Cineworld if it can continue to apply its model will be successful in the states.
At the beginning of April as mentioned above my broker waived all transaction fees. I had built up cash from the beginning of January and could not use it in the ISA due to being at the yearly limit so waited until tax year 18/19 to transfer it into my account. I used this to add to existing positions in Starbucks, Cisco, Brookfield Renewables, Shell, BT, AT&T and Prudential.
Sales
Consumer Discretionary
Nike - (NKE) - 49 shares for $70.75, 34.5% gain (30/05/2018) - My original reasoning behind investing in Nike was the sheer "hype" and consumer appeal that the brand has with people within my generation. The trainers are ever present wherever I go and the clothes are amongst the

go-to fashion for those into track/casual apparel. It is still a company I respect and believe will succeed in the long run but right now I can't see any catalyst to justify a near 40% jump in 9 months. The China growth story is one that has short-term headwinds in the potential trade-war. I also wanted to take a profit and the combination of low £/$ exchange and increased price it was good time to sell.
Portfolio overview
Holdings
A lot has happened in the past 9 months and there is too much for me to cover on all my holdings but the best performer has been Microsoft with its cloud revenue growth propelling it back into the stratosphere and race towards the $1trn market cap. From personal experience the Microsoft ecosystem and product line up has improve vastly in the past 10 years and the renewed focus on continual improvement make the company well positioned for the future. Even Bing the much derided google equivalent, is a highly profitable business sector with a reported 33% market share of internet searches. (Source)
The worst performer is BT, this telecom giant is currently under-siege from a triple entente of massive pension deficit, large dividend outflow and needed capital expenditure on upgrading infrastructure. This stock has had a torrid time in past few years and things in the short term are not looking any better.
The Investment doctor analyzed the impact of their half-year results and the announcement of an action plan excellently in his article here. I don't have any meaningful analysis on which to add but the future of BT depends on all three aspects of their plan working in tandem and judging them on past performance does not fill me with confidence. I have no intention to sell and the news that the dividend is frozen for two years is better news than them cutting it, which would have led to an even greater exodus from the stock. Regrettably I added more before this announcement and will not chase the massive 7.5% yield any further.
I have also cut down the number of Mutual fund holdings I have and replaced them with either ETFs or held the cash. The gain on the sale of these holdings is 5.87% .I have only retained Franklin India and FP Crux Euro Special situations as they are both markets I have knowledge of and difficulty finding lost cost ETF's. The exchange traded products I hold are GCP infrastructure partners and Vanguard All World index.
Table of holdings - As at 04/06/2018
| | | | |
| --- | --- | --- | --- |
| Holding | Share of Portfolio | Yield | YoC |
| Other (Mutual funds & ETF's) | 11.47% | 2.28% | 2.40% |
| Cash | 9.34% | 0% | 0.00% |
| Visa | 8.82% | 0.64% | 0.74% |
| BEP | 6.46% | 6.34% | 6.04% |
| RDS | 6.00% | 5.28% | 6.35% |
| Microsoft | 5.95% | 1.7% | 2.36% |
| DS Smith | 5.63% | 2.70% | 3.03% |
| Starbucks | 5.56% | 2.11% | 2.18% |
| AT&T | 5.41% | 6.16% | 5.53% |
| Pennon | 5.03% | 5.27% | 5.27% |
| Cisco | 3.68% | 3.02% | 3.74% |
| Reckitt Benckiser | 3.60% | 2.85% | 3.01% |
| Unilever | 3.41% | 3.03% | 3.17% |
| Prudential | 3.07% | 2.55% | 2.55% |
| Lloyds | 3.04% | 4.81% | 4.41% |
| Greene King | 3.01% | 5.73% | 5.08% |
| BT | 2.50% | 7.52% | 5.44% |
| Corning | 2.40% | 2.58% | 2.24% |
| TXN | 2.32% | 2.16% | 2.56% |
| Cineworld | 2.15% | 2.25% | 2.25% |
| HSBC | 1.16% | 5.22% | 5.44% |
Dividends
In the months since I first wrote about my portfolio I have improved my reporting and tracking of holdings as a whole and in particular tracking dividends. Currently my holdings have a yield of 3.45%. Below are all my 2018 dividends and future expected payments in £'s: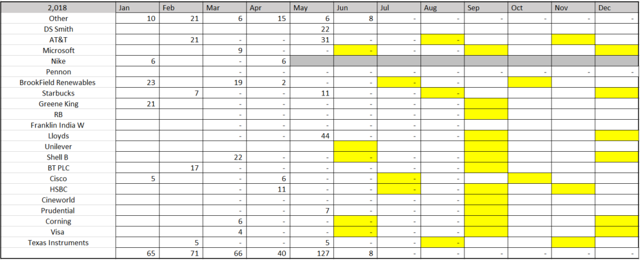 May has been the best month of the year yet due to most British domiciled companies paying there 2nd and larger payment of the financial year. In the short run my goal is to have an average monthly payment of £100. As seen in the below chart I am 75% of the way there and currently have an average in 2018 double that of 2017. This is due almost entirely to capital additions rather than organic dividend growth.

Going forward
On the whole I am happy with the developments in my portfolio in the past 9 months. Most of the portfolio is performing well with the exception of BT, Corning and now to a lesser extent Greene King. Technology based stocks such as Cisco and Microsoft have been the out performers, which is in line with the sector wide bullish sentiment. When I have spare cash I do intend to average up when I can with the likes of Visa, Texas instruments and Cisco. A lot of them are highly priced but they are so for a reason and I feel waiting for a buying opportunity is a bit of waste for the higher quality stocks.
The stocks that I have on my radar are below:
PepsiCo (PEP) - Consumer staples giant which is facing problems in its core markets of soft drinks and snacks. As I mentioned in my article on A.G Barr, sugary soft drinks are facing a period of unprecedented scrutiny and changing consumer tastes. I feel this will cap Pepsi's growth but the inelastic nature of those who remain fans of the products will support the company medium term.
Diploma Plc (OTC:DPMAF) - An UK industrial based firm take I wrote about in this article here. The mix of growth through acquisitions and organic growth in tandem with an incredibly low cost base are the fundamental drivers behind this

firm's success. However at current levels I do it being too pricey and a pull back to £9-10 would see me entering a position.

Square (SQ) - In a similar vein to my reasoning above for Visa, Square is interesting in that it offers a route to the ever growing card based spending to smaller retailers. One of the prohibitive factors on the growth of cards is the inability to use them in certain places. IZettle, which was recently purchased by Paypal is a company I admire hugely and offers this in the UK. Its hardware and platform enable even the smallest of coffee shops to gain access to more sales and from my research Square offers this in the States. I need to do more analysis before deciding an entry point but strongly believe in the overall story of the company.
All in all, I have enjoyed the past 9 months and look forward to continuing my development and knowledge of investing. A long time frame is on my side for success of the portfolio.
Disclosure: I am/we are long EVERY STOCK IN TABLE ABOVE. I wrote this article myself, and it expresses my own opinions. I am not receiving compensation for it (other than from Seeking Alpha). I have no business relationship with any company whose stock is mentioned in this article.
Editor's Note: This article discusses one or more securities that do not trade on a major U.S. exchange. Please be aware of the risks associated with these stocks.