China is the world's 2nd largest economy. At its current rate of growth, it should surpass the USA within 12 years. Yet we hear relatively little about its capital markets. That should change within the near future.
Key financial entities that maintain emerging market indices are phasing in significant weightings to Chinese stocks. This reflects the growing weight in China's public markets and the increasing ease with which foreign investors can buy its equities. Let's see how far China has come since it began its experiment with controlled capitalism.
A Short History of the Chinese Stock Market
The Chinese stock market has traded regularly since the early 1990s. Its market capitalization is over $10.8 trillion, larger than the Eurozone. However, it is a fragmented market with impediments to free trading of shares. It has thus been penalized in terms of its representation in major stock indices.
There are two structural reasons for the comparatively small weight of Chinese stocks. There is widespread insider ownership of its shares. About two thirds the equity value in Chinese companies is not available for trading, contrasting sharply with the American stock market. The Chinese communist party and other institutional investors hold controlling permanent stakes in most firms. Most index providers such as S&P, MSCI, and FTSE include only the "free float" of a company's stock in index weightings.
The capital structure of Chinese companies also differs from American firms. Stock financing comprises only 5% of Chinese companies' balance sheets. The majority comes from bank loans and debt. Bank loans and retained earnings remain by far the biggest sources of investment funds.
The following chart compares the GDP of the USA and China and contrasts it with the free float of their respective stock markets. There is big disconnect.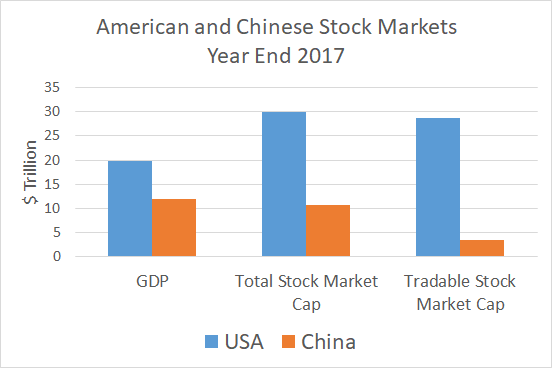 Sources: FTSE/Russell and Siblis Research
Fragmentation also limits access to Chinese stocks. They trade on several exchanges with varying levels of availability to foreign investors. The largest segment trades on the mainland as A shares on the Shanghai and Shenzhen stock exchanges. Opening in December 1990, About 3500 companies are now listed.
The onshore exchanges still exhibit some odd properties. Over 80% of the trading volume is conducted by individuals - and by individuals, I mean Chinese households with comparatively tiny equity positions. Since 2002, foreign entities have been allowed to apply for and qualify to trade the onshore Chinese markets under the country's Qualified Foreign Institutional Investor (QFII) program.
In 2014, the Chinese government augmented foreign access by announcing a "Stock Connect" program linking the Shanghai and Hong Kong stock exchanges. Later, the Shenzhen stock exchange was added to the link. Foreign investors in Hong Kong could buy A shares through their local broker there.
The QFII and Stock Connect programs both throttle investor activity with quotas on the value of shares transacted. The good news is that these quotas are expanding. Last month, China's stock regulator quadrupled to $8.3 billion the daily amount of A share purchases that foreign investors could undertake from Hong Kong. That same regulator also announced that it would "strive" to open a London-Shanghai Stock Connect program later this year.
There are other marketplaces that host Chinese equities. The most notable is the Hong Kong exchange where H shares transact. H shares are heavily weighted towards financial companies. Western investors have comparatively easy access to this exchange. And Hong Kong holds the advantage of utilizing the legacy legal and regulatory architecture of Great Britain.
Consequently, H shares have been strongly represented in Chinese stock indicia. Until a couple years ago, this was only significant marketplace where western firms could buy large blocks of Chinese equity. From the standpoint of industry weighting, H shares are not representative of China's public markets. However, they meet western standards for tradability, accounting, and disclosure.
Many Chinese companies incorporate or list their shares overseas for a variety of motivations. Lower tax rates and more favorable regulation are a couple of reasons. Such companies effectively comprise an alphabet soup of additional shares classes. Tencent (P chip) and Alibaba (N shares) are examples of huge companies listed outside the mainland.
We'll not address all the Chinese share classes in detail in here. However, the chart below should give you a sense of their relative size. Note that Tencent and Alibaba amount to about one half of the market caps of P and N shares, respectively. Apart from these two behemoths, the vast majority of China's tradeable universe lies in its A and H shares.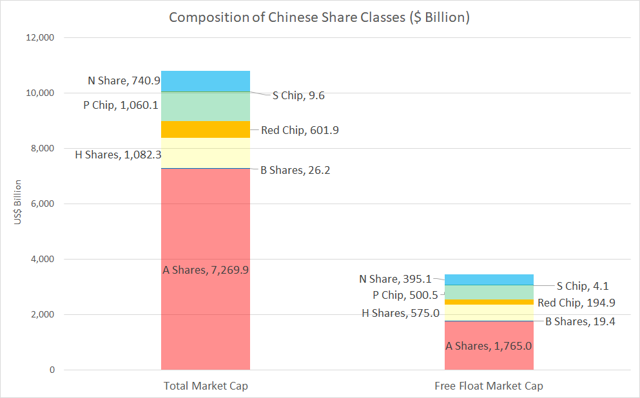 Chinese A Shares are Migrating to Indices
FTSE began phasing in Chinese A shares to its Emerging Market indices in 2015. It has promised to enlarge its weighting in step with Chinese government increases of quotas on foreign stock purchases through its QFII program.
On June 1st, 2018 MSCI adds 233 A shares to its own Emerging Market index. The company has indicated that more will follow as China's market becomes better connected with the outside world.
Right now, the major emerging market ETFs have roughly a 30% weighting in Chinese stocks. The ones licensing a FTSI index now have a somewhat heavier allocation since that company started including A shares a few years back. We can reasonably expect both major index licensors to gradually add Chinese companies from the mainland over time.
Ultimately, Chinese companies could constitute nearly half of the an emerging market index if their free float were fully reflected in the benchmark. For now, Both FTSE and MSCI are admitting Chinese companies to their indices on a case by case basis. Transparency and liquidity of individual names are key considerations. A full inclusion of A shares in passive indices would imply an additional $600 billion in foreign capital being invested in Chinese companies. That's real money.
Don't expect a smooth ride. While the Chinese government has taken major steps to ease foreign access to China, it continues to meddle in the day to day operations of the Shanghai and Shenzhen exchanges. Market participants are threatened with sanctions if they attempt sales of large blocks of stock. Yet no one is sure of the threshold for what constitutes a large stock sale.
During its stock market meltdown in 2015, the government suspended IPOs, banned margin trading, and arbitrarily froze trading accounts. The comparative calm that has prevailed in the world's stock markets has muted recent interventions by China's market regulators. However, its regulator has been busy:
On the sidelines of the annual legislative meetings in March, Jiang Yang, vice chairman of the China Securities Regulatory Commission, said the regulator has spent years developing "penetrative supervision" of market participants, creating a "giant network of surveillance" that he said helps protect retail investors.
Independent observers agree that the China has enhanced its ability to snoop on traders in real time. And the country is not shy about using sanctions to discourage activity. The gaze of Big Brother has had a chilling effect on price discovery. Trading volume on the Shanghai stock exchange has fallen more than 80% since the period just prior to the government's major market interventions in 2015.
China's A share companies have attributes that many passive investors would find unappealing. They are highly levered and thus are at enhanced risk of bankruptcy. As a group, they carry poor ratings for environmental, social and governance (ESG) standards. More generally, corporate governance is poor and many A share companies are "blindsided" with scandals. Most of the companies trading on the mainland have highly concentrated share ownership by insiders.
The country's poor transparency has a very practical effect on transactions. The Chinese regulator suspends trading in firms on the Shanghai and Shenzhen exchanges more than any other nation. In fact, nearly half of China's A shares suspended trading during the 2015 selloff. Passive investors will become progressively more exposed to the vagaries of China's business and government actors as institutional money moves to match index weightings.
The larger picture is more likely bullish. The Chinese economy is growing at rate in excess of 6% annually. Its companies are getting larger and more of its ownership is being released to the public markets. The actual rate of growth of its stock markets is too high to ignore. Within the few short years, we may be as interested in the results of the Shanghai stock exchange as the NYSE.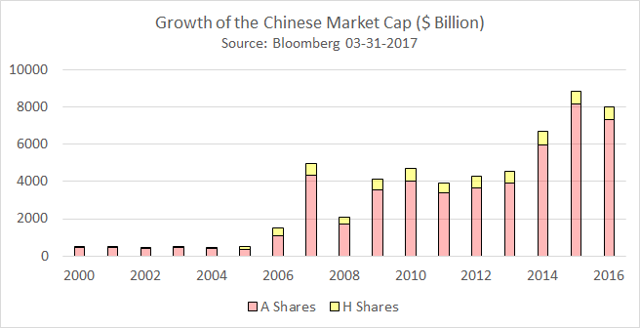 Disclosure: I am/we are long GXC.
I wrote this article myself, and it expresses my own opinions. I am not receiving compensation for it (other than from Seeking Alpha). I have no business relationship with any company whose stock is mentioned in this article.