The Buy Thesis
Industrial Logistics Properties (ILPT) is a deep value play on the industrial REIT space. Its FFO multiple is deeply discounted to peers largely on the basis of being run by RMR (NASDAQ:RMR) which is perceived (perhaps rightfully) to be self-interested rather than working in the best interest of shareholders. The properties, however, are premium quality with a majority located on Hawaii where there is a shortage of logistics facilities. We see a fair value of $27.50 or about 30% upside from today's price and a recent index inclusion could help catalyze its price realization.
Let us begin with a look at the property portfolio.
Distribution And Land
As of 3/31/18, ILPT owned 28.5mm square feet with 16.8mm of them in Hawaii and the rest on the mainland of the US. In all, these properties have average rent per square foot of $5.69 which compares nicely to peer industrial REITs. Most of the Hawaii properties are land which they lease out through long contracts to tenants who operate industrial distribution properties built on the land. The mainland properties are more akin to the traditional industrial REIT in that ILPT directly owns the buildings and leases them out to tenants.
ILPT's largest tenant is Amazon (NASDAQ:AMZN), coming in at 10.2% of rental revenues.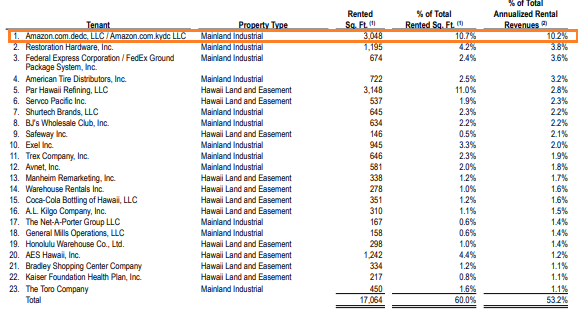 Source: ILPT supplemental
Otherwise, ILPT's tenant base is fairly diversified with no other tenants over 4%. We believe ILPT's properties have significant organic growth potential.
Leasing Upside
ILPT's leasing potential is so far being obscured by mediocre headline numbers, but the value will be revealed as heavier leasing volumes hit in coming years.
If one were to look at the first quarter's same-store NOI growth, it appears to be fairly average.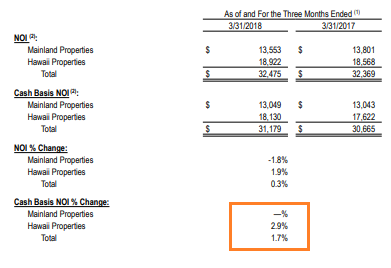 Source: ILPT Supplemental
A cash same-store NOI increase of 1.7% is fine, but not all that impressive for an industrial REIT. I think this headline figure has left many uninterested in ILPT which could be why its price has continued to languish after the report.

Source: SNL Financial
The headline same-store NOI number hides the leasing potential as only a tiny portion of leases were up for renewal in 1Q18, so the changes were diluted over a relatively large denominator that is the same-store pool.
If we look at the actual leasing rather than the same store NOI, it tells a different story.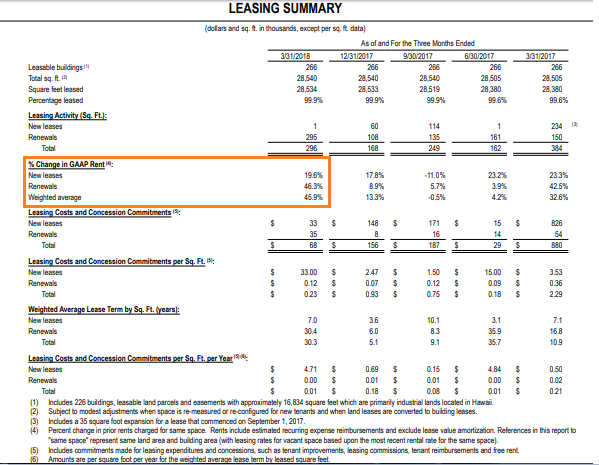 Source: ILPT Supplemental
GAAP rent on new leases and renewals increased an average of 45.9%.
That is one of the highest rollups we have seen in industrial REITs or any other REIT sector for that matter.
This simply did not show up significantly in same-store cash NOI because only 296,000 square feet were up for renewal in the quarter or just over 1% of the portfolio.
For these reasons, the favorable leasing spreads will likely not show up in 2018 as the entire year is light on lease turnover.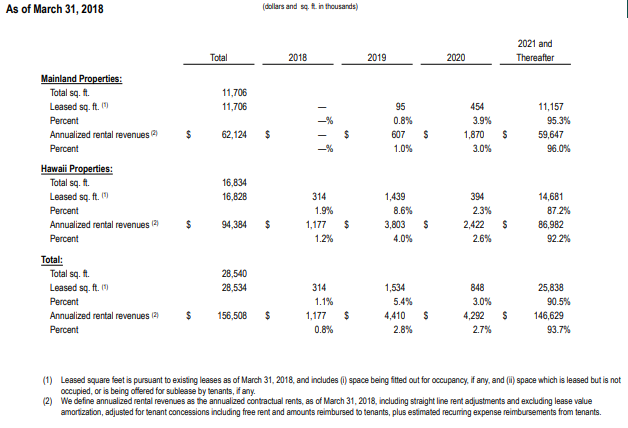 Source: ILPT Supplemental
However, starting in 2019, I believe the big impact will be seen. 8.6% of the Hawaii square footage rolls in 2019 and this is where the big rollups are coming. As stated on the conference call, management believes the Hawaii leases can rollup roughly 30%.
The mainland leases are closer to market and will not share the massive rollups. Fortunately, there is no mainland turnover in 2018 and only 0.8% of mainland square footage comes due in 2019. Thus, the 2018 and 2019 leasing numbers will be dominated by the Hawaii portfolio and the results are likely to be impressive.
Since the 2019 turnover is sizable relative to the overall portfolio, it will have a material impact on the bottom line. We are anticipating 5-10% organic FFO/share growth in 2019 from this leasing activity.
In addition to the organic growth, ILPT has significant external growth potential, but to give the external growth context, we must first cover the related risk.
Major Risk Factor
RMR has a history of misalignment which causes most RMR controlled REITs to trade at discounts to peers. They have in the past shown a tendency to grow for the sake of growth, even when it is not accretive to shareholder value. Quite simply, their contract is set up in such a way that size of the company is the primary source of their revenues, rather than performance. Thus, the bigger the REIT, the more they get paid.
External growth will likely be a continuous factor at ILPT whether or not it is accretive. Therefore, it behooves us to look at the potential accretion or dilution of external growth.
Temporary Alignment
While I continue to be skeptical of the management practices of RMR, there presently exists an odd situation in which the economic incentives of RMR will, in the near and medium term, cause management to work in the best interest of shareholders.
With regard to one of these items, presently ILPT is significantly under-levered with debt to EBITDA of only 2.9X.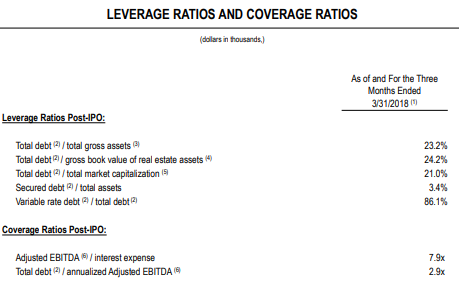 Source: ILPT supplemental
Industrial REITs typically run around 5x to 6x and ILPT's leverage target is 5.5x as stated on the 1Q18 conference call.
According to John Popeo, ILPT's COO, taking on an extra $400mm in debt would take this leverage to 5.3x. On the call, they declared intention to take on about $400mm in debt and use it to buy logistics facilities at cap rates around 5.5%.
As this debt would go on, the LIBOR+ 130 credit facility it would cost about 3.3% or maybe in the low 4% range if we bake in some interest rate increases. Longer term, industrial facilities are capable of securing fixed rate mortgages in the mid 4% range.
Acquisitions of this nature are accretive to FFO/share immediately and in the long run. This will be a significant growth lever over the coming quarters. I cannot speak to the accretion of external growth in the distant future because cap rates and cost of capital multiple years from now are not known, but it appears that acquisitions will be significantly accretive in the next 2 years.
When this accretion from acquisitions is combined with the lease rollups that seem to be available in the Hawaii portfolio, ILPT has impressive bottom line growth potential. The growth potential is not yet baked into the market price as we intend to demonstrate in the following section.
Valuation
ILPT is dramatically cheaper than peers on a P/FFO, P/AFFO, and P/NAV basis.

Source: SNL Financial
At 13.2x 2018 S&P Capital IQ consensus FFO, ILPT is the second cheapest with only Plymouth (NYSEMKT:PLYM) and STAG (NYSE:STAG) in the same range. The average industrial REIT trades above 20x FFO, so this discount is sizable. In terms of AFFO, ILPT is the cheapest coming in at 14x.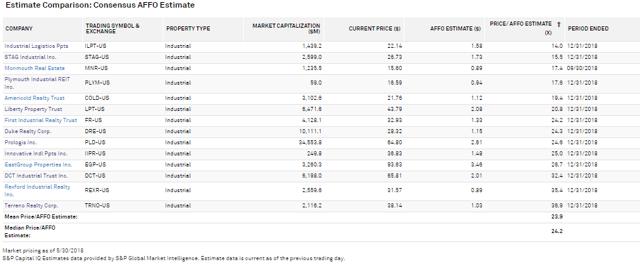 Source: SNL Financial
This is fully 10 turns cheaper than the average industrial REIT.
Finally, ILPT is the most discounted on a NAV basis, trading 27% below the estimated value of its assets.

Source: SNL Financial
I think such a discount is inappropriate for 2 reasons:
ILPT's leverage is exceedingly low, with current debt-to-assets of just 23%. Most industrial REITs are closer to 40% to 60% on this metric. Mathematically, companies with lower leverage should trade at higher multiples because the low leverage can be converted into FFO growth (which is what the company plans to do). Additionally, the lower leverage makes the investment a bit safer which can also translate into a higher multiple. Ceteris paribus, leverage has no impact on the value of a company, but it does impact the FFO multiple. Low leverage translates to higher multiple and vice versa.
ILPT's assets are of extremely high quality. Average rent per square foot of $5.69 places ILPT among the highest of the industrial REITs. Further, the Hawaii land portfolio is a trophy level asset that cannot be replaced. These assets were acquired around a decade ago and similar assets are simply not available for purchase today. Land in regions of land scarcity has a long history of appreciating both in value and the rent it can generate. Further, land has significantly lower capex than other industrial assets.
Based on the assets and current capital structure, Industrial Logistics Properties should trade around 22X forward FFO. Adjusting for the $400mm of additional leverage ILPT is planning to take on, its normal multiple would be closer to 20X, but that would be on a higher FFO figure. With a 150 basis point spread between the cost of debt and acquisition cap rates, this $400mm of leverage would generate incremental FFO of $6mm or about $0.09 per share. Whether we use the 22X multiple on the current capital structure or the 20X multiple on the levered-up capital structure with higher FFO, the result is about the same; ILPT is trading drastically below the value of its properties.
However, as previously mentioned, this is an RMR run company. I think ILPT will continue to trade at a discount to peers and rationally it should trade at a discount to peers as misalignment is a significant and perpetual problem. The question is, what is the appropriate magnitude of discount?
Well, we can start by looking at the RMR managed REITs to get a sense for how discounted they typically trade. On average, the other RMR managed REITs are trading at 83% of NAV.

With ILPT at 70% of NAV, it is significantly more discounted than the others.
I think it should be less discounted than peers because of the temporary alignment detailed earlier in this article. In the near and medium term, management will actually be increasing value at ILPT which is not necessarily true of the other RMR REITs.
Thus, I would argue that it should trade at about 90% of NAV or about $27.50. This is still massively cheaper than industrial REIT peers in FFO, AFFO, and NAV valuation metrics, and I think it would be the appropriate level of discounting for misaligned management.
This represents about 30% upside from today's price, and we see a near-term catalyst that could help the market price get up there.
Float Amplification Of ETF Buying
When a new REIT comes out, whether by IPO or spinoff, it takes a while for indices to pick them up. At a market cap of $1.4B, ILPT is well over the threshold to be included in ETFs like the VNQ or passive funds like Blackrock. These passive vehicles usually are designed to track the REIT index so as to mirror its returns. While various indices are tracked, the most notable is the long-running MSCI US REIT Index or RMZ.
As of market close on 5/31/18, ILPT was added to the RMZ. This is functionally a green light for the passive funds and index-based ETFs to buy ILPT. To estimate the impact on ILPT, we can look at its closest peer in terms of market cap, Monmouth.
As seen below, 10% of MNR's shares are owned by Vanguard and another 8.6% by Blackrock.

Source: SNL Financial
These ownership levels are typical of most mid-cap REITs. Note, however, that there are also active components of Vanguard and Blackrock that get lumped in on these ownership lists. Generally, each of the fund families will own about 6% passively for a total of 12% passive fund ownership.
Thus, we anticipate Vanguard and Blackrock will each own about 6% of ILPT in the near future. So far, Vanguard has only 2.5% and Blackrock has an immaterial number of shares.

Source: SNL Financial
We see it as likely that approximately 9.5% of ILPT's shares will soon be bought by ETFs and other index-tracking funds.
Ordinarily, this is a sizable demand generator that can often bolster a company's stock price. We see this impact being amplified for ILPT because its float is so small relative to its market cap. Nearly 70% of outstanding shares are owned by RMR's other vehicle, Select Income REIT (SIR). These shares will potentially be held forever as a means of making ILPT immune to activism as RMR has already done with a large SIR ownership in GOV. Thus, the float is only about 30% of shares outstanding. That means the ETFs and other index funds will be buying about 1/3 of ILPT's float in the coming weeks/months.
Demand of this magnitude will create a huge upward force on ILPT's market price.
The Bottom Line
Industrial Logistics Properties Trust represents the only publicly traded REIT with trophy level industrial assets that are trading at an attractive valuation. We see 30% upside to fair value and this fair value includes a risk adjustment for management. The assets are worth significantly more.
Disclosure: 2nd Market Capital and its affiliated accounts are long ILPT, PLYM, STAG, and GOV. I am personally long ILPT, PLYM, STAG, and GOV. This article is provided for informational purposes only. It is not a recommendation to buy or sell any security and is strictly the opinion of the writer. Information contained in this article is impersonal and not tailored to the investment needs of any particular person. It does not constitute a recommendation that any particular security or strategy is suitable for a specific person. Investing in publicly held securities is speculative and involves risk, including the possible loss of principal. The reader must determine whether any investment is suitable and accepts responsibility for their investment decisions. Dane Bowler is an investment advisor representative of 2MCAC, a Wisconsin registered investment advisor. Commentary may contain forward-looking statements which are by definition uncertain. Actual results may differ materially from our forecasts or estimations, and 2MCAC and its affiliates cannot be held liable for the use of and reliance upon the opinions, estimates, forecasts, and findings in this article. Positive comments made by others should not be construed as an endorsement of the writer's abilities as an investment advisor representative.
Disclosure: I am/we are long ILPT, STAG, GOV, PLYM.
I wrote this article myself, and it expresses my own opinions. I am not receiving compensation for it (other than from Seeking Alpha). I have no business relationship with any company whose stock is mentioned in this article.