Although the Philadelphia Semiconductor Index (SOX) wasn't able to close at a new high on Monday, it came very close (within 2%). While the index wasn't able to take out its March highs, it remains up 14% YTD and comfortably above its highs from January when the overall market peaked.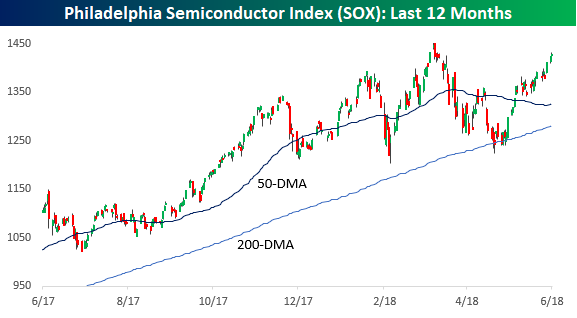 The table below breaks down each of the components of the SOX index and how they have performed so far this year. Topping the list is Micron (NASDAQ:MU), which had one of its best months on record in May and is now up over 45% on the year. Right behind MU, lesser-known SMART Global (NASDAQ:SGH) is up just over 45% as well. Not bad for just over five months. Rounding out the top five, Advanced Micro Devices (NASDAQ:AMD), Nvidia (NASDAQ:NVDA), and Mellanox Technologies (NASDAQ:MLNX) are all up over 30%.
Going through the list, it's pretty amazing how well the stocks in this group have done this year, especially when you consider that the broader market is only up a couple of percentage points. On the downside, just three stocks in the group are in the red for the year.