Market Intro


CNBC: 10:25 AM EST
US stocks (SPY, DIA, QQQ, IWM) are off to a promising start in Tuesday morning action, coinciding with modestly positive European and Asian sessions (ACWX). The Russell 2000 and Nasdaq continue to act as pace setters, while the S&P and Dow are still down 5-10% from their respective all-time highs (not adjusted for dividends).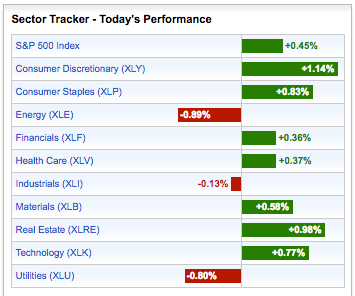 Monday offered a positive profile for stock investors. Over the past couple of weeks, energy (XLE) has had a pretty strong negative correlation both to the interest-rate sensitive utilities (XLU) and real estate (XLRE) sectors. The firming of the dollar and rates creates potential for this pattern to reverse.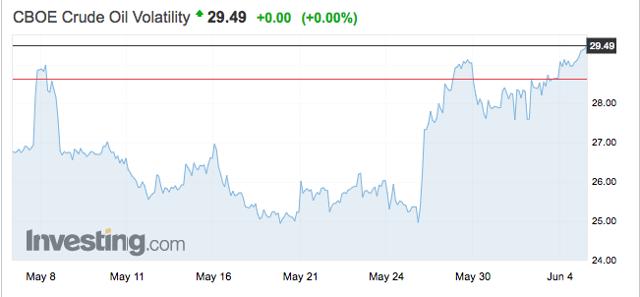 The WTI-Brent spread is getting quite wide at the same time that the Oil VIX is blowing out to the high end of its one-year range (approximately 17 to 34). Those who look to trade vol across products may currently find a better fit in the oil space.
Thoughts On Volatility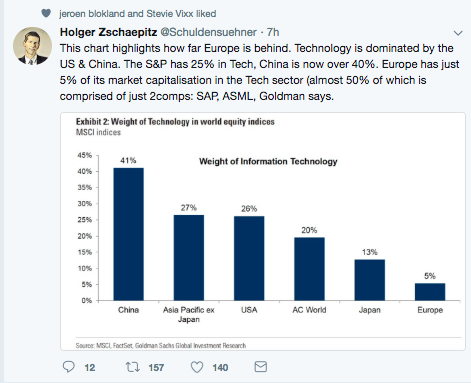 5% really is quite low. Technology does move rapidly across borders, so as long as innovation is coming from somewhere, it likely does not so much matter where. Furthermore, the US tech sector draws talent from across the globe, including Europe. Finally, one can argue that tech is far too heavy a component in some of the larger markets: in its purest sense, Technology is a sector that exists to serve the other sectors (much like Finance really). You can only outgrow your customers for so long. Still, add this to the fix list for Europe!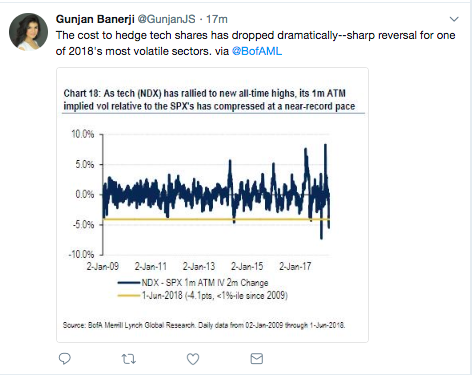 … with good reason. Back in March and April, big tech names (Amazon (AMZN), Google (GOOG) (NASDAQ:GOOGL), Apple (AAPL), Facebook (FB)) were truly leading stocks lower across sectors. Given how large their collective market caps are, this made pretty good sense. Now, however, the tech majors have calmed considerably after an extremely strong earnings season for this group. This has arguably been one of the large drivers for vol getting spanked for the S&P, which is obviously much less tech heavy.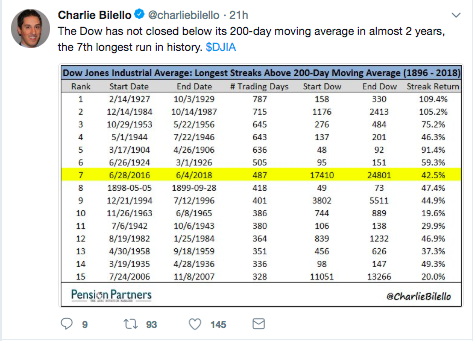 There's a big difference between what is likely to happen vs. what cannot happen. I find Mr. Bilello's chart above to help instruct on this point. On the one hand, the stretch that the Dow is on is quite impressive, but there truly have been more impressive streaks: we'd still need to go 300 trading days to break the overall record. On the other hand, look at spots number 1 and 2… anything grab you about those dates? Even the bottom spot, 7/24/06 to 11/8/07, warn that just because things are going hunky dory for an extended patch by no means signifies that investors should not be using such periods of strength to sell.
Term Structure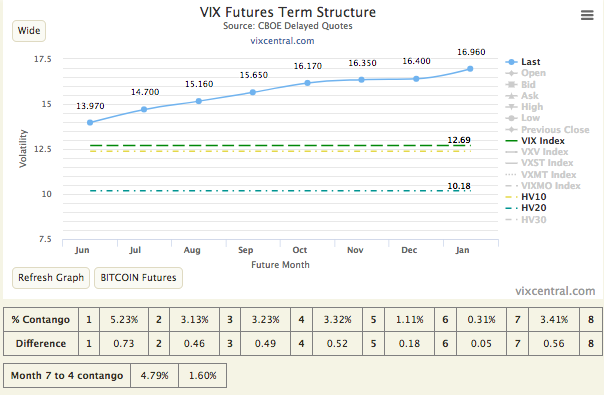 10-day HV has gotten quite a bounce from the level of around 8 that it sported a couple of weeks ago. The larger problem for those long vol (VXX, UVXY, TVIX) is that the VX futures is hanging out well above the spot VIX, which leads to negative roll yield. M1 is fully 10% higher than spot VIX at the present, with two weeks until the final full day of trade. If stocks can brush past bad headlines, as they have managed, it becomes quite difficult to support a long vol position.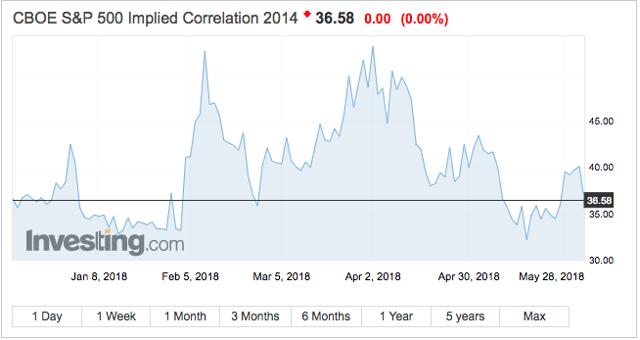 Implied correlations are a major part of what drives the VIX. The index can certainly improve between now and when it rolls over to the next year's indicator in mid November. Keeping an eye on the sector SPDRs just to see how large blocks of stocks are or are not co-moving can give one a helpful intuition as to why such an index can be helpful. I don't think that vol shorts (SVXY) are too likely to get that much more help from this driver of volatility.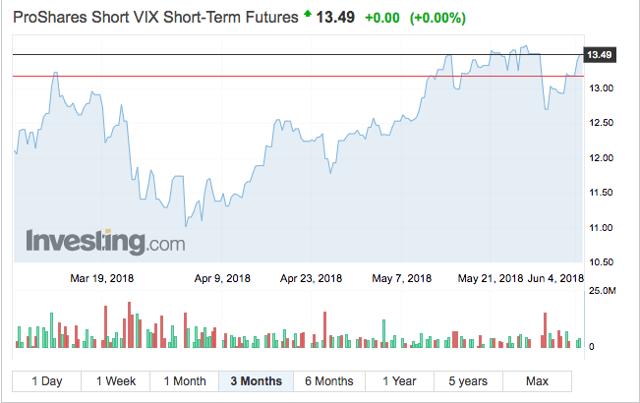 Next week will close out the June ES contract, the quad witching. We are currently within half a percent of where the S&P closed out the March contract. SVXY has endured somewhat more volatility, but is prepping to close up about 10% higher over the same period. Even though the deleveraging of the ETP in late February was horribly executed, the decision itself was likely beneficial to the risk-return profile on the product.
Conclusion
If this is your first time reading Market Volatility Bulletin, thanks for giving it a try. If you're a regular, we thank you for your ongoing contributions in the comments section.
Thank you for reading.
Please consider following us.
Disclosure: I/we have no positions in any stocks mentioned, and no plans to initiate any positions within the next 72 hours. I wrote this article myself, and it expresses my own opinions. I am not receiving compensation for it (other than from Seeking Alpha). I have no business relationship with any company whose stock is mentioned in this article.
Additional disclosure: I actively trade the futures and options markets, potentially taking multiple positions on any given day, both long and short. I also hold a more traditional portfolio of stocks and bonds that I do not "trade". I do believe the S&P 500 is priced for poor forward-looking returns over a long timeframe, and so my trading activity centers around a negative delta for hedging purposes.