Lowell Miller's The Single Best Investment
Many Seeking Alpha readers are familiar with Lowell Miller, who founded Miller/Howard Investments in 1984. His book, The Single Best Investment: Creating Wealth with Dividend Growth, was published in 1999. I was introduced to Lowell Miller's work on Seeking Alpha by Bob Wells and Chowder, who cites Miller as the inspiration for what's known as "the Chowder Rule." I'll say more (below) about how Seeking Alpha contributors have been interfaced with Miller and his associates, but I want to share a recent interview with Greg Powell, a member of the Miller/Howard team.
An interview with Greg Powell
Gregory L. Powell is focusing on Miller/Howard's Income-Equity portfolios. For 19 years, he was a senior portfolio manager and director of research at AllianceBernstein. For 12 years, Greg was with General Motors (NYSE:GM) in Detroit and São Paulo, Brazil, as a senior economist and then as general director of market research and forecasting. Greg holds a BA in Economics/Mathematics from the University of California, Santa Barbara, and an MA and Ph.D. in Economics from Northwestern University.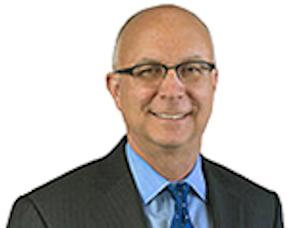 (Photo of Greg Powell from Miller/Howard Investments)
DS:
Greg, many people in the Seeking Alpha community have been influenced by Lowell Miller's book, The Single Best Investment, particularly his suggestion to focus on companies with a S&P credit rating of BBB+ or better. What is your most important takeaway from Lowell's investment philosophy?
Greg:
My favorite concept from Lowell's book is the idea of accepting 'bouncing principal.' Stock market fluctuations can be worrying to clients and a big part of a portfolio manager's job to address those concerns. But frankly with my own money, I don't pay much attention. If you are a long-term investor and you don't believe in market timing, then you just have to inure yourself to bouncing principal.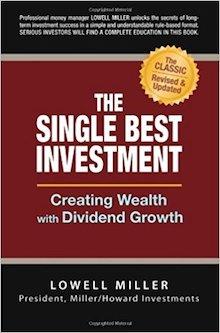 (Graphic from Miller/Howard Investments)
DS:
Your firm sees interest rates rising in coming years and you have some clear investment ideas in light of that expectation. Some Seeking Alpha contributors and readers have avoided REITs and utilities because they, too, see higher rates in the future. What's your view of REITs and utilities?
Greg:
REITs and utilities pay dividends and many manage to grow dividends over time. From an absolute return basis, these sectors should provide a return to investors. The problem is that they tend to trade as bond proxies. Similar to bonds, these stocks will tend to trade down if interest rates go up. They can have a place in a diversified portfolio. For any number of reasons, including trade wars, shooting wars or a messy end to the euro, bonds and bond proxies could provide as safe haven. Over the long term, being cautiously optimistic has led to better returns than having an overly pessimistic outlook. In that sense, we prefer stocks with growth potential over bond proxies.
DS:
You've also expressed concern about the consumer staples sector. Do you consider these stocks as bond proxies? How would higher rates hurt the consumer staples?
Greg:
Yes, consumer staples are bond proxies. Another issue with consumer staples is a lack of overall growth. Many of the categories are facing tepid or even falling demand - consider cigarettes, soft drinks and canned soup. Many consumer staples companies prospered for years on regular price increases - the most obvious being razor blades. Pushback from consumers and emerging low-priced competition should not be a surprise when price is the only strategy. We much rather find industries with growing volume demand such as technology and financials.
DS:
Say more about the technology and financials sectors.
Greg:
Interest rate sensitivity works in both directions. Banks and life insurance companies typically benefit from rising rates. Bank loans reprice either automatically or when the term is up. Life insurance companies can roll their bond portfolios at higher rates, while their policy liabilities stay fixed. What's important is that investors are comfortable with their overall exposure to interest rates. Simply put, if you like the individual stories behind the stocks you own, you still need to be aware of how they might trade as a group if interest rates move significantly. If you don't want your portfolio to be just one giant bet on interest rates, it's best to balance your portfolio with some stocks that will benefit from higher rates.
DS:
Within your broad universe, can you give us a few examples of companies in the traditionally defensive sectors that you think are worth a look?
Greg:
Stocks that are either cheap or have good growth prospects can still do well despite rising rates. AES Corp. (AES) is a good value idea from the utility sector. AES has been overly complicated and risky for years, but management is moving aggressively to simplify their footprint, pay down debt and cut costs. In the first quarter AES sold their Philippine assets for $1 billion, reduced debt and achieved a credit upgrade. The stock sells for 10x forward earnings and should earn a higher multiple as the company continues to derisk its business. In the meantime, investors enjoy over a 4% dividend yield.
The other way to avoid the bond proxy label is to grow. Digital Realty Trust (DLR) pays a 3.7% yield and has a strong tailwind from the strong growth in demand for data center space.
DS:
I'm not a tech-oriented person, so I was slow to introduce tech stocks to my dividend portfolio. But, at one point several years ago I saw that Cisco and Qualcomm had joined IBM in providing a dividend that was competitive with the traditional sectors that have been popular for dividend investors. You've indicated that tech stocks should be part of a dividend portfolio. Say more.
Greg:
Mature technology companies offer excellent prospects for both yield and growth of yield. Fluctuating demand for personal computers and mobile phones used to make this a highly cyclical sector. It's hard to rely on a stream of dividends that's dependent on nailing the "next big thing." The industry has now diversified dramatically and become more stable in aggregate. Currently, smartphone sales are soft but demand for industrial and automotive chips is hot and overall our tech investments have performed well.
Management teams at some leading tech companies have acknowledged the industry's new found stability by announcing large dividend increases. We expect companies with defensible market positions, strong cash flow and minimal capital spending requirement to continue increasing dividends.
For the non-tech oriented dividend investor, KLA-Tencor (KLAC) provides an excellent opportunity. KLAC is the leading provider of process control equipment for the global semiconductor industry. They sell to all the leading chip makers around the world. You don't need to have a view as to how the tech industry will evolve in the future to like KLAC. You simply need to believe that the future will involve more semiconductor chips. Investing in KLAC is analogous to getting into the pick and shovel business as the Gold Rush was taking off. KLAC has a 13x forward P/E, yields 2.6% and has a history of aggressive dividend increases.
DS:
What's attractive to you now in the financials sector?
Greg:
Regional banks are very attractive, especially those with assets below $250 billion due to recently passed legislation to reduce regulation. Regional banks should benefit both from higher demand for loans and higher interest rates. As rates rise, they will have to pay more on deposits but historically rates on loans have risen faster than deposit rates. The loans are almost entirely domestic, so other than some trading volatility, there should be no link to troubles in Europe.
In insurance we own both Aegon (AEG) and Old Republic (ORI). Aegon is an especially interesting idea as it sells well below book value. Transamerica is its largest division, so it's more American than Dutch from an operating perspective. Both Aegon and Old Republic will do best if both equity markets and interest rates go higher, making them good potential diversifiers for portfolios dominated by bond proxies.
DS:
Thank you, Greg. You've given us some ideas beyond the familiar names we dividend investors tend to discuss.
Seeking Alpha's interface with Miller and his associates
Lowell Miller hasn't written an article for Seeking Alpha but his work is referenced here often, including this book review:
Book Review: The Single Best Investment--Creating Wealth With Dividend Growth by Canadian Dividend Growth Investor, March 2014.
Several years ago, Miller/Howard developed an index for master limited partnerships that meet particular criteria for distribution growth, distribution coverage and capital expenditures. They worked with Citigroup (C) to market an exchange-traded MLP note, the C-Tracks Miller/Howard MLP Fundamental Index ETN (MLPC):
Here's an interview with Lowell Miller published on Seeking Alpha:
Several Seeking Alpha articles have appeared about the closed-end Miller/Howard High Income Equity Fund (HIE), including two articles by Stanford Chemist:
Left Banker has written several articles about HIE, including most recently:
Finally, there was this early article about HIE:
My takeaways as a dividend investor
The key takeaway for me from The Single Best Investment is Miller's recommendation that one stick with companies that have a Standard & Poor's credit rating of at least BBB+, and "A if you can get it."
Miller's concept of "internal compounding" reflects the power of growing dividends, which can provide the bulk of the return in a stock that pays steadily growing dividends over time.
The "bouncing principal" concept (cited above by Greg Powell) is a reminder that while the market price fluctuates, the key factor to keep in mind for dividend investors with a long-term horizon is whether the company is producing steadily growing dividends (along with growing cash flow and profits).
From the interview with Greg Powell, I've added some stocks to study for my watchlist, including:
AES Corp.
KLA-Tencor
Aegon
Old Republic
I welcome your opinion. Your comments enrich our discussion. I always learn from our Seeking Alpha conversations.
It's not my intent to advocate the purchase or sale of any security. My purpose is to offer ideas for stocks to study and to share a journal of my effort to design and build a retirement portfolio that puts a priority on relative safety, a history of dividend growth and solid future prospects. Your goals and risk tolerance may differ, so please do your own due diligence.
If you are not yet a follower, I invite you to click the "Follow" button at the top of the page. After you click "Follow," you can check "Get Email Alerts," and you will receive an email when an article is published.
Disclosure: I am/we are long JNJ, MSFT, XOM, AAPL, WMT, ADP, PFE, MRK, PG, MMM, CSCO, RY, NWN, PEP, TXN, KMB, QCOM, SPG, CLX, PPL, WEC, T, NNN, O, SKT, EPD, BEP, VTR, BCE, WPC, VTI, VEA, VWO, VYM, VYMI, VOE, VBR.
I wrote this article myself, and it expresses my own opinions. I am not receiving compensation for it (other than from Seeking Alpha). I have no business relationship with any company whose stock is mentioned in this article.