It is really useful to be reminded of your errors. I think Warren Buffett and I are pretty good at that. We do kind of mentally rub our own noses in our own mistakes. And that is a very good mental habit. - Charlie Munger
Trading Analytics
Welcome to the edition of Integrated BioSci Rounds Report for June 04, 2018. As usual, we'll elucidate notable trading analytics for the day, recent insider transactions, and interesting market developments. Without further ado, let's take an overall assessment of the bioscience space. As follows, the iShares of NASDAQ Biotechnology Index (NASDAQ:IBB) traded down $0.71 (-0.65%) at $109.13. Moreover, the SPDR S&P Biotech (NYSE:XBI) exchanged hands $0.21 lower at $96.19 (for +0.22% losses). It's likely that investors were trading with an overall negative sentiment for the day. Regardless of the daily inclination, there are substantial prospects in the bioscience sector: one that delivers hope for patients while rewarding supporters with substantial wealth in the long haul.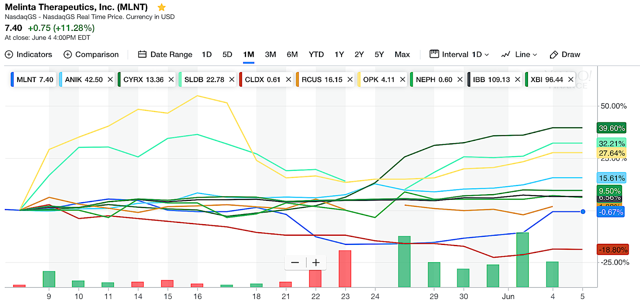 Figure 1: Notable BioSci movers (Source: Yahoo Finance)
Moving to specific equities, Melinta Therapeutics (NASDAQ:MLNT) won the highlight spot of the day. Accordingly, the stock appreciated by $0.75 to close the session at $7.40 for more than 11.2% profits. Melinta is a merger between Cempra and a private firm that is operating out of Chapel Hill, North Carolina. With plenty of cash, the company in-licensed three excellent antibiotics (Vabomere, Orbactiv, and Minocin IV) - from The Medicine Company (NASDAQ:MDCO) - for co-launching with its FDA-approved antibiotic delafloxacin (Baxdela). The aforesaid commercialization created the synergy for a more robust launch as well as the operating costs reduction.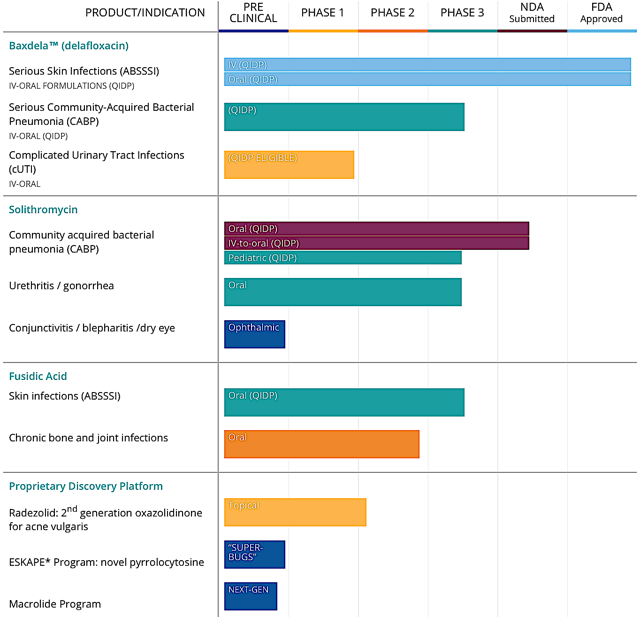 Figure 2: Therapeutic Pipeline. (Source: Melinta Therapeutics)
On May 31, 2018, Melinta disclosed that the company will demonstrate the breath of commercial and clinical program in 20 different presentations at the American Society for Microbiology's annual ("ASM") Microbe 2018 meeting: this will be held from June 7-11, 2018, in Atlanta, Georgia. The upcoming presentation will entail pharmacoeconomic analyses of Vabomere and Orbactiv. The analyses will present the rising incidence of gram-negative infection in skin and skin structure infections ("SSSIs"). And, it will suggest the changes to empiric therapy that may be considered to improve outcomes. Moreover, the company will feature the different molecules in development (gearing toward the treatment of bio-threats, i.e. Yersinia pestis (plague) and Bacillus anthracis (anthrax).
Like other infectious disease innovators - Cidara Therapeutics (NASDAQ:CDTX), Achaogen (NASDAQ:AKAO), and Paratek Pharmaceuticals (NASDAQ:PRTK) - featured in our Specialty Report, Melinta shares have been trading on a downtrend despite its strong fundamentals. Be that as it may, Philip Fisher stated that the market quotation of the stock will appreciate over time to match its intrinsic value 90% of the times. We expect that the company will post earnings improvement in the next quarter. Moreover, the clinical outcomes for other molecules in development should be quite favorable.
Insider Transactions
In monitoring insider transactions, one should analyze the data with a grain of salt. That being said, we wish to share with you insight from the former Fidelity-Magellan Manager (Peter Lynch): "Insiders might sell their shares for any number of reasons, but they buy them for only one, they think the price will rise." As featured in table 1, the interesting transactions came from Novavax (NASDAQ:NVAX). On May 15, 2018, the President of R&D (Gregory Glenn) purchased 20.0K shares for $32.8K and thereby increased his ownership to 47.2K shares. On the same day, the SVP, CBO, and CFO (John Trizzino) accumulated 50.0K for $81.9K, thus increasing his stake to 139.9K counts.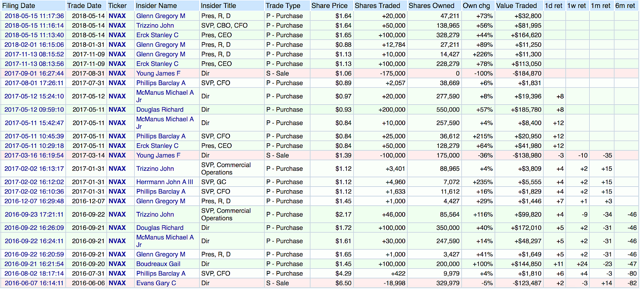 Table 1: Notable insider transactions (Source: Openinsider)
Headquartered in Gaithersburg, Maryland, Novavax is a clinical-stage bioscience focusing on the development and commercialization of the next-generation vaccine to address various infectious diseases. In harnessing the power of the innovative recombinant nanoparticle vaccine technology, the company can produce vaccines to efficiently and effectively respond to both known and emerging disease threats. As genetically engineered three-dimensional nanostructures, these molecules incorporate recombinant proteins critical to disease pathogenesis. As shown in figure 3, the developing vaccines target a variety of infectious diseases, including respiratory syncytial virus, influenza, Ebola, and other infectious pathogens. Of note, the stock is quite volatile. Whether the share will trade higher going forward remains. The fact is that the insider purchases warrant a consideration by investors.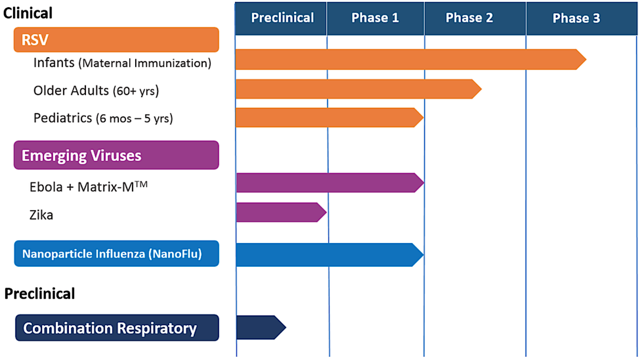 Figure 3: Medicinal pipeline (Source: Novavax)
Bioscience Catalysts
On June 04, 2018, the FDA approved pegfilgrastim-jmdb (Fulphila) of Mylan (NASDAQ:MYL), as the first biosimilar to pegfilgrastim (Neulasta), for the prevention of infections relating to febrile neutropenia. As fever due to the low number of white blood cells (responsible for fighting infection), febrile neutropenia is often associated with other signs of infections. And, it usually tends in patients with non-myeloid (non-bone marrow) cancer, who are receiving myelosuppressive chemotherapy. Commenting on the development, the FDA Commissioner (Dr. Scott Gottlieb) stated,
Bringing new biosimilars to patients is a top priority for the FDA, and a key part of our efforts to help promote competition that can reduce drug costs and promote access. We'll continue to prioritize reviews of these products to help ensure that biosimilar medications are brought to the market efficiently and through a process that makes certain that these new medicines meet the FDA's rigorous standard for approval. This summer, we'll release a comprehensive new plan to advance new policy efforts that promote biosimilar product development. Biologics represent some of the most clinically important, but also costliest products that patients use to promote their health. We want to make sure that the pathway for developing biosimilar versions of approved biologics is efficient and effective, so that patients benefit from competition to existing biologics once lawful intellectual property has lapsed on these products.
The aforesaid catalyst has several ramifications. One, it foretells the FDA's tireless due diligence in delivering more affordable drugs to patients. Second, it signaled the lower regulatory hurdles for eflapegrastim (Rolontis) of Spectrum Pharmaceuticals (NASDAQ:SPPI). Rolontis is an excellent drug that is most likely to gain FDA approval as a treatment for low white blood cells associated with chemotherapy. On Feb. 05, 2017, Spectrum announced the positive top-line results for ADVANCE. While the Fulphila approval also increased the chances of approval for Rolontis, it signals more competition for the latter molecule.
Final Remarks
In all, the bioscience market traded slightly down due to an overall skittish sentiment. Despite that the majority of the equities in our portfolio headed south, there were a good number of stocks that significantly appreciated. Melinta Therapeutics topped our featured list due to its robust gains, which is reflective of the improving corporate fundamentals. With the upcoming ASM presentation on June 7-11, it is not far from truth that the stock will enjoy more rally. Novavax enjoyed significant insider purchases, thus deserving a consideration by investors. Last but not least, the latest move of the FDA foretells more competitions in the biosimilar market. Ultimately, the therapeutic innovation for branded molecules (especially those servicing the orphan disease market) will deliver more value for investors.
Author's Notes: We're honored that you took the time to read our market intelligence. Founded by Dr. Hung Tran, MD, MS, CNPR, (in collaborations with Analyst Vu, and other PhDs), Integrated BioSci Investing ("IBI") is delivering stellar returns. To name a few, Madrigal, Spectrum, Atara, and Kite procured over 265%, 151%, 250%, and 83% profits, respectively. Our secret sauce is extreme due diligence with expert data analysis. The service features a once-weekly exclusive Alpha-Intelligence article, daily analysis/consulting, and model portfolios. We invite you to subscribe to our marketplace now to lock in the current price and save money for the future.
Disclosure: I/we have no positions in any stocks mentioned, and no plans to initiate any positions within the next 72 hours. I wrote this article myself, and it expresses my own opinions. I am not receiving compensation for it (other than from Seeking Alpha). I have no business relationship with any company whose stock is mentioned in this article.
Additional disclosure: Our research articles are best used as starting points in your own due diligence. We are not registered investment advisors and our articles are not construed as professional investment advice. This research on NVAX was a request from a subscriber of our marketplace service to assist our members in their own research. That aside, I like to inform readers of Seeking Alpha's recent policy change, in which the company implemented the paywall (not only to our articles but to all articles that are published over 10-day). This is in place, as the company is, after all, a business. And, the revenues from ads are not adequate to support the high-quality research that the company is providing. If you are a REAL TIME FOLLOWER, you will be notified immediately of our new research for you to continue to benefit from our due diligence. You can also gain access to all of my old articles and much more by taking the 2-week FREE trial of my marketplace, Integrated BioSci Investing.