This article finishes off the series examining the top 30 holdings in my public IMF portfolio that I write about monthly here at Seeking Alpha. In Part 1 and Part 2, we examined the investment rationale and my outlook for each of the top 21-30th and 11-20th largest holdings in the portfolio. Today, we look at the top 10, starting off with the portfolio's biggest REIT position.
#10 Public Storage (PSA) 2.6% of portfolio, 3% gain on cost basis
Public Storage is a big win in my book. Not for its 3% capital gain on the IMF's overall cost basis, but rather how well it has performed compared to REITs as a whole. Here is Public Storage (orange line) compared against the Vanguard Real Estate ETF (VNQ) and a host of popular-at-Seeking Alpha individual REITs since the IMF started buying Public Storage in late 2016: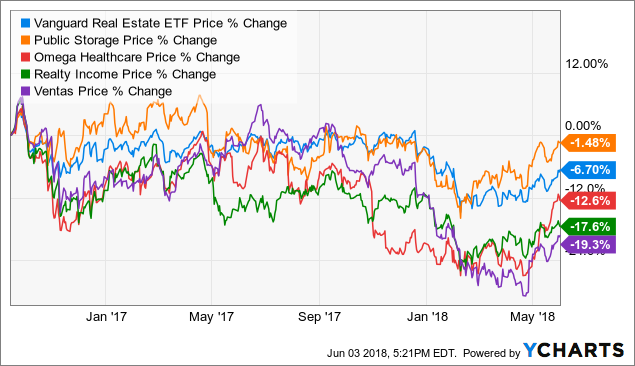 As the adage goes, the first rule is to not lose money. When heading into a sharply rising interest rate environment, for example, it makes sense to pick a REIT with the least exposure to rising interest rates possible. Public Storage, as a very rare A-rated REIT, is one of the least levered players around. That means it takes less of a hit when rates rise. On top of that, Public Storage is largely funded by preferred stock rather than traditional debt.
Preferred stock is locked in at relatively low interest rates (generally around 5% for PSA) and is never callable. That means that no matter how high interest rates go, Public Storage can keep paying its 5%/year on the preferred stock and suffer no interest rate risk. This is a huge edge against self-storage peers that will have to pay higher interest rates to refinance their debt when it comes due. Combine with Public Storage's powerful brand and industry-leading scale, and the company has a massive moat. Sure, self-storage is arguably overbuilt at the moment - but that will work itself over time. With PSA's huge edge on the funding side of the equation, I'm confident that management will keep putting up superior returns for investors - just as it has done over the past 25 years.
#9 New York Community Bancorp (NYCB) 2.6% of portfolio, 12% loss on cost basis
I laid out the full case for NYCB stock in a recent Seeking Alpha Top Idea. See that here. The executive summary is that the bank has been limited since the financial crisis to a $50 billion loan book. Any rise in assets over that threshold would have resulted in crippling levels of new regulatory compliance costs. So NYCB just treaded water, hanging back at the $50 billion asset mark and paying out large dividends to shareholders while waiting for regulatory relief.
In May, President Trump signed legislation that at last lifts the $50 billion SIFI limit. New York Community Bancorp can now return to growth, letting management - who previously put up splendid returns - work their magic once again. NYCB's loan book is incredibly conservative and took only a tiny hit during the Great Financial Crisis. Now, a well-run conservative bank yielding 5.8% and selling under book value has the chance to grow again - this should lead to nice returns for the stock in coming quarters.
#8 TFS Financial (TFSL) 2.8% of portfolio, 6% gain on cost basis
Great news out of this one last week. TFS' management announced that they are asking for a dividend waiver of a dollar per share for the coming year. Assuming it is approved (which it should be given how MHCs work), that represents a 47% dividend hike compared to last year. That's some nice dividend growth investing right there.
Due to said MHC structure, the bank comes out looking weird on financial websites with absurdly inflated PE ratios and other such metrics. Once adjusted for the phantom shares, however, the bank is selling under 10x earnings and around 50% of tangible book value. Thus, the new $1/share dividend (6.2% yield) still represents a sub-60% payout ratio. This is one of the cheapest banks in the country continuing to hide in plain sight due to investors not understanding the MHC structure.
#7 McCormick & Co (MKC) 2.8% of portfolio, 4% gain on cost basis
Let's start this off with a fun fact. Since 1991, MKC stock has traded under 18x trailing earnings exactly twice. Once for a brief period in 2001, it hit 16x, and it briefly reached the 15s again in 2008. Aside from that, MKC has constantly traded at 18x or above for the past 27 years!

Data: Gurufocus, data is faulty for 1991, 1997, and right now due to one-off earnings events.
MKC stock isn't at 16x trailing earnings now - but between the effect of the tax cut and the company's home run acquisition of RB Foods - bringing French's and Frank's Red Hot to McCormick, earnings are set to leap to $5.37/share over the next 12 months. That's up from just $3.72 for the 2017 fiscal year. It's pretty abnormal that a staid company like McCormick can get that sort of earnings leap in short a time span. Remarkably, MKC stock is up less than 10% since putting through the transformative deal for RB Foods and scoring big off the corporate tax cut, and in fact, it's down slightly since late 2016: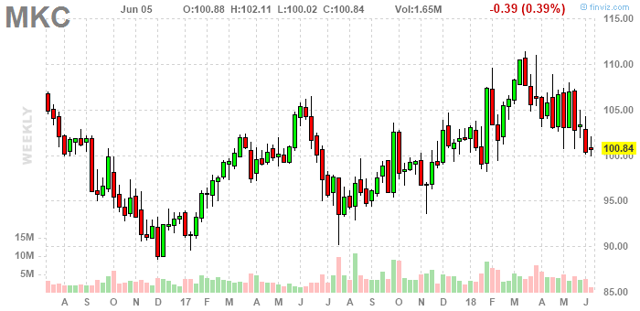 Presumably investors are asleep at the wheel here since packaged foods, as a sector, has performed miserably lately. But when earnings jump 40% in a short span, and are set to keep growing at 10%/compounded over the next five after that, it's hard to believe the market won't mark MKC stock up even slightly. Historically, MKC stock tends to gravitate to around 23x earnings - which is reasonable for such a high-quality business that earns massive profit margins and has an impenetrable moat. 23x forward earnings gets us to $124/share, and with earnings growing 10% a year, that value spirals higher in a hurry.
Don't forget that MKC is a Dividend Aristocrat, tends to hike the dividend about 9%/year compounded, and just gave us another double-digit increase for 2018. I find McCormick's current stock price baffling, and fully expect to see $125, and rather soon at that.
#6 Diageo (DEO) 3.1% of portfolio, 36% gain on cost basis
McCormick is the Diageo of 2018. That is, a really cheap large-cap defensive stock hiding in plain sight. My long-time Ian's Insider Corner subscribers probably grew tired of me rambling on about how cheap Diageo was in 2016, but hey, leading liquor companies rarely sell at sub 18x PE ratios during raging bull markets either.
At the time, the market was worried about short-term fluctuations in currencies that were hurting Diageo's apparent results, along with short-terms issues in the Chinese and Indian markets. The emerging market currency problems resolved themselves when the Dollar weakened, leading to much stronger results optically. Emerging markets have picked back up.
Combine rising earnings and Diageo's 18x PE ratio reverting to a historically more normal 24x PE ratio (liquor stocks trade at huge PE ratios normally) and here we are up almost 40% and at new all-time highs: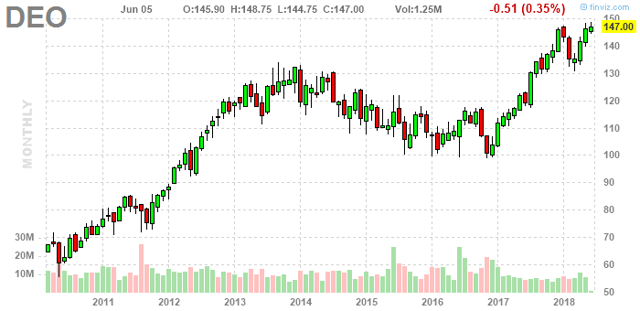 While this is far from the cheapest alcohol stock today - it's fairly priced, but not cheap - I wouldn't think of selling here. If you're looking for a classic dividend growth investment, you could hardly do better. Diageo has world-renowned brands that are recession-resistant and earn outlandish profit margins. Diageo has a long history of paying a strong and rising dividend. This sort of stock is in my "never-sell" category, buy at a cheap price and then hold on for the ride.
#5 Bancolombia (NYSE:CIB) 3.2% of portfolio, 26% gain on cost basis
I've been championing this stock for a long time at Seeking Alpha, dating back to mid-2015 - well before the creation of the IMF. My years of patience are finally paying off, as rising oil prices, a rebounding Colombian economy, and favorable political developments finally have CIB stock on the rebound.
I discussed the Colombian macro background in Part 2 of this series, so I won't repeat that here. What I will say is that Bancolombia is continuing to badly under-earn its potential, due to elevated loan losses and a near-absence of loan growth in recent quarters due to the soft economy. Once loan losses head back down and growth picks up, Bancolombia can (finally) get back to the sort of profits in made in the 2012 salad days when oil and commodities were strong. CIB stock was up in the 60s back then, so while we're way up off the lows, there's plenty of upside left. I'm aiming for a 15x PE ratio on $5 of EPS, which should be achieved on the next economic upcycle in Colombia - that adds up to a $75 price, or still more than 50% upside from today's price.
Bancolombia also is a solid Dividend Growth play - it has hiked its dividend every year (in local currency) dating back to 2001, including during the 2008-09 crisis.
#4 Hormel Foods (HRL) 3.2% of portfolio, 6% gain on cost basis
I've gone on at great length about Hormel's strengths in various past articles here on Seeking Alpha. So browse through the archives if you want the full story. The elevator pitch for Hormel is that the company is right on top of a huge trend, as consumers rotate from unhealthy high carbohydrate packaged foods to healthier and more natural foods loaded with protein and beneficial fats. Hormel has added tons to the platform via bolt-on acquisitions ranging from organic nut butters to guacamole and naturally-raised meats. This sort of stuff is especially on target, since it lines up with changing nutritional wisdom and appeals to millenials.
Combine that under the same roof as one of the NYSE's best-listed companies, as far as management teams go. Earnings are up 27 out of the past 31 years, the dividend has been hiked more than 50 years running, and so on. Due to the Hormel Foundation, incentives are aligned to produce long-term sustainable growth in profits and the dividend, rather than playing the quarterly earnings game. Additionally, the balance sheet looks great - Hormel never levered up during the cheap money days. On top of that, the stock is way down from 2016 levels and selling below its historical PE ratio. The weakness in packaged foods stocks has left this one - though an outperformer compared to its sector - still well below fair value.
#3 Grupo Aeroportuario del Pacifico (PAC) 3.5% of portfolio, 6% loss on cost basis
It's been more of a roller coaster than a stable flight for my Top Pick of 2017, PAC. I selected the stock as my top pick for the year that January, at $75/share. It subsequently went up to as high as $120 by summer, hitting my price target and looking great.
Since then, however, despite no meaningful change in the business' rate of growth, future outlook, or dividend policy, shares have tanked again: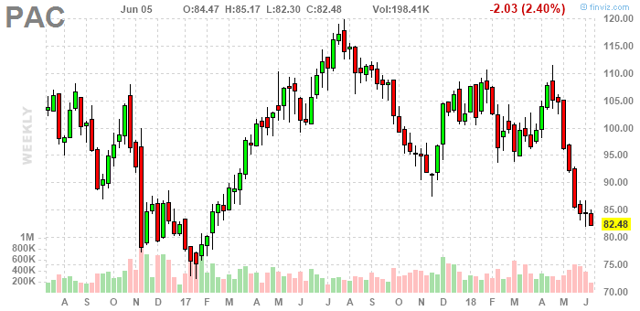 The blame, instead, goes to the same factors I've discussed with other Mexican holdings. A left-winger is highly likely to win Mexico's presidential election next month. Though he's softened his stances substantially compared to past runs of the presidency, foreign investors are still quite nervous. Throw in uncertainty around NAFTA, and economic panics in Argentina and Brazil, and a lot of foreign money is pulling out, feeling that it's better to be safe than sorry.
In my view, they're seriously missing out, at least as far as PAC goes. As I explained last year, the stock was worth $120+ then. And, so far, year-to-date, total passenger traffic is up 12% versus this time last year, with domestic up 17% and international up 7%. That's way ahead of the bearish scenarios we were hearing when the stock was down last year on Trump panic. Yet, the stock is hardly above the inauguration levels despite ongoing strong fundamentals.
#2 Grupo Aeroportuario del Centro Norte (OMAB) 3.6% of portfolio, 4% loss on cost basis
Staying on that topic, we get to the IMF's number two holding. Originally, I had intended for PAC to be the largest of the three Mexican airport operator positions. However, a deep discount on OMAB stock caused me to add more to this position. OMAB, which runs the NAFTA-industrial centered Monterrey airport, along with other airports near the Mexico-US border, has traded worst of the three since Trump fear became an issue in mid-2016.
An operator like PAC has a more ideal mix of big city (Guadalajara) and tourist-focused airports, while OMAB is more reliant on US-Mexican trade relations not breaking down. However, I'm fairly confident in that, regardless of short-term political noise. If anything, Canada has been the bigger stumbling block in the latest round of NAFTA talks, not Mexico. In any case, I'm content to collect the 4.5% dividend and watch traffic keep growing while the stock trades sideways. Its day in the sun will come soon enough.
#1 Brown-Forman (BF.B) 3.9% of portfolio, 40% gain on cost basis
This would be the seventh-largest holding in the IMF based on the amount of capital I put into it. However, it's now the largest holding overall, since shares have soared. Not a bad problem to have. Brown-Forman looks overpriced again, but that's nothing new - the stock usually screens somewhere between expensive and obscenely priced.
That said, looking purely at PE or dividend yield is to miss the point. B-F earns near 70% gross margins. That's crazy. Packaged foods companies such as General Mills (GIS) earn around 35%. Jack Daniels is such a powerful brand that B-F earns 70 cents of gross profit on every dollar of product that it sells. Not surprisingly, that sort of gigantic almost software-like gross margin leads to astronomically powerful economics. The company has been scoring Return on Equity ratios above 50% lately.
While the starting dividend yield is low, the company often pays special dividends, since the cash piles up pretty quickly - little reinvestment is required to keep the Jack Daniels flowing. Massive profit margin, low capital requirements, recession-proof, and a nearly debt-free balance sheet. What more could you ask for from a top holding? It was a widely-held opinion that BF stock was seriously overpriced in mid-2017 when the buyout rumors hit and the stock briefly topped 45. Let the following chart be a reminder of the dangers of potentially trying to trade in and out of your best and highest-quality holdings, particularly in a taxable account where long-term cost basis matters: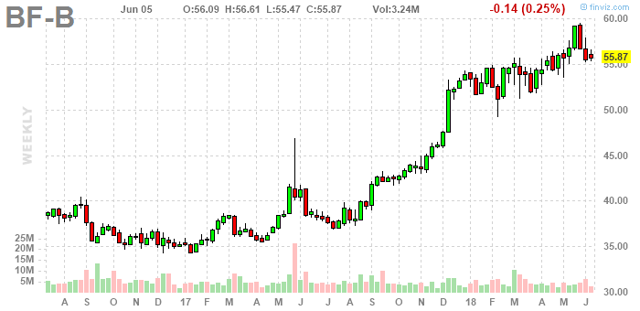 Disclosure: I am/we are long all the profiled securities.
I wrote this article myself, and it expresses my own opinions. I am not receiving compensation for it (other than from Seeking Alpha). I have no business relationship with any company whose stock is mentioned in this article.