Editor's note: Seeking Alpha is proud to welcome AlphaMonaco as a new contributor. It's easy to become a Seeking Alpha contributor and earn money for your best investment ideas. Active contributors also get free access to the SA PRO archive. Click here to find out more »
Growth of the Industry
The cannabis industry is in its infancy and will grow exponentially over the coming decade. For example, according to Arcview Market Research and its research partner BDS Analytics, significant growth will happen in the next decade, leading to a global cannabis market of $57 billion (with one-third in medical and two-thirds in recreation). They state that in North America the cannabis market will grow from $9.2 billion in 2017 to $47.3 billion in 2027 and the rest of the world from $52 million in 2017 to $2.5 billion in 2017.
It's expected that in the U.S. cannabis market most of the sales will be recreational while the European market will become the world's largest medical cannabis market (because of the $1.3 trillion government-subsidized health care systems and slower legalization process for recreational marijuana). Big news in 2017 for the European market was that medical cannabis became available in pharmacies in Germany - which is expected to be the biggest market in Europe, followed by Italy. Canada is a couple steps further as its Senate is going to vote on legalization of cannabis this week and most of the major cannabis companies are now listed on the Toronto Stock Exchange.
The remaining parts of the world are not expected to change their stance as long as the United Nations and its 1961 Single Convention on Narcotic Drugs stance on cannabis remains in its current form. North America led the movement of legalization of medical cannabis throughout the world when many of the individuals States of the U.S. started legalizing, and California and Canada are currently leading the legalization process for recreational use. The United Nation's view most likely will not change prior to legalization in the United States at the federal level - expected by many experts to take place after the 2020 presidential elections.
Exceptions, of course, exist, as Uruguay already legalized recreational use for its citizens and other South American countries such as Brazil, Argentina and Peru have very liberal medical cannabis laws. Following ArcView's Reports, the South American medical cannabis market is expected to grow from $125 million in 2018 to $776 million in 2027. Australia's market of legal cannabis is going to become one of the largest as well, moving from $52 million in 2017 to $1.2 billion in 2027.
Possible New Entrants and Buyouts
As the cannabis industry is growing at a fast pace, it is not unlikely that big tobacco and big alcohol companies would be interested in entering the market either by acquisition or production of their own. The soft drug could be considered as a major competitor for tobacco and alcohol. In one of its latest filings with the SEC, Molson Coors Brewing Co. (TAP) expressed its concerns as the company mentions that it views legal cannabis as a possible "risk" factor to its business and states, that, "although the ultimate impact is currently unknown, the emergence of legal cannabis in certain U.S. states and Canada may result in a shift of discretionary income away from our products or a change in consumer preferences away from beer."
Molson Coors continued: "As a result, a shift in consumer preferences away from our products or beer or a decline in the consumption of our products could result in a material adverse effect on our business and financial results." Other alcohol producing companies such as Boston Beer Co. (SAM) and Craft Brew Alliance (BREW) have also expressed their concerns of the possible threat that legal recreational marijuana could have on their business.
Big tobacco has shown less acknowledgement about the competition recreational cannabis could offer. However, the behavior of some of the major tobacco companies in the past few years shows that they are at the very least interested. For example, Philip Morris International (PM) invested $20 million in Syqe Medical (an Israeli company making 3D-printed cannabis inhalers) and applied for and received a patent for plants producing terpenes of interest, including a.o. cannabis sativa.
If the projections on the growth of the cannabis market are correct, it is likely that cannabis will become a major player in the same field tobacco and alcoholic beverages such as beer are operating. Keeping an eye on Big Tobacco and Big Alcohol's steps in the cannabis industry is necessary for investors.
Developments of Legalization in Canada
The most important development is that this week Canada is expected to vote on the legality of recreational cannabis (i.e., the Cannabis Act - Bill C-45). Considering that most of the large cannabis cultivating and selling companies are listed on the Toronto Stock Exchange, this a big step forward for the industry as Canada will become only the second country in the world to legalize cannabis (after Uruguay). After 14 months of debating, amending and discussing, the Senate will finally vote in the upcoming week on the legalization of recreational cannabis. If passed, the bill moves back to the House of Commons (and might end up at the Senate one more time) before it becomes law. However, sale of recreational marijuana is not expected to take place before end of August and could even be on hold up to early October.
The question is, how likely is it that this bill will be passed? There have been 40 amendments on this bill and by now it seems that every senator has taken a good look at the bill. Ontario independent Senator Tony Dean - the sponsor of Bill C-45 - stated on this matter that "after 14 months in Parliament and review by five committees of the Senate and there again in committee and by third reading, we will have exhausted our examination of this legislation and every Senator will know everything that she or he needs to know to make an informed decision. Look, I think this is good public policy. I think that the vote will be affirmative. I think our legislation will pass."
Developments of Legalization in the U.S. - State Level
The use of cannabis in the U.S. remains illegal under federal law, but many of the states are starting to legalize recreational and/or medical use. Currently, the use of cannabis is legal in nine states and D.C., and the use of medical cannabis is legal in 29 states. This trend is expected to continue. For example, on May 20, 2018, New York City Hall spokesperson Eric Phillips tweeted that NYC Mayor de Blasio is preparing for marijuana legalization in New York City. The mayor is reportedly expected to tell the NYPD to stop arresting people for smoking cannabis in public (and give them summonses instead), as well as launch a task force group that will officially prepare the groundwork for legalization of marijuana. Mayor de Blasio has stated that "[w]ith marijuana legalization likely to occur in our state in the near future, it is critical our city plans for the public safety, health and financial consequences involved."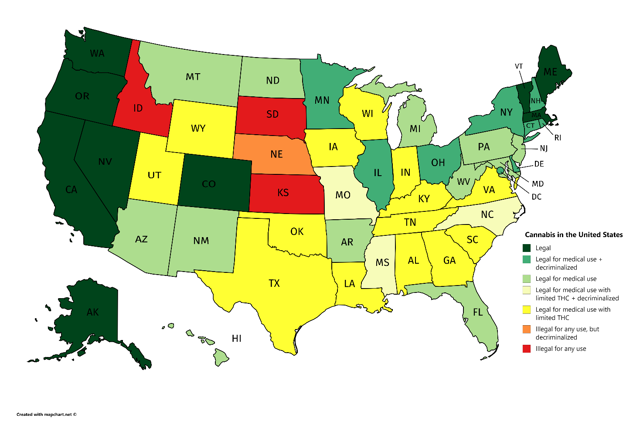 Source: State laws, created by author with mapchart.net.
Developments of Legalization in the U.S. - Federal Level
Although cannabis remains a Schedule I drug under federal law, there is a strong movement by U.S. lawmakers to change this. Senate Minority Leader Chuck Schumer announced on 4/20 this year that he is planning to introduce a bill to remove marijuana from the list of federally controlled substances, and therefore give the states the power to decide on this matter.
Two other bills introduced in the House and Senate - dubbed the Marijuana Justice Act - go even further than Schumer's bill by fully legalizing marijuana at the federal level and expunging convictions for marijuana use or possession. Both of these bills propose first to remove marijuana from the Controlled Substances Act list and then go a step further by providing "restorative justice" to communities disproportionately affected by marijuana arrests and convictions and create an "inclusive industry from the ground up."
The bills propose creating a $500 million community reinvestment fund to focus on job training for the nascent cannabis industry, prioritizing communities that have a disproportionate number of marijuana arrests and convictions, as well as expunge convictions related to use or possession. The bills would also cut federal funding for law enforcement and prison construction in states found to disproportionately arrest or convict low-income residents or people of color for marijuana offenses. The money from these cuts would contribute to the community reinvestment fund.
International Development of Legalization
The trend to legalize marijuana is also happening globally, but mostly in western or westernized countries. When thinking about legal cannabis use, two countries come to mind first: Uruguay and the Netherlands. Uruguay legalized marijuana in 2013 and since then has developed further legislation on this subject. Uruguayans are allowed to grow up to six plants at home and form grow clubs that can grow up to 99 plants a year. Up until now, 16 pharmacies were also allowed to commercially sell cannabis. However, it's illegal for foreigners to buy cannabis in Uruguay and it is also illegal to attempt to move cannabis across international borders.
In the Netherlands, the recreational use of cannabis is tolerated and is sold in designated selling dispensaries ("coffeeshops"). Currently, 573 of such coffeeshops are operational in the country. However, cultivation (of more than five plants) and the supplying of cannabis is illegal, which has created a grey area where coffeeshops buy illegally grown cannabis from the black market, which is then also illegally transported to the coffeeshops.
Now, for the first time, the Dutch government is going to allow a legal supply of cannabis to coffeeshops (in up to 10 medium to large-sized municipalities) as part of an experiment. In a letter to the Dutch parliament dated March 9, 2018, the minister of Justice and Security and the minister for Health, Welfare and Sport described the plans for this experiment. The trial - which will last four years - should examine in up to 10 municipalities in varying size and location the impacts on public health, crime, public safety and nuisance.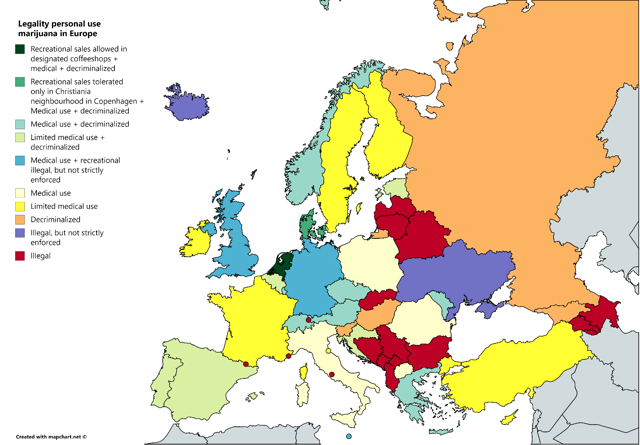 Source: National laws, created by author with mapchart.net.
The main markets in Europe for the industry are expected to be Germany and Italy, which have been easing rules over the last years. Although illegal, Germany has decriminalized cannabis "in practice" and medical marijuana has become legal a year ago. Prior to that, there were only 1,000 patients with a special permission allowed to use medical marijuana. Since legalization of medical marijuana, this number has grown exponentially. However, the German cannabis market is still at a very early stage and it is unclear which direction the country will take further on. Insurance companies and conservative political parties have voiced discontent, and it will take a strong public and political movement to get further legalization in the country.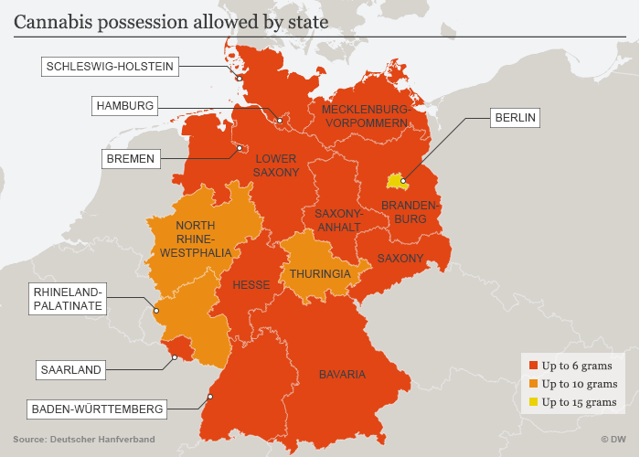 Source: Deutscher Hanfverband.
Italy is in a different position as its cannabis industry is booming. The country has a long history in cultivating cannabis as in the 1940s, Italy was one of the largest producers of industrial cannabis in the world. Currently, due to a legislative void, it is legal to buy small jars of cannabis flowers for "technical use," which are not allowed for human consumption - i.e., to be smoked or eaten - and they are being purchased in a high pace from special shops in Italy. These hemp flowers or "cannabis light" contain a low level of psychoactive compound that can make people high (i.e., under 0.2% of THC) in comparison with "regular" marijuana (15%-25% of THC).
Medical marijuana consumption has also been increasing, growing from 40 kilograms in 2013 to almost 10x more in 2017 - and this number is expected to grow. Unable to supply the demand, Italy is buying medical cannabis from the Netherlands and Canada. Even though Italy is a bit further along than most countries in Europe, it is still also just taking its first steps in the legalization process. However, there could be a lot of opportunities for cannabis companies in this country.
So Many Players - Where to Invest?
There are currently five ETFs based on cannabis or cannabis-related companies and dozens of listed cannabis or cannabis-related companies (most of which are penny stocks). A market correction happened earlier this year after there was a lot of hype in cannabis companies, but now their stock prices have stabilized and will, in our opinion, experience growth once Canada passes the legalization bill. However, considering the expected future growth of the industry, which company is most suitable for investment?
The three companies we consider most potent for future growth in value are Canopy Growth Corp. (NYSE:CGC), Aurora Cannabis (OTCQX:ACBFF), and Aphria (OTCQB:APHQF). Canopy is a diversified cannabis company that both produces and sells cannabis products for the Canadian medical cannabis market. The company is well-positioned to start growing for recreational use once it becomes legal. Aurora's focus is also on both growing and selling medical cannabis and produces both psychoactive THC products and medically oriented CBD products. It has an aggressive growth and acquisition strategy, also having conducted the largest acquisition in the cannabis industry when acquiring CanniMed Therapeutics earlier this year. Aphria is another grower and seller of medical marijuana, which conducts its sales through retail stores and wholesale distribution. All three companies have well-positioned themselves in the Canadian market and could be potential target companies for Big Tobacco or Big Alcohol or turn into major market leaders.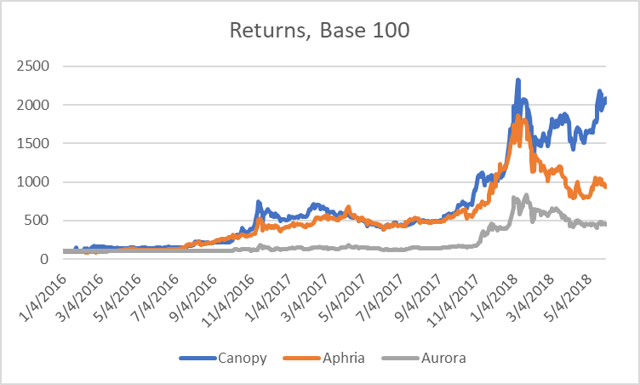 Source: Yahoo Finance, created by author in Excel.
Their stock prices have increased significantly since last year, before the cannabis industry got a market correction earlier this year. Aphria was one of the first to report positive operating cash flows and earnings in consecutive quarters. The company's revenue totaled to 10.3 million CAD in its latest quarterly results, double compared to the prior-year period. Aurora showed in its latest quarterly results that it more than tripled its revenue to 11.7 million CAD compared to the prior-year period. The acquisition of CanniMed drove Aurora's market cap to over $4 billion and this acquisition also increased the production capacity of Aurora.
Now, Aurora expects to be able to produce close to 260.000 kilograms of cannabis on an annual basis. To create a retail point, Aurora also purchased a stake in Liquor Stores N.A. Ltd., which is switching some of its locations into cannabis retail stores and is planning on building new cannabis retail stores. Aurora seems better prepared for the situation of legalization of recreational use than Aphria. It also has a larger capacity to produce cannabis than Aphria and is well-positioned to supply Germany and other European countries with medical cannabis and other cannabis products. Through its stake in Liquor Stores N.A. Ltd., it is also better positioned for recreational cannabis product retail sales in Canada.
However, Canopy seems to best stock as it has already recovered and is at pre-correction levels, while Aurora - which did not fall far - has only stabilized. Considering Canopy's remarkable recovery and current market leader position, it seems to be the stock to go to for someone wanting to invest in the cannabis industry. It has the highest revenues - double that of Aurora - and also has a strong presence in the international market, most notably Germany, through a subsidiary. Other countries in which Canopy now has a presence are Australia, Brazil, Chile, Denmark, Jamaica, and Spain.
Canopy also has multiyear supply agreements in place with a number of provinces in Canada. It is also the only Canadian marijuana grower so far being backed by a large company. Constellation Brands (STZ) - a large alcohol beverage company - purchased a 9.9% stake in Canopy for $245 million last year. From all the Canadian cannabis growers, Canopy now also has the largest cash resources which can be used to acquire other companies and the largest stock of recreational marijuana, anticipating the passing of Bill C-45. The scale - both nationally and internationally - and cash position of Canopy, as well as its stock price's quick recovery, give the company an edge over the others and make it in our opinion the premier cannabis stock for investors.
Disclaimer: The information in this article has been assembled with the utmost care, but changes in legislation on this topic and/or other releases of (financial) information may have gone unnoticed and I may not be held accountable for any errors in this article.
Disclosure: I/we have no positions in any stocks mentioned, and no plans to initiate any positions within the next 72 hours.
I wrote this article myself, and it expresses my own opinions. I am not receiving compensation for it. I have no business relationship with any company whose stock is mentioned in this article.
Editor's Note: This article discusses one or more securities that do not trade on a major U.S. exchange. Please be aware of the risks associated with these stocks.