Do Interest Rate Changes Foretell Forex Returns?
Summary
Changes in longer-term interest rates predict forex returns as well as short-term rates.
Short-term interest rate levels do not predict spot returns for G10 exchange rates, but short-term rate changes do.
Cyclical variables, including trailing equity returns and changes in consensus growth expectations, also offer value for Forex returns.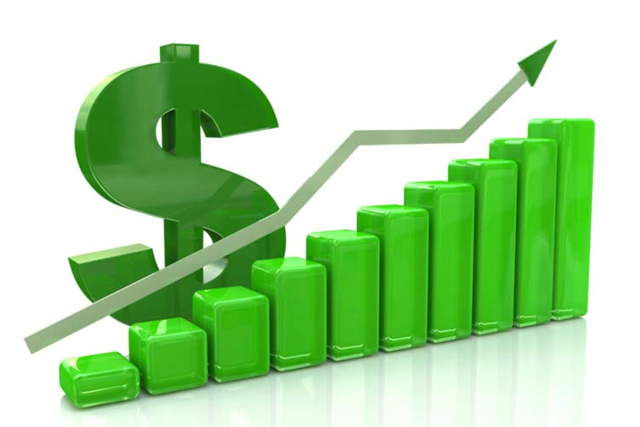 Image source: Shutterstock
Investment Thesis
Goldman Sachs (GS) published a report analyzing the impact of interest rates on forex returns. Throughout 2017, analysts have noted that short-end interest rates in the U.S. have increased more than those in other major markets. But then, growth expectations underperformed. At the very least, this market expectation was ahead of the legislative push on tax reform. GS added that the downgrading of relative growth prospects may have contributed to U.S. dollar weakness during this period.
So far this year, the US dollar has performed best among the G10 currency rates. Changes in market fundamentals may have caused an appreciation in the U.S. dollar since mid-April. However, forex technicians may have also played a key role. This would explain the size and speed of the exchange rate movements.
In this econometric analysis, we will probe deeper if the market speculation of Goldman Sachs holds true that interest rates will predict forex returns in the near term. We will look at key interest rates, equity market performance and growth expectations that potentially explain the stability of the greenback to date.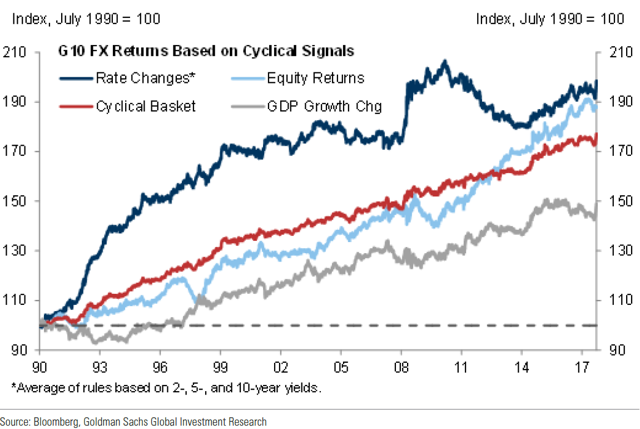 Source: Bloomberg, Goldman Sachs Global investment Research
Dollar Positioning vs. Interest Rates
Analysts monitored three key high-frequency trading indicators of the US dollar positioning. These include economic data surprises, risk reversals (for broad market data) and net length in futures. The two key low frequency trading indicators were also analyzed such as the US' share of foreign exchange reserves and the share of cross-border assets.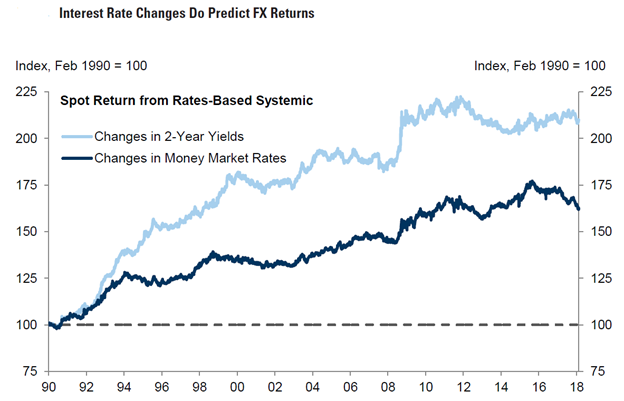 Source: Goldman Sachs Global Investment Research
The analysis of these trading indicators revealed that the U.S. dollar length has fallen significantly from its highs. But the technical analysis for the broader US dollar has improved over time. Then, all of the high-frequency trading indicators turned net short US dollar in early 2018.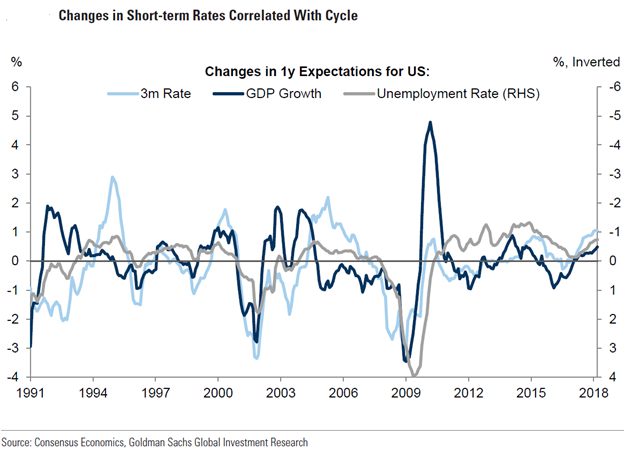 Source: Consensus Economics, Goldman Sachs Global Investment Research
This econometric research also suggested that short-term interest rates should be also considered in the analysis in one of several variables in the cyclical condition of an economy. Short-term interest rates would expect to generate positive forex returns in part. But these changes in short-term interest rates are also correlated with changes in expectations for the economy. This attribute may also explain some of the predictive power of forex returns.
Higher U.S. interest rates will be particularly concerning for risk-sensitive G10 and Emerging Markets assets if these are accompanied by equity market weakness. Among these, the New Zealand Dollar (NZD) is the most vulnerable G10 currency. Its high sensitivity to variables like equity markets performance will be exacerbated by a lack of real interest rate advantage, overvaluation and a highly responsive government bond market.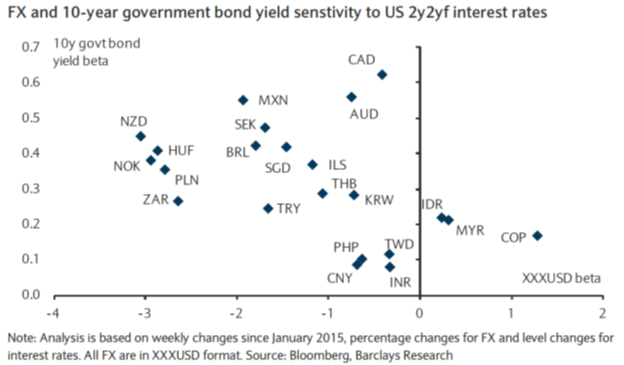 Source: Bloomberg, Barclays Research
Risk Reversals
The other key source of U.S. dollar positioning comes from risk reversals, which tell investors the relative price of forex call options and put options as expressed in units of implied volatility. Larger demand for a specific currency will pull up the market price of calls relative to puts (and vice versa). Thus, this makes risk reversals an advantageous indicator of market sentiment.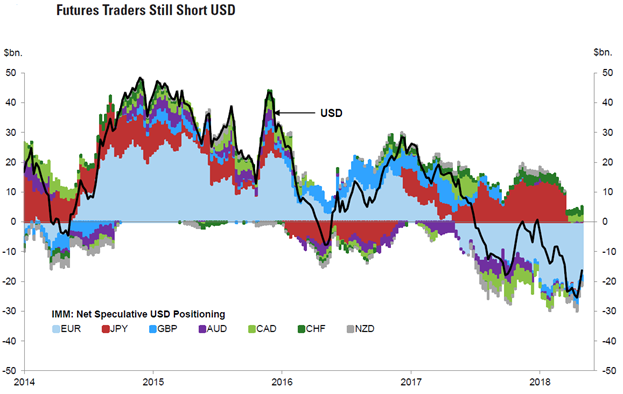 Source: Haver Analytics, Goldman Sachs Global Investment Research
Some currencies have the tendency to appreciate in value when broader asset markets decline. GS believes that prices of call options on these currencies embed a premium related to its use as a portfolio hedge. As a result, risk reversals on these currencies will be positive. A typical example would be the value of calls is greater than the value of puts. On the other hand, risks reversals on currencies with a positive market "beta" will usually be negative. In this case, the value of puts would be greater than the value of calls.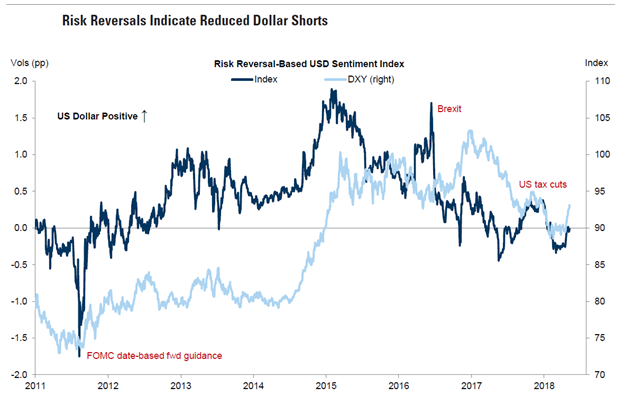 Source: Bloomberg, Goldman Sachs Global Investment Research
Economic Data Surprises
Releases of major US economic indicators contribute largely to intraday U.S. dollar positioning. Analysts noted that if the U.S. dollar reacts more to positive data surprises, the market can infer that dollar positioning is short.
Conversely, if the U.S. dollar reacts more to negative economic data surprises, the market can infer that the dollar positioning is long. Last year, the U.S. dollar was reacting much more to negative surprises, thus indicating generally long positioning.
Over the last four to six months, the U.S. dollar reacted more to positive surprises than negative ones. It implied net short positioning.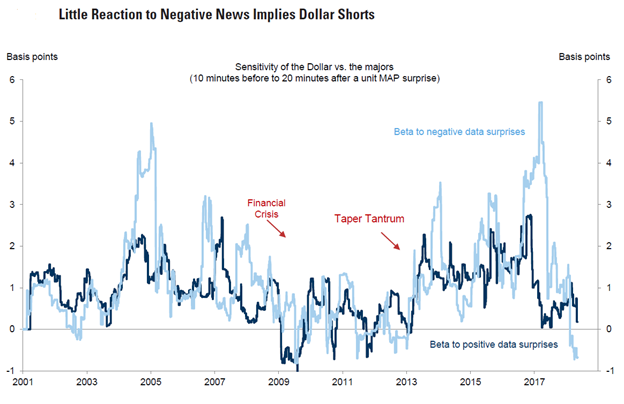 Source: Bloomberg, Goldman Sachs Global Investment Research
My Takeaway
I remain upbeat on the soundness of the global economy. I expect strengthening growth to continue outside the U.S. despite rising commodity prices and gradual monetary policy normalization in stable economies. It would boost many currencies at the expense of the greenback this 2018.
Although I must say both short and long-run technical considerations also support my own view of the U.S. dollar, I have noted market indicators (growth expectations, trailing equity returns and other cyclical variables) point to a mildly near-term trajectory, yet a still-negative medium-term outlook for the U.S. dollar.
The lower long-term U.S. interest rates however may provide some comfort to risk sensitive G10 and Emerging Markets assets. I favor a long 10-year UST trade recommendation. I believe this will expect yields to drop toward 2.7%. Equilibrium real interest rates remain unchanged.
The Federal Open Market Committee (FOMC) forecast an average for long-run interest rate would probably remain at 2.8%. Long-term interest rates are not expected to push up terminal rates, as the tax cuts and spending are unlikely to increase potential output or bring about additional tightening.
Weakness in trailing equity returns would push higher U.S. interest rates that would weigh on risk sensitive G10 currencies. Domestic U.S. policies and uncertainty about trade and the foreign U.S. policy will tilt more toward protectionism and hawkishness.
Tariffs on steel and aluminum will be introduced while exemptions are being worked out. A potential retaliation from the non-exempt U.S. trading partners remains to be seen. As a result, risk sensitive G10 currencies would underperform the U.S. dollar while safe haven assets will perform well.
U.S. dollar positioning reached historical low levels early this 2018. Investors must scrutinize the index of U.S. dollar positioning. Currently, the DXY index is equally-weighted across G10 currencies. So, comparing the U.S. dollar to the DXY index will have a much lower weight on EUR while a higher weight on NZD, AUD and NOK. By this guidance, the U.S. dollar length reached an "extreme" in early 2015 and has declined since that time. However, the dollar length equation exempts certain macro events like the passage of U.S. tax cuts and few periods around Brexit.
Note: This article was written by Gold News business journalist Hans Centena. If you found this article to be informative and would like to hear more about my investment research, please consider hitting the "Follow" button above.

Disclosure: I/we have no positions in any stocks mentioned, and no plans to initiate any positions within the next 72 hours. I wrote this article myself, and it expresses my own opinions. I am not receiving compensation for it (other than from Seeking Alpha). I have no business relationship with any company whose stock is mentioned in this article.
Additional disclosure: Gold News is not a registered investment advisor or broker/dealer. Readers are advised that the material contained herein should be used solely for informational purposes. Investing involves risk, including the loss of principal. Readers are solely responsible for their own investment decisions.