The stock price for PennantPark Floating Rate Capital (PFLT) has continued to rally since my previous article "First-Lien Portfolio Currently Paying A 9% Dividend Yield" discussing reasons to buy including rising portfolio yield and dividend coverage over the coming quarters.
As mentioned in previous articles, most business development company ("BDCs") have outperformed the S&P 500 since March 1, even before taking into account dividends paid: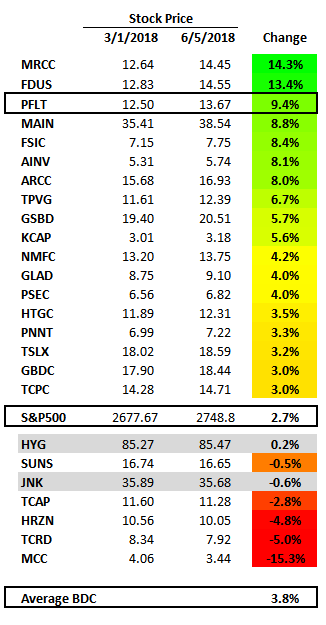 As mentioned in "BDC Buzz Begins Purchases Of Higher Quality BDCs," I have been buying additional shares of higher-quality BDCs for many reasons including:
PFLT insiders were purchasing additional shares near the recent lows: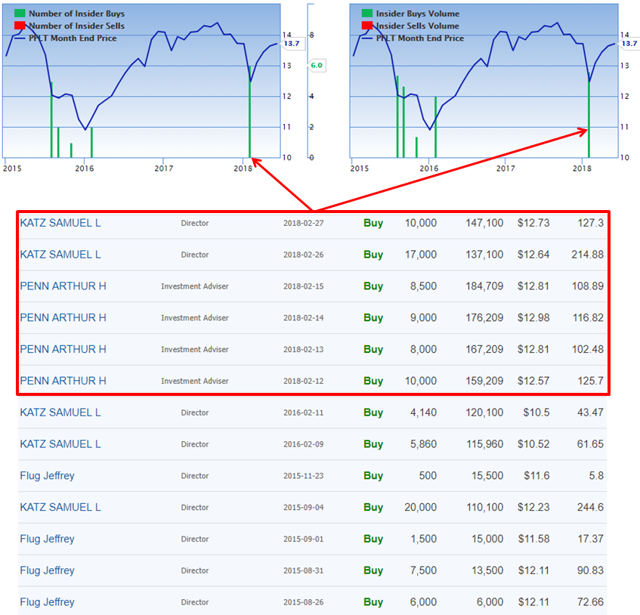 Source: Gurufocus
I am expecting BDCs to continue higher for many reasons, including the recently announced strong Q1 2018 results reported by most BDCs, with higher portfolio yields and management guidance for increased portfolio growth potential in 2018. Also, many BDCs reported higher-than-expected earnings and dividend coverage with increased net interest margins.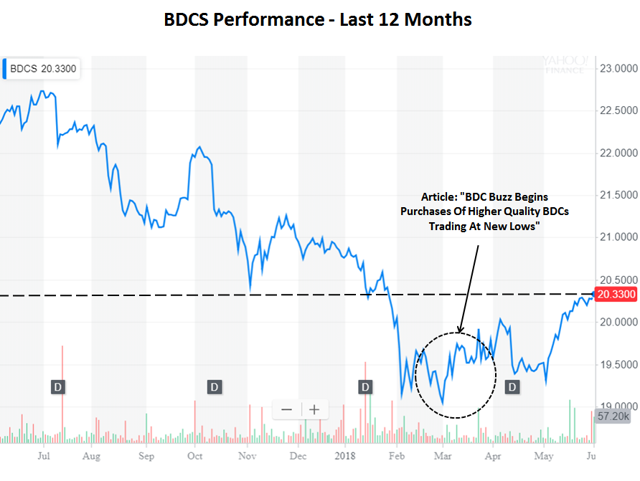 As shown in the following table, the average BDC is currently trading at a discount to net asset value ("NAV") per share with a wide range of multiples. BDCs are priced based on potential returns to shareholders, which is driven by the credit quality of the portfolio as well as maintaining a lower cost structure. Changes in NAV per share are only an "indicator" of credit quality because investments can be restructured into non-income producing equity assets or other investments could be marked up with potentially overinflated values.
As shown below, many of the higher-quality BDCs that I have pointed out in my previous articles over the last two months have been growing their book value/NAV per share over the last two years, including Main Street Capital (NYSE:MAIN), Gladstone Capital (NASDAQ:GLAD), TPG Specialty Lending (NYSE:TSLX), Fidus Investment (NASDAQ:FDUS), New Mountain Finance (NYSE:NMFC), FS Investment Corp. (NYSE:FSIC), TCG BDC, Inc. (NASDAQ:CGBD), Ares Capital (NASDAQ:ARCC), PennantPark Investment (NASDAQ:PNNT), Golub Capital BDC (NASDAQ:GBDC), TCP Capital (NASDAQ:TCPC), Solar Senior Capital (NASDAQ:SUNS) and of course, PFLT.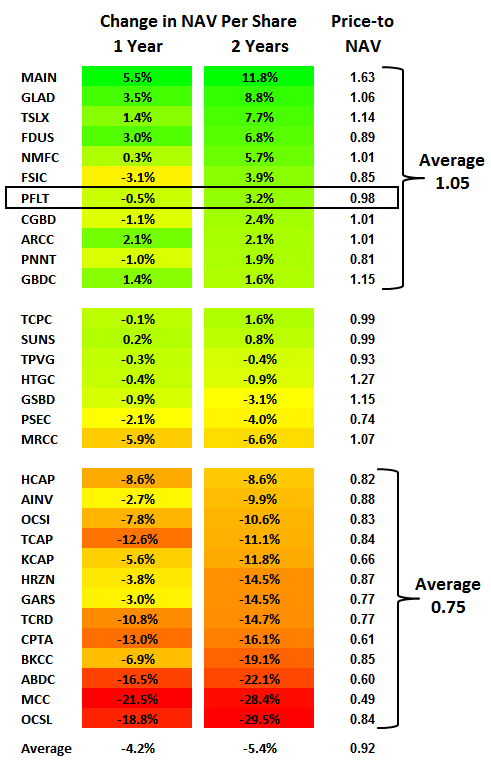 Source: SEC Filings and BDC Buzz
Seeking Alpha has decided to make articles such as this one available for the first 10 days only. The following articles are still available (for free) to all readers:

"Safe Enough for Your Grandma":
Management describes its portfolio as "safe enough for your grandma" and I agree, due to its focus on higher quality, first-lien senior secured investments at floating rates for investors that want solid returns without the typical amount of BDC-related risk. Similar to other higher quality BDCs, PFLT's management is focused on capital preservation and "underwriting as if we're at the peak of the credit cycle":
"We like where PFLT is. It's kind of on average 4.25 times debt to EBITDA. On average, the yields are 7.5%. On average, the equity cushions from the financial sponsors are 40%, 50%. So, we're underwriting as if we're at the peak of the credit cycle. Our deal teams are really senior. We've got nine people in the firm who have over 20 years of experience. So, our brand and our awareness in the market is actually greater than our capital at this point, which gives us an opportunity to be very selective and both active at the same time. We underwrite as if it could turn any day and we were around '07 and in '08. And as we said in our comments, certainly yesterday in PNNT, we've been there and done that and during the global financial crisis we have mostly subordinated debt portfolio and our track record was very strong through that global financial crisis."

"Our goal is a steady, stable and protected dividend stream coupled with the preservation of capital. Everything we do is aligned with that goal. We try to find less risky middle-market companies that have higher free cash-flow conversion. We capture that free cash flow primarily in first lien, senior secured floating rate debt instruments and we pay out those contractual cash flows in the form of dividends to our shareholders."
Source: PFLT Earnings Call

Source: PFLT Earnings Call Slides
PFLT's portfolio remains predominantly invested in first-lien debt at around 85% portfolio and the PennantPark Senior Secured Loan Fund ("PSSL") now accounts for 9% compared to 8% the previous quarter. It is important to note that PSSL is 100% invested in first-lien debt.

Source: SEC Filings and BDC Buzz
March 31, 2018 Results:
For the quarter ended March 31, 2018, PFLT hit my base case projections and was not expected to cover its dividend due to being underleveraged from the recent equity offering combined with three quarters of minimal portfolio growth. However, there was around $0.45 per share of spillover to cover dividend shortfalls:
"We have significant spillover income that we can use as cushion to protect our dividend while we ramp the portfolio. As of September 30, our spillover was $0.45 per share."
Source: PFLT Earnings Call
Portfolio growth was higher-than-expected and there was another increase in portfolio yield (as predicted in the previous article) driving interest income to its highest level as shown below. Also, new investments were weighted toward the end of the quarter and I have taken into account with the update projections. However, the company is still underleveraged with a debt-to-equity of 0.61. Please note that 'Core NII' excludes "$0.2 million on unrealized gains accrued but not payable", "costs associated with amending our senior secured revolving credit facility" or "provision for taxes".
Through April 30, 2018, PFLT made investments totaling $62.8 million and the PSSL has made investments totaling $43.0 million (of which $12.4 million was purchased from PFLT).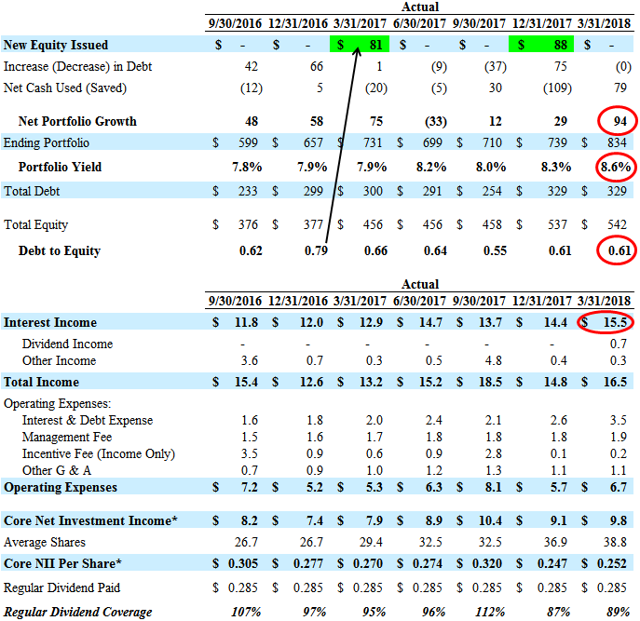 Source: SEC Filings and BDC Buzz
PennantPark Senior Secured Loan Fund ("PSSL"):
In May 2017, PFLT and Kemper formed an unconsolidated joint venture PennantPark Senior Secured Loan Fund ("PSSL") investing primarily in middle-market and other corporate debt securities consistent with PFLT's core strategy. As discussed in previous reports, PFLT's portfolio yield has started to increase partially due to additional returns from its PSSL and I am expecting higher portfolio yield and dividend coverage in the upcoming quarters.
"The investments in people and capital into our platform have resulted in a significantly enhanced deal flow, which puts us in a position to be both active and selective. We are pleased with our activity level in the quarter ended March 31, 2018, most of which occurred toward the end of the quarter, as well as our activity level quarter to date," said Arthur H. Penn, Chairman and CEO. "Our growing portfolio, increases in LIBOR, and the doubling of PSSL should provide a strong tailwind to growing our earnings stream."
Source: PFLT Press Release
Previously, management discussed the potential for a second senior loan JV but in May 2018, doubled the capacity of the PSSL to a total of $630 million.
"In May 2018 we doubled the financial capacity of PSSL. We and Kemper each increased our respective debt and equity investments in PSSL while continuing to own 87.5% and 12.5%, respectively, of each of the outstanding first lien secured debt and equity interests. Our commitments to fund first lien secured debt to PSSL were increased by $64.3 million and our commitments to fund equity interests in PSSL were increased by $27.6 million. Additionally, the PSSL Credit Facility was amended to, among other things, allow PSSL Subsidiary to borrow up to $420.0 million at any one time outstanding, subject to leverage and borrowing base restrictions."
Source: SEC Filings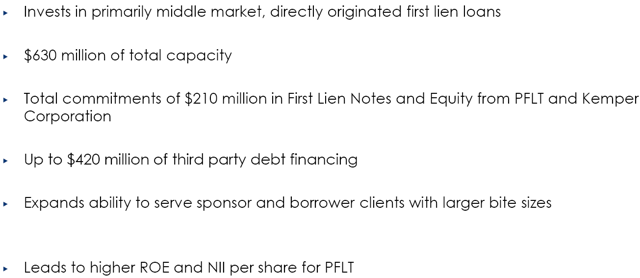 Source: PFLT Earnings Call Slides
Rising LIBOR And Portfolio Yield:
BDCs continue to experience higher portfolio yields mostly due to the rising LIBOR that should improve (or at least maintain) net interest margins and dividend coverage for the sector in the coming quarters. There was a meaningful increase in PFLT's overall portfolio yield (from 8.3% to 8.6%).

Source: SEC Filings and BDC Buzz
"The vast majority of the investments made in PFLT and PSSL during the quarter ended March 31st were made late in the quarter. Our earnings stream should have a nice tailwind based on that activity, additional investments we've made since quarter-end, increases in LIBOR and the doubling of capacity in PSSL."
Source: PFLT Earnings Call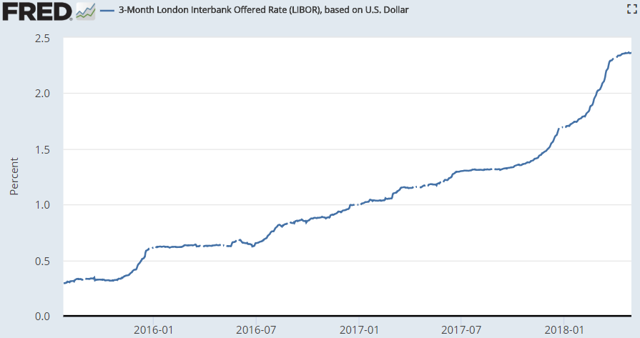 Source: FRED
PFLT Interest Rate Sensitivity Analysis:
Interest rate sensitivity refers to the change in earnings that may result from changes in the level of interest rates. As of March 31, 2018, 100% of portfolio investments bore interest at variable rates, including 5% where LIBOR was below the floor. However, 58% of borrowings are also at variable rates but as mentioned in the "BDC Interest Rate Sensitivity Rankings For 2018", I consider PFLT to have better-than-average positioning for rising interest rates.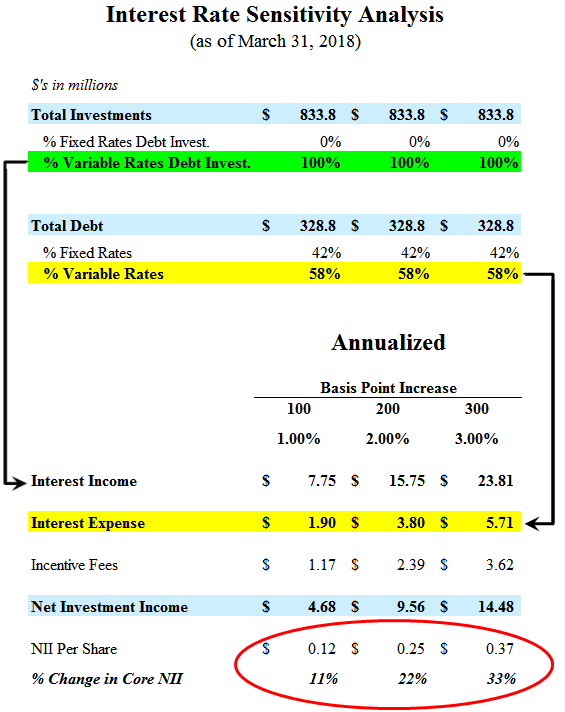 Source: SEC Filings and BDC Buzz
PFLT Leverage And Reduced Asset Coverage Ratio:
The company remains underleveraged with a debt-to-equity ratio of 0.61 even after taking into account the recent portfolio growth due to the previous equity offering of 6.3 million shares in October 2017, raising net proceeds of around $88 million. On November 28, 2017, PFLT priced an offering of $138.6 million of 3.83% Series A 2023 Notes that are unsecured obligations listed on the Tel Aviv Stock Exchange, or TASE. In connection with the offering, the company has dual listed its common stock on TASE. As of March 31, 2018, PFLT had $214.8 of unused borrowing capacity under its Credit Facility.
As with many other BDCs, PFLT has applied to reduce its asset coverage requirements applicable to senior securities from 200% to 150%, effective as of April 5, 2019. It is important to understand that PFLT has a higher quality portfolio of senior assets and management has prudently used leverage since its IPO and currently has an asset coverage ratio of 268%.
"The Company has generated an excellent track record over the last seven years investing in lower risk, first lien senior secured floating rate assets. We believe that such assets represent an appropriate risk profile that can be prudently leveraged under the revised statutes to provide attractive returns for our investors. Our successful operation of PSSL is evidenced of this strategy. Over the next year, we look forward to working closely with our lenders, bondholders, rating agencies and stockholders to discuss our roadmap into the future."

Q. "I'm just curious, given that you've passed the asset coverage modification, do you have any different plans and how you plan to manage your sort of leverage as you go forward and approach that date next year?"

A. "This whole law was obviously a surprise to us. We had already gone down the road of upsizing our PSSL joint venture which in and of itself has up two to one leverage. So, we had doubled our equity commitment from PFLT and Kemper doubled their commitment as well as doubling the credit facility from Capital One. So, we basically had that structure inked when we got word that this law changed. So, the upsizing of PSSL is going to be -- using that extra capacity over the next six to nine months is obviously a key priority for us. And we've got the Board approval just to give us the runway for 12 months. Hence as we evaluate all the different options, talk to our shareholders, talk to our bondholders, talk to our lenders and assess what exactly we're going to do. We think the assets in PFLT could judiciously be leveraged more than one to one and still operate prudent risk-adjusted return for our shareholders. And certainly, our operation at PSSL would so far -- by the year-end, it has been very smooth. Our relationships with our lenders have been good. We doubled the credit facility in PSSL. We had an oversubscription; we had to cut lenders back. And I think that's because lenders see, number one, the quality of the collateral that we have, first lien senior secured floating rate loans, and they also see that the track record over the last seven years that we've had investing in this asset class."

"So, should we decide in the coming months to go to more fulsome, up to two to one leverage, as an overall firm we've been operating at, we think it could prudently be done, and we do think we could get capital. We haven't firmly make decision. So, we'll keep everybody appraised along the way. We do want to hear from all of our stakeholders along the way."
Source: PFLT Earnings Call
This information discussing PFLT was previously made available to subscribers of Sustainable Dividends, along with target prices and buying points, real-time changes to my personal BDC positions, updated rankings and risk profile, any changes to dividend coverage and worst-case scenarios, suggested BDC portfolios, and timing of Upcoming BDC Public Articles.
The information in this article was previously made available to subscribers of Sustainable Dividends, along with:
Target prices and buying points
Real-time changes to my personal BDC positions
Updated rankings and risk profile
Real-time announcement of changes to dividend coverage and worst-case scenarios
Suggested BDC portfolio
Disclosure: I am/we are long PFLT. I wrote this article myself, and it expresses my own opinions. I am not receiving compensation for it (other than from Seeking Alpha). I have no business relationship with any company whose stock is mentioned in this article.