It was an interesting day in the market on Tuesday, as the market had its first real selloff in three months. I found the price action interesting and informative. I noticed that the high yielding business development companies and the energy MLPs in my portfolio accounted themselves very well, and a few were even up for the day. Given the turbulence I think the market will go through over the coming months, I will continue to pick up assets in these sectors. One stock I find enticing because of its reasonable valuations to go with its robust yield right now is Legacy Reserves (NASDAQ:LGCY).
Legacy Reserves LP, an independent oil and natural gas limited partnership, engages in the acquisition and development of oil and natural gas properties primarily located in the Permian Basin, Mid-Continent, and Rocky Mountain regions of the United States. As of December 31, 2010, it owned interests in producing oil and natural gas properties in 370 fields in the Permian Basin, Texas Panhandle, Wyoming, Oklahoma, and several other states; operated 2,132 gross productive wells; and owned non-operated interests in 3,227 gross productive wells, as well as had proved reserves of approximately 52.8 million barrels of crude oil equivalent. (Business Description from Yahoo Finance).
6 Reasons to pick up Legacy at $28 a share:
It provides a solid 7.5% yield and raised its distribution right through the financial crisis of 2008/2009.
The mean analyst price target for the six analysts that cover the stock is $33.50.
The company's assets are showing good revenue growth. The company had $337mm in sales in FY2011, and analysts' project $378mm in revenue in FY2012 and $432mm in FY2013.
It appears to have intermediate technical support in the $25 to $26 price level (see chart):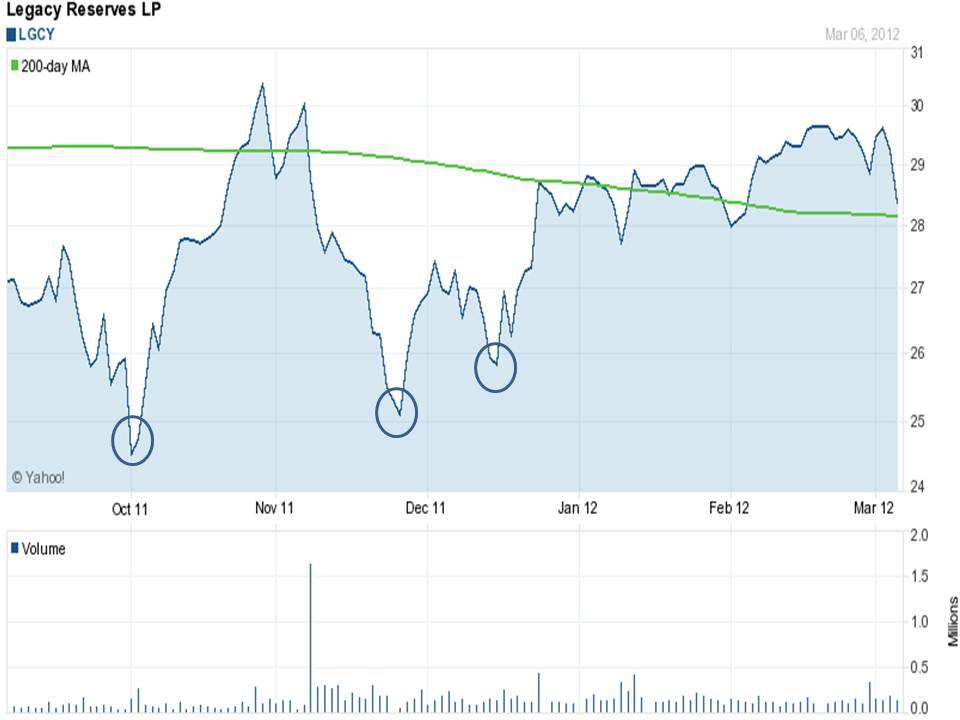 The company has easily beat earnings estimates each of the last three quarters and consensus estimates for FY2012 and FY2013 have risen over the past three months.
The stock is selling for less than 13 times forward earnings and 7 times operating cash flow, very reasonable given its robust yield.
Disclosure: I have no positions in any stocks mentioned, but may initiate a long position in LGCY over the next 72 hours.