Recently, the FERC released their summer electricity market projections which contain a great deal of relevant information for the utility market. So, let's dig into the report, starting with the weather forecast: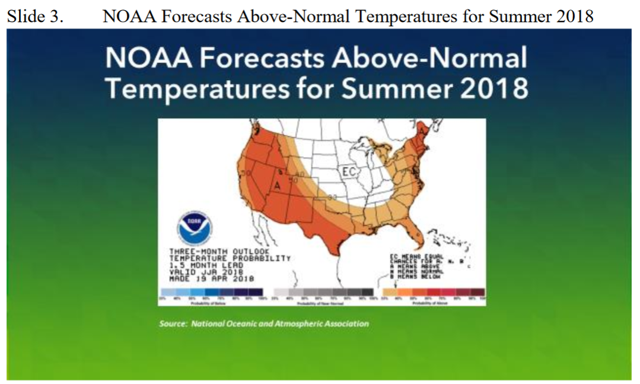 Let's overlay this with the various utility market regions: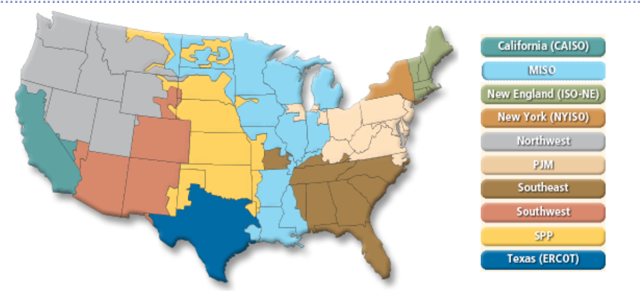 The entire California region is projected to have higher temperatures, which could also mean an increased potential for wildfires. This is not a good development; various California state authorities are currently investigating the cause of last summer's fires, and, should they determine that utilities are at least partially to blame, will penalize them accordingly. Pacific Gas and Electric (PCG) has already suspended their dividend over this. Most of the Southwest region and the entire NE will also see higher temperatures as will the NW.
Next, here's a map of areas where we could see increased power congestion over the summer: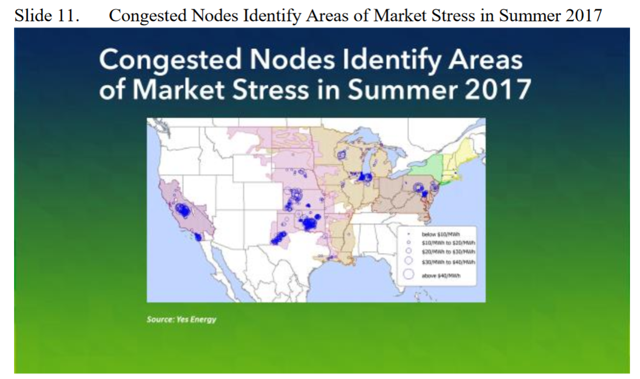 In the north, the Chicago area is ripe for demand/supply imbalances. Areas around Philadelphia, Baltimore, and Washington DC represent the Eastern cities that could see spiking demand. In the West, NW Texas/SE New Mexico could see problems as could the Houston area (great; my home). California appears poised for another challenging summer.
Could there be power constraints due to increased demand/lower support? Yes: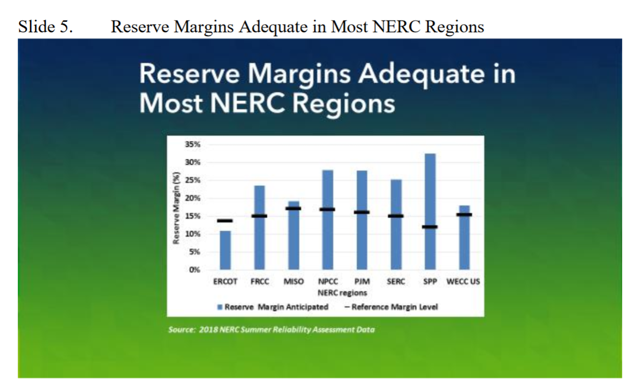 A utility reserve is exactly what it sounds like: power that you can bring online in case of heightened demand. ERCOT is the "Electric Reliability Council of Texas," and they are projecting weaker reserves due to the following reasons (from the FERC report):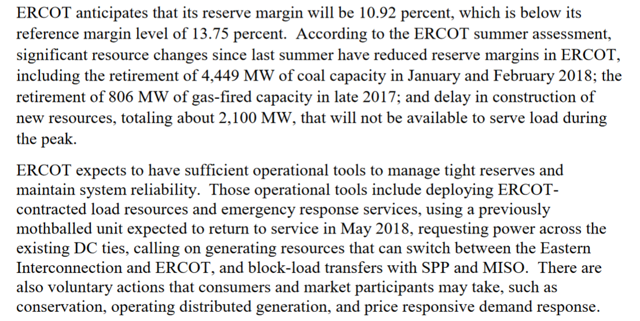 Costs are a mixed picture. Natural gas prices are mostly lower: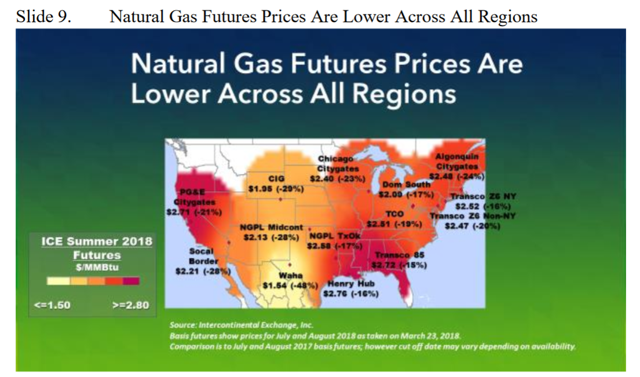 In some places, natural gas prices are off 16%; in others, they're down nearly 30%. At the same time, coal prices are higher: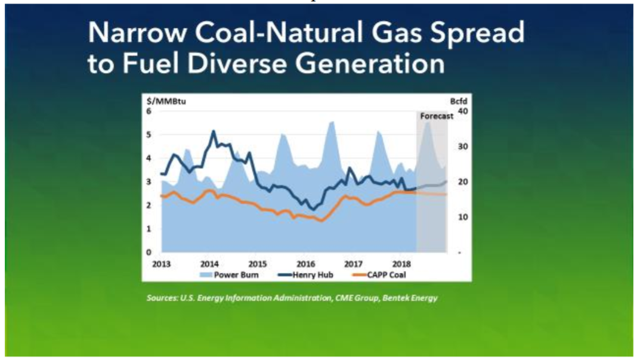 In the chart above, coal prices are in orange. Prices are up a bit over their previous peak in early 2017.
While this would usually mean that natural gas plants would see increased demand, remember that the administration has issued a new directive that coal-generated power is to be given purchasing priority, which could increase costs more than distributors would normally pay.
So, taking all of this information into consideration, what utilities look attractive?
I'll take this geographically, moving from the West to the East.
California
I'm fairly bearish on the state's utilities, largely due to the fallout from last year's wildfires. As I noted in my review of its latest earnings release, PGE is facing lawsuits and numerous investigations from various California entities. Right now, the only California utility that isn't facing these issues is Sempra (SRE). This is a function of geography: SRE supplies power to the San Diego area, which wasn't hit by any of last year's fires. I wrote about the company's year-end performance in early March; they're a solid company with a great deal of potential. While their current PE is a little over 25, their forward PE is 16. Their current yield is 3.5%.
Northwest
I recently wrote a piece on the Northwestern utilities where I advocated on behalf of Northwestern Utilities (NWE). While this is still a great company (as are most of the NW utilities), given the potential for higher demand due to projected higher temperatures, Portland Electric (POR) is a better choice. I wrote about the company earlier this year, where I concluded
Portland General Electric, while off the beaten path, is a well-run and profitable utility. Unlike its East Coast brethren, POR has experienced strong revenue growth in the last four years. Management has improved margins and recently raised the dividend. The company has more than adequate cash flow for its interest and dividend payments while maintaining a conservative debt/asset ratio. For utility investors, this is definitely a company to consider adding to your portfolio.
Texas
The Texas market is the only utility market where the FERC has projected lower reserves than projected demand. This could lead to a situation where electricity rates spike due to huge mismatches between supply and demand (remember that with utilities, supply can't be stored; so if demand spikes when power plants are idled or operating at lower capacity, costs will spike). Therefore, we could be seeing potentially profitable situations for the utilities, even after the PUC takes its pound of flesh.
Houston (my home city and home to the World Champion Astros) is projected to have bottlenecks this summer. I wrote about CenterPoint (CNP) earlier this year where I concluded:
Centerpoint is a bit more diversified than AEP; Centerpoint is far more exposed to the natural gas market; their electricity division accounts for 31% of their revenue. But as a result, they're had two very strong years in the last four, while also making them the better company for dividend investors. And with a current yield of slightly over 4%, they're a bit more attractive than AEP, whose current yield is 3.61%.

So, of the publicly traded Texas utilities, take Centerpoint.
Chicago, Philadelphia, and Baltimore
Chicago, Philadelphia, Baltimore, and Washington DC are serviced by subsidiaries of Exelon (EXC). They had a great year and first quarter.
EXC had a great quarter - more so for a utility. They had strong revenue gains and, were it not for one-time items the previous year, would probably have had a modest gain in net income. The stock is currently outperforming the SPYs and is technically attractive. If you've wanted to add this stock to your portfolio, now is the time to do so.
Conclusion: the four stocks mentioned above are positioned to benefit from potential spikes in demand should the heat wave projected by the NOAA emerge.
This post is not an offer to buy or sell this security. It is also not specific investment advice for a recommendation for any specific person. Please see our disclaimer for additional information.
Disclosure: I/we have no positions in any stocks mentioned, and no plans to initiate any positions within the next 72 hours. I wrote this article myself, and it expresses my own opinions. I am not receiving compensation for it (other than from Seeking Alpha). I have no business relationship with any company whose stock is mentioned in this article.