Welcome to the eighteenth edition in the series "JF's Core Biotech Buys."
Our model account utilizes a full position size of $5,000 and will hold up to 20 stocks. Trades will be less frequent with cost averages calculated at the day's close when an article is published. Depending on the size of a reader's account, buying or selling in smaller increments may be warranted or as cash flow allows. Regardless, the model account is primarily for referential purposes, so readers can easily follow along.
*New editions will be made available on a weekly basis.
**This series seeks to aid readers with a longer-term focus in building a diversified portfolio in the biotech arena via selection of stocks with multi-year upside potential and limited downside. However, the sector itself is still quite volatile, subject to unique risks (i.e., regulatory change, adverse legislation, loss of patent protection, etc.) and bad news regarding key assets (i.e., regulatory downthumb, disappointing data) could result in larger losses than expected. Readers need to evaluate holdings and ideas discussed here for themselves, weighing the risks in light of their particular risk tolerance and objectives. Blind following is strongly discouraged.
*** As ROTY is my primary focus, I may own only a few of the Core Biotech names at any given time. However, I still seek to provide my thesis and point of view, how I would approach each stock in hopes that it aids readers in making their decisions.
Current Snapshot of Core Biotech Model Account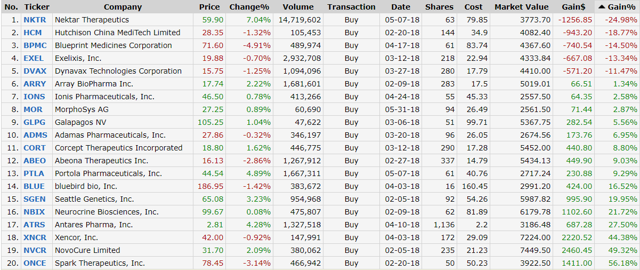 Two Sentence Thesis/Case for Limited Downside
1. Array BioPharma (ARRY) - Updated results for binimetinib/encorafenib in BRAF positive colorectal cancer and melanoma exceeded expectations using the gold standard of overall survival. The stock is very attractive as an M&A target, and data to date provides a cushion to the current valuation considering large market opportunities being targeted.
2. Hutchison China Meditech (HCM) - The stock offers investors a strong pipeline of differentiated candidates (up to 15 possible Breakthrough Therapy Designations), China exposure (via its sales team of over 3,200 employees and 1,900 medical professionals), validating partnerships and several upcoming catalysts. Downside appears limited due to having several irons in the fire, low cash burn as a result of its prescription drug commercial services segment offsetting clinical costs and quite a few pivotal readouts lined up over the next couple years.
3. Neurocrine Biosciences (NBIX) - INGREZZA sales should continue to impress (has a leg up over Teva's (TEVA) Austedo and could do over $2 billion in peak sales), while the market opportunity in Tourette's and opportunity for elagolix appear largely ignored. The stock also is a very attractive M&A target with downside limited by a so far successful INGREZZA launch that appears to be strengthening and a run-up into T-Force GOLD results by year-end.
4. NovoCure (NVCR) - Optune is a revolutionary therapeutic option with blockbuster potential in GBM alone, the launch is going quite well, cash burn is decreasing, and data in additional indications (such as mesothelioma) could drive additional upside. It is my belief that the current valuation is backed up by the market opportunity in GBM, and for this reason (along with news flow in the medium term), I believe downside to be relatively limited.
5. Seattle Genetics (SGEN) - Management continues to make the right strategic moves, there's a strong institutional base, ADCETRIS should eventually prove to be a blockbuster, and it has a deep pipeline likely to drive future growth. The recent secondary at $52 indicates a near-term bottom, and the inherent value of ADCETRIS, plus important news flow in the medium term (including tucatinib data in metastatic CRC), leads me to believe downside risk is limited.
6. Spark Therapeutics (ONCE) - The $2 billion gene therapy pioneer has over a quarter of its market capitalization in cash, a key ex-US partnership with Novartis (NVS) (can leverage its infrastructure plus adds credibility to LUXTURNA prospects), and pipeline of promising assets with several opportunities to create value in 2018. After a post-ASH meltdown of epic proportions, SPK-8011 and other pipeline programs appear to be written off (perhaps prematurely), the market is in "show me" mode regarding the LUXTURNA launch, and it has a substantial cash position following the ex-US deal (plus priority voucher to monetize).
7. Abeona Therapeutics (ABEO) - Data for ABO-102 in MPS IIIA appears encouraging to me (decreases in heparan sulfate, neurocognitive benefits), initial data for ABO-101 in MPS IIIB showed early promise, EB-101 in RDEB could see an expedited path to market if the pivotal study yields fruit, and other gene therapy candidates are soon to enter the clinic. The short report (with several dubious claims) appears to have brought shares down to a more palatable level that provides a greater margin of safety, with current programs and its cash position providing a decent downside cushion.
8. MorphoSys (MOR) - The German company possesses an incredibly deep pipeline of partnered programs (based on their leading antibody platform) along with certain wholly-owned, high potential drug candidates they've decided to progress themselves. A solid cash position post upsized IPO, the promise of increasing royalties from J&J (NYSE:JNJ)-partnered TREMFYA, a potentially shortened path to market for MOR208 (could give CAR-T giants some decent competition), and up to 14 mid/late stage readouts this year alone have me believing downside is quite low at this point.
9. Galapagos (GLPG) - Partnered assets continue to progress in the clinic, its IPF program offers optionality, efforts in cystic fibrosis to develop a triple combination therapy should not be underestimated, and Gilead (GILD)-partnered filgotinib could have peak sales of more than $3 billion alone. As for downside cushion, it has a solid cash balance and impressive data to date along with the looming specter of M&A which should keep a healthy premium in the stock.
10. Exelixis (EXEL) - Label expansion and new trial data for cabozantinib and cobimetinib should continue to drive upside, while revenue growth and increased gains in market share have also been encouraging. The stock is quite attractive as an M&A candidate and the post fourth quarter earnings dip in share price makes for an interesting entry point.
11. Corcept Therapeutics (CORT) - Revenue growth is impressive on a quarterly and annual basis, its cash position is growing, and several pipeline assets (recorilant, CORT118335, CORT125281) could reach key inflection points in other areas such as oncology and NASH. The stock price plummeted after news of generic competition from Teva, but it has plenty of time to grow Korlym revenues and unlock value in the pipeline.
12. Adamas Pharmaceuticals (ADMS) - GOCOVRI peak sales could exceed $500 million (conservative estimate), and the company has a promising pipeline of assets (including ADS-4101) that could create value. The current depressed valuation comes as a result of a generic filing and approval of Osmotica's Osmolex, with their large cash position (includes funding from HealthCare Royalty Partners and $134 million secondary offering) providing us additional downside cushion.
13. Dynavax Technologies (DVAX) - HEPLISAV-B appears to be a superior treatment option as compared to GlaxoSmithKline's (GSK) Engerix-B with peak sales potential of $500 million. They have a strong cash position and upcoming data for SD-101 in combination with Merck's (NYSE:MRK) anti-PD-1 therapy KEYTRUDA provides a nice call option (ORR at ASCO last year was 100% in an early-stage dose escalation study). It is possible that downside is cushioned by the potential of HEPISLAV-B (including its appeal to a potential acquirer) and prior encouraging data for SD-101.
14. bluebird bio (BLUE) - The company's BCMA CAR-T drug candidate bb2121 remains attractive despite overblown fears on durability (peak sales of $2 billion or more), LentiGlobin has a good shot at success in TDT (Transfusion-Dependent ß-Thalassemia) and SCD (Severe Sickle Cell Disease), and they have a strong cash position. Recent pessimism and the resulting share price decline lead me to believe the valuation is attractive, while management's prior track records are suggestive of continued progress in the clinic in the medium term.
15. Xencor (XNCR) - The firm's antibody platform is quite attractive, they possess a deep pipeline, recently pulled off an upsized financing and received much needed validation in the form of positive data for Alexion Pharmaceuticals' (ALXN) ALXN1210 (makes use of Xencor's Xtend technology to extend half-life and reduce frequency of dosing). Downside appears limited after the secondary and validation of their technology, while advancement of their pipeline (IgG4-RD phase 3 trial initiation, data from phase 2 study in SLE and phase 1 study in AML) should keep Wall Street interested.
16. Antares Pharma (ATRS) - The company possesses a strong pipeline of drug/device combination product candidates which provide better treatment options in a variety of disease settings - Xyosted could potentially be approved by September and should see significant adoption due to several advantages over current treatments (keep in mind global male hypogonadism market to exceed $3 billion within 10 years). A substantial cushion to downside exists due to strength and positive trends in the core business.
17. Blueprint Medicines (BPMC) - The current $3.75 billion valuation compares favorably to $2 billion peak sales potential of two lead drug candidates, while their solid cash position after the December secondary offering and their deep pipeline provide adequate cushion to the current share price. The targeted oncology theme has been a winner for us in the past couple years, and I expect that trend to continue.
18. Ionis Pharmaceuticals (IONS) - The stock looks increasingly attractive after the expanded collaboration with Biogen (NASDAQ:BIIB), the company has done well to monetize partnered programs while retaining significant economics, they've proven themselves with the success of assets such as Spinraza, key catalysts include near-term product launches and certain wholly-owned assets provide optionality and the possibility for outsized future returns. Their sizeable cash position and diversified pipeline with a variety of value drivers going forward provide adequate downside cushion.
19. Portola Pharmaceuticals (PTLA) - After the regulatory thumbs up for AndexXa, this one has become more attractive, even if we have to wait longer to see how the launch goes until Gen2 manufacturing gets approved. With two approved blockbuster potential treatments and several upcoming catalysts (including CHMP opinion and updated cerdulatinib data), it appears there's limited downside at this point although patience could be required.
20. Nektar Therapeutics (NKTR) - Much like how we took advantage of pessimism in the gene therapy space to add to key positions whose thesis were unaffected, current weakness in I-O has brought shares of Nektar back down to unjustified levels. ASCO and future updates will likely confirm impressive data we've already seen for NKTR-214, the size and terms of the Bristol-Myers Squibb (NYSE:BMY) collaboration (with 20 registration enabling studies to get underway and BMY footing two-thirds of development costs) lend credibility and add to conviction, and the company should do well whether they continue independently (due to impressive retention of economics) or eventually get bought out.
Performance Since Launch February 5th
8.34% for Core Biotech Model Account versus 2.92% for IBB and 10.46% for XBI
General Commentary
It looks like the FDA is looking to make more changes to increase competition and bring drug prices down. At ASCO, Commissioner Scott Gottlieb of the FDA stated he wants to accelerate approval times for rivals to promising new first-to-market medicines. He also made a commitment to speed up approvals of cheap generic medicines.
The conference finished up and as usual was a mixed bag for investors, with winners including Merck (MRK) with impressive lung cancer data and Loxo Oncology (LOXO) showing early dominance in RET. Losers exiting ASCO include Nektar (management/investigators failed to give a preview or adequately control overly high expectations) and Jounce Therapeutics (NASDAQ:JNCE) (losing over 60% of its value in the past month).
I am reviewing where we did well and especially where I either failed to capitalize or take notice of risk factors that led to losses in order to continuously improve for the next time around. This is a worthwhile exercise I do after analyzing how my positions did at major conferences, and I suggest readers might be best served to do the same.
Finally, and most importantly, after discussing with several readers and the ROTY community, I've decided the best decision to make is to discontinue the Core Biotech Series going forward.
The rationale here was rather simple - when I started Core Biotech near the beginning of the year, having a Marketplace Service was very far off in the distance for me (perhaps year end 2018 or early 2019). Managing a couple weekly ROTY posts along with a weekly Core Biotech edition would have been very doable.
However, with the advent of the paywall at Seeking Alpha, many readers asked for an ROTY dedicated service. While at first I pushed back, I eventually came to see they were right and it was the best solution. In just 3 short months, we've accomplished a lot together, built up an incredible community that generously shares due diligence (and other information) as we all seek to improve, continuously learn and make money.
Such a service requires much more attention than a simple series of posts, and while it's been a balancing act to manage both I've come to see that I need to focus the majority of efforts on one activity where I have the most potential to make an impact and help people. Another reason to do so is to be able to prioritize personal time (and especially family), being sure not to stretch myself too thin.
I hope those of you who have followed this series have found it helpful with key takeaways, including the importance of diversification, minimizing downside risk and having a core set of criteria for choosing stocks. As in ROTY, I hope readers learned from both my good decisions and those that didn't work out so well, taking notes on both and how to apply going forward.
I will continue to publish Reader Inquiry articles and the Institutional Top Ideas series at a moderate pace, as usual focusing only on situations and topics where I feel I have value to add. I hope you will continue to read and share your thoughts/feedback in the comments.
One final note, ROTY Live Chat is for discussion of all biotech stocks (not just ROTY positions). Thus, there will continue to be active discussion on stocks that are more appealing for the long term, with members continuing to share their thoughts and strategies for each selection.
Updates on Model Account Positions
NovoCure - There's been another significant green flag for this story, this time with two key additions to the Board of Directors. Both Dr. David T. Hung and Sherilyn D. McCoy were elected, the former very well known for founding and serving as President/CEO of Medivation (bought out by Pfizer for $14 billion).
The company also presented the design of the phase 3 pivotal study of TTFields combined with paclitaxel in patients with recurrent, platinum-resistant ovarian cancer. Continued expansion into additional indications is a key part of the bullish thesis.
Abeona Therapeutics (ABEO) - The company announced the opening of their commercial GMP manufacturing facility for gene and cell therapies in Cleveland, Ohio. Expansion of their internal manufacturing (and taking charge of it) is indicative of management's focus on getting all their ducks in a row as this gene therapy pioneer continues to execute.
The stock also got a thumbs up from Seaport Global, which started coverage with a Buy rating and $29 price target. Their analyst cited the company's powerful R&D engine, 6 drug candidates, including 3 in phase 1/2 studies and first mover potential for each targeted area plus the potential for premium pricing as reasons to expect outperformance going forward.
Xencor (XNCR) - The company announced that management will be presenting at two conferences in June, Jefferies on June 7th and JMP Securities Life Sciences on June 20th.
Ionis Pharmaceuticals (IONS) - The company's affiliate Akcea Therapeutics (AKCA) announced that the Committee for Medicinal Products for Human Use of the European Medicines Agency adopted a positive opinion recommending approval of TEGSEDI (inotersen) for the treatment of Stage 1 or Stage 2 polyneuropathy in adult patients with hereditary transthyretin amyloidosis (hATTR). Regulatory approval is likely to follow.
The company also announced the closing of its expanded strategic collaboration with Biogen (BIIB) to develop novel antisense drugs for a variety of neurological diseases. Keep in mind that they received $1 billion in cash ($375 million upfront and $625 million common stock purchase).
Exelixis (EXEL) - The company announced amendment to the COSMIC-201 phase 1b study of cabozantinib in combination with atezolizumab in patients with locally advanced or metastatic solid tumors to add 10 new expansion cohorts to the trial. This should be seen as good news reflecting positive observations thus far, as management believes the combination could improve response rates and slow disease progression.
At ASCO, the company presented data from sub-group analyses of the CELESTIAL phase 3 pivotal study of cabozantinib in advanced hepatocellular carcinoma comparing outcomes by duration of sorafenib treatment in patients whose only prior was sorafenib and outcomes by age. Improved overall survival and progression-free survival were observed in cabozantinib-treated patients regardless of the duration of sorafenib treatment or their age.
On June 12th, at the William Blair Growth Stock Conference, President and CEO Michael Morrissey, Ph.D., will provide a corporate overview.
bluebird bio (BLUE) - This article on Forbes is worth a read, as it helps give context to Celgene (NASDAQ:CELG)-partnered bb2121 (their BCMA-targeting CAR-T). Despite overly high expectations into ASCO, updated data for bb2121 continued to be encouraging, in which median patients surviving 11.8 months before progression of their cancer.
Seattle Genetics (SGEN) - The company announced presentation of updated phase 1 data for enfortumab vedotin at ASCO. In the phase 1 study, the drug candidate was evaluated as a monotherapy in patients with metastatic urothelial cancer, including those who received previously a checkpoint inhibitor. The asset has been granted Breakthrough Therapy Designation from the FDA, and a pivotal study is ongoing.
Of note from the oral abstract, of 112 patients (treated with 1 or more prior chemo or ineligible for cisplatin and 63% of whom had received 2 or more prior therapies in metastatic setting), complete responses were observed in 4 and partial responses in 41 patients for overall response rate of 41%. Interim median overall survival was 13.6 months with median duration of response of 5.75 months and median PFS of 5.4 months.
Data from the phase 3 ECHELON-1 study evaluating ADCETRIS in combination with chemotherapy in newly diagnosed stage III or IV classical Hodgkin lymphoma was also highlighted. A two-year progression-free survival benefit of 11 percent over ABVD was demonstrated.
The company also announced an upcoming presentation at the Goldman Sachs 39th Annual Global Healthcare Conference on June 13th.
Nektar Therapeutics (NKTR) - The company announced preliminary data from the PIVOT phase 1/2 study evaluating NKTR-214 in combination with Bristol-Myers Squibb's nivolumab. Results were presented in an oral presentation at ASCO. Especially encouraging was activity observed in PD-L1 negative patients and results helped confirm the original thesis that combining IL-2 and anti-PD-1 could more effectively activate an anti-tumor response, expanding the patient population that Opdivo could treat (and other PD-1 assets) considerably.
Specifically, 9 of 17 patients with PD-L1 negative status at baseline converted to positive status at week 3 and 78% achieved clinical benefit (stable disease, partial response, or complete response). On the other hand, falling response rates (from 85% in first 13 melanoma patients treated fell to 50% in 14 additional patients, from 64% to 46% in kidney cancer) has resulted in the stock cratering.
I think longer follow-up is necessary prior to making a judgement call, but I agree that what we've seen so far hasn't lived up to Wall Street's high expectations and the damage done to the stock could take a long time to repair. I have no plans to sell this laggard as I side with the bullish thesis that more time is needed to patients to respond.
On the other hand, I always encourage looking at the bear thesis as well (or finding ways to kill the business). In this case, extreme pessimists could see this as Incyte's (INCY) epacadostat flop all over again (not my view).
Blueprint Medicines (BPMC) - The stock is under pressure due to competitive threats from two fronts, Loxo Oncology's (LOXO) RET data and Deciphera Pharmaceuticals' (DCPH) broad-spectrum KIT and PDGFRα inhibitor DCC-2618 for which encouraging results were presented at ASCO.
The company also announced an exclusive collaboration and license agreement for the development and commercialization of avapritinib, BLU-554 and BLU-667 in Mainland China, Hong Kong, Macau and Taiwan with CStone Pharmaceuticals. Deal terms included an upfront payment of $40 million and potential milestones of up to $346 million.
Portola Pharmaceuticals (PTLA) - The company presented new interim data from the ongoing phase 2a study of oral SYK/JAK inhibitor cerdulatinib in patients with specific subtypes of B-cell and T-cell Non-Hodgkin Lymphoma (NHL). ORR across all tumor types was 47%, with 7 of 20 patients in the PTCL cohort achieving a complete response. 5 of 7 responding PTCL patients remained on treatment, including one at over 12 months and another at over 9 months. ORR in 35 patients with FL was 46% with median duration of response of eight months or more. Taking into account all 28 patients with CLL/SLL, ORR was 61%. On the other hand, while the drug was considered well tolerated, there were five deaths due to sepsis/septic shock related to the study drug.
Also, CEO William Lis announced plans to retire and will remain in an advisory role. In the meantime, the board has appointed John Curnutte and Mardi Dier as interim co-presidents in addition to their current positions.
The company will be presenting at two conferences this month (Goldman Sachs 39th Annual Global Healthcare Conference on June 12th and William Blair 38th Annual Growth Stock Conference on June 13th).
Array Biopharma (ARRY) - The company announced updated data from the phase 3 COLOMBUS study in BRAF-mutant advanced melanoma, with median overall survival of 33.6 months comparing very favorably to 16.9 months for patients treated with vemurafenib monotherapy. Two-year overall survival was 58%, and data was selected for the Best of ASCO program.
Hutchison China Meditech (HCM) - Results from the pivotal phase 3 study of fruquintinib in patients with locally advanced or metastatic colorectal cancer in China were presented in an oral presentation at ASCO. Importantly, all primary and secondary endpoints were met, including significant improvements in overall and progression-free survival with a manageable safety profile and lower off-target toxicities compared to other targeted therapies. As management pointed out, lower frequency and less severe liver function abnormalities could be an important differentiator versus other targeted therapies for the indication.
Corcept Therapeutics (CORT) - The company announced presentation of preliminary data from the phase 1/2 study of relacorilant in combination with Celgene's Abraxane to treat patients with solid tumors at ASCO. Data was intriguing, especially considering that this was only the dose finding portion of the study and patients on average had already undergone 3.7 lines of therapy. In patients who received at least 100 mg of relacorilant 4 of 9 with pancreatic cancer exhibited durable disease control, as did 4 of 7 with ovarian cancer. Of note this period of disease control in some cases was quite long (over 50 weeks in a pancreatic cancer patient and 42 weeks so far in an ovarian cancer patient.
MorphoSys (MOR) - The company announced upcoming presentations at the JMP Securities Life Sciences Conference on June 20th and at the J.P. Morgan European Healthcare Conference on June 21st.
Dynavax Technologies (DVAX) - The company announced data from the ongoing phase 1b/2 trial evaluating intratumoral TLR9 agonist SD-101 in combination with KEYTRUDA in patients with advanced melanoma. 69 patients were enrolled and two doses compared, with overall response rate of 70% observed in advanced melanoma patients who received the ≤ 2 mg dose of SD-101 in up to four lesions versus a 38% ORR in the group receiving the 8 mg dose of SD-101 in one lesion. The combination was well-tolerated with adverse events being transient, mild to moderate flu-like symptoms. While intriguing, the data appears far from convincing to me and will need to be proven in a phase 3 study.
Dr. Kenneth Pittman's recent article delving into ASCO data is a great read for those who haven't seen it already.
Actions To Take This Week
Perhaps it's a good time to fill out (add to) positions in Portola Pharmaceuticals and Adamas Pharmaceuticals. The thesis for each holding continues to play out, and they both have significant upside going into 2019. Strength relative to biotech benchmark indices is also a positive sign.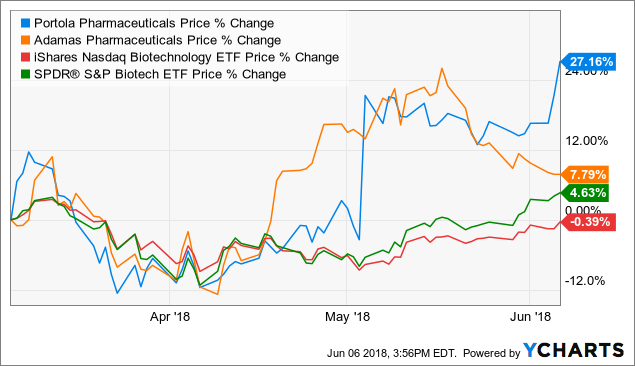 **Again, trades are executed at the closing price on the day the article is published (or Monday's closing price if published on the weekend).
Final Thoughts
Keep in mind that, while the focus of this series is on a multi-year time frame, that does not mean simply "buy and forget." We continue to monitor positions and their thesis. In the event that a thesis is weakened or a more attractive opportunity presents itself, a substitution is worthy of careful evaluation.
My objective for readers is to make their own decisions, do their own due diligence and invest according to their particular objectives. Stocks discussed here can be replaced or supplemented with selections readers have found from their own research that have similarly promising prospects and limited downside.
Feel free to ask questions as we strive to have an ego-free atmosphere where readers bounce ideas off each other and contribute their own DD. The goal is to constantly improve our thought processes, challenge each other's investment rationales, and learn from our losers and winners alike. Biotech can be a tricky sector, but by focusing on high-value assets, firms with growing sales/pipelines and valuations that help protect our downside, I'm optimistic that readers should see a growing brokerage account for whatever life goals they have lined up.
Disclaimer: Commentary presented is not individualized investment advice. Opinions offered here are not personalized recommendations. Readers are expected to do their own due diligence or consult an investment professional if needed prior to making trades. Strategies discussed should not be mistaken for recommendations, and past performance may not be indicative of future results. Although I do my best to present factual research, I do not in any way guarantee the accuracy of the information I post. I reserve the right to make investment decisions on behalf of myself and affiliates regarding any security without notification except where it is required by law. Keep in mind that any opinion or position disclosed on this platform is subject to change at any moment as the thesis evolves. Investing in common stock can result in partial or total loss of capital. In other words, readers are expected to form their own trading plan, do their own research and take responsibility for their own actions. If they are not able or willing to do so, better to buy index funds or find a thoroughly vetted fee-only financial advisor to handle your account.
Disclosure: I am/we are long ARRY, NBIX, EXEL, GLPG, HCM, SGEN, NVCR, ABEO, ONCE, PTLA.
I wrote this article myself, and it expresses my own opinions. I am not receiving compensation for it (other than from Seeking Alpha). I have no business relationship with any company whose stock is mentioned in this article.