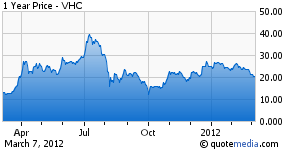 VirnetX (NYSEMKT:VHC) is suing seven of the big names in tech: Apple (NASDAQ:AAPL), Cisco (NASDAQ:CSCO), Siemens (SI), Mitel (NASDAQ:MITL), NEC, Aastra and Avaya. The issue is alleged patent infringement, and the total dollar value goes into the billions. As you recall, VirnetX sued Microsoft (NASDAQ:MSFT) for patent infringement and in 2010 won a $106 million judgment in a jury trial. Microsoft ultimately paid over $200 million.
Here's a synopsis of the current legal proceedings as well as my argument on why I think VirnetX is in such a strong position.
First, VirnetX shareholders are awaiting Judge Davis' preliminary ruling on the January 5th Markman hearing. He is currently taking all evidence into consideration and is expected to come up with a preliminary ruling any day now.
Given the judge's positive rulings on the 135 and the 180 patents in the Microsoft case, (these two patents are included in the current lawsuits), in my opinion, Judge Davis will rule in favor of VirnetX and the defendants will be forced to settle.
It's important to remember that 90% of all cases settle right after the Markman because once the judge makes a decision, it doesn't make much sense to go up against that decision.
The evidence considered in a Markman hearing falls into two categories: Intrinsic and extrinsic. Intrinsic evidence consists of the patent documentation and any prosecution history of the patent. The key here is that VirnetX already has prosecution history with this patent, in the Microsoft case, and that decision will weigh heavily with the judge.
Extrinsic evidence is testimony, expert opinion or other unwritten sources. Extrinsic evidence may not contradict intrinsic evidence. In other words, since the intrinsic evidence includes the VirnetX victory over Microsoft, no extrinsic evidence may contradict that ruling. Cisco, Apple, NEC and Aastra are boxed in, and in my opinion it will be very difficult for them to win.
Based on Judge Davis' comments at the end of the Markman hearing, it appears VirnetX has the upper hand. After speaking with a couple of people who attended the hearing, here is what I learned:
At the end of the hearing, the judge got up and asked if all parties had gotten together and tried to work out a settlement. Everyone nodded their heads.
That's news to me. I didn't realize settlement talks had begun.
The judge then said that he understood VirnetX and the defendants would not continue settlement talks until after his order, so he would deliver a preliminary order soon.
After delivering his preliminary order, he would direct all parties to begin settlement talks within 30 to 45 days. Then he joked that it sure it would be nice if "y'all would settle this before I issued my ruling," which got a laugh from everyone.
Contrast that to Judge Davis' closing remarks during the Microsoft/VirnetX Markman hearing in 2009: "All right. Very well. All right. Thank you very much for your excellent arguments. The matter is submitted, and we will get you an opinion as soon as we can."
In 2009, Judge Davis' closing statement made no reference to a settlement. He was also in no hurry to issue a ruling. In fact it took him six months. However, he did end up ruling in VirnetX's favor.
This time around his tone was quite different, with a clear bias toward a quick settlement. In my opinion, Judge Davis would not keep bringing up the idea of settlement unless he believed his ruling would lead to settlement negotiations. If he believed all VirnetX patents were invalid, why would he be talking about settlement?
Here is an analyst's perspective on the hearing. On January 6th, Craig-Hallum stated, "The Markman hearing proceeded better than anticipated. The judge implied he may have come to some view regarding the situation and strongly encouraged parties to consider mediation sooner rather than later." The analyst said that the judge's verbal communication and desire for mediation implies the VirnetX case is very firm.
Perhaps the most significant fact gleaned from the hearing was that none of the defendants presented any new information. In other words, they basically presented the same case that Microsoft did, the case that caused Microsoft to be defeated.
Judge Davis has already delivered a positive ruling for the 135 and the 180 patents in the Microsoft case. As a computer scientist, he understands these patents better than most, and is unlikely to change his stance with this new group of seven defendants. Why would he?
Here are some other factors that I think bode well for VirnetX:
Number one: In the Microsoft trial, there were only two patents involved. The current defendants are facing infringement charges on a total of six patents, which include the 135 and the 180 patents. The level of infringement, hence the dollar value of these cases, could be many times greater than the Microsoft case.
Number two: Judge Davis has never been overturned, and it's unlikely he's going to overturn himself on these two patents.
Number three: If there is a positive ruling on the January 5th Markman, there may not even be a need for the second Markman (Siemens, Mitel, Avaya), which is now scheduled for July 12th, 2012. In fact, there will not be any need for a trial in November if all parties decide to settle.
Number four: Avaya is planning a $1 billion IPO in April. It may want to settle with VirnetX before the IPO, because attracting investors could be difficult with a pending lawsuit. Also, VirnetX could get some positive publicity as a result of the IPO.
Number five: The VirnetX legal team is led by Doug Cawley who not only gave VirnetX its Microsoft victory in 2010, but also successfully argued the i4i versus Microsoft case in front of the Supreme Court. He received a unanimous decision in favor of i4i. Many say that Doug Cawley and the McCool Smith team are the best in the business.
Another important factor not directly related to the Markman has to do with the recent re-exam. Regarding the 180 patent, the USPTO completely denied re-examination. That's their way of saying, "There's no problem here. This patent is valid. We are not even going to review it." That's a major coup for VirnetX.
Remember, with the Microsoft Markman, all patent claims for the 135 and the 180 were validated. Why would Judge Davis, who knows these patents like the back of his hand, reverse his previous ruling?
For Apple and Cisco, the best solution may be just to buy VirnetX. Apple is sitting on $97 billion in cash, and Cisco has about half that amount. A buyout would free either company from its current litigation liabilities and give them an extremely strong IP position.
Apple is particularly vulnerable because VirnetX recently filed a complaint with the International Trade Commission and requested that Apple be prohibited from importing into the U.S. some of its iPhones, iPads, iPods and Macintosh computers. For Apple the pressure is on because the ITC action begins this summer. This provides another catalyst for shareholders.
Siemens also has sufficient cash to buy VirnetX, and is very involved in the cyber security space. The company was highlighted on a recent 60 Minutes episode, which emphasized the need for Internet security. I definitely see Siemens as a contender.
The defendants appear to be in a vulnerable position, and a takeover may be their best way out. If a buyout offer does occur, it will be well above today's share price. Remember, last May, Cowen and Company valued VirnetX at $2.8 billion. With 50 million shares outstanding, that would give us a share price of $56. But, with all that has transpired since last May, including new patents and additional lawsuits, VirnetX could be valued considerably higher than $2.8 billion.
Even though I believe VirnetX is in an extremely favorable position, I realize I could be wrong about the outcome. I don't have all the information that Judge Davis and VirnetX CEO Kendall Larsen have. But given the fact that Kendall Larsen has not sold any of his 7.8 million shares, even when the shares were trading at $40, I believe I'm on the right side of this trade. I do not want to be sitting on the sidelines once an announcement is made.
For complete disclosure and disclaimer information, click here.
Disclosure: I am long VHC.