United Technologies (UTX) is doing quite well. I've been a fan of United Tech since after President Trump got elected because of this industrial conglomerate's exposure to defense spending, US manufacturing and economically sensitive exposure to the US economy, which I expected to accelerate under the Trump administration. I recommended United Tech on articles on April 2nd (with shares at $122 per share) and February 13th (with shares at $125 per share).
It took awhile, but those expectations are largely being fulfilled, from increased defense spending to tax cuts and accelerating economic growth, United Technology has a lot of momentum behind it, and the good thing is that the market still priced United Tech reasonably. Granted, shares are not as cheap as they were on the eve of the Presidential election, but United Tech is still a buy. Over the last quarter, management raised both its revenue guidance and EPS guidance, and I believe that there may be more increases coming. This article takes a look at United Tech's latest results, and which segments are leading the way in growth.
Behind powerful trends
United Tech posted some excellent results for the first quarter of the year. Organic sales increased 6%, and adjusted EPS (in this case adjusting for one-time gains last year) increased 20% year on year. Most relevant in this case was EPS guidance, which was raised from a midpoint of $6.97 per share to a new midpoint of $7.05 per share. This would represent 6% EPS growth over the $6.65 EPS in 2017.
These are encouraging numbers, and in previous articles I expected EPS guidance to get some kind of boost as the economy accelerated. A couple segments really lead the way, specifically, aerospace components maker Pratt & Whitney, and Climate Control & Security, which is really taking part in the 'digital transformation.'
Organic sales from Pratt & Whitney rose 9% year-on-year, with military sales up 19% and commercial after market sales up 18%. United Tech Aerospace segment saw organic sales increase another 5%. Aerospace, on the whole, is a big area of strength for United Tech, particularly because of the growing global middle class, which is driving commercial air traffic to grow 5% year on year until 2030, by company estimates.
Climate Control and Security saw particularly strong results from North American residential HVAC sales (which could be a positive indicator for the broader economy). North American HVAC organic sales leaped higher by 24%, and refrigerated transport sales jumped 37%. As a segment, Climate Controls & Security has added over 200 new products over the last two years, geared toward a few important segments of the ongoing "digital transition." This includes connected factories, real-time health monitoring products and improving customer experience with products. Expect to see some really interesting things from Climate Control and Security going forward.
Valuation & Dividend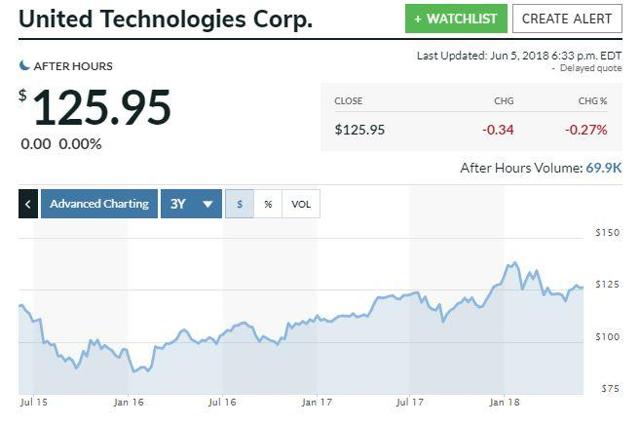 Courtesy of Marketwatch.com
Despite the strong results, the market hasn't really given United Technologies its due just yet. Shares are just about where they were when I wrote an article back on February 13th. This is a pretty good opportunity to add shares of United Tech, particularly for dividend investors.
According to data from FAST Graphs, shares of United Tech have averaged 16.4 times earnings over the last ten years. Right now shares trade at 18.4 times. United Tech trades at a 12% premium to its average business-cycle valuation, but I believe that United Tech is still priced reasonably all things considered, with a meaningful dividend that yields 2.2%
Consider the long-term trends United Technologies is behind: The company is heavily weighted to the aerospace supercycle through Pratt & Whitney and its more recent acquisition of Rockwell Collins. United Tech is also turning out to be a viable player in the 'digital transformation,' particularly through its Climate, Controls and Security segment. An accelerating US economy with tax reform and higher military spending turns out to be icing on the cake. United Tech has a lot of good things going for it.
As for the dividend, I expect a decent dividend hike within the next quarter. For the last three years United Tech has kept its dividend at about 40% of earnings per share, and I expect that trend to continue this year and next. Therefore, I would expect dividend growth to match EPS growth. Last year United Tech raised its dividend from 66 cents per quarter to 70. Another four-cent raise this year would mean a 5.7% dividend increase, which would be just about in line with EPS growth. Therefore, investors should expect another 4 cent dividend increase later on this year.
Altogether, United Technologies remains a buy. I would not be surprised to see further upward revisions before this year is out. United Tech has put itself behind some strong trends. With a strong macroeconomy, United Tech will do very well.
If you're interested in United Technologies, feel free to follow me here on Seeking Alpha.
However, I write about this company when time permits, and that often means I am not able to do so regularly. I write about topics at much more regular intervals in my Marketplace service, Streaming Income. In that service I write about broader themes and provide multiple actionable ideas for income investors, with all articles and updates on a strict monthly or quarterly schedule, kept at a reasonable price geared for everyday income investors. I invite you to take a risk-free look.
Disclosure: I am/we are long UTX. I wrote this article myself, and it expresses my own opinions. I am not receiving compensation for it (other than from Seeking Alpha). I have no business relationship with any company whose stock is mentioned in this article.