The grand compromise over the U.S. biofuels blending mandate that President Donald Trump forged in May between biofuel producers and merchant refiners lasted less than a month. The compromise's official unveiling was initially expected to occur as early as this week, causing the price of biofuel blending credits (Renewable Identification Numbers, or RINs) to plummet in response. A warning sign came on Wednesday, though, when the White House announced that the implementation of the compromise had been indefinitely delayed.
This was shortly followed by a number of statements that Mr. Trump made at subsequent public events, as reported by the media. First came comments to Senator Joni Ernst (R-IA) at a bill signing:
This was followed by additional comments to U.S. Secretary of Agriculture Sonny Perdue at a FEMA briefing:
Sonny Perdue. And those farms are doing well, and I did the farmers a big favor last night. Right? I did a big, big favor for the farmers. We love the farmers, and they were happy. I know that Sen. Grassley and Sen. Ernst were very happy with what we did. So thank you for your help. I appreciate it.
The responses by Ms. Ernst and Senator Chuck Grassley were both starkly different from their skeptical reactions to last month's compromise:
Merchant refiners' share prices moved lower in response to the news, led by CVR Energy (CVI), CVR Refining (CVRR), Delek US Holdings (DK), HollyFrontier (HFC), Marathon Petroleum (MPC), PBF Energy (PBF), and Valero (VLO) (see figure). These companies have all been required to incur large RIN expenditures (Valero spent $942 million on them in 2017 alone) in past years due to their lack of sufficient blending activities to comply with the mandate. One of the terms of the compromise would have artificially increased the supply of RINs and thereby reduced their prices, benefiting those refiners that run large RIN deficits. Those same refiners now face the prospect of a potential return to high expenditures.
The good news for refiners is that RIN prices still have a large amount of ground to recapture before they reach their January levels, making it unlikely that last year's record combined expenditure amount will be broken this year. The price of the largest RIN category, D6, approached a 5-year low earlier this week as it fell to $0.19 on reports of the compromise's pending implementation, marking a decline of 78% YTD (see figure). It has since rebounded by 42% but remains lower than it was as recently as May 23.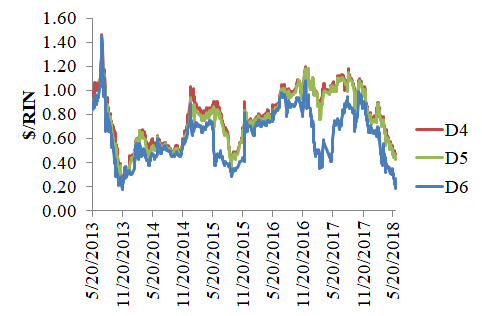 Source: EcoEngineers (2018)
The share prices of fuel retailers Casey's General Stores (CASY) and Murphy USA (MUSA) both rallied in response to Mr. Trump's comments, with the latter reversing course and increasing by more than 7% between Monday and Wednesday (see figure). Both companies occupy a unique segment in the biofuel supply chain in that they generate RINs via biofuel blending as part of their retail operations. Their lack of refining capacity has allowed them to avoid any obligation to blend biofuel, however, enabling them to sell their RINs to obligated blenders (such as merchant refiners). This has been a lucrative source of revenue, with Murphy USA recording $181 million and $160 million of RIN sales in 2016 and 2017, respectively. While this year's sales will be much lower due to the low prices that have prevailed in 2018 to date, the White House's decision to abandon its plan to increase the supply of RINs will provide a tailwind for both fuel retailers at a time when higher fuel prices are threatening their margins.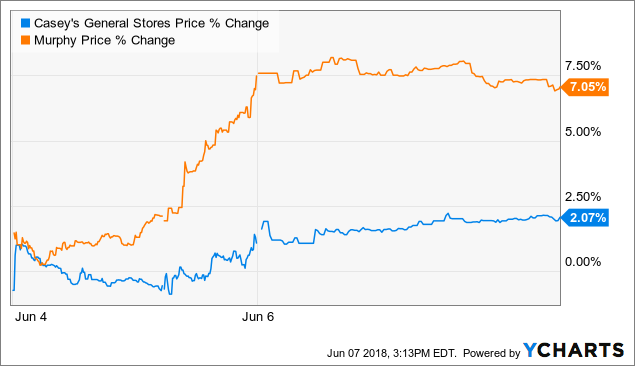 The share prices of biofuel producers such as The Andersons (ANDE), Green Plains, Inc. (GPRE), Pacific Ethanol (PEIX), Renewable Energy Group (REGI), and REX American Resources (REX) have been comparatively mixed on the news (see figure), reflecting the fact that the White House's compromise was not expected to have much of a short-term impact on their operations. Most biofuel producers do not sell RINs due to their lack of blending capacity, opting to instead pass them to refiners and retailers on the sale of the corresponding gallons of biofuels. While higher RIN prices drive demand for biofuel, the presence of strong fuel prices this summer has mitigated the negative impact of low RIN prices. The failure of the compromise could also mean a reversal of the proffered approval of year-round sales of 15 vol% ethanol blends.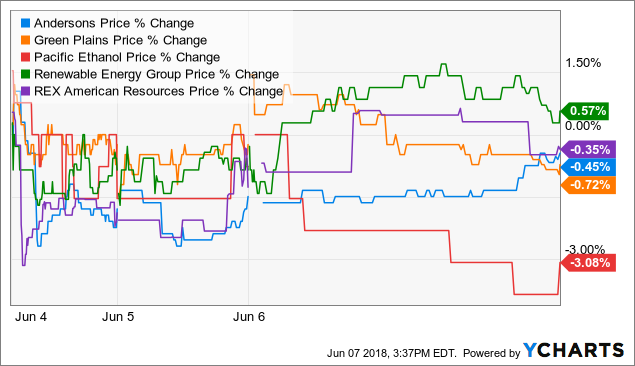 Furthermore, the abandonment of the White House's compromise does not mean that the larger debate over the biofuels mandate is over. As I pointed out in May, the terms of the compromise, particularly the artificial increase to RIN supply by allowing exported biofuels to generate RINs, directly contravened Congressional intent, making it unlikely to survive the inevitable legal challenge as a result. It remains to be seen whether Mr. Trump will also require U.S. Environmental Protection Agency (EPA) administrator Scott Pruitt to listen to Mr. Grassley by abandoning his policy of reducing RIN demand via the widespread distribution of "hardship waivers" to merchant refiners. That will not be known until the EPA releases its proposed 2019 biofuel blending volumes later this month.
Mr. Trump's decision to recognize the legal and political realities of the blending mandate by discarding his compromise plan will benefit fuel retailers while prompting an inevitable pushback from fuel refiners. It has also made the EPA's upcoming Renewable Volume Obligation proposal even more important now that it represents refiners' final hope for permanently lower RIN prices.
Disclosure: I/we have no positions in any stocks mentioned, and no plans to initiate any positions within the next 72 hours.
I wrote this article myself, and it expresses my own opinions. I am not receiving compensation for it (other than from Seeking Alpha). I have no business relationship with any company whose stock is mentioned in this article.