Market-Beating Closed-End Funds
Earlier this week I reported on the results of a screen for closed-end funds (CEFs) that have been beating the total return mark set by the S&P 500 ETF (NYSEARCA:SPY) for YTD, 1 year and 3 years. There are fifteen funds in that list among some 356 CEFs (I excluded tax-free municipal bond funds from the pool). In that article (Part 1), I discussed my view of the eight domestic equity funds that made the cut.
Those eight were appropriately benchmarked against the SPY filter, at least more appropriately than the remaining seven which I'm going to cover today. As I noted in Part 1, using SPY as a standard is arbitrary to the point of being unfair, but I use it because it is a high bar (certainly for the last three years) and nearly everyone has a clear sense of how it has been performing. But it means lots of really good funds that haven't stayed up with large-cap domestic equity's bull market are excluded, despite market-beating returns in their individual market niches. Regardless, setting a high bar and applying it broadly turns up a group of strong performers.
As readers have pointed out, the filter may be turning up some solid winners, but it will also be turning up some funds where management caught the random play of markets for a brief ride on the tail. So, obviously, each fund needs to be looked at on its own merits.
In doing that, I eliminated nearly all of the eight domestic equity funds coming up with one I liked for further analysis, Liberty All-Star Growth (NYSE:ASG), which I hope to get out some coverage of soon, and a couple to think about, Liberty All-Star Equity (NYSE:USA) and Royce Micro-Cap Trust (NYSE:RMT).
Another factor that has to be considered is unique to CEFs. No investment vehicle is subject to the market whims of retail investors as much as CEFs can be, especially domestic equity CEFs. Why? Simply because investors can drive these funds into extreme discount or premium valuations. If something is trending in the hive mind of the retail investors, those valuations move up. That does drive returns and profits. But those returns and profits can disappear quickly because they may be less a reflection of fund quality than of investor behavior, often seemingly irrational investor behavior and, more often, fickle investor behavior. One of the skills of the accomplished CEF investor is the ability to read, decipher and predict that behavior.
The Funds
So, let's turn to the seven funds left undiscussed in Part 1.
Asia Equity puts two funds on the list. One, Morgan Stanley China A Share (NYSE:CAF), invests in China equity, and the other, Japan Smaller Capitalization (NYSE:JOF), targets Japan's small-cap sector.
There is one leveraged (28.41%) growth and income fund (Calamos Strategic Total Return Fund (NASDAQ:CSQ)) which offers a leveraged (28%) version of the traditional growth and income mix: Equity (common and preferred) and Fixed-Income (corporate debt and convertible bonds).
And, there are four multi-sector bond funds, all from PIMCO: PCM Fund (NYSE:PCM), PIMCO Corporate & Income Opportunity (NYSE:PTY), PIMCO Corporate & Income Strategy (NYSE:PCN), and PIMCO Dynamic Income (NYSE:PDI).
Premiums and Discounts
Z-Scores. All of these make the list, at least in part, by having strong returns that were enhanced by increases in their premium/discount valuations. This was a factor for the domestic-equity funds as well, but it is even more of a factor here. The average 3- and 6-month Z-scores for the domestic equity set are 0.8 and 1.5; for this remaining set of seven, they are 2.0 for both time frames (A Z-score of 2.0 means the premium-discount is 2 standard deviations higher, i.e. less discounted, than the mean for the period).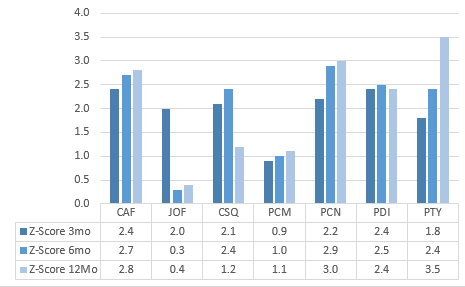 Notice that there is not a single negative Z-score in the table and precious few that even drop below 1.0. Z-scores this high may suggest some mean reversion is in the offing. In any case, they do indicate that one should take a more cautious approach to valuing total returns over the periods that demonstrate such high Z-scores.
Fund Valuations. The two Asia equity funds and CSQ are still carrying discounts. All four of the PIMCO funds are priced at premiums that range from PDI's 9.4% to PTY's 25.9%. This is in keeping with the current trend for PIMCO CEFs, only one of the eleven taxable-income CEFs offered by the firm is discounted at this time and its discount only -0.96%. PTY, with the highest premium in this group, is second highest of those eleven PIMCO funds, trailing only PGP's 29.9%.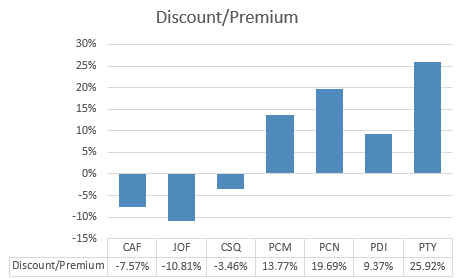 Distributions
Strategies vary, as one would expect from funds drawn from such a diverse set of categories. The two Asia equity funds have as their objective capital growth. Income is not a factor in their investing decisions except as it may impact capital appreciation. CSQ prioritizes capital appreciation and income. The PIMCO funds look for high current income and capital appreciation. We see the lesser priority on income for the Asia equity funds in this chart of distribution yield at market and NAV.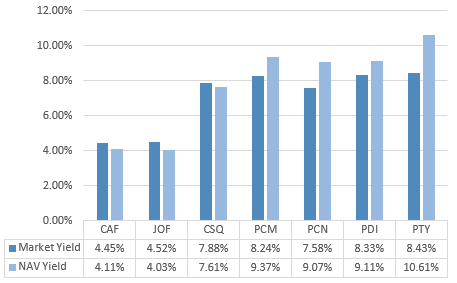 Asia Equity
The two Asia equity funds are different in some ways and alike in others. Both are capital-growth funds, a bit of a declining strategy type among CEFs which are increasingly dominated by funds that emphasize income. Many of the older equity CEFs which come from the capital-appreciation traditional format are finding they have had to move to a more income-focused investment strategy to compete with ETFs and raise their deep discounts to fend off activist investor shops who often find the small, deeply discounted equity funds as ready targets. This is especially true for international funds, many of which have recently found themselves in the cross-hairs of activists' sights.
CAF is a twelve-year old fund (inception, Sept., 2006) with $660M net assets under management. The fund has been valued below -10% discount since late 2014 and has only recently broken above that line. On 18 March, less than a month ago, it had a -12.2% discount.
The fund has been successful at beating its benchmark (MSCI China A Offshore Index) since its inception.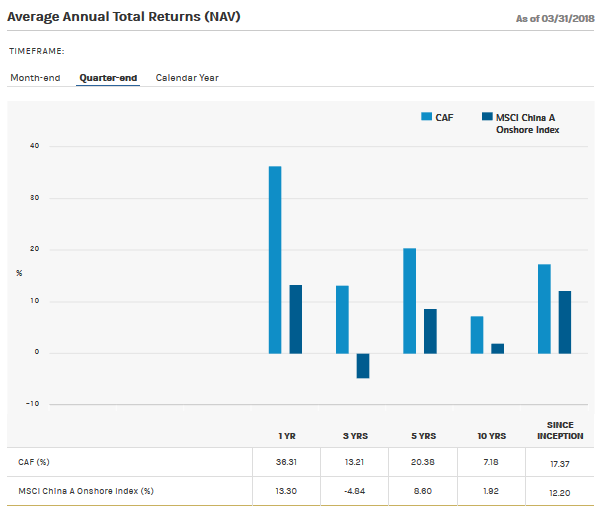 Management expertise is well demonstrated by this five-year chart putting CAF against the five largest China ETFs.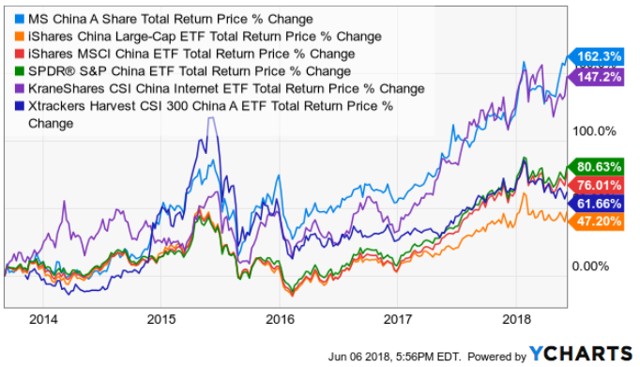 Only KraneShares China Internet (NYSEARCA:KWEB), a niche ETF that invests in the high-flyers of the China internet, stays with it. The generalized China ETFs lag CAF consistently. Open-end mutual funds fare no better as these two examples show.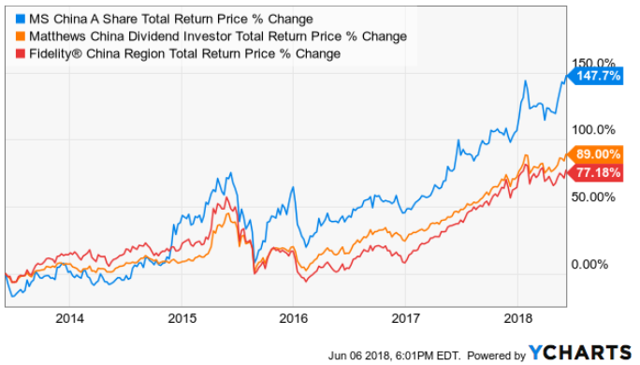 Readers with a broader background in China investing may have suggestions for opportunities my cursory review failed to turn up, but from what I can see those looking for a play on the broad China equity market will find few opportunities that compete with CAF.
JOF turned up at the top of this screen (along with CAF and PTY) the first time I ran it (here). JOF invests in Japan's small-cap equity. It is a prime example of the niche-investing focus one finds among CEFs. This is another category a retail investor will find extremely difficult to penetrate outside a fund format. And, here again, we have a fund from sponsors with clear expertise and insights into this niche market.
Here's the fund's record against two ETFs and an OEF that invest in the Japan small-cap arena.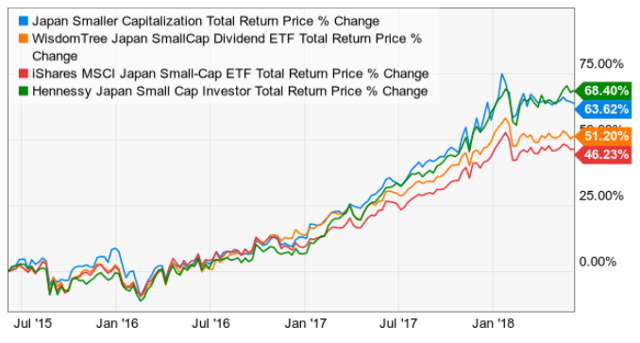 The OEF has outperformed JOF over most time frames, as we see above for the last three years. Open-end funds are often harder to buy than either CEFs or ETFs, but in this case that does not seem to be the case. Fidelity offers the Hennessy Japan Small Cap Investor Fund (MUTF:HJPSX) in its list of mutual funds offered without transaction fees. Quite likely other brokers do so as well. Both JOF and HJPSX have been beating US equity (as represented by SPY) for the last five years, with most of that outperformance coming since the beginning of 2017. But even when Japan equity was struggling, HJPSX and JOF kept pace with the bullish US market.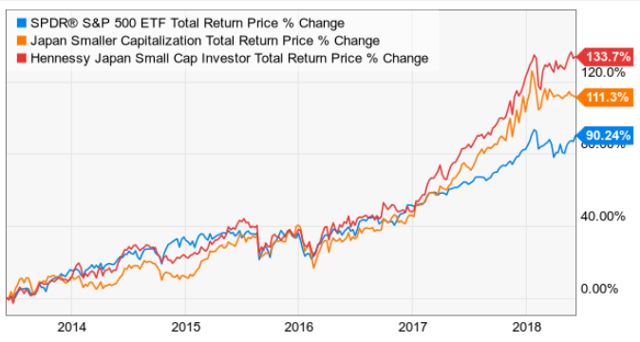 Calamos' entry in the top fifteen, CSQ, has earned its place primarily from a recent strong run-up in its market price. Its NAV performance is less impressive.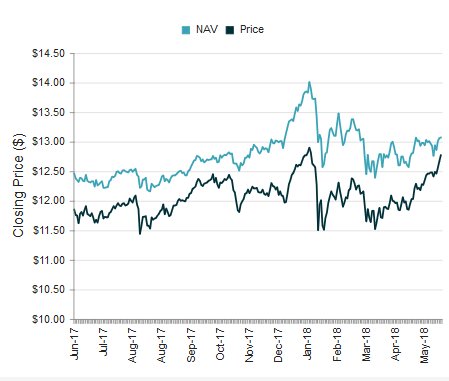 But put CSQ against its peer group of growth and income CEFs and it shines at NAV or market.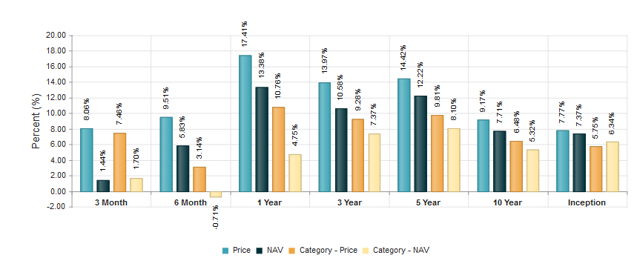 The fund's equity portfolio is headed up by Apple (NASDAQ:AAPL), Microsoft (NASDAQ:MSFT), Amazon (NASDAQ:AMZN), JPMorgan Chase (NYSE:JPM) and Alphabet (NASDAQ:GOOG) (NASDAQ:GOOGL). The rest of the portfolio is complex and a bit hard to describe here in the space allotted. Interested readers can view it at the Calamos site, which is the source for this view of the fund's allocations.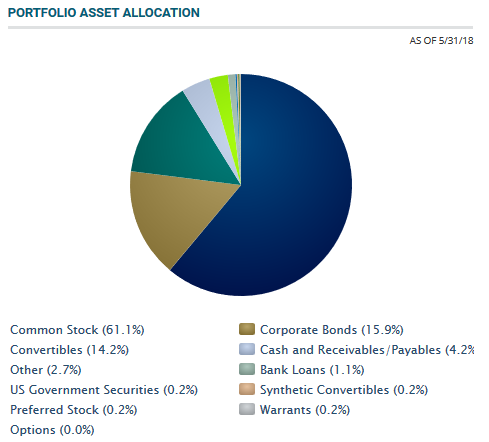 Typical of the full range of Calamos CEFs, CSQ is a consistent income generator with a defensive component to its portfolio, coming from allocations to corporate bonds, especially convertibles, which is a special area of expertise for Calamos. The distribution has been stable for years.
This is yet another fund that conforms to the theme of having given up discount, and another that should be approached with caution as some mean reversion in that discount may be on tap.
PIMCO funds dominate the list, as they have every time I've run this screen.
PCM is among PIMCO smaller funds with net assets of $192M. It takes a common PIMCO path to its income-driven investing strategy: high leverage (38.46% according to CEFConnect, but PIMCO leverage calculations vary so it may be greater) mainly from reverse repurchase agreements and credit default swaps, complex derivatives and interest-rate hedging, and large allocations to mortgage debt.
Its 8.1% distribution looks to be secure. The fund had led the PIMCO CEFs for distribution coverage, although last month it fell to last among the ten multi-sector bond funds. It does hold uninvested net income (UNII) in excess of two and a half months distribution, so the yield looks solid at this time.
PCM's has traded at a premium since the beginning of 2017. That premium has moved up to 15.5% since I collected the data I've been using (through May), which will give pause, but its Z-scores tell us that it is closer to its average valuations than any of the PIMCO funds on this list.
PCN's portfolio has a high allocation to mortgage debt and is more global than PCM's. It relies less on leverage than some PIMCO fund (22.1% from reverse repurchase agreements, preferred shares and credit default swaps).
I don't see any threat to the distribution. Coverage increased last month to a rolling three months' level of 119% after languishing a bit for a few months. UNII is slightly negative, undoubtedly a carryover from those under-covered months, so if the trend to greater than full coverage continues, we should see that turn positive shortly. I emphasize this because distribution coverage is a hot topic where PIMCO is concerned. When funds carry such high premiums, they will fall sharply if the distributions are cut, sometimes even if the data suggest there may be a cut in the vague future. So, PIMCO investors watch these numbers carefully. As I said PCN looks fine right now, but it's been hovering around some edgy territory vis-à-vis distribution coverage for the past year.
Again, the premium is high, currently just over 20%, and growing. Z-scores are extremely high, 2.2, 2.9 and 3.0 for 3, 6 and 12 months, respectively. If Z-scores have any predictive value at all, these are all but shouting a prediction of an imminent decline in market price.
Like PCM, PCN had traded at a premium since the end of 2016. It dipped into discount territory for a few months in late 2015; otherwise it has routinely traded at a premium since the Great Recession. But it has not seen a premium this large since 2011.
PDI is a fund I've been holding and writing about since 2013. It is PIMCO's best performer. It has a much higher allocation to mortgage debt and a high leverage at over 42%.
Leverage is entirely from reverse repurchase agreements and credit default swaps, so it really has to be considered in a different light than how one might think of a fund leveraged with preferred stock or loans. This leverage is an integral part of the fund's investment strategies and inseparable from them.
PDI's coverage for its 8.3% distribution (over 9% at NAV) is solid. There had been coverage issues that some found worrisome in the PIMCO monthly reports earlier this year, but UNII remains positive at about a half of a month's distribution amount. It's the second highest level of UNII for any of the eleven taxable CEFs, behind only PCM. Historically PDI has underpaid its distribution and paid out a large end-of-year special distribution. As PDI investors were painfully aware, this didn't happen last year. I would guess (emphasis on guess here) that this year is shaping up to be a repeat performance at year's end, but there's still a lot of time for that to play out.
Here too the biggest issue is the growing premium. A premium of 9.6% and Z-scores over 2.5 tends to overshadow great performance when I'm considering buying a fund. So, while it's my oft-repeated view that you cannot find a better income fund than PDI, I'd be very cautious about it at the current valuation.
PTY. Finally there's PTY where everything I've said above applies and more. PTY is more international than the others with 12.6% of its portfolio in non-USD developed markets and 10.4% in emerging markets. Mortgage debt is much like that for PCM and PCN.
Leverage is 44.4% with a quarter of that coming from preferred shares at 3.42%. The rest is reverse repurchase agreements and credit default swaps. For PTY, the reverse repurchase agreements are less than the credit default swaps in which regard it differs from the other three here.
PTY is one that may be most at risk for a distribution cut. Here again, coverage has picked up with the last monthly report, but TTM coverage is second-lowest among all the taxable CEFs. Only PHK is lower (73.3% to PTY's 74.4%) and it has suffered a recent cut in its distribution (which drove a large decline in its high premium). UNII is negative but not at a severe level. It's negative by less than a month's distribution amount. I'm inclined to think we'll not see any cuts here soon, but it bears watching.
The premium and Z-scores tell much the same story as the others. PTY has the highest premium of the lot (currently 27.34%). And the Z-scores do not give any comfort that this is a routine premium. PTY has held a premium since the beginning of 2016, but it's not gotten above 15% until this year. Its six-month average premium is nearly half the current level.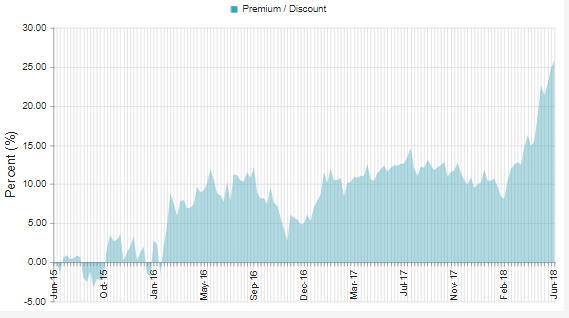 To really appreciate the run-up for PTY I offer this chart:

If any reader knows of a good reason why the price for PTY should have outpaced the fund's NAV by this margin over the last six months, I really like to hear it. So please, add it to the comments.
Final Thoughts
Much as I admire and appreciate the PIMCO CEFs, I'd not be a buyer of any of these at their current valuations. They may not falter, or it may take months, but the signs are all pointing to an imminent mean reversion from those high premiums. If I were eager to buy one of these PIMCO CEFs, I'd wait it out a bit. The trend in NAV is fairly flat, so I think it is unlikely that there will be a big surge in NAV growth that will drive up the price. If that's a correct assumption, mean reversion in the premiums will mean lower entry points. I'd wait. Foregoing the distribution income is a small price to pay if they can be purchased a few percentage points lower as the premiums come down.
CSQ is a solid fund, but it also has a valuation issue from a recent run-up of price taking it above its NAV. But, unlike the PIMCO funds, CSQ is following NAV. Its market price may have gotten ahead of it a bit, but there is NAV growth to support that investor enthusiasm.

I like Calamos and would suggest interested investors might find better opportunities among their other offerings right now.
Finally, there are the two Asia funds, which I find to be the most interesting. Of course, not everyone is looking to add China A shares or Japan small-cap exposure. But bear in mind these have been running ahead of, or at least even with, domestic equity for years, and do provide a geographical diversification many portfolios will benefit from having. So, if you are in the market for some exposure to Asia, these two may fit that niche well.
Disclosure: I am/we are long JOF, PDI.
I wrote this article myself, and it expresses my own opinions. I am not receiving compensation for it (other than from Seeking Alpha). I have no business relationship with any company whose stock is mentioned in this article.
Additional disclosure: I am not an investment professional and nothing I write here should be taken as professional advice. Everyone's personal situation is unique. It is the role of finance professionals to provide advice in the contexts of an individual's personal situation. What may be right for my investment goals and risk tolerances may well be quite wrong for someone else. Do your own due diligence. Consult with professionals on your own needs, objectives and tax circumstances before you invest. I do not give advice and ask that readers refrain from asking for it.