I'm very optimistic on the cryptocurrency industry, but not so optimistic on Bitcoin (BTC-USD). Even in the short term, Bitcoin's market share since the crypto boom of last year has struggled to remain on the higher end rather than lower. It seems gravity has been holding Bitcoin back, a forecast of what I believe will be its longer-term trend.
Bitcoin still remains the world's largest cryptocurrency, with currently 38.1% market share and $130.395 billion in market capitalization. In comparison, the total world market capitalization for the now 1,650+ cryptocurrencies out there stands at $342.214 billion.
In the cryptocurrency world, Bitcoin truly is legacy technology. Released over 9 years ago in January 2009, it remains technologically limited in potential by its design amid the technology available at its creation.
As other cryptocurrencies advance and develop without those fundamental inhibitors, they will likely in the end see higher growth rates than Bitcoin and Bitcoin itself will begin to fade.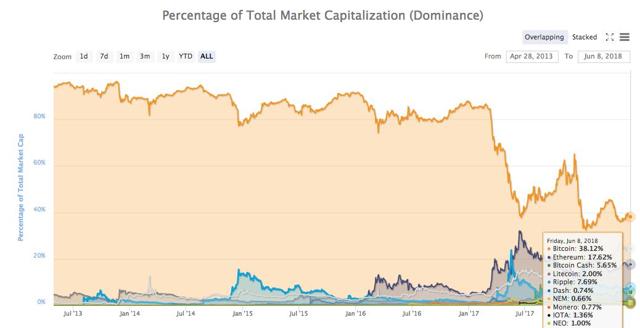 (Source: CoinMarketCap)
Bitcoin's Slew Of Design Problems Seem Unsolvable And Are Only Becoming Worse
Bitcoin was created with a limited supply and increasing difficulty to mine as it reached that point. Years ago, this exponential stage seemed far off. Yet now it is approaching, as Bitcoin has hit 17.081 million Bitcoin mined of a total of 21 million.
On a fiat money analysis, this greatly limits the currency's usage as a general use currency in the same way Gold (GLD) is limited. Due to Gold's limitations in supply and therefore the multiplication of Gold-backed money and the money multiplier, that was a key reason behind the abandoning of it as a standard by the nations of the world.
On a technological supply basis, this has already resulted in a steady collapse of Bitcoin mining operations across the world as the cost to mine a Bitcoin has surpassed Bitcoin's general price level.
It is estimated that the last Bitcoin won't be mined until around 2140 due to the exponentially increasing difficulty. Yet it is almost certain Bitcoin will become grossly unprofitable for any business long before then, as the hardware and costs simply can't keep up with the energy demand written into the network software.
On a technological demand and user basis, at current levels of maturity for the Blockchain Bitcoin is now experiencing increasingly severe congestion, resulting in seemingly permanently heightened transactions and slower processing times.
Due to the Blockchain network inherently being designed to only handle so many transactions, despite long being known as inevitable, it never made an impact until recent months.
New Cryptos Are Rising In Bitcoin's Place
In comparison, other newer both general use and sector-specific cryptos are bypassing these problems entirely that seem to remain unsolvable with Bitcoin.
If Bitcoin makes only 7 transactions per second, Ethereum (ETH-USD) makes 20 transactions per second, Litecoin (LTC-USD) makes 56, and Ripple (XRP-USD) makes 1,500, then what point is there to stick with Bitcoin besides the scale benefits from it being the legacy product?
As we see with all legacy products and companies, eventually, the more innovative product takes over. It may not happen immediately, but it's a law of economic nature, akin to gravity, that eventually takes hold.
Since the great "crypto-bust" of the turn of the year that is undoubtedly a major reason why Bitcoin has seen greater stagnation than the crypto-currency industry as a whole. Compare the charts below from CoinMarketCap.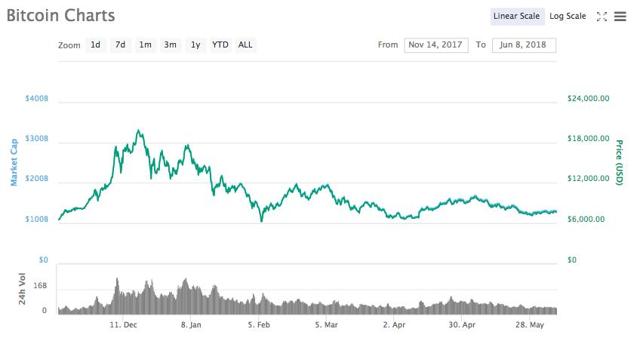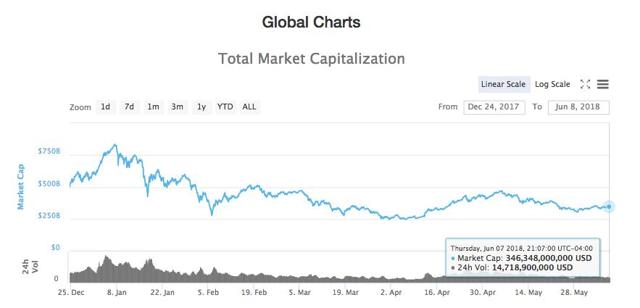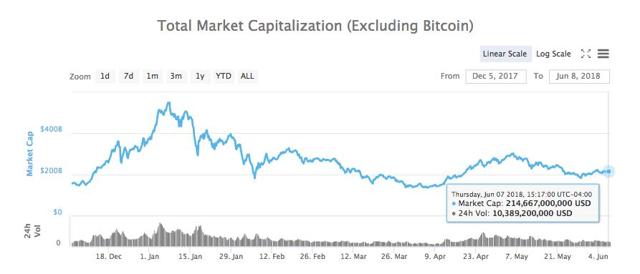 Bitcoin is actually at about the same level, or even less, than its price at the beginning of December 2017's big crypto bubble. It was $10,354 a coin or so on December 1, 2017 and is $7,635 now.
In contrast, the market cap of non-Bitcoin cryptos has kept its rise even amid recent volatility. On December 1, 2017 they were worth about $135 billion and now are worth still $211 billion.
Conclusion
In the future, I think we will continue to see what we are seeing now with the divergence between Bitcoin and other both general use and sector/use-specific cryptocurrencies. There is immense innovation happening in the cryptocurrency sector, but Bitcoin's design limitations simply prevent it from possibly having a long-term future.
Bitcoin jumpstarted cryptocurrency, but because of the sheer impossibility of fixing its code at this late stage in its life cycle and its current scale, it likely is doomed to continued and increasing stagnation.
In contrast, there are many other cryptocurrencies out there that are being developed with exciting potential, both in terms of actual usability for currency or technology and as investments too.
I recently discussed with the members of Tech Investment Insights some fascinating cryptocurrencies I think are poised to potentially grow, as well as how to value cryptocurrencies themselves.
By subscribing to Tech Investment Insights you will get my best company and portfolio strategy recommendations, ranging from in-depth research to a comprehensive ratings system to help you build your basket of investments - see if you like it.
Disclosure: I/we have no positions in any stocks mentioned, and no plans to initiate any positions within the next 72 hours.
I wrote this article myself, and it expresses my own opinions. I am not receiving compensation for it (other than from Seeking Alpha). I have no business relationship with any company whose stock is mentioned in this article.