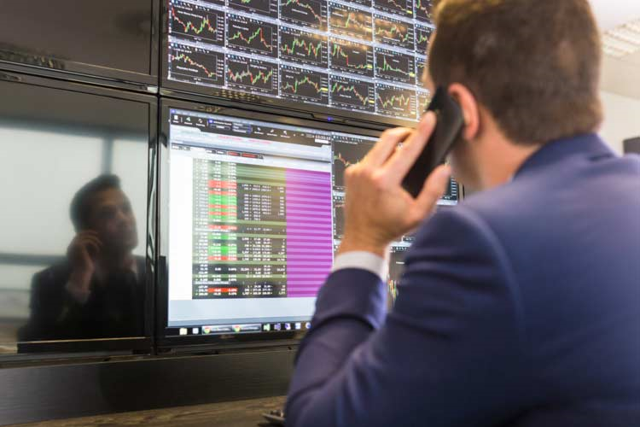 Image source: Shutterstock
Investment Thesis
The principal uses of Exchange Traded Funds (ETFs) have been evolving and becoming varied as the industry matures. A few years ago, analysts would have predicted that ETFs could become a substitute for futures. Perhaps, many investors would use passive ETFs to carry out active strategies.
Large institutions have been delaying the adoption of ETFs lately. It reflects most fund managers' willingness to offer them low-cost accounts. Investment funds, insurers and pension funds would rather use ETFs for liquidity management and to access the choicest portfolio exposures.
Private banks would avail ETFs as their building blocks or to achieve selected exposures to global markets. Wealth managers might use ETFs to get core exposures like model portfolios. Hedge funds use inverse and leveraged ETFs to allow them to execute long or short positions.
In this equity strategy, we will try to find out the other side of the story on what industries and equities the ETF managers are placing their bets on. The analysis of ETF exposures in this article will be based in the survey results conducted by investment bank Goldman Sachs (GS) and Ernst & Young.
ETF Market Profile
GS analyzed a random sample of stocks in the S&P 500. Based on its findings, ETF inflows are moving smoothly to break last 2016's record by 50%. However, trading has become sluggish. Investors have placed another $300 billion into US-listed Exchange Traded Products (ETPs) in 2017.
Almost 70% of investment inflows are in Equity ETFs followed by Fixed Income ETFs. Trading of the 500 largest US-listed ETFs fell by 12% in 2017. When compared to S&P 500, the stocks in the major index have traded 3% more dollar volume in 2017.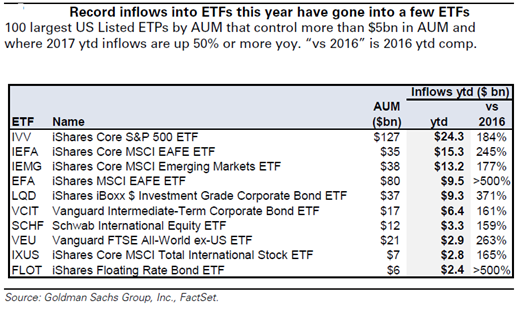 Source: Goldman Sachs, FactSet
GS believes that the slowdown in ETF trading was attributed to the SPX realized volatility over the past twelve months. This period yielded lower trading than any year since 1965. Market volatility and ETF trading volumes (measured by the VIX and SPX realized volatility) have been strongly correlated.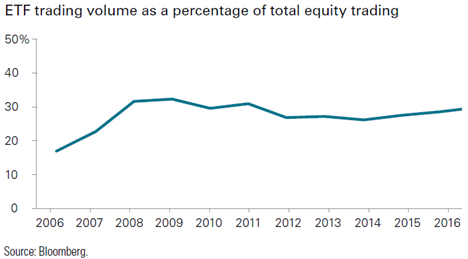 Source: Bloomberg
Inflows of most ETFs went into funds with the lowest expense ratios. Around 75% of all net inflows in 2017 that went into US-Listed ETPs have gone into the 100 largest ETPs ranked by assets under management (AuM). In this stock universe, these are funds that charge investors by 20 basis points (bps). More than half went to the funds that charge investors 10 bps or less. The iShares Core S&P 500 ETF (IVV) rallied the highest net inflows in 2017 ($24 billion up 184% year on year). It charged 4 bps a year.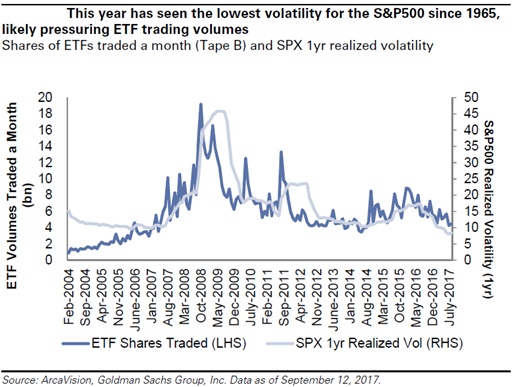 Source: ArcaVision, Goldman Sachs
Sector Concentrations
Financials, tech and fixed income sectors along with Emerging Markets remained robust in 2017 while ETF trading slowed down. The Financial Select Sector SPDR Fund (XLF) traded 50% more per day. If the fund manager is not in the mood to filter individual stocks in this broad financial sector, there are many ETFs in the financial sector that an investor can invest in as great alternatives to stock picking to hedge their risk and gain exposure to movements in the financial sector.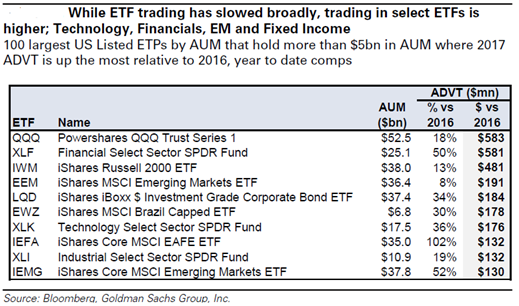 Source: Bloomberg, Goldman Sachs

The iShares Core MSCI EAFE ETF (IEFA) trading jumped by 102% in 2017. Tech fund index the PowerShares QQQ ETF (QQQ) traded 18% more and the Technology Select Sector SPDR (XLK) fund traded 36% more per day.
The property and casualty insurance, I.T. hardware and toys spaces are also dominated by ETFs. More than half of the ETFs' ownership in Travelers Companies (TRV) is by broad-based index ETFs (DIA and SPY). Smart beta dividend ETFs account for nearly 40% of the ETF holdings in Cincinnati Financial (CINF).
At the end of 2017, passive investors held 19% of Hasbro (HAS) and 22% of Mattel (MAT). Dividend ETFs represented 1/3 of all ETF holdings for MAT, double that of HAS, which has more exposure to broad-based index ETFs.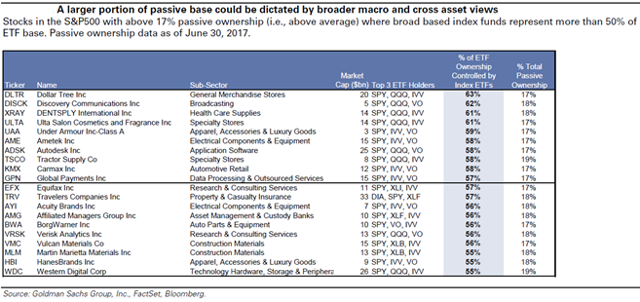 Source: Goldman Sachs, FactSet, Bloomberg
Metal ETFs might continue to find support this year, as stronger investment demand with the existing global growth could keep the market gain momentum. However, it is not going to be a bull run for metals. Investors can expect continued upward pressure from the broad-based emerging markets and global demand. These markets will be fundamentally underpinned for the rest of 2018 and can do better in 2019.
ETF managers consider Mining Equity ETFs, which provide exposure to the metal commodity markets as attractive. Hence, they also invest in companies that are engaged in transportation, production and storing of these commodities. The advantage of these ETFs is that they are the least complex and most transparent.
For instance, there are ETFs that invest in stocks of copper mining companies. Because so much is produced offshore, currency volatility is one of the risks of owning metal ETFs. Definitely, the metal markets have their own risks. Another good example would be that some fund managers perceive copper as vulnerable to sell-offs because of indications that supplies are sufficient.
The risk-return characteristics can be very different based on the underlying holdings such as the physically-backed ETPs that hold precious metals, futures-based and ETNs representing debt obligations.
Gold ETFs
Based on the latest report of the World Gold Council (WGC), gold-backed ETF holdings build up from 72.2 tons to 2,481 tons in April. The figures exhibit the strongest month of net inflows in more than a year.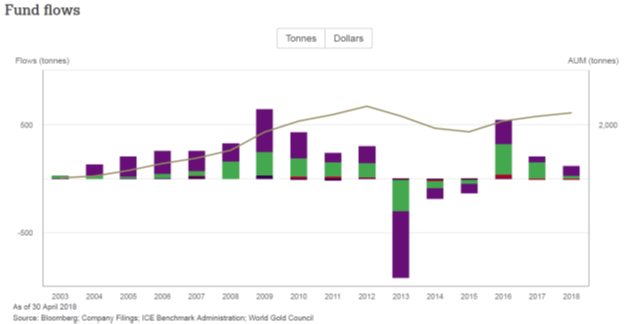 Source: Company filings, Bloomberg, ICE Benchmark Administration, World Gold Council
Global stocks were mostly higher during the month, but many indices remained down or flat for the year. Market uncertainty stemming from missile strikes in Syria by the US, the UK and France, as well as continued trade war rhetoric cast a cloud over the markets. Subsequently, higher inflation and a weaker US dollar offset the adverse impact of higher interest rates on gold.
Gold ETF Holdings Data
(in metric tons)

Source: World Gold Council
ETF Market Outlook

Source: Morningstar Direct
According to Ernst & Young, ETF asset growth is expected to hit 15% per annum for the next three to five years. They believe this understates the industry's growth potential.
Global ETF assets could accelerate to $7.6 trillion towards year 2020. This is equivalent to a compound annual growth rate (OTCPK:CAGR) of approximately 18% (13%-14% of which will come from net new inflows) underpinned by the shift to passive investors, the size of ETFs relative to the overall market and ETFs' suitability for digital distribution. Recent political volatility in the US, the UK and elsewhere has given ETFs a further boost. Ernst & Young expects the shift to passive investors to continue to favor ETFs. In addition, passive ETFs will exceed active ETFs by 2027.
Fixed-income ETFs will be the industry's significant target over the next few years. These funds remain inconsiderable compared to the larger fixed income and credit index markets. Fixed income products would surely boost equity ETFs given the limitations of bond liquidity. Ernst & Young also expects global fixed ETF assets to reach $1.6 trillion by year 2020 versus $0.6 trillion in 2016.
Equity ETFs remain a favorite for new and existing fund managers. Recent political shocks have highlighted the benefits of ETF liquidity. Analysts expect more promoters to develop products tailored around themes like Brexit.
Ernst & Young expects global smart beta ETF assets to reach $1.2 trillion by 2020, compared with $0.6 trillion at the end of 2016. Single factors, particularly low volatility and dividend yields, remain a key focus. These funds are less complex to launch with its broad institutional appeal for the more conservative asset managers.
My Takeaway
In my opinion, last year produced the most favorable historical returns for diversified ETFs, thanks to the sound economic and investment fundamentals. What sectors and stocks have ETF managers been buying? I expect that ETFs that remain well-diversified by structure and have been around for at least five years to perform well should the market ever anticipate a pullback this 2018.
US equities have done well since the crisis of 2008. I also believe that the tax reform and sustainable economic growth could still drive some US ETFs selectively higher. After the favorable environment for earnings results in 2017, investors are now asking: can equities or ETFs continue to increase from their current heights? What are the potential risks (tighter financial conditions, geopolitical risks or trade relations)?
Or will the bears gate crash and spoil the party? Not even the smartest analyst knows. But what certainly constitutes good practice are savvy financial planning, rebalancing portfolios and investing in the right ETF vehicle for low fees, good returns and ample liquidity.
Given the positive outlook for 2018, I expect ETFs to broaden across institutions and individuals for diversification and various applications across asset classes and the right investment themes and sector stock picks. More investors than ever will be using sector-based ETFs to pursue growth ahead of changes to major trends with specific market segments.
In 2017, fund managers recommended their clients to commit in technology with its superb growth. They also favored the earnings climate and benchmarks of the Trump Agenda in diversification and tax reductions such as the biotech, materials/industrials and the financial sector.
I believe that in order to sustain existing growth rates, the ETF industry would need to exert more effort than innovate around investors. The ETF industry would require to attract and retain new investors. It is a critical area where incumbents would anticipate rising pressure from new entrants. I noted that the survey done by GS plays an important role in attracting new ETF investors.
However, the survey also revealed that an increasing number of respondents (36% versus 10% in 2016) believe that current ETF distribution models are adequate for future needs. This seems to be an unsettling and complacent situation at a time when the whole investment community is enhancing its focus on client experiences.
Note: This article was written by Gold News business journalist Hans Centena. If you found this article to be informative and would like to hear more about my investment research, please consider hitting the "Follow" button above.
Disclosure: I/we have no positions in any stocks mentioned, and no plans to initiate any positions within the next 72 hours.
I wrote this article myself, and it expresses my own opinions. I am not receiving compensation for it (other than from Seeking Alpha). I have no business relationship with any company whose stock is mentioned in this article.
Additional disclosure: Gold News is not a registered investment advisor or broker/dealer. Readers are advised that the material contained herein should be used solely for informational purposes. Investing involves risk, including the loss of principal. Readers are solely responsible for their own investment decisions.